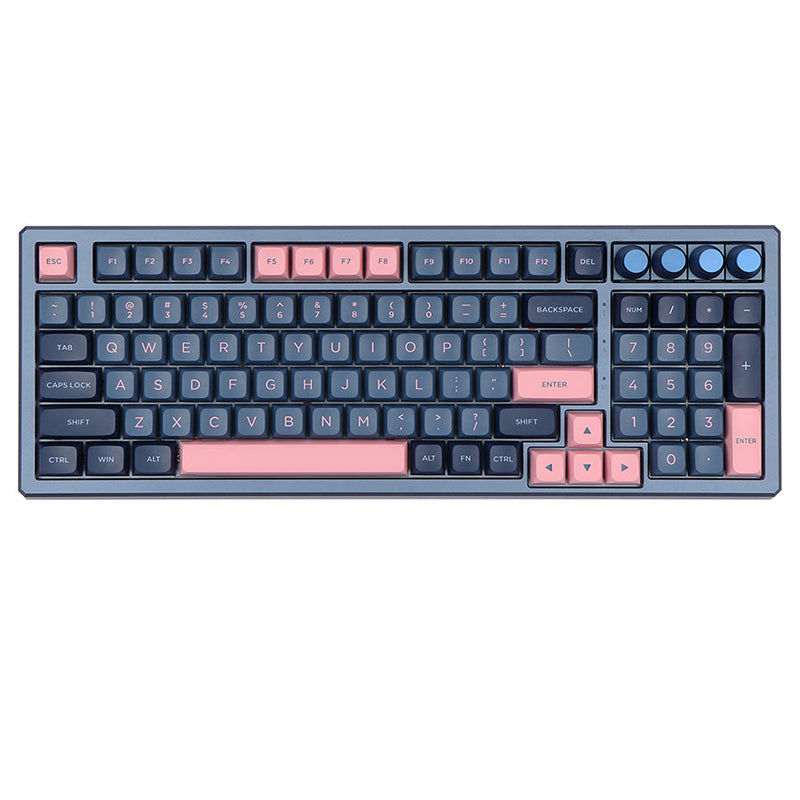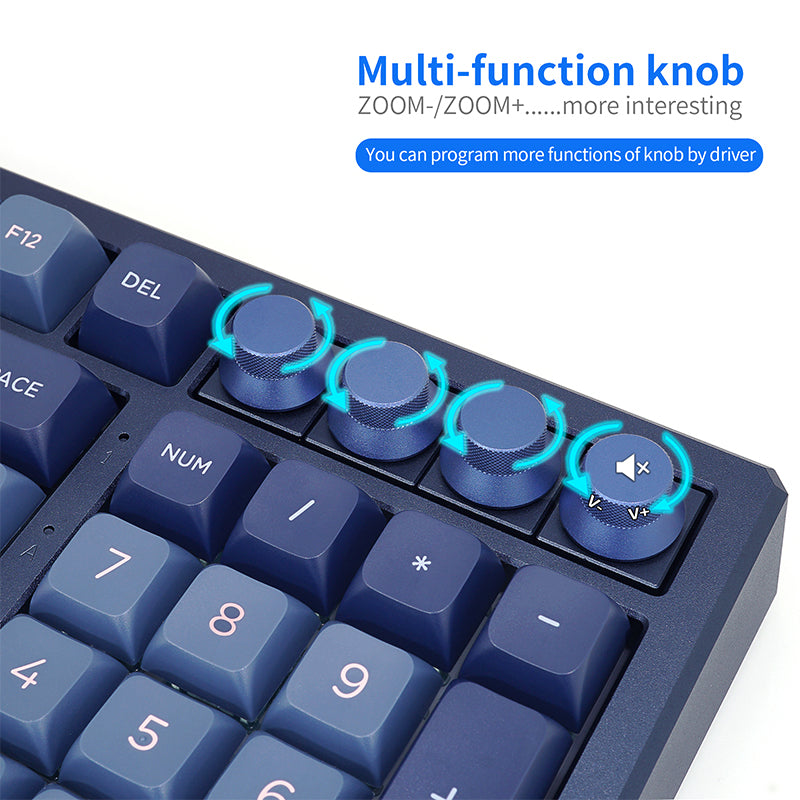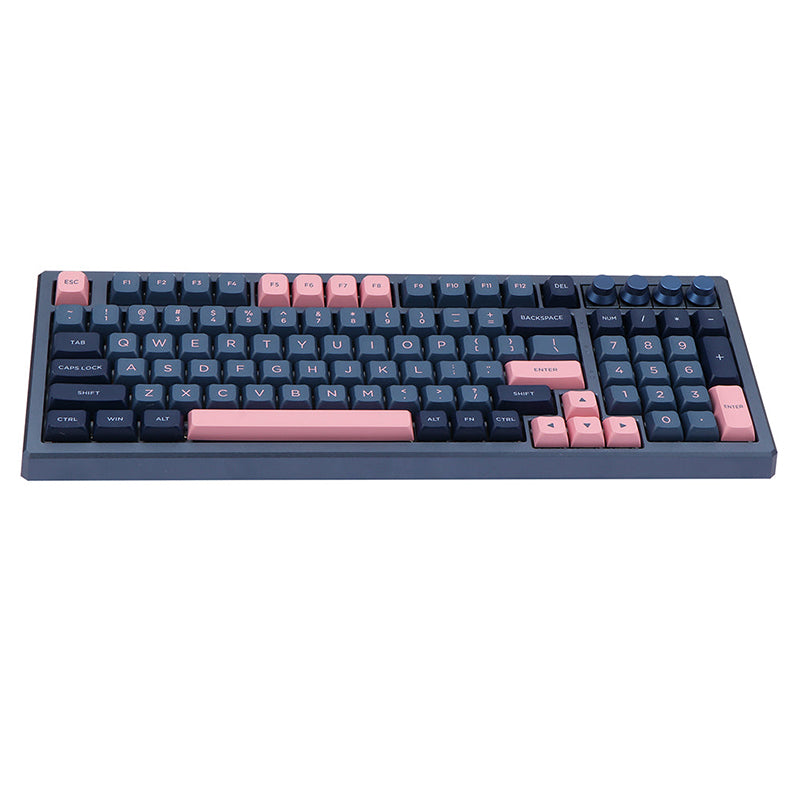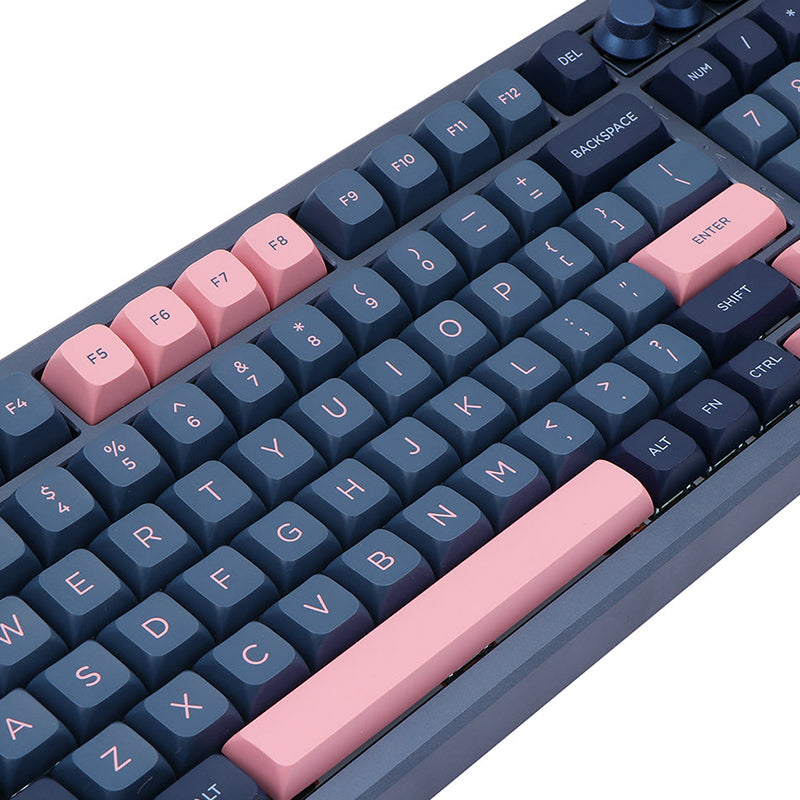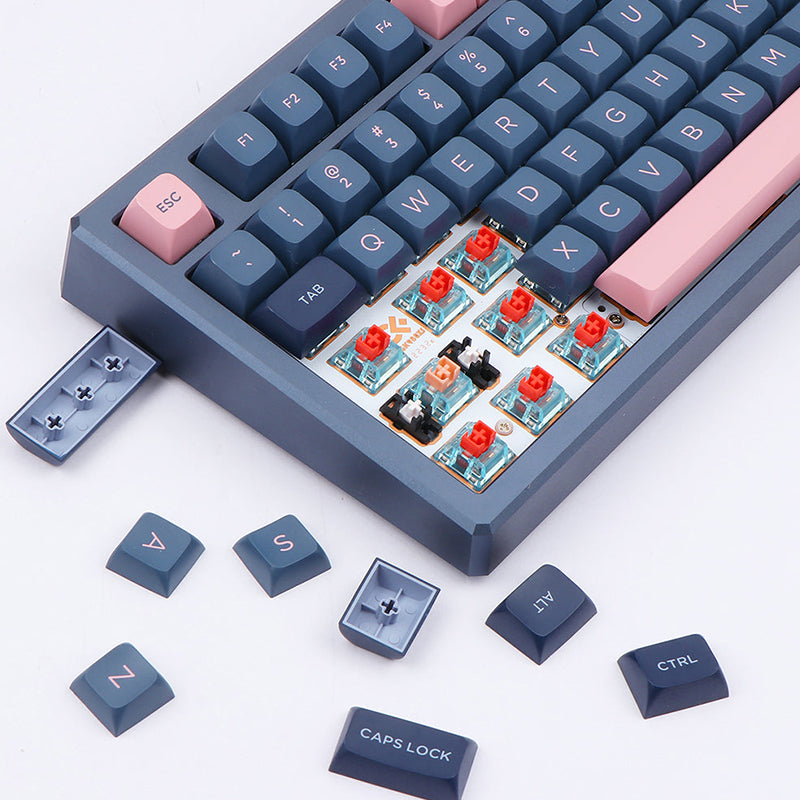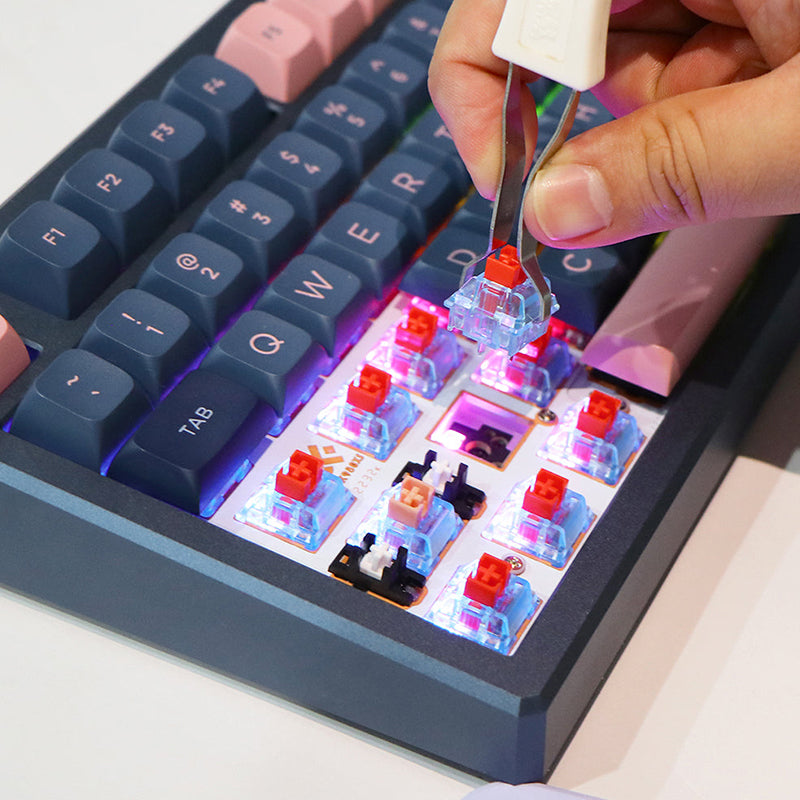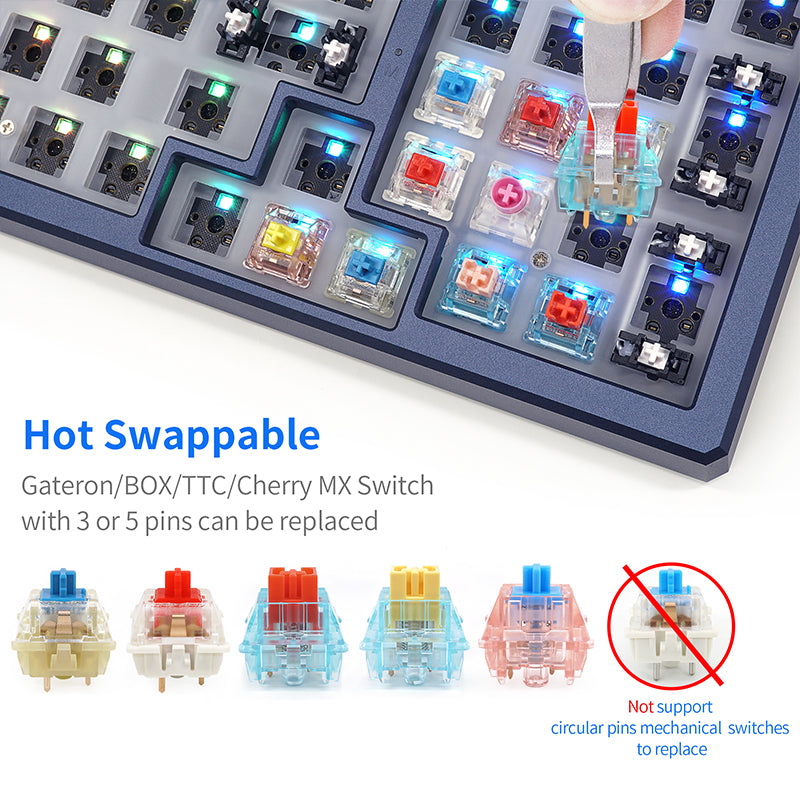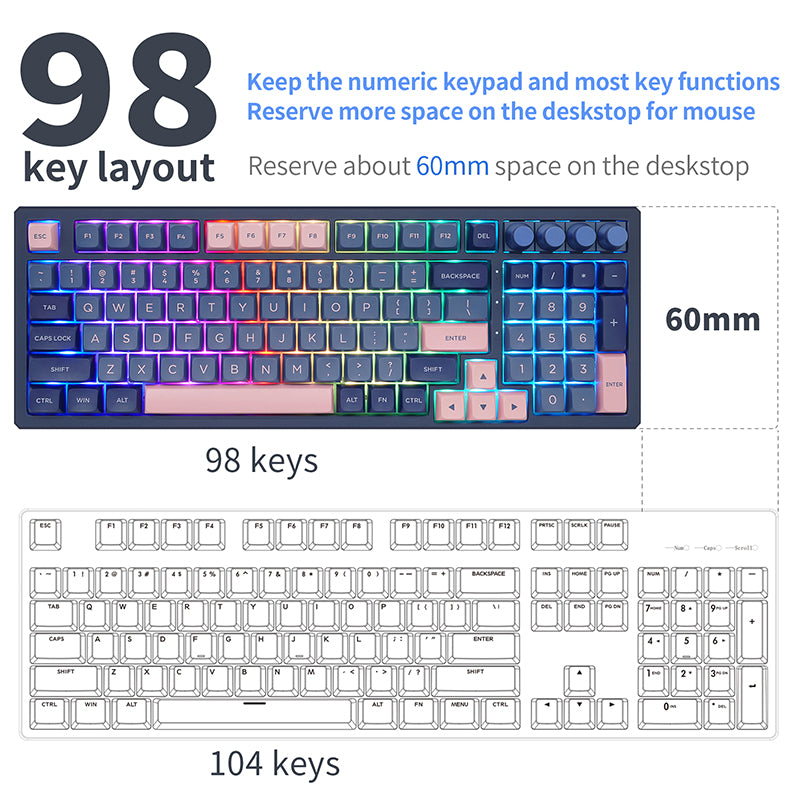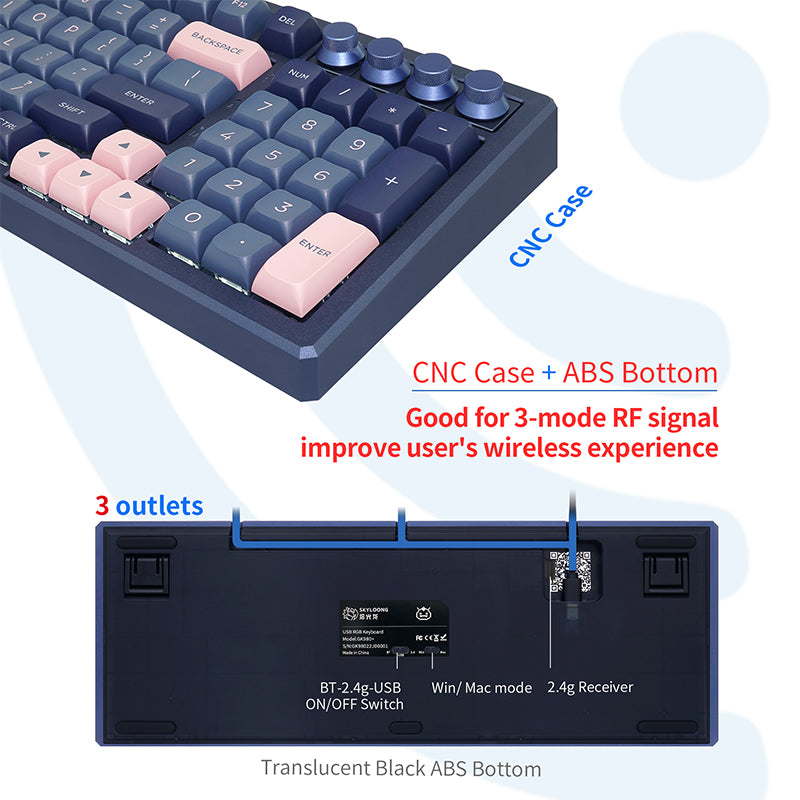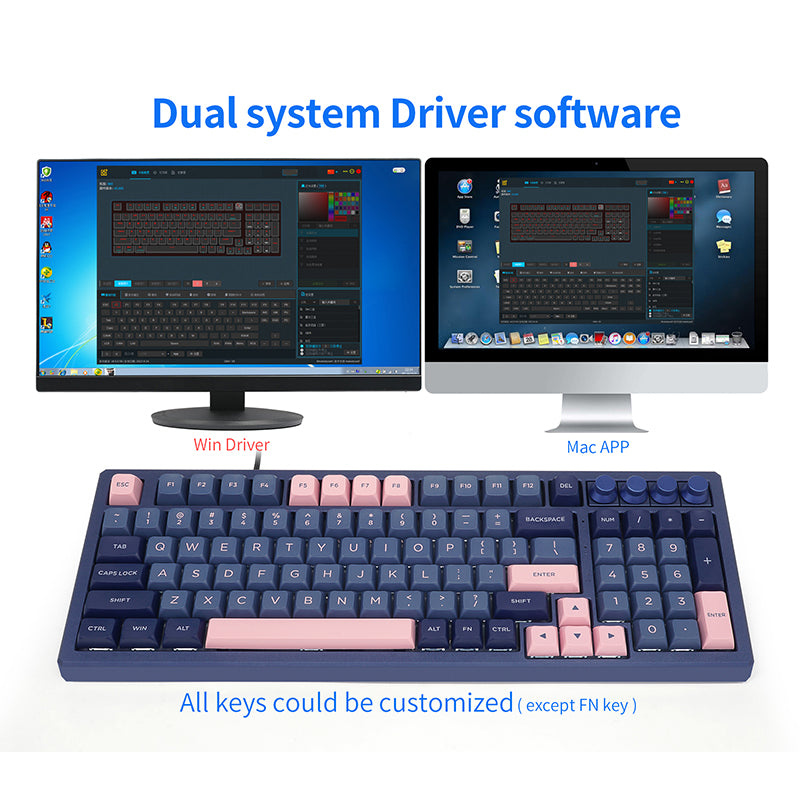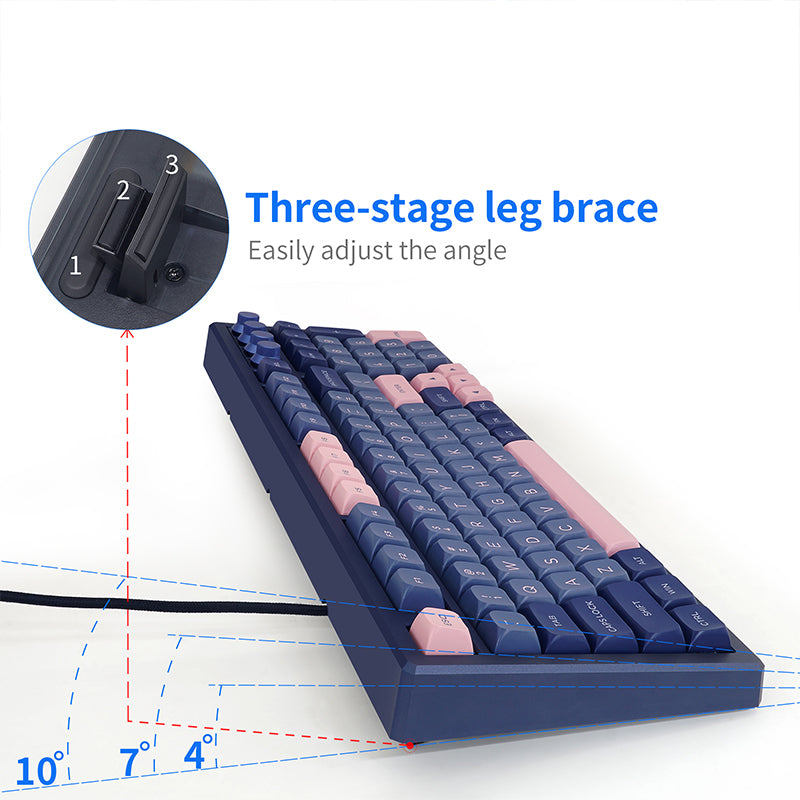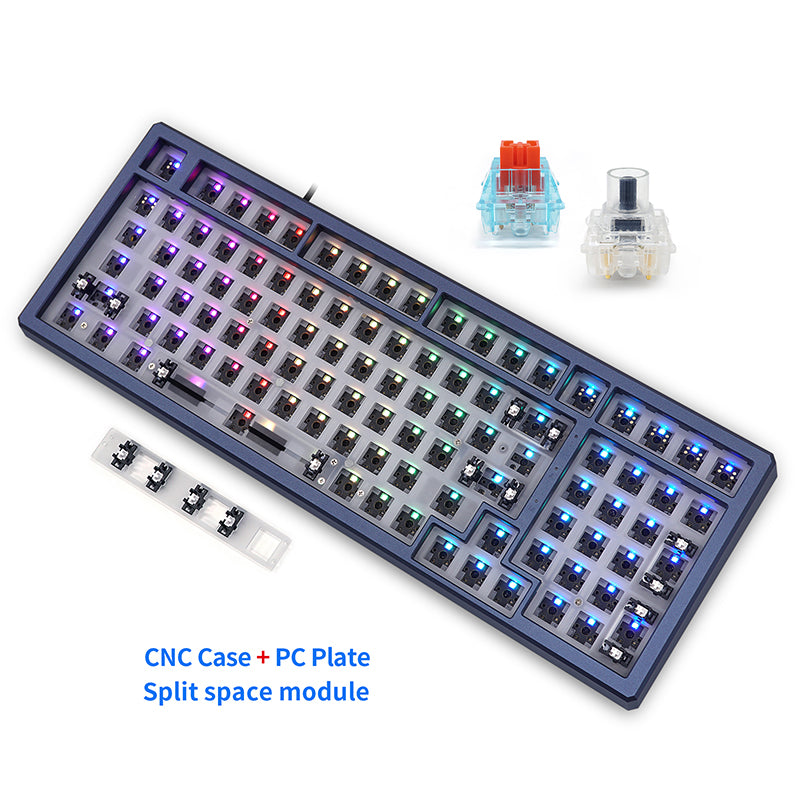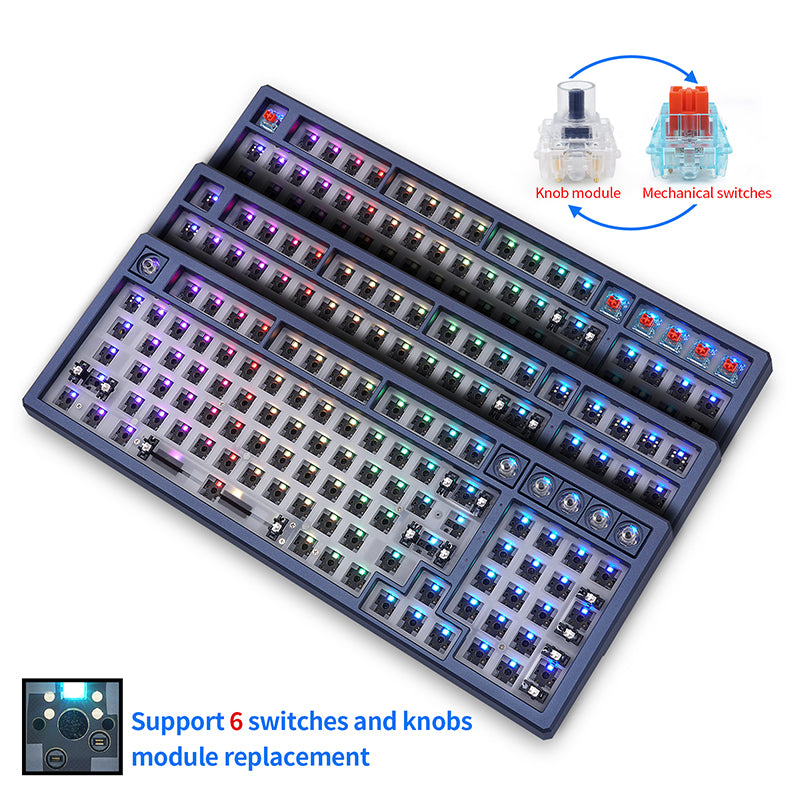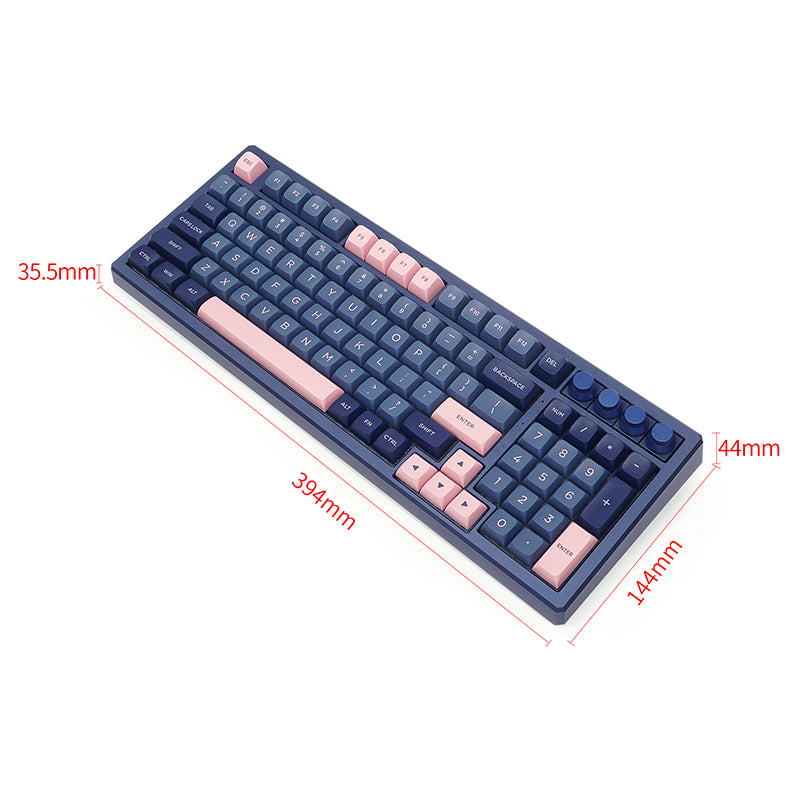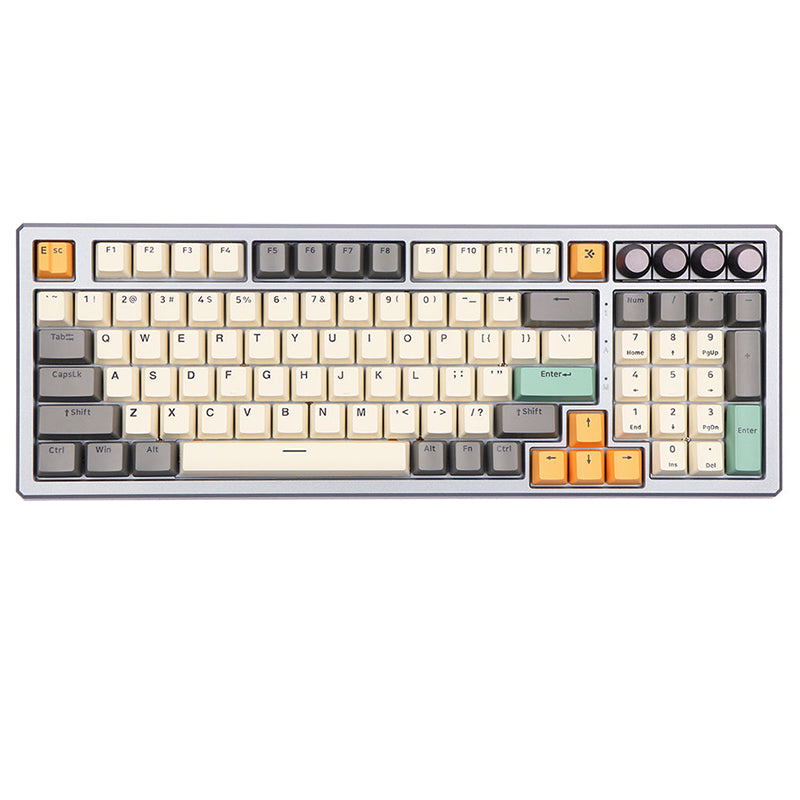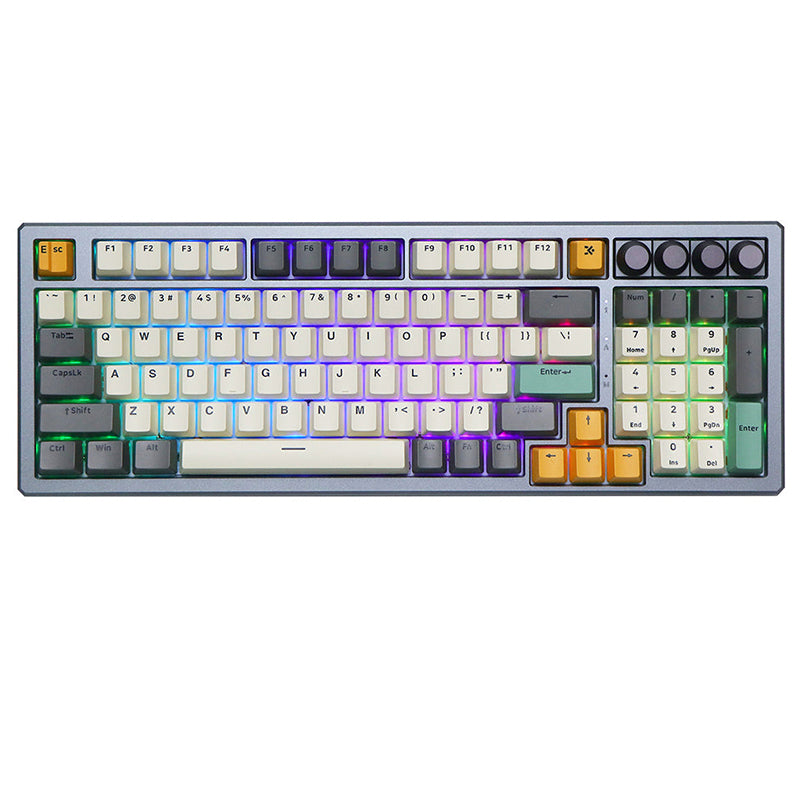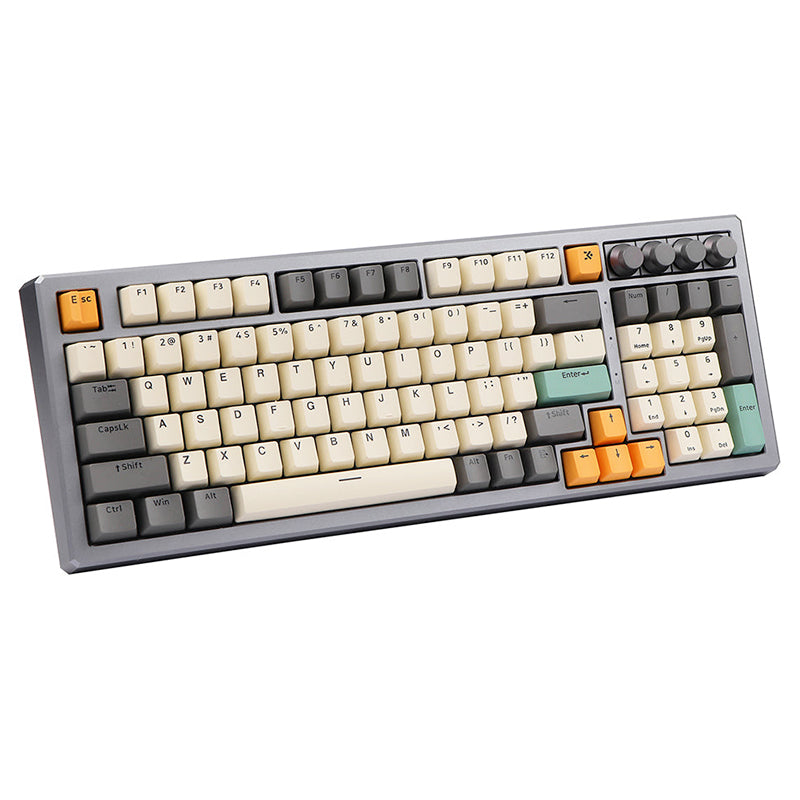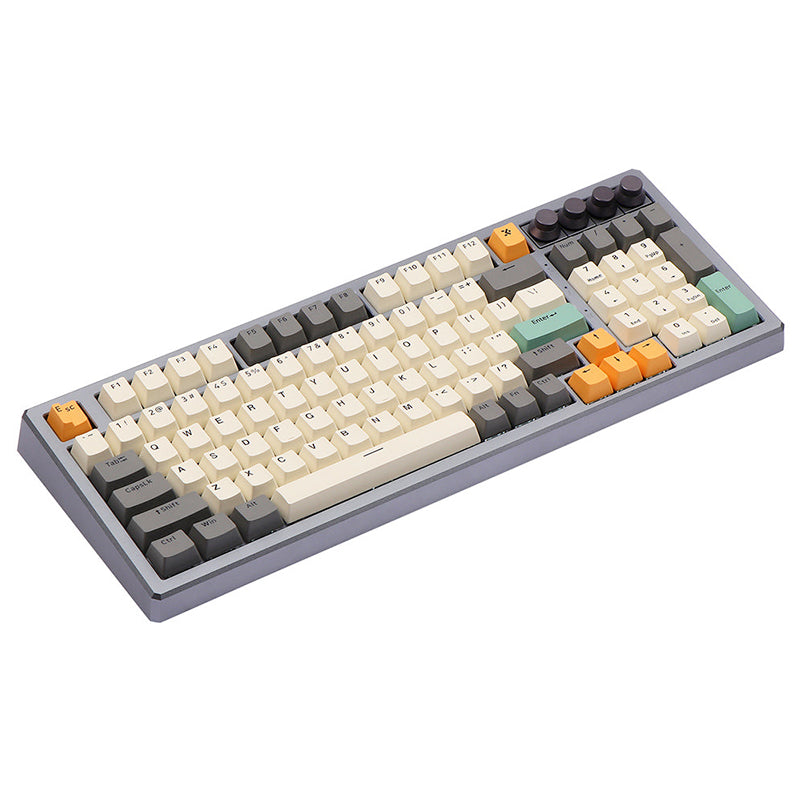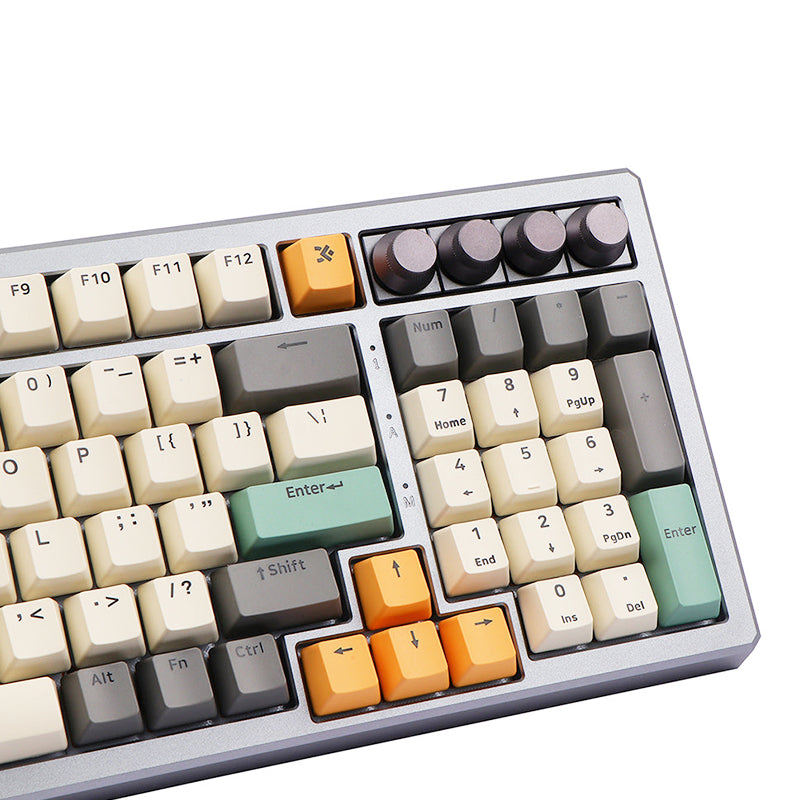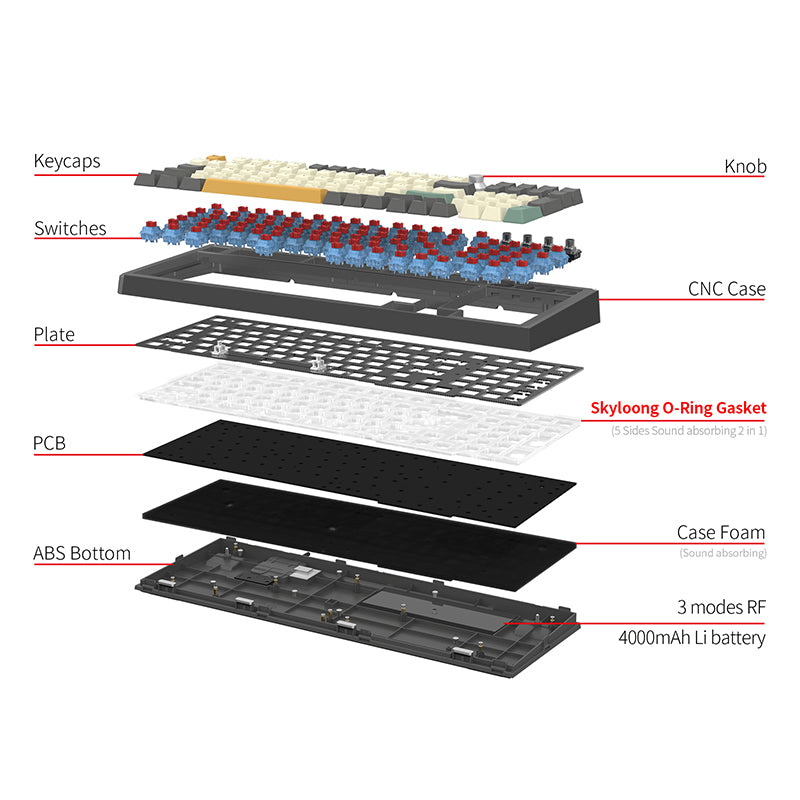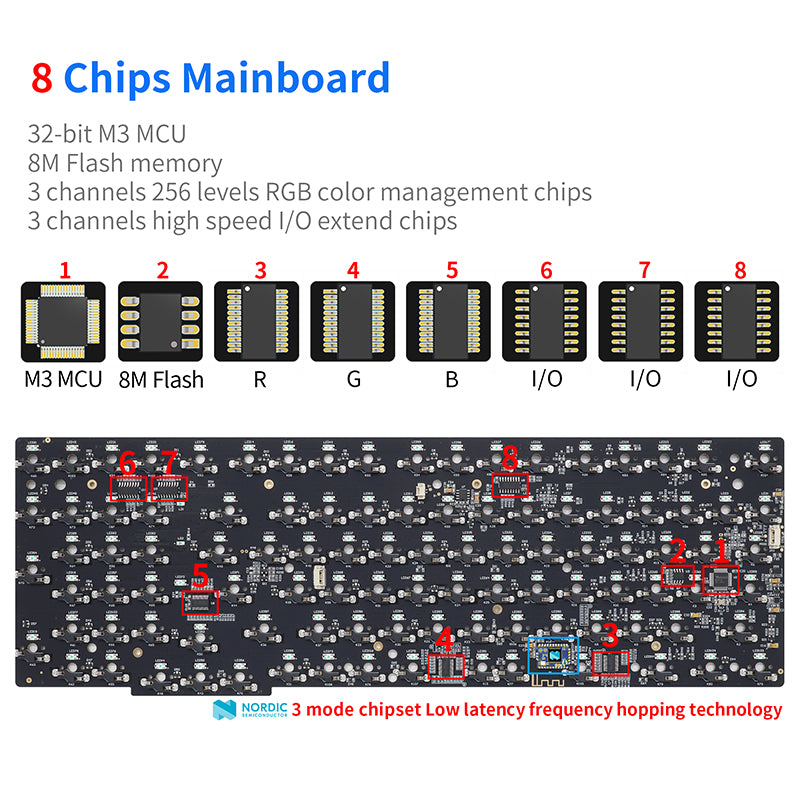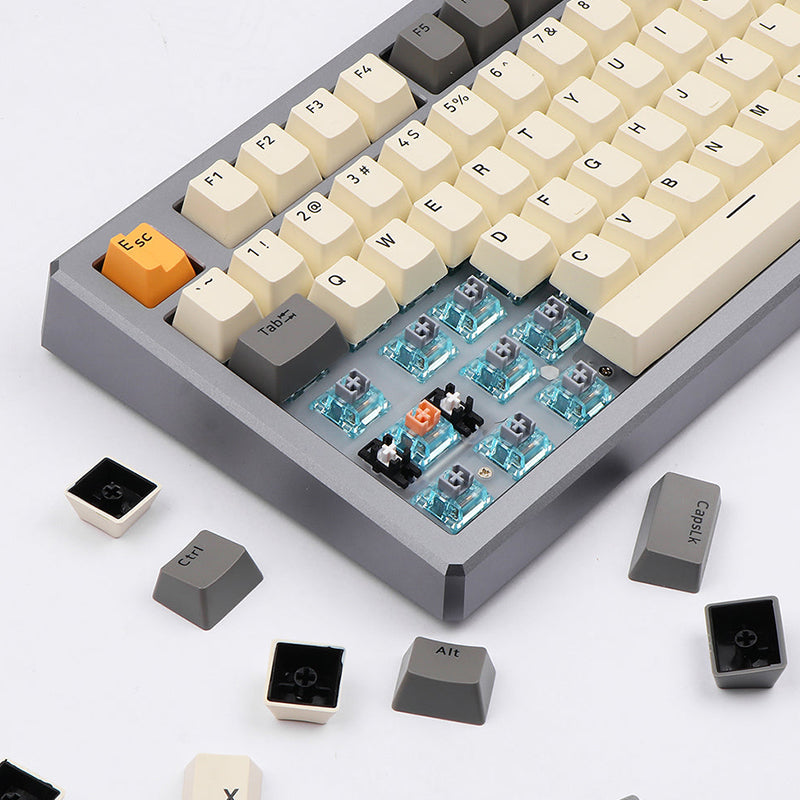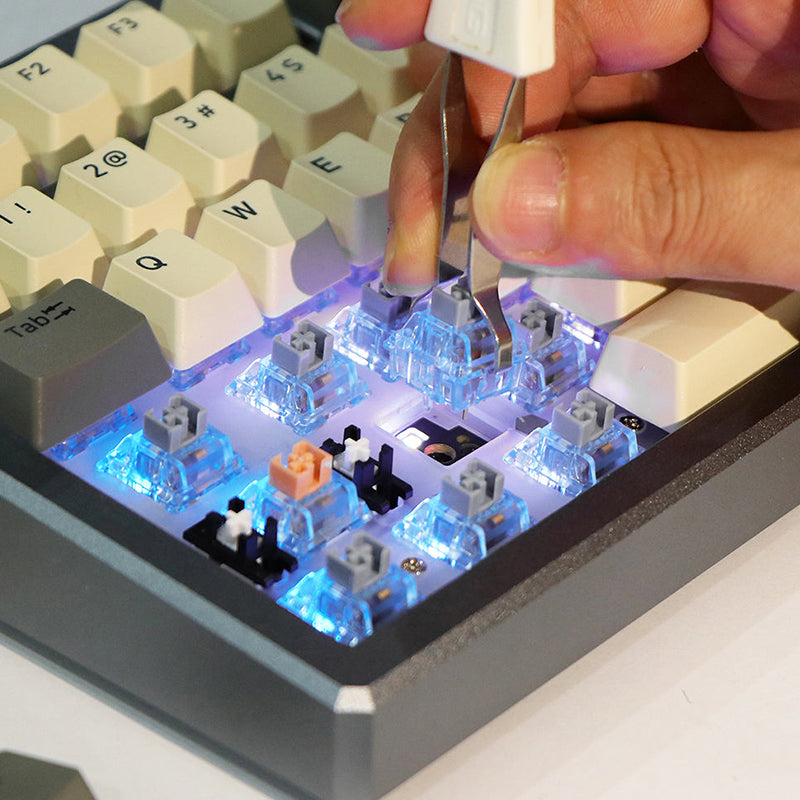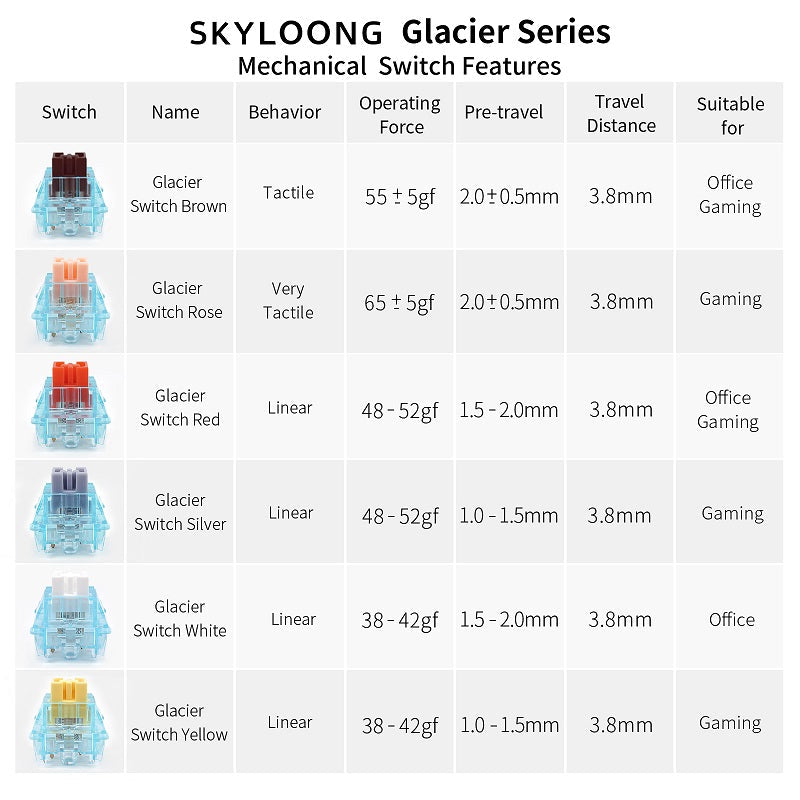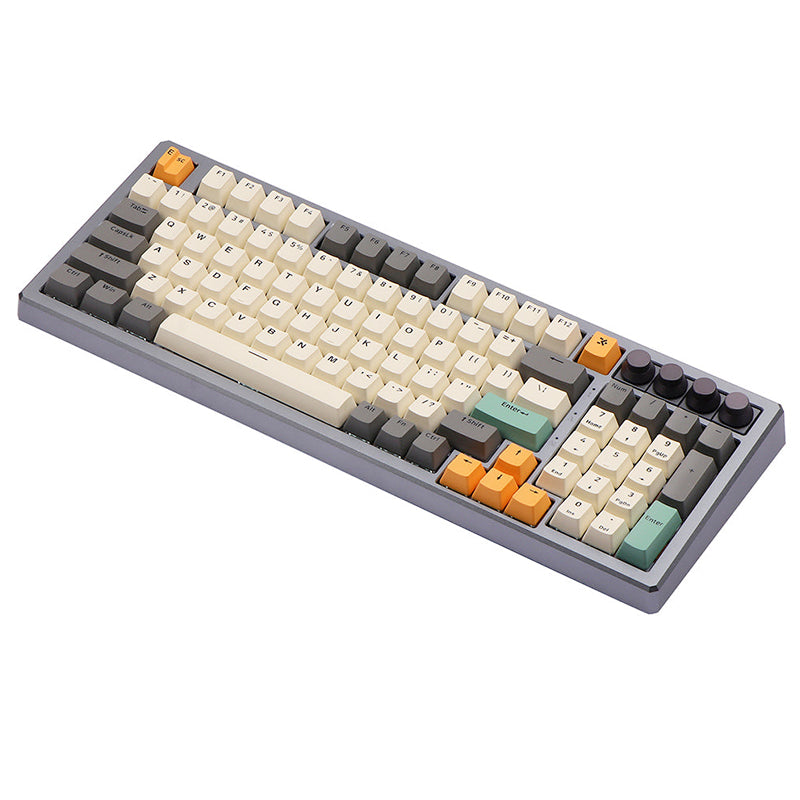 SKYLOONG GK980 with 4 Knobs 3-Mode Mechanical Keyboard
Case & Plate Option:
Alu Top Case + FR4 Plate
Glacier Mechanical Switches:
Silver Linear
Hot-swappable Module for Knobs and Switches
The SKYLOONG GK980 keyboard is equipped with hot-swappable terminals, with which you can install 3/5 pin switches directly without soldering. In this version, GK980 is with hot-swappable modules specifically designed for both knobs and switches. By simply pulling it out, you can easily swap the knob with a regular mechanical switch and keycap. Thanks to the powerful proprietary software, you can also customize the knob's function at will.

Shallow Gasket Structure Bottom Foam
The GK980 keyboard is adapted with the patented Shallow Gasket design, which comes with an all-in-one silicone pad, which is meticulously made of lightweight liquid silicone with high precision to match each switch. Inserted in between the PCB board and the plate, the Shallow Gasket silicone pad not only eliminates the traditional design's drawback of lacking support in the main typing area but also cushions the shock under every keystroke. The keyboard also contains foam at the bottom layer to reduce hollow sounds, as well as enhance the feeling of typing strokes.

Wired and Wireless: Type-C, 2.4G Bluetooth 5.1
Designed for versatility, the GK980 can be used in distinct three ways: Bluetooth 5.1, 2.4G USB wireless, and Type C wired connections. You can connect the keyboard to your devices with the included Type-C cable, using a 2.4G wireless dongle, or simply using the latest Bluetooth 5.1 connection. Connecting up to 2 devices via Bluetooth and wireless 2.4GHz simultaneously. The signal transmission is stable to meet the needs of diverse work, study, and entertainment.

Split Spacebar Module PBT Keycaps in MDA Profile
As a member of the GK Lite series, the GK980 keyboard also includes an extra split spacebar module (2.75U/2.25U/1.25U) with which you can customize it based on your own typing habit. As to the keycaps, we go with premium PBT material to achieve an ultimate experience. With the scrubbed surface texture, they feel smooth and it is oil-proof, so they won't remain your fingerprints even after a long time of use. The MDA profile makes the classic shape provide a comfortable typing experience while using the GK980 keyboard.

16.8 Million RGB Backlight
Set up the colors and rhythm in the way you like it and match up the lighting effects with your mode every day! There are different backlight effects available for you to choose from, and you can even customize your own gaming light modes in the software. Make your keyboard unique by matching its color scheme with your room!

General

Brand: SKYLOONG


Type: Mechanical Keyboard


Model: GK980+4 Knobs

Specification

Keys Number: 98 Keys + 4 Knobs

Layout: 98%


Case Material: Alu Top Case

Backlight: Ice RGB

Connectivity: Bluetooth 5.1 & 2.4G Wireless / Type-C to USB

Structure: Shallow Gasket

Battery: 4000mAh

Switch: Iceberg Mechanical Switch

Switch Sockets: Hot-swappable Support 3pin/5pin Switch

Anti-ghosting: Full-key Anti-ghosting

System Support: Windows/macOS/iOS/Android

Plate Options: Alu Top Case + PC Plate

Weight & Size

Product Weight: 1.3kg


Package Weight: 1.9kg


Product Size(L x W x H): 394*144*44 mm

Package Contents

1 x GK980 Keyboard

1 x Keycap Puller

1 x Switch Puller

1 x Knob Module

1 x Type-C Cable

1 x User Manual
Best Board under $300!
I have a few Mech boards and this skyloong GK980 is by the far one of the best sounding, solid built and easy to style out of the box. Their switches are great! I would recommend this board to anyone!
Love this Keyboard, hate the software
I am new to the mechanical keyboard world. I got the aluminum case with the FR4 plate. I got this keyboard to replace the RK Royal Kludge RK100 that started having issues. So, I liked the feel out of the box, but the switches were a bit stiff for me and really clicky. I got the browns. I still like to have the tactile feel, even though I want a quiet board. After replacing the switches with Gaterons and adding o-rings, the board is basically silent (for browns). I love the thunk feel I get. I love the key caps profile!!! I have been trying to find them in a different color, and not having much luck so far. I love them so much that I have kept them even though I hate the color pink. They feel so nice when typing. Replacing the knobs with buttons took a bit of work and youtube, but I got it to work. This all makes up for the terrible documentation for the software. It does what it says, but it will take some time and youtube hunting to figure out. So far, I am in love! I want to keep typing, which is why this review is so long.
LOVE THIS KEYBOARD!
Love this keyboard, I got it for a review and still use it to this day as my main keyboard for work. I got the Pink/Blue combo and have it paired via bluetooth with my Macbook Pro and it works great. Mine also has the linear switches and overall it types and feels really really nice.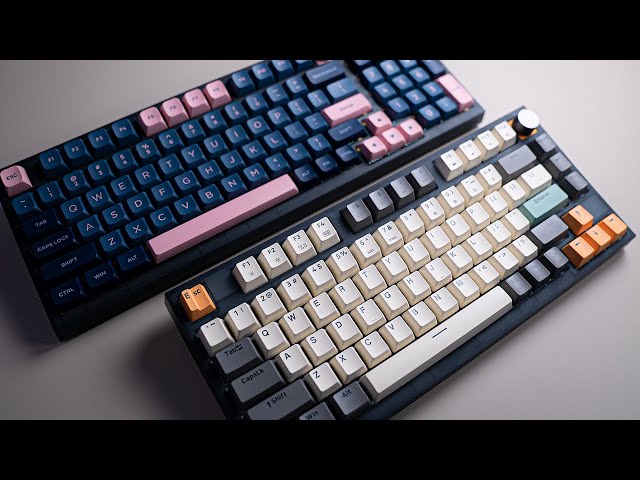 Setup Ideas From Customers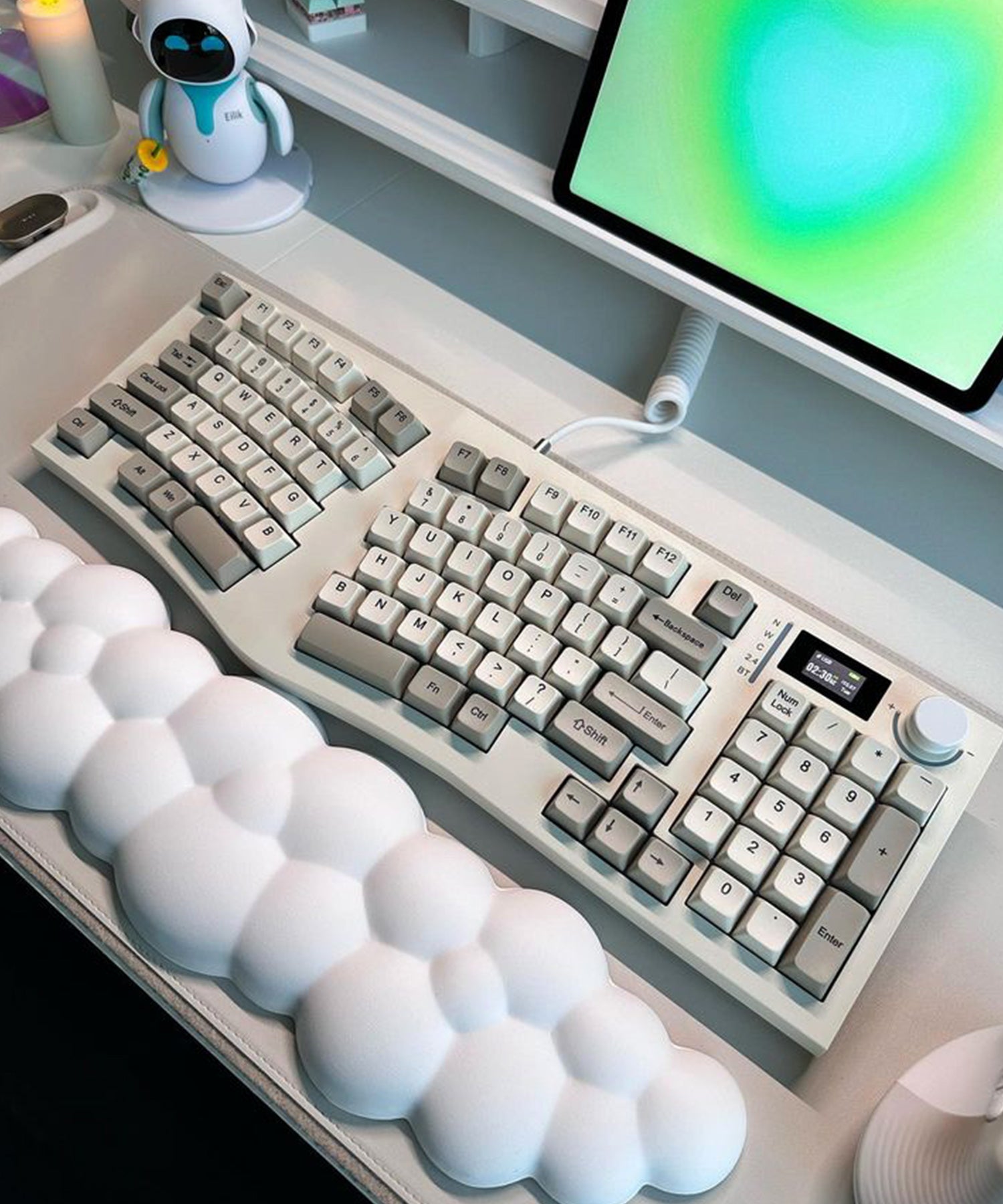 FEKER Alice98 Wireless Mechanical Keyboard With LED Screen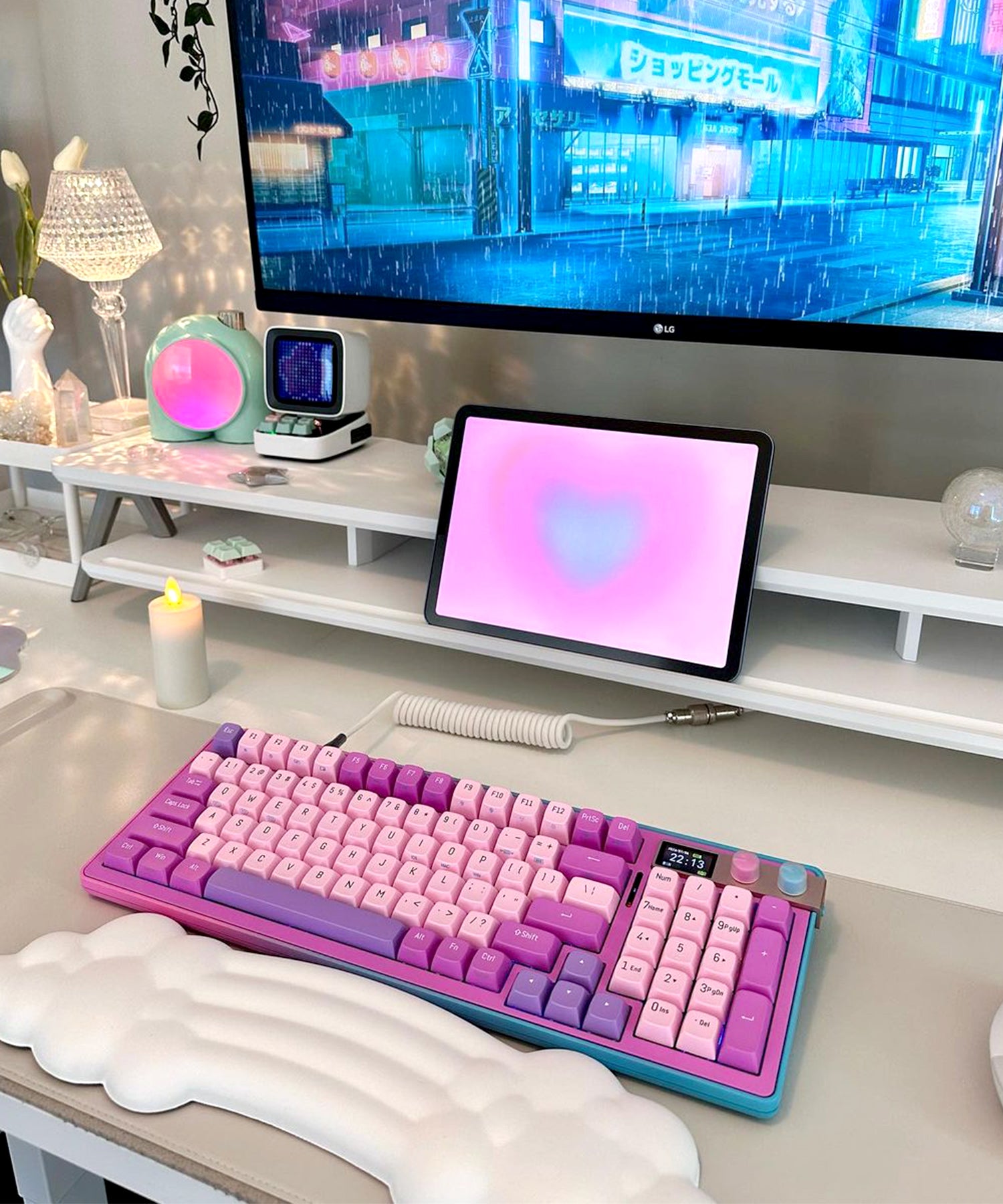 FOPATO H98 Love & Salvation Wireless Mechanical Keyboard With TFT Screen
FirstBlood B81 Crystal Transparent Wireless Mechanical Keyboard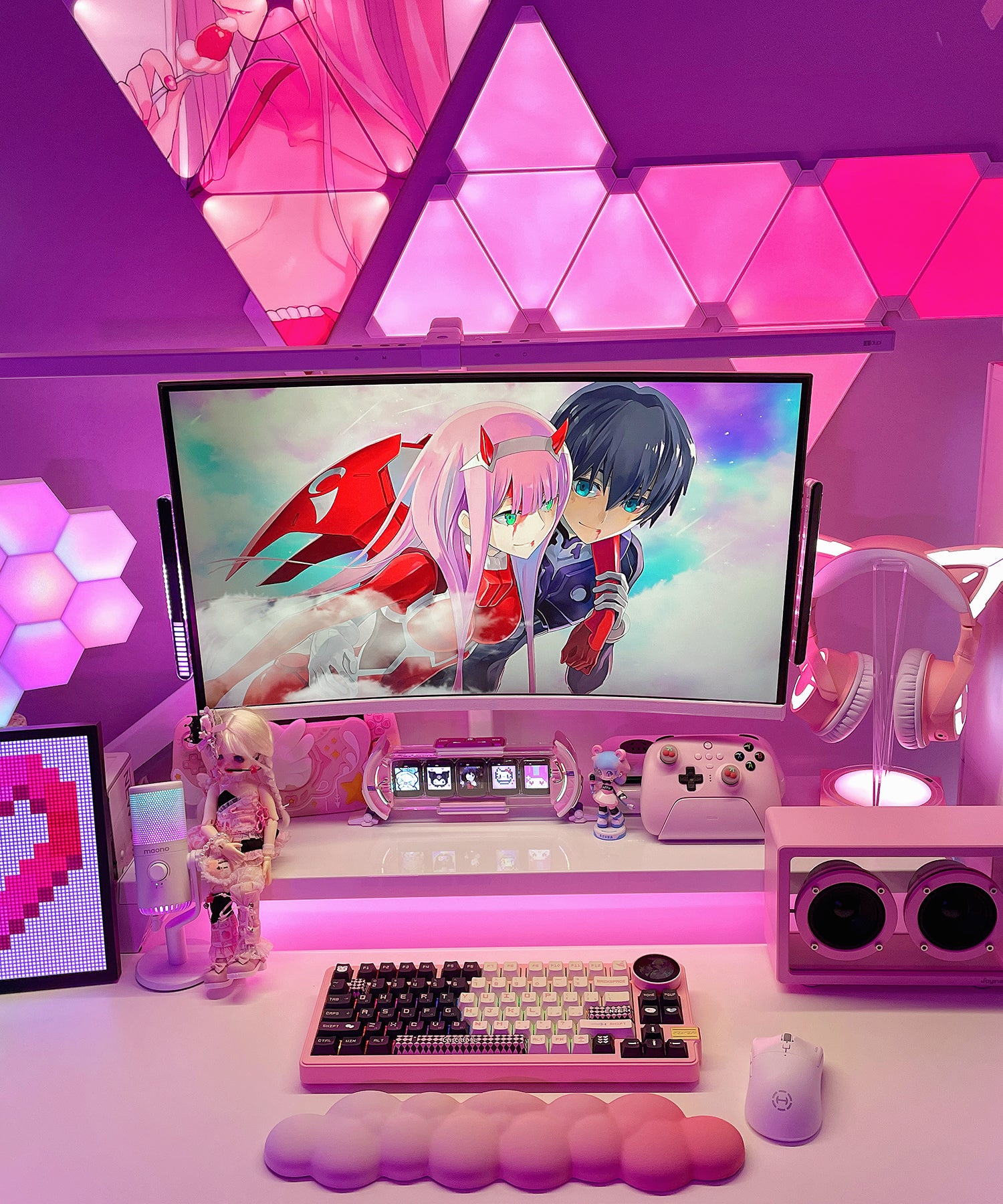 FEKER K75 Mechanical Keyboard with Multifunctional Knob Display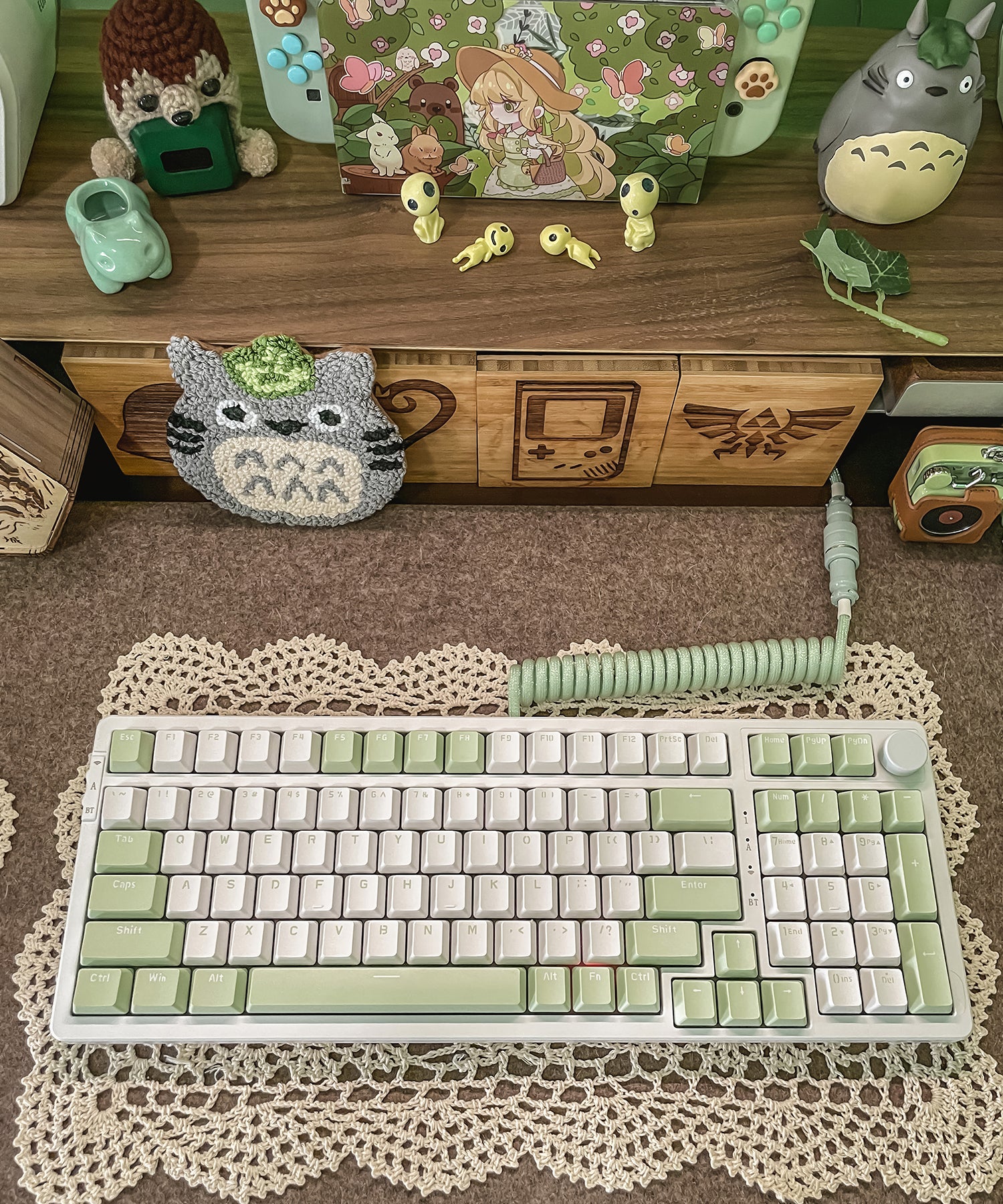 Ajazz AK992 Hot-swappable Mechanical Keyboard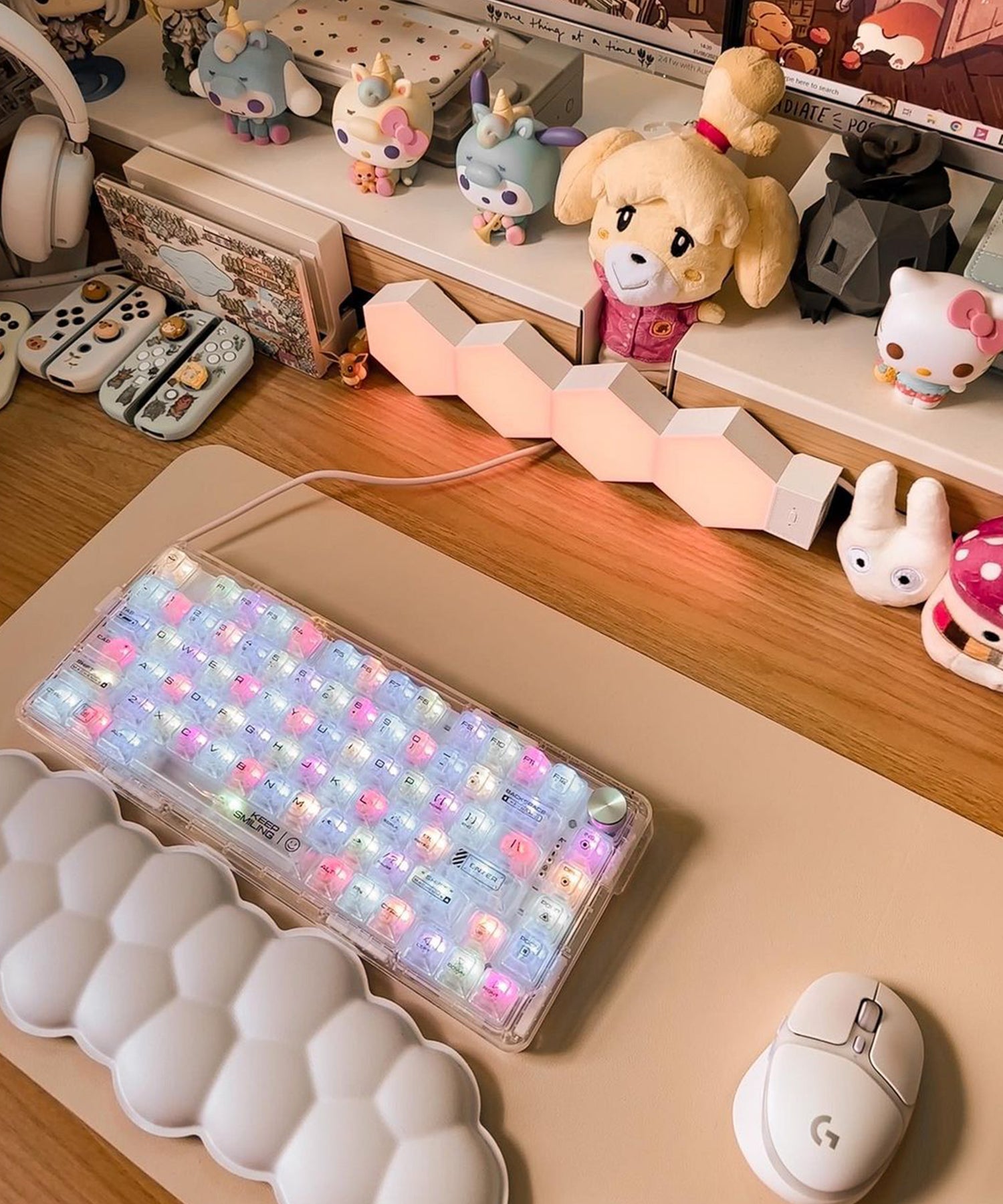 Machenike K500F-B81 RGB Clear Mechanical Keyboard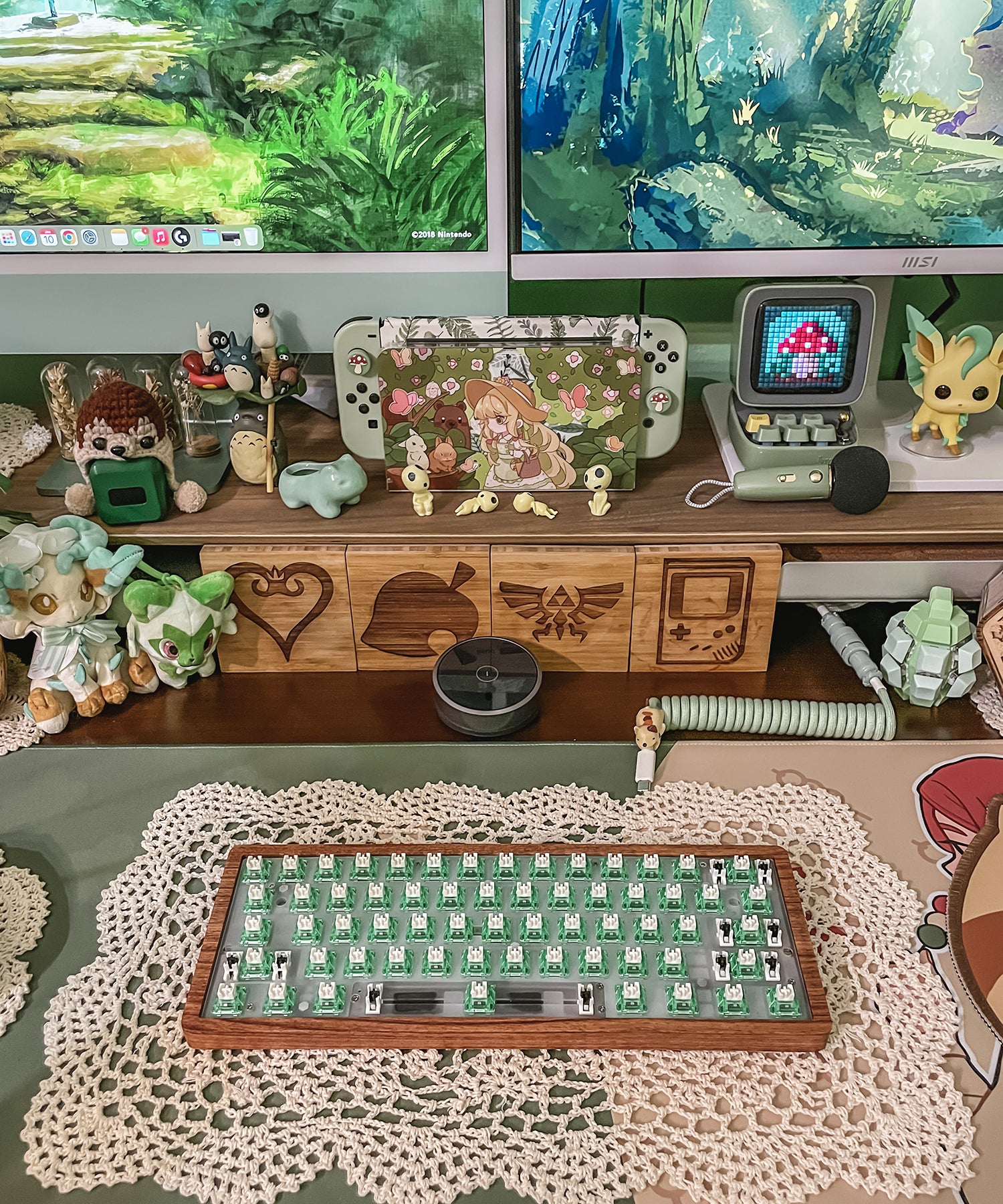 SKYLOONG GK61 Lite Gasket DIY Kit Wooden + Ajazz Diced Fruit Switch Set - Kiwi Switch