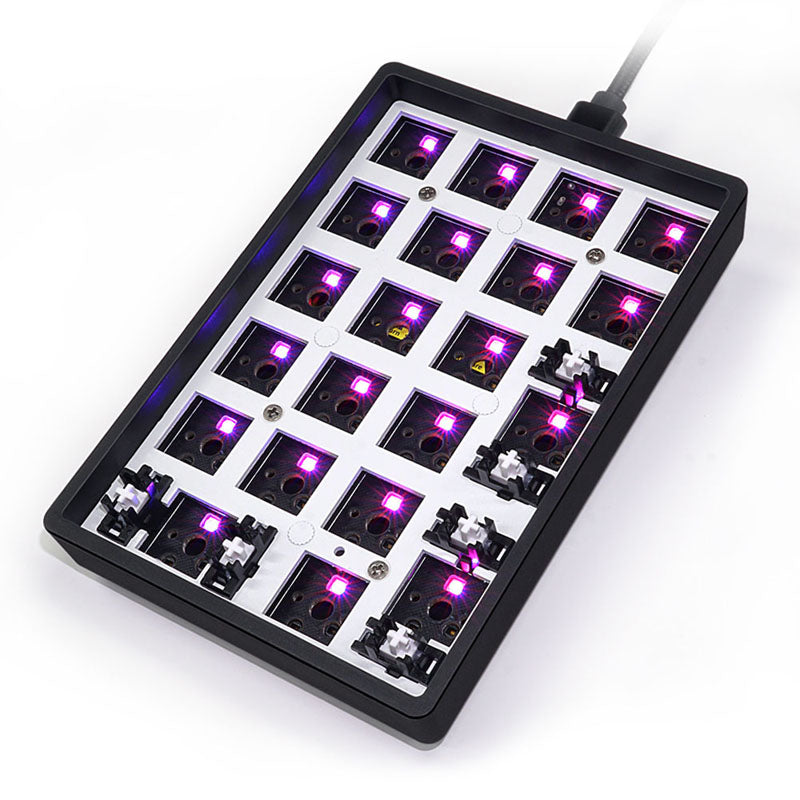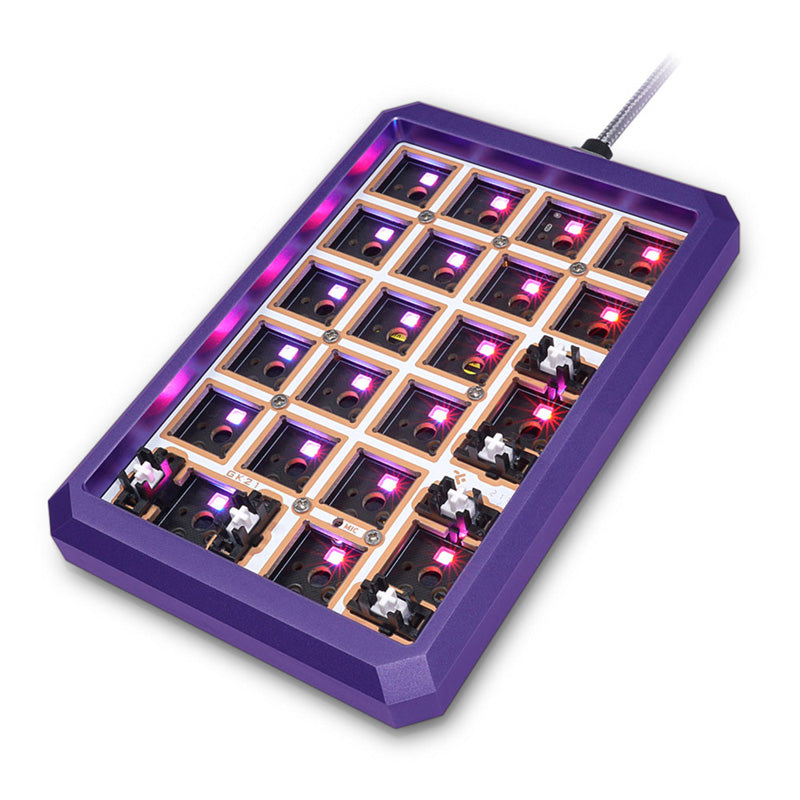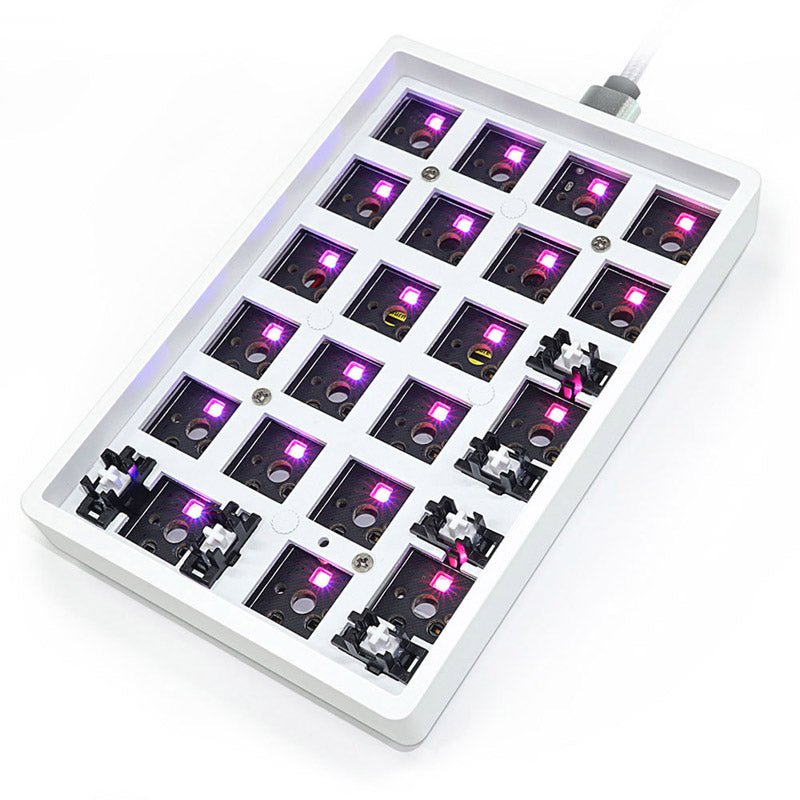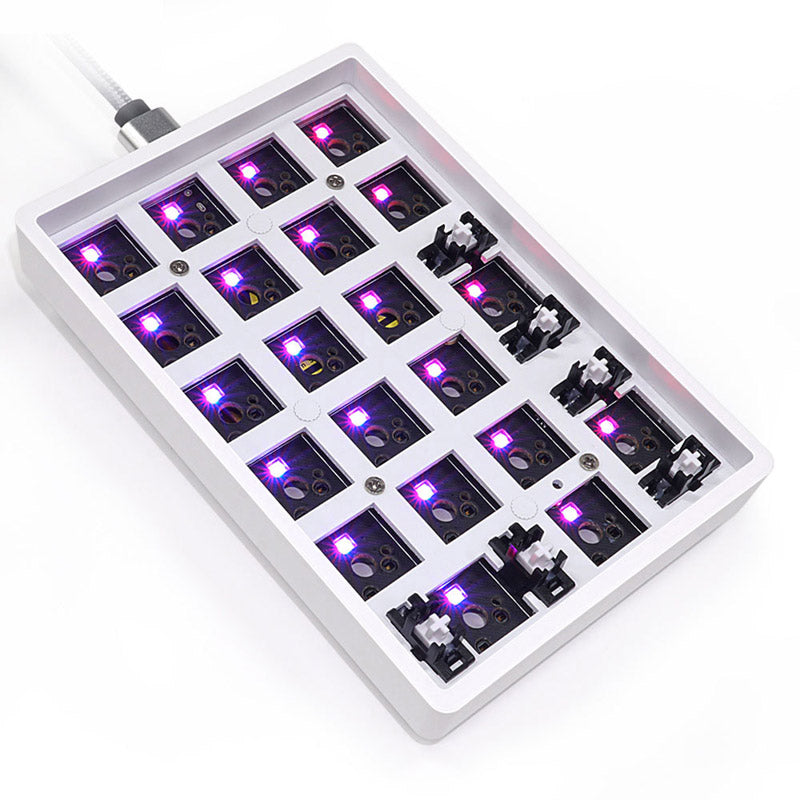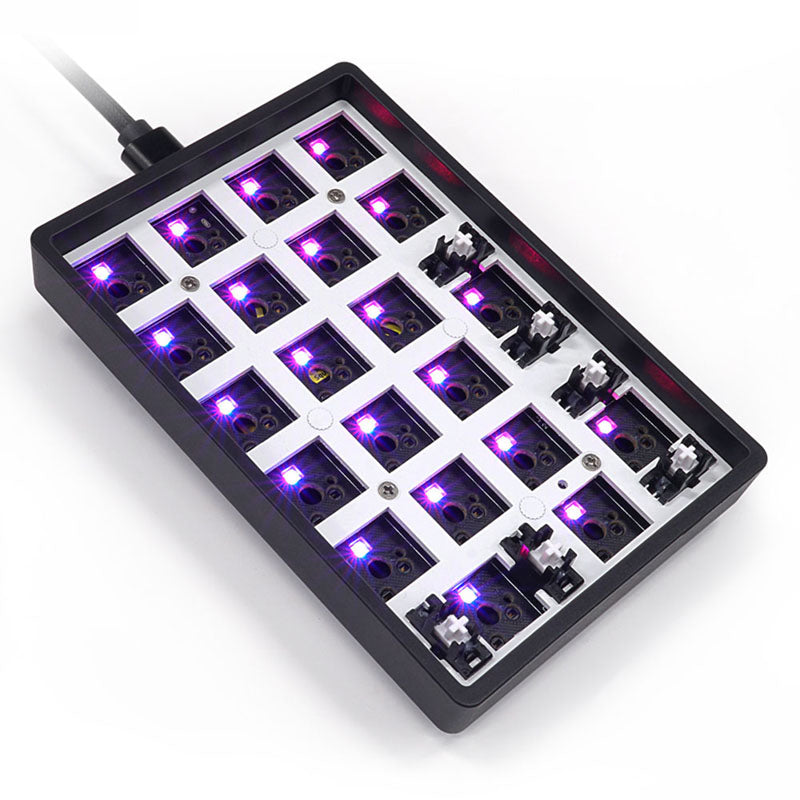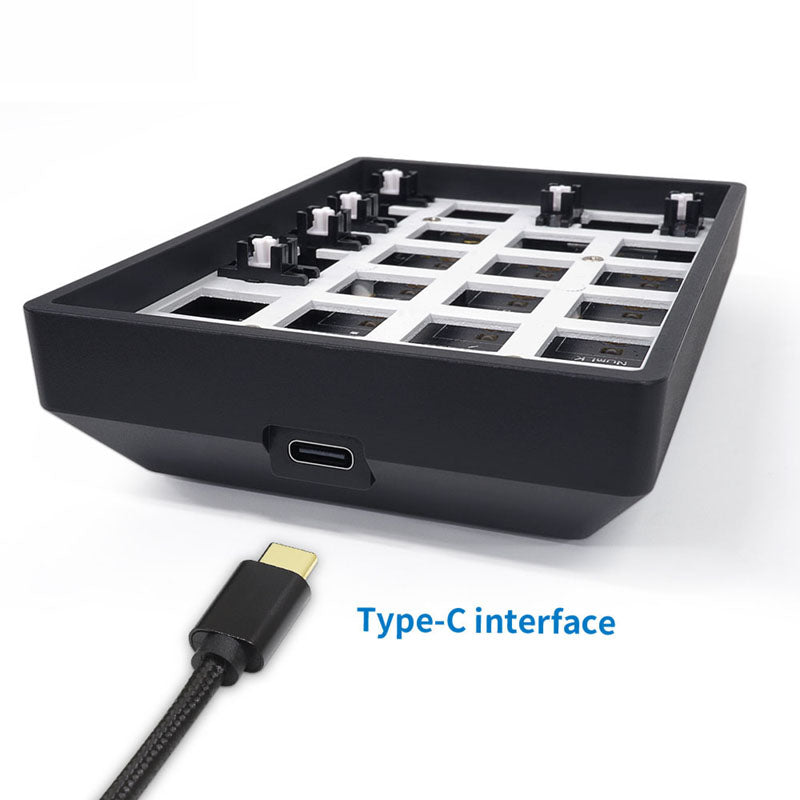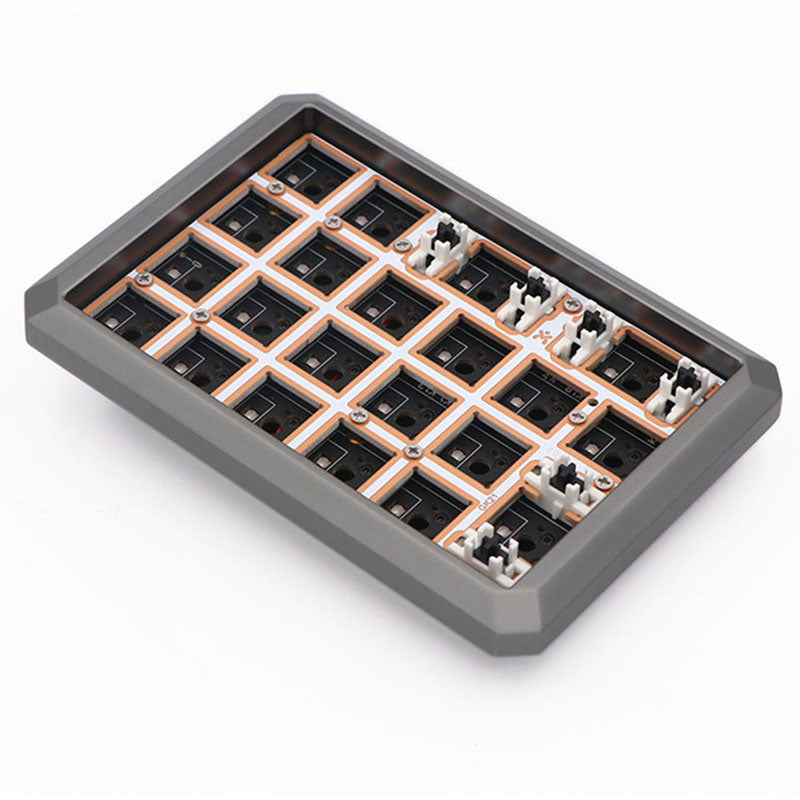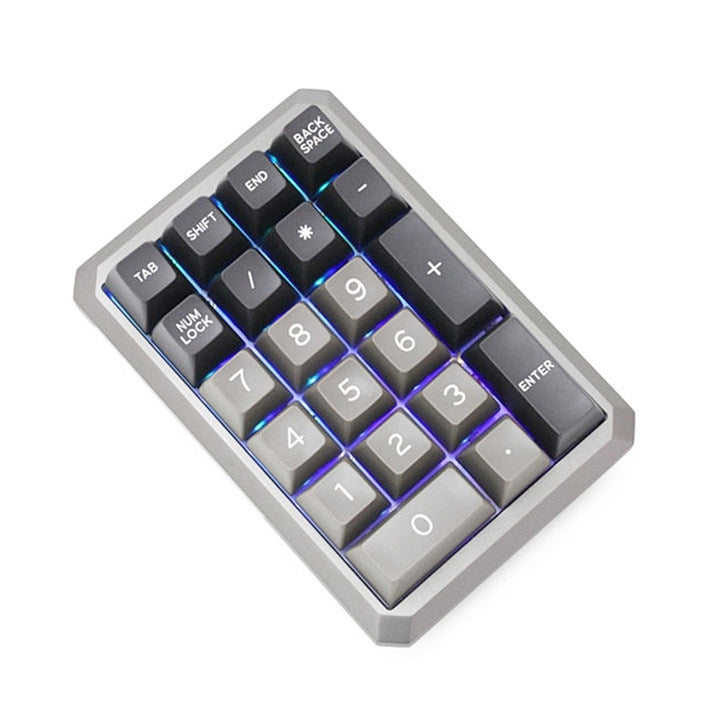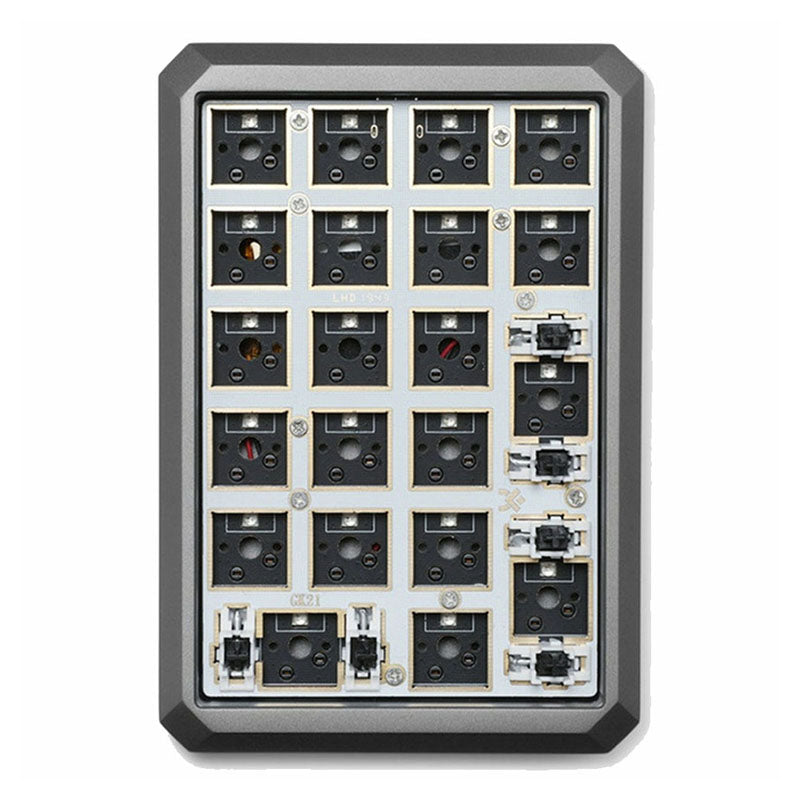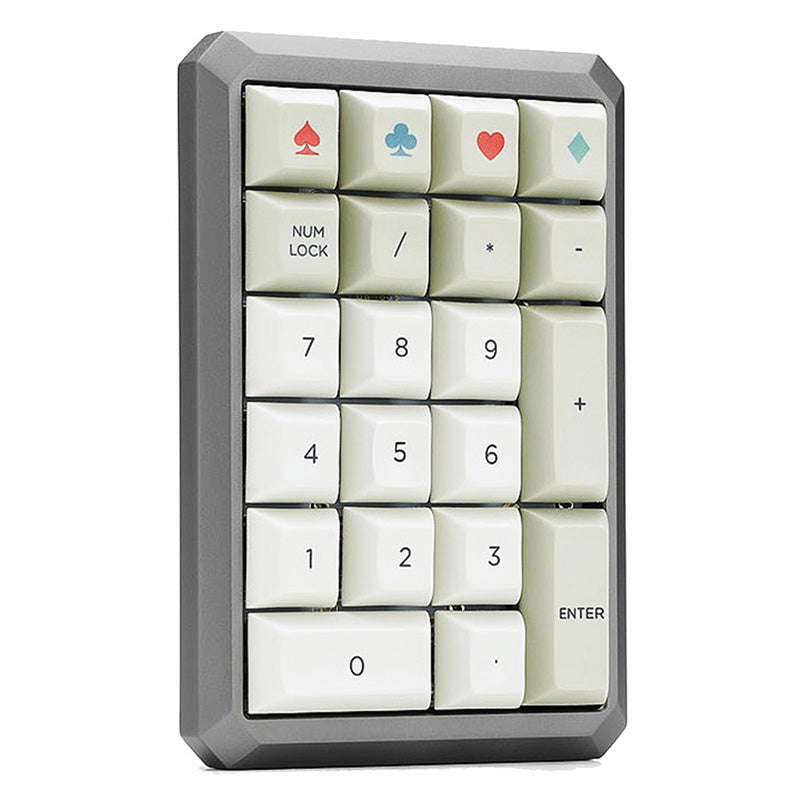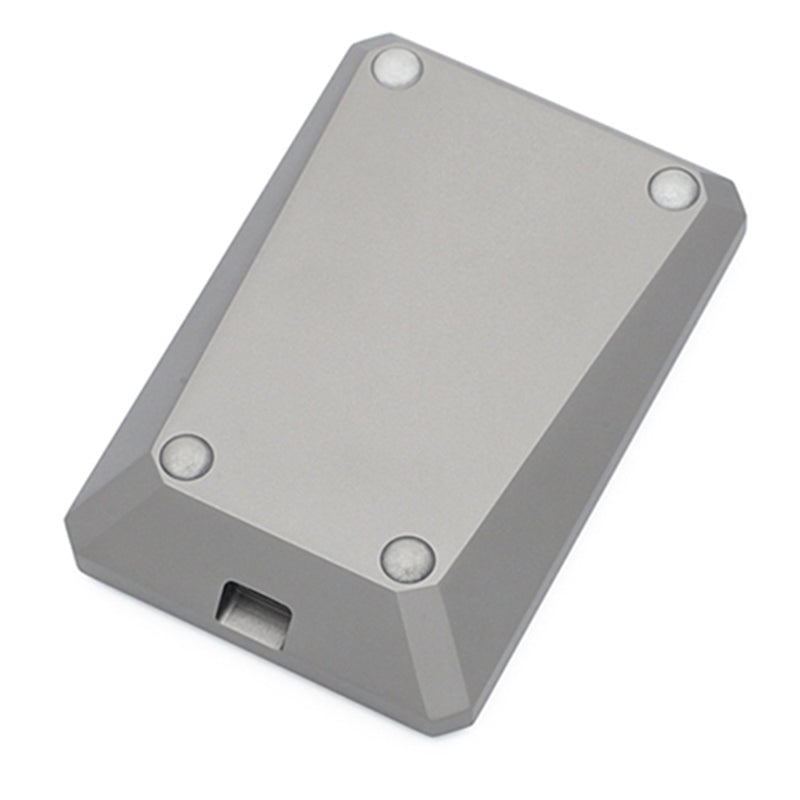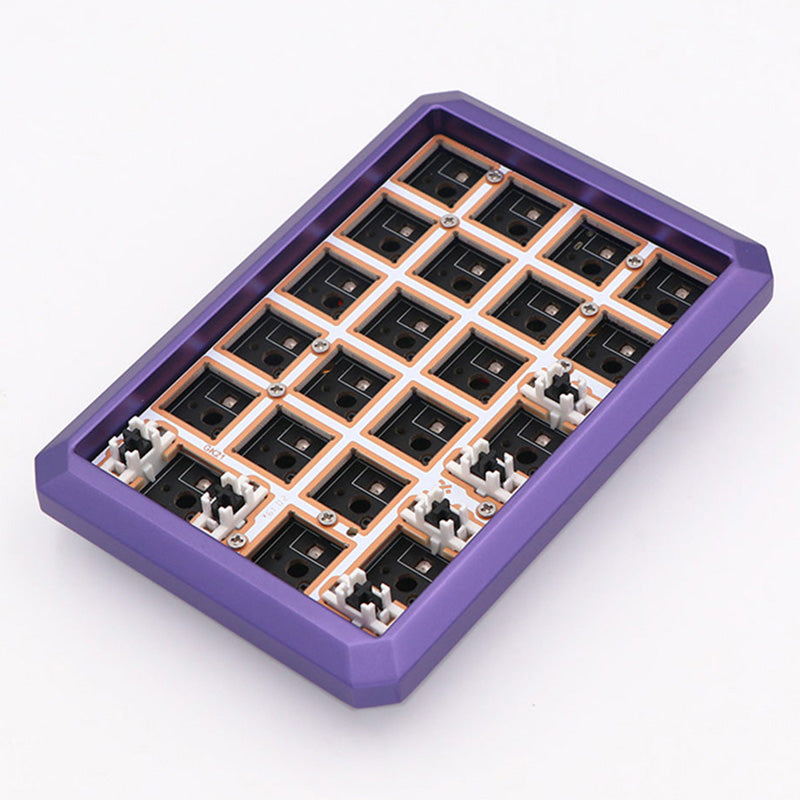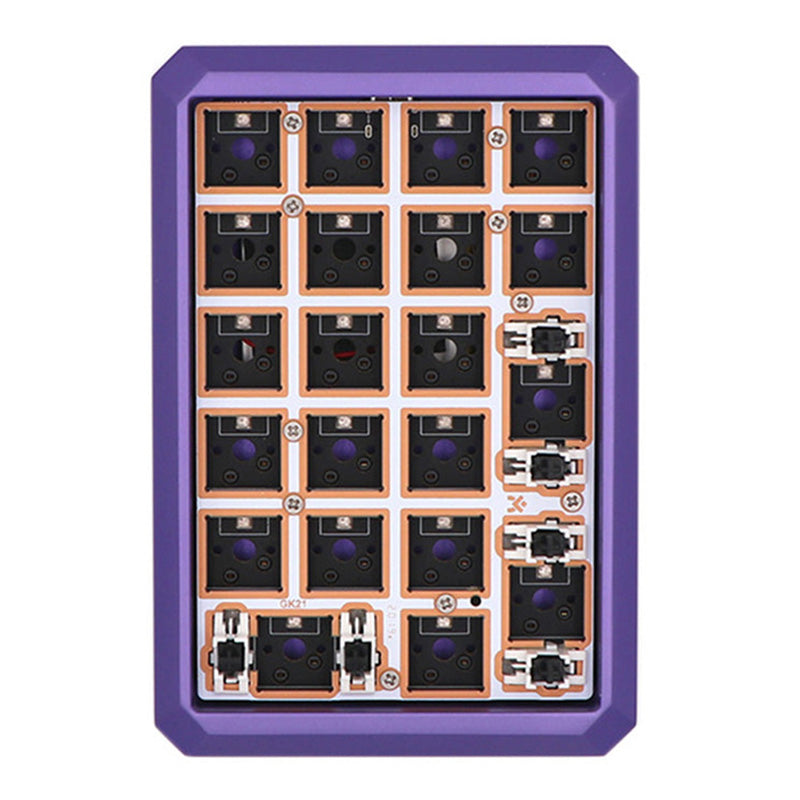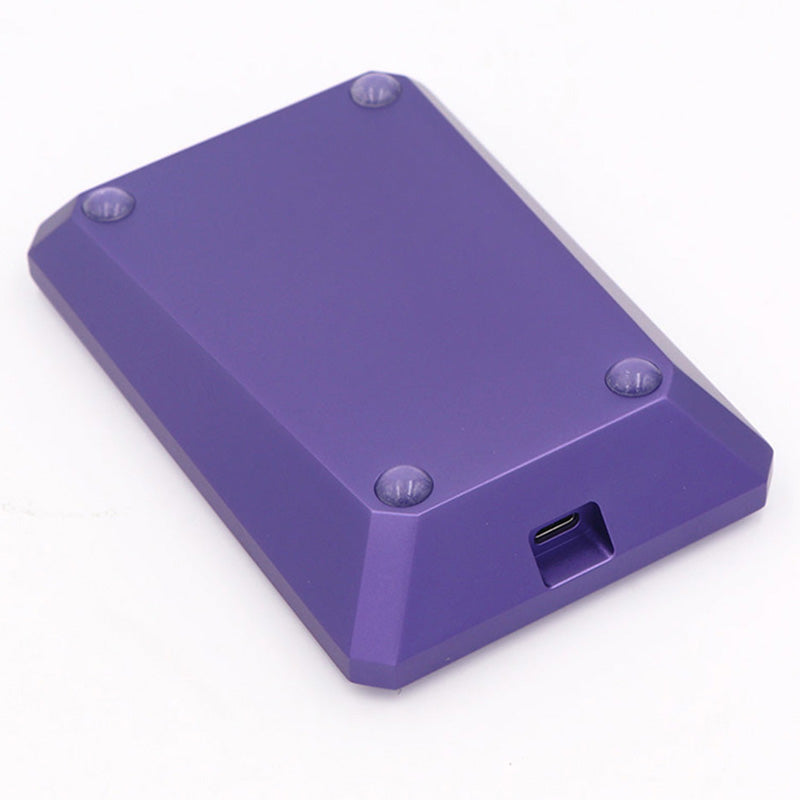 SKYLOONG GK21S Numpad 2 Mode DIY Kit
Case Material:
ABS Plastic Case
21 Keys Hotswap Numpad Kit
GK21S custom kit is equipped with hot-swappable terminals, with which you could install the switches directly without soldering. It's compatible with Cherry MX switches, Kailh switches and Gateron switches, and any 3 pins or 5 pins switch.

Bluetooth 5.1 Wireless and Wired Dual Mode
This kit is a Bluetooth module equipped with a large 750mAh capacity battery, certificated by UL. This kit adopts Broadcom Bluetooth chip. You can long press Fn+7/8/9 to connect Bluetooth with your device. With the latest Bluetooth 5.1 technology, you can enjoy fast response, low latency, lossless transmission. Make your numpad limitless to anywhere anytime.

16.8 Million Types RGB Backlight
Features RGB lighting with 16.8 million LED colors, rhythm, and sound lighting combinations, with additional key programming and macro-creation for three definable layers. Simply connect the keyboard using the USB cable to access effects and software updates. Our database is constantly updating with different lighting effects.

3 Fn Macros Customization
Custom is not just a word. We make it true. Here you have more than 6 driver settings. Simply download the driver and you will be able to program the backlight and macro settings, FN1/FN2/FN3 three layers program modes are available for any needs. Built-in flash memory can save the setting at offline mode, never be afraid of losing it.
Download the SKYLOONG Driver v6.0.0.62 - Win
Download the SKYLOONG Driver v1.0.0.18 - Mac
General

Brand: SKYLOONG


Type: Numpad Kit


Model: GK21S

Specification

Keys Number: 21

Backlight: RGB

Connectivity: USB-C, Bluetooth 5.1

Switch Sockets: Hot-swappable Support 3pin/5pin Switch

Anti-ghosting: Full Key Anti-ghosting

Dampening: Sound-absorbing Foam, Silicone Pad

System Support: Windows/macOS/ios/Android


Battery: 750mAh

Case: ABS Plastic Case / CNC Aluminum Case

Weight & Size

ABS Plastic Weight: 0.25kg

Aluminum Case Weight: 0.4kg

Package Contents

1 x Keyboard Kit


1 x Keycap Puller


1 x USB-C Cable


1 x User Manual
Great Companion to Modern Keyboards
I got this to pair with my GK61XS. I know the GK21S is 6-row while the GK61XS is 5-row, so this would likely match a GK87 Lite better, but whatever. The lighting is nice and bright, the Skyloong customization software is decent to use, but leaves a lot to be desired in terms of the lighting settings.
The included pamphlet is a great reference guide, since there are some serious FN+ shortcuts for managing keymap, lighting, and even a battery indicator, as Jennifer's review mentions. The battery indicator is the ". Del" key and can be toggled using the FN key then tapping the .Del key.
I personally bought the keypad to use it primarily wired, with maybe Bluetooth usage when on-the-go or traveling.
Also worth noting is that the keypad actually comes with a small amount of foam already inside it to try to dampen the sound of typing and using it. I replaced it with some Poron and prefer that sound, but it *does* include some foam.
Easy addition for me to do for my typing setup, and the price at time of purchase ($43.99) is below retail for many other competing shopping platforms, and the shipping was rather quick for "free shipping." If you need a numpad or want a macro pad, this might be worth a shot if you prefer DIY over pre-built offerings.
I almost love it
I wish it wasn't Bluetooth - it is sleeping half the time and then doesn't register the first couple of buttons I push. Additionally the rgb automatically turns on when I plug it in to charge which is pretty annoying as my desk is in my bedroom and I am trying to sleep. Otherwise it's a totally fine num pad!
Setup Ideas From Customers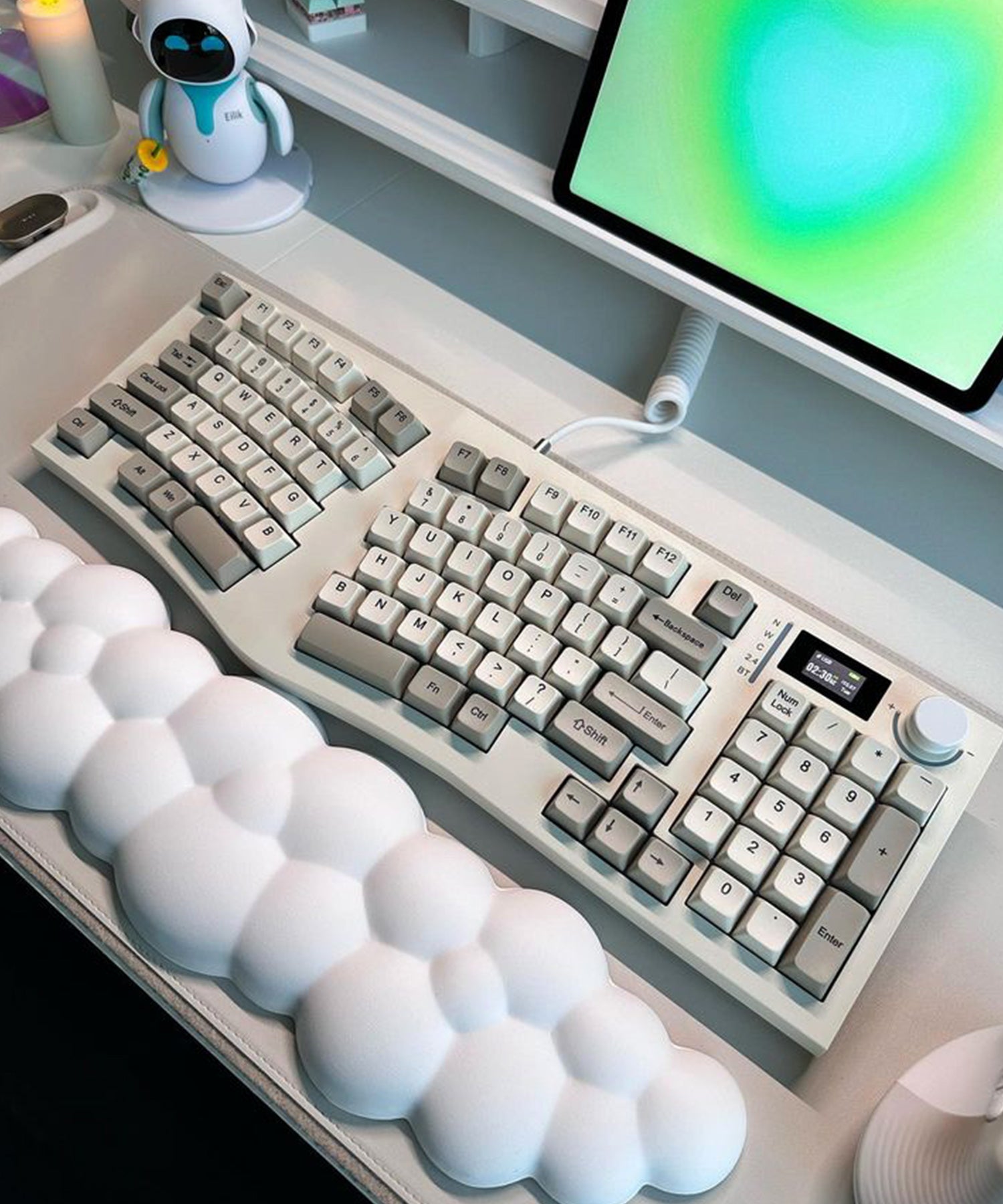 FEKER Alice98 Wireless Mechanical Keyboard With LED Screen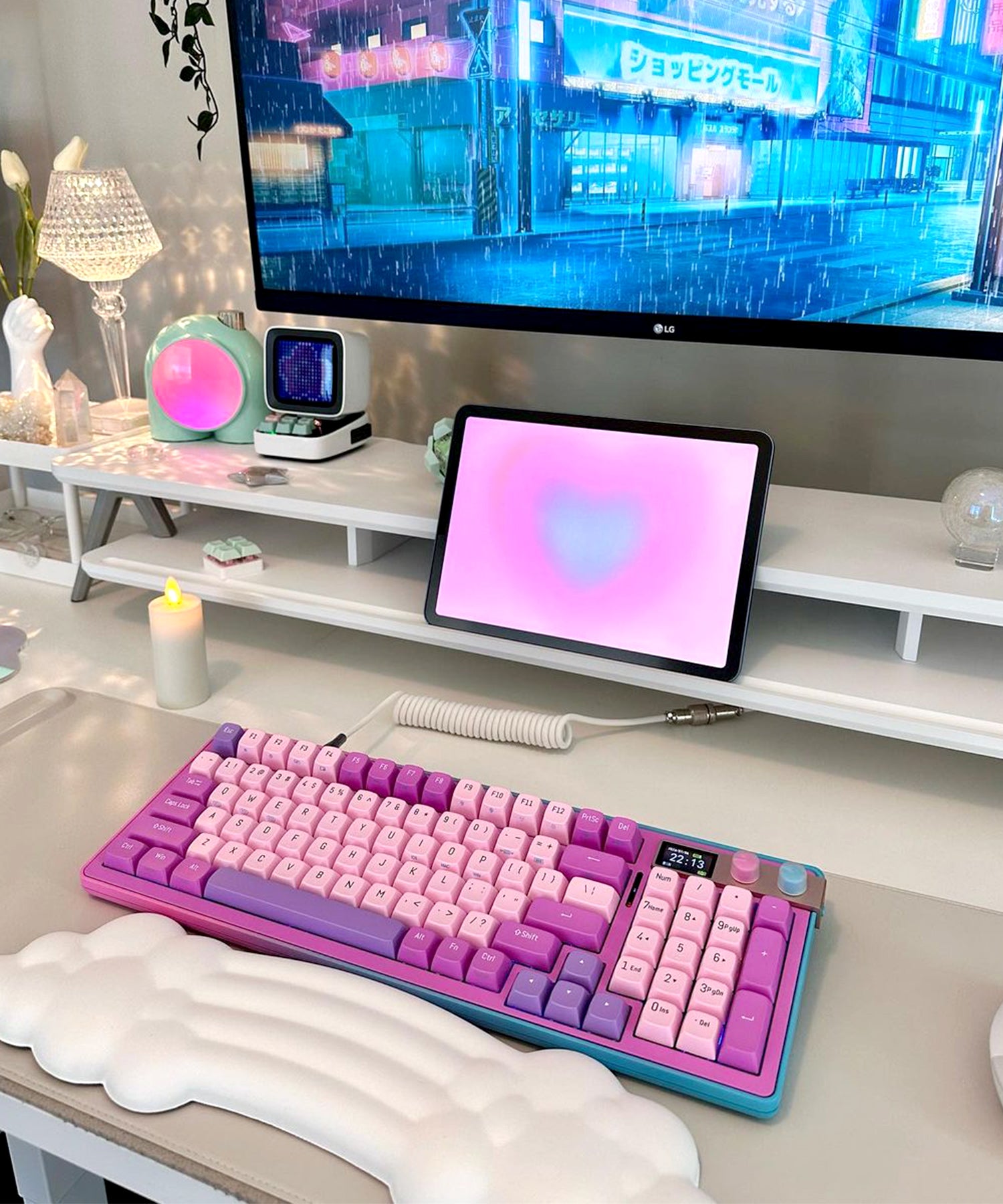 FOPATO H98 Love & Salvation Wireless Mechanical Keyboard With TFT Screen
FirstBlood B81 Crystal Transparent Wireless Mechanical Keyboard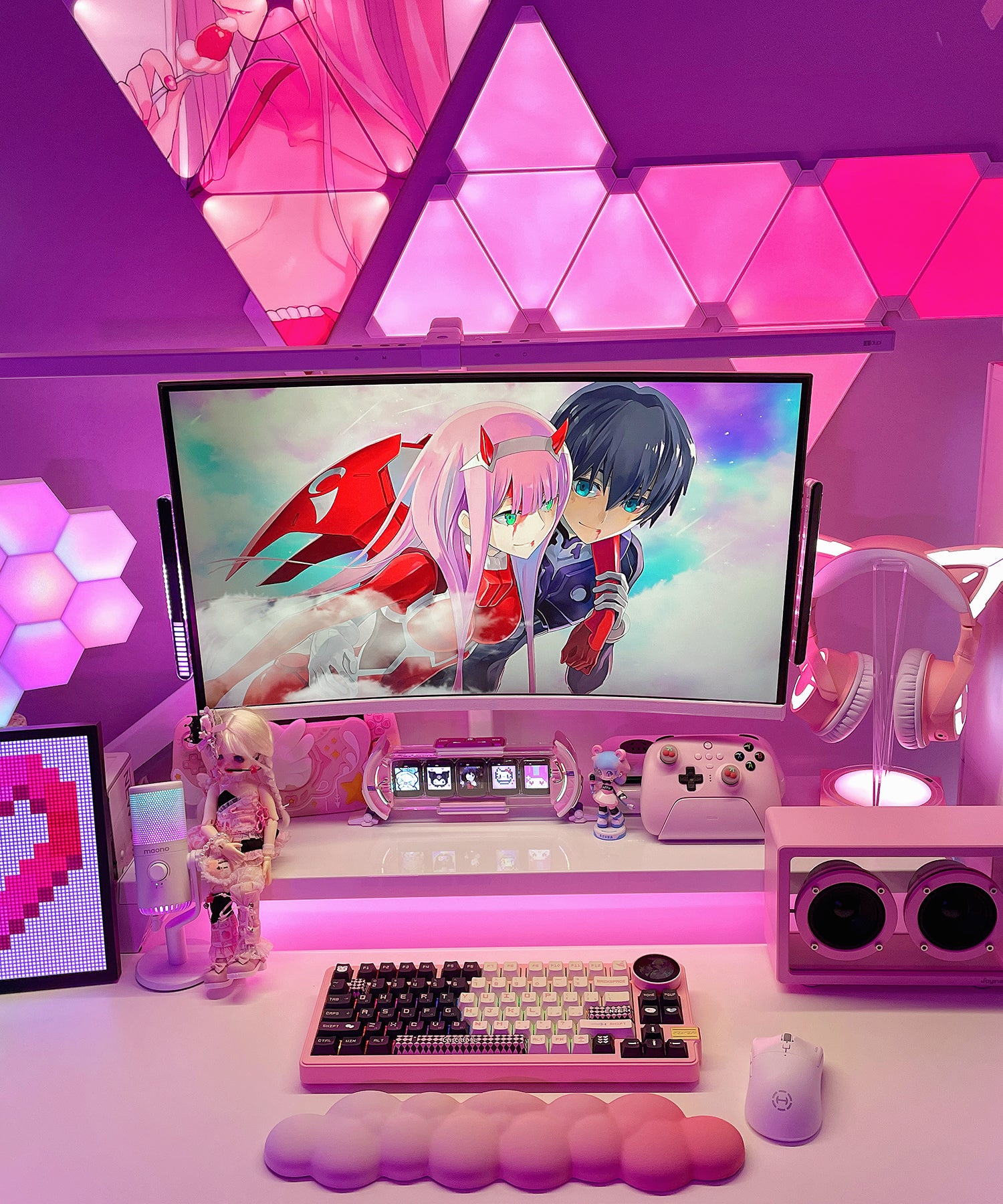 FEKER K75 Mechanical Keyboard with Multifunctional Knob Display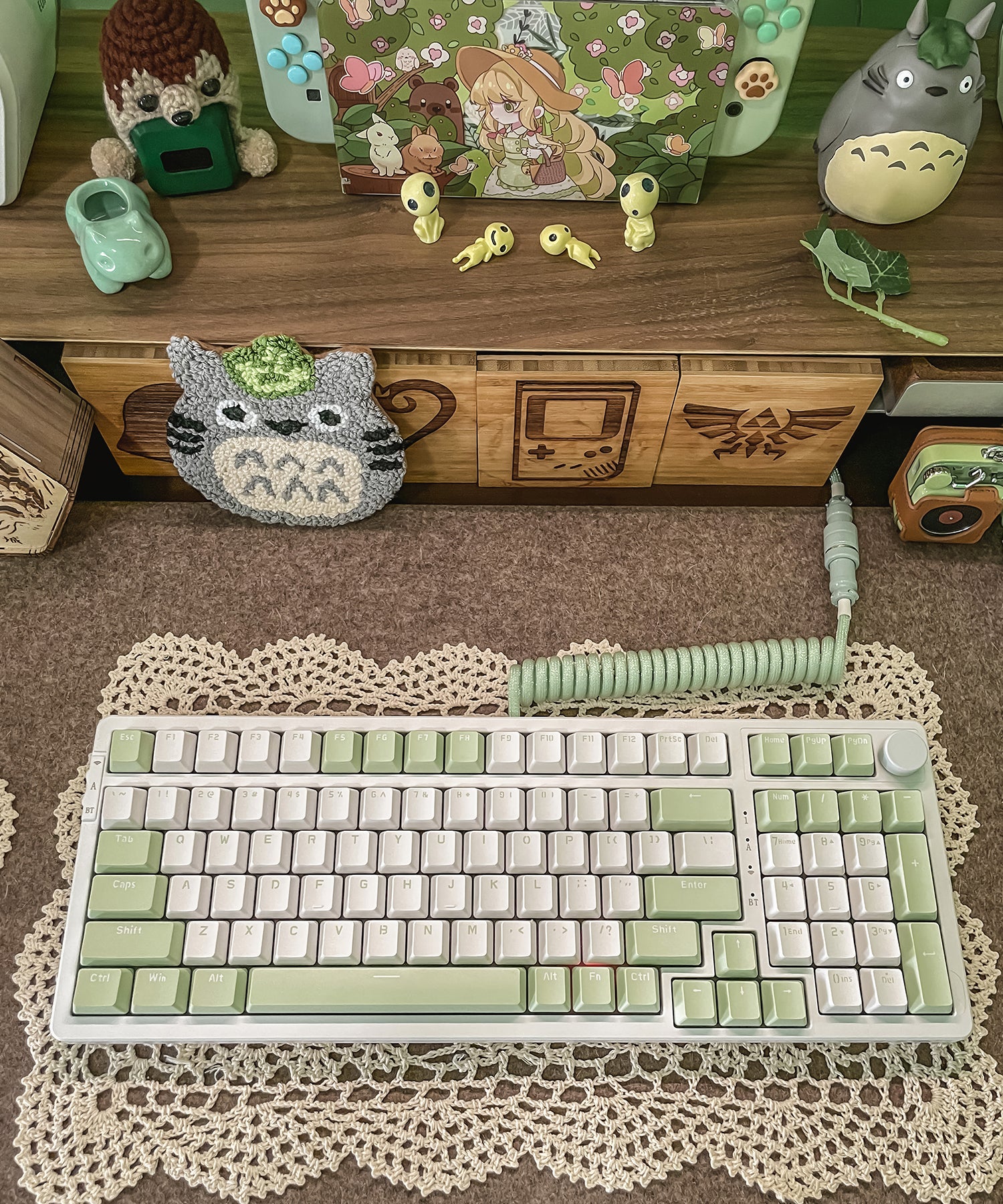 Ajazz AK992 Hot-swappable Mechanical Keyboard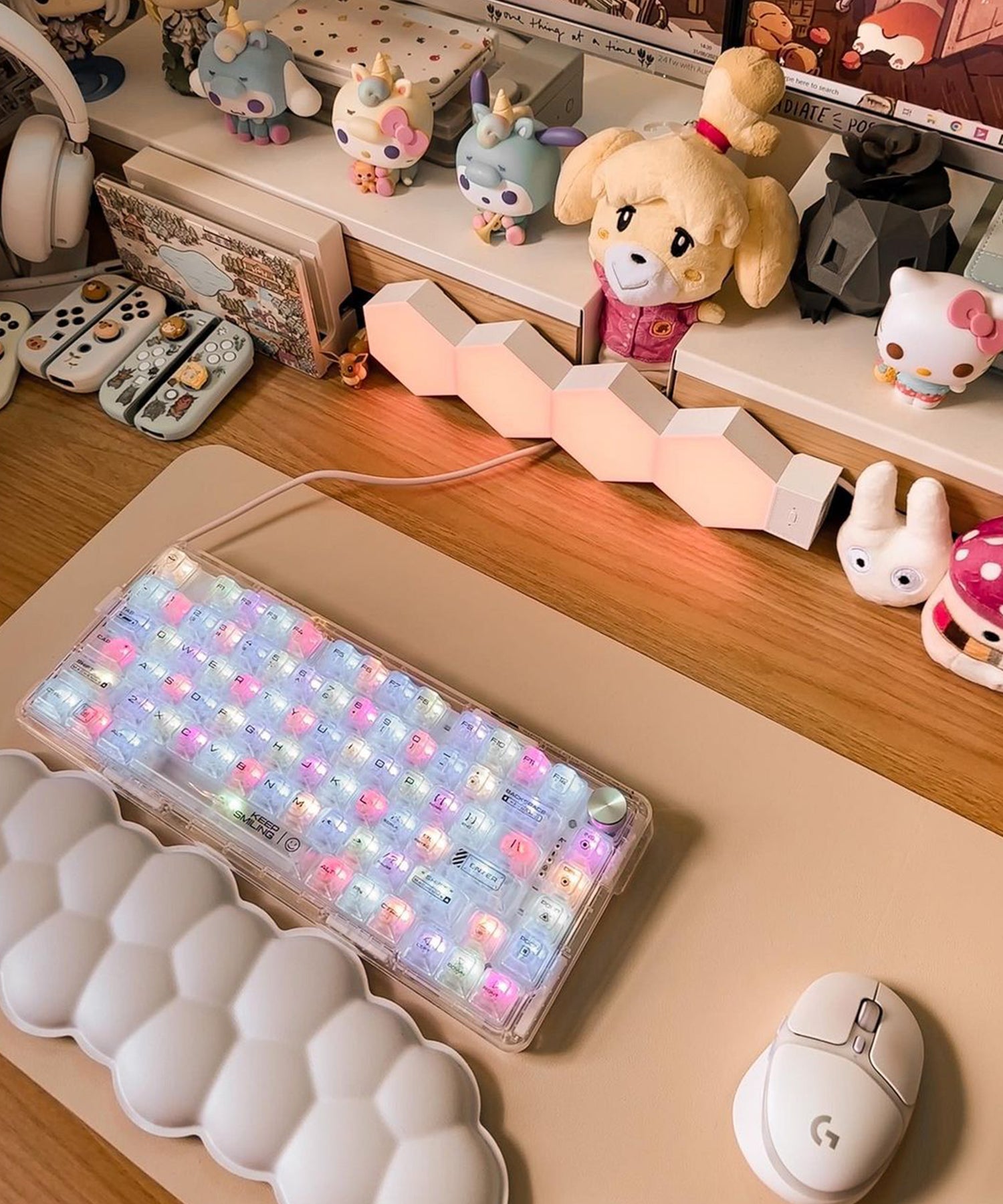 Machenike K500F-B81 RGB Clear Mechanical Keyboard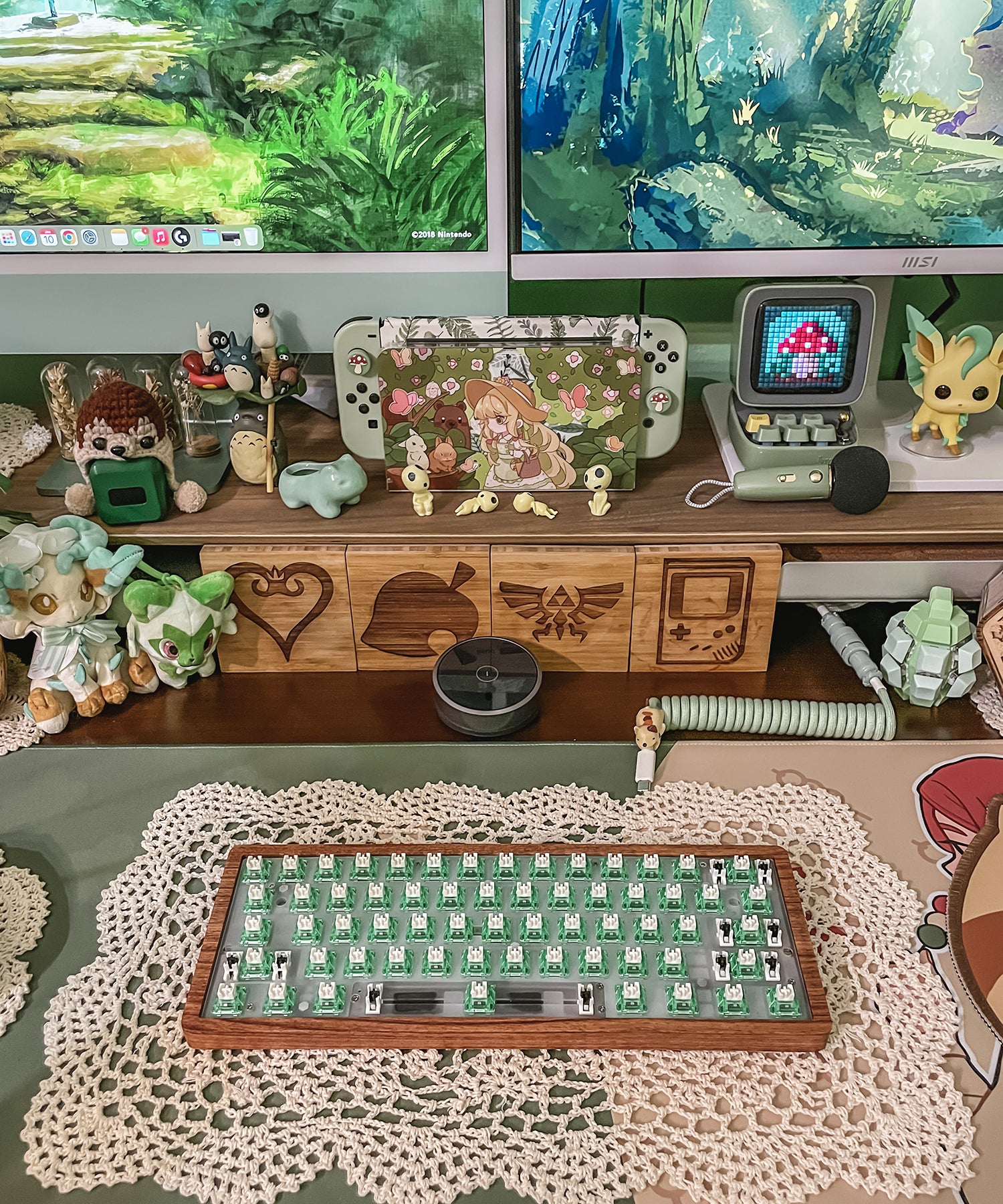 SKYLOONG GK61 Lite Gasket DIY Kit Wooden + Ajazz Diced Fruit Switch Set - Kiwi Switch