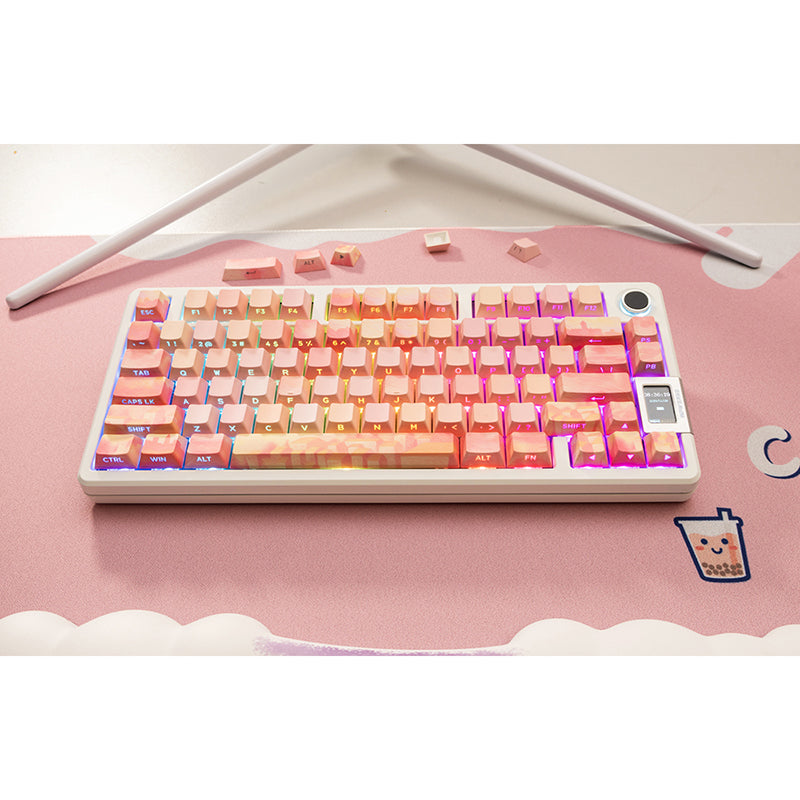 PIIFOX CKC-02 Pink Oil Painting Side-printed OEM Profile Keycap Set 130 Keys
Dive into a world of artistic expression with 130 unique and exquisitely crafted keys. From delicate petals to vibrant strokes, the soft and captivating pink hues are reminiscent of a beautiful oil painting, this set is a true work of art, designed to make your desk a haven of creativity and inspiration.

The Perfect Gift:
These keycaps make for an unforgettable present that combines art, functionality, and passion in one stunning package. Surprise them with a touch of artistic elegance that will leave a lasting impression. 

Thermal Sublimation PBT Keycaps
This set is made of dye-subbed PBT keycaps to offer ultra durability and stability. The keycaps are oil-proof and fingerprint-proof.

OEM Profile 130 Keys Keycaps Set
This keycap set is designed as an OEM profile which is regarded as one of the most ergonomic heights for most typing. Coming with 130 keys in English (US) ANSI Layout.

Pudding Keycaps
Two layers of color design keycap, with RGB keyboard, to show a more dazzling RGB lamp effect.

Compatibility
Compatible with 61 keys, 68 keys, 82 keys, 87 keys, and 104/108 keys keyboards; Support layout: 60%, 75%, 80%, 96%, 100%.
General

Brand: PIIFOX


Type: Keycaps


Model: CKC-02

Theme: Pink Oil Painting

Specification

Number of keys: 130 Keys


Process: Dye-subbed


Profile: OEM

Weight 

Product Weight: 0.66kg


Package Weight: 0.66kg

Package Contents

1 x Keycap Set (130 Keys)
Fast shipping and best keycaps!
Shipping was fast, arrived in the New York in 13 days, and the packaging was also sturdy with no breakage. The keycaps are complete, fit my FirstBlood B67 keyboard and look very nice at night too.
The packaging is complete. These keycaps are perfect for customization. The pink color allows me to create a unique and personalized keyboard.
The OEM profile of these keycaps is comfortable for both gaming and typing. The pink color makes my keyboard look stylish.
The OEM profile is comfortable and allows for smooth typing. The pink color is vibrant and eye-catching.
nice
These pink OEM profile PBT keycaps are absolutely stunning. The color is vibrant and the texture feels great under my fingertips.