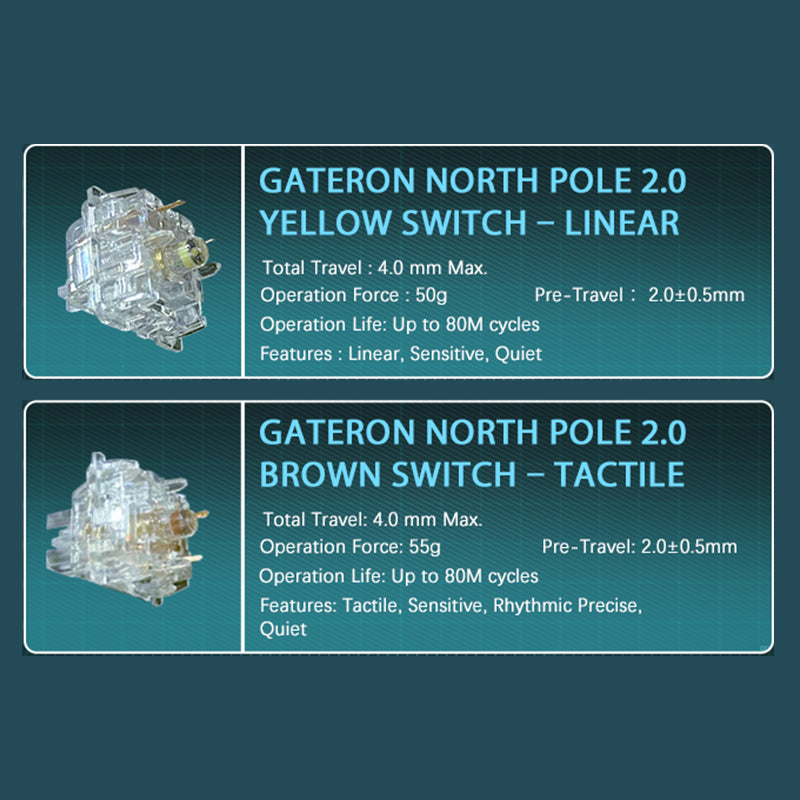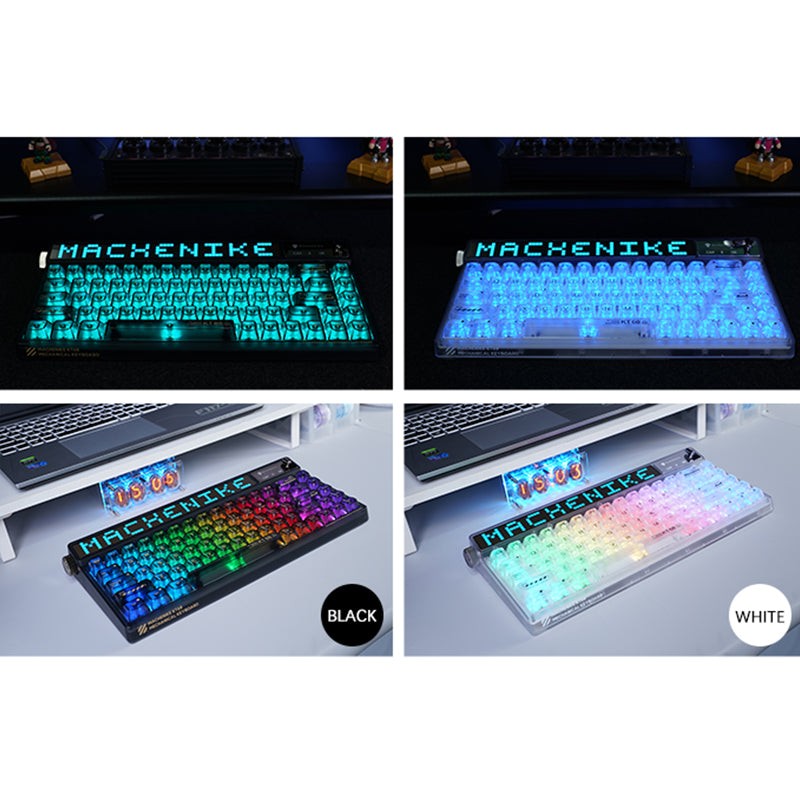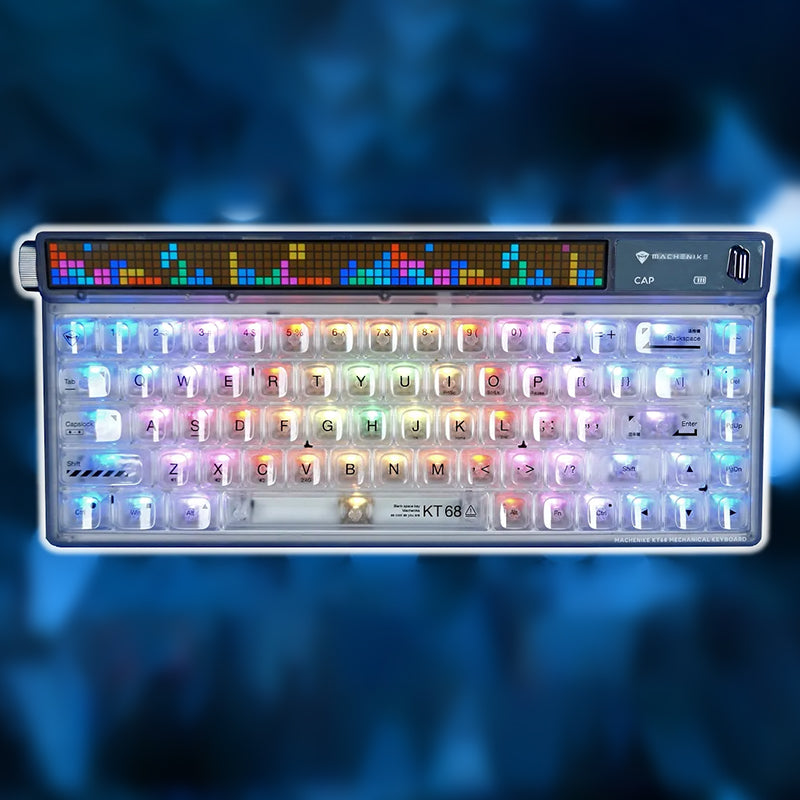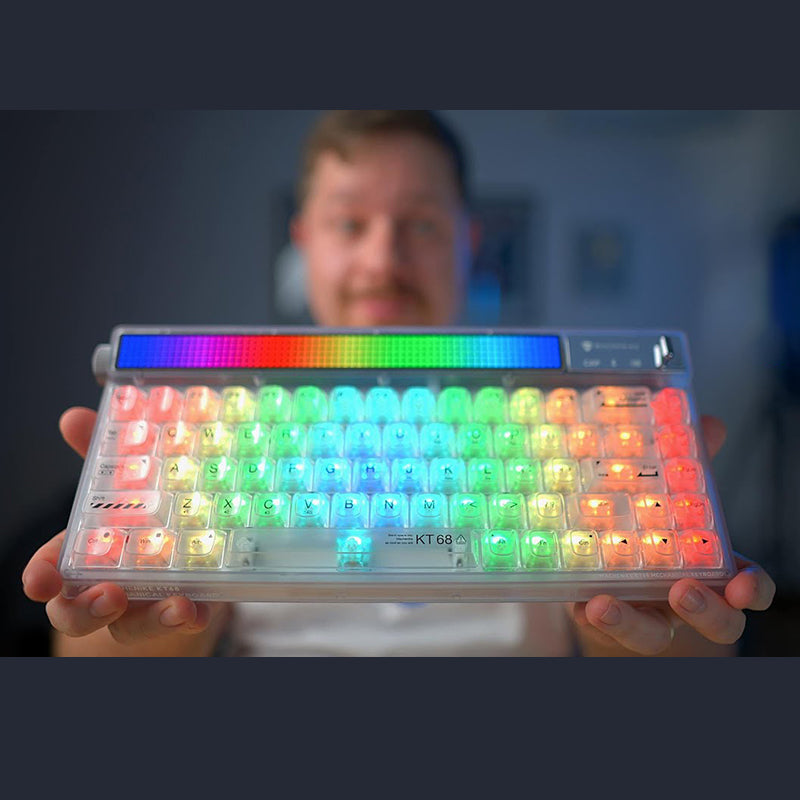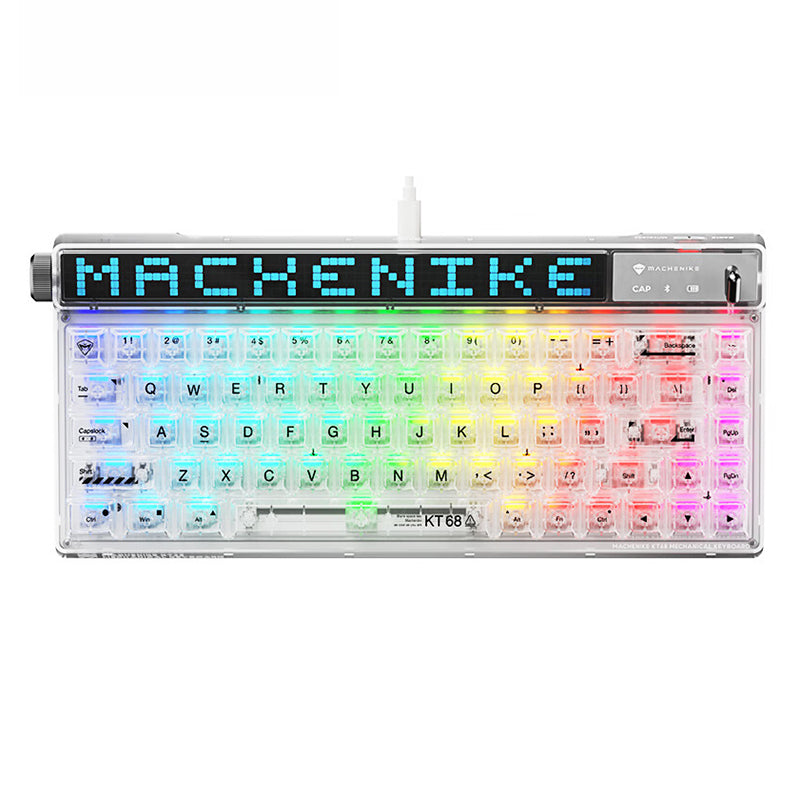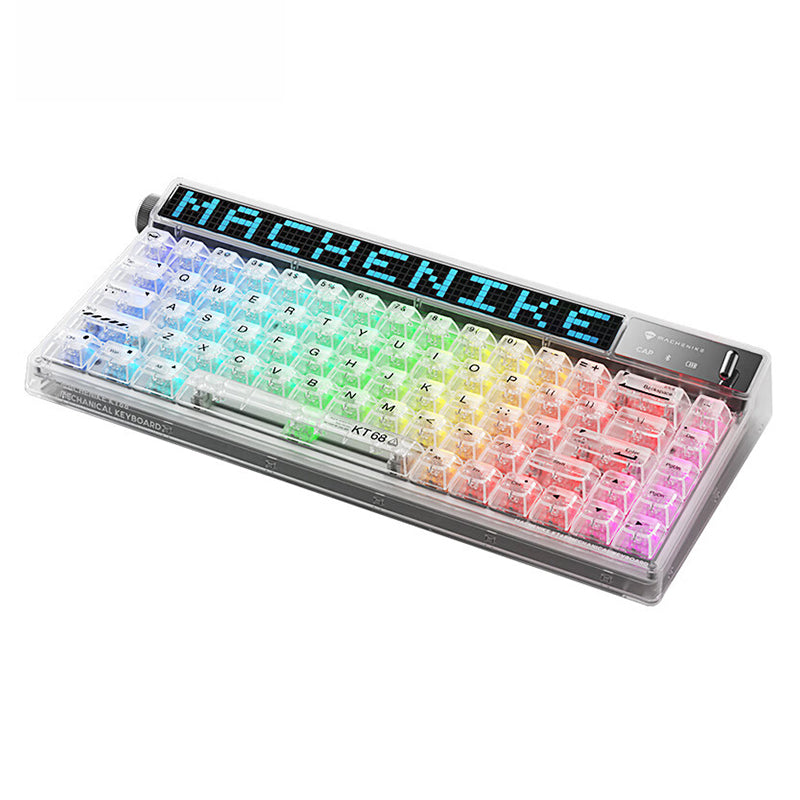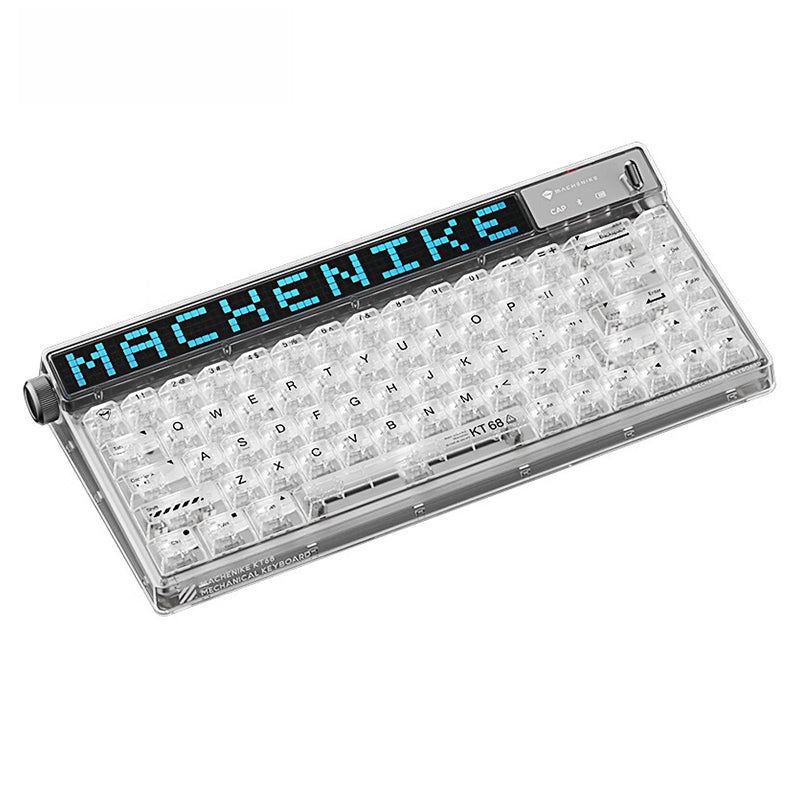 Machenike KT68 Pro Smart Screen Hot-Swap Mechanical Keyboard
Switch Type:
Gateron North Pole 2.0 Brown Tactile
As a new generation mechanical keyboard from Machenike, KT68 Pro adopts the latest GATERON North Pole 2.0 Switch providing a highly sensitive and accurate typing experience. With a silent silicone pad, there is no sound when typing quickly, bringing you an ultra-quiet typing environment.
Designed with a built-in silent silicone pad that provides a comfortable typing environment without click-on noise. It may be your best work companion which allows you to type accurately, quickly, and silently without any distractions.
The destination of the "Cool" keyboard should be "Transparent", "Lighting" & "FUN"! No matter the cover, keycaps and switches of KT68 Pro, all are made of transparent materials that make the RGB lights look great as it shines through the transparent keycaps.
More than 20 different RGB lighting effects are available, and the audio visualizer is also supported.
Thanks to the self-developed driver, our users can give full play to their autonomy and freely create dynamic lighting effects, share, customize macros and lead in/ out lighting effects.
KT68 Pro is compatible with the majority of mechanical keyboards and works well with 3/5 pin switches. All keys can be hot-swapped and users may make their own keys, making it ideal for gaming. Additionally, users can personalize their keycaps and swap them out as needed to suit various situations.
Users of the KT68 Pro may easily change the volume, activate the mute function, return to the device's home screen, move between apps, and other quick settings by toggle switch.
KT68 Pro supports wired/wireless connections and is compatible with Windows/ iOS/ Mac OS/ Android systems.
The KT68 Pro adopts a simplified 68 keys layout design that is more condensed than typical keyboards. It saves space on your desktop and is easy to carry.
Download the KT68 Without Screen Software - V1.01 - Win
Download the KT68 With Smart Screen Software - V1.01 - Win
General

Brand: Machenike


Type: Mechanical Keyboard


Model: KT68 / KT68 Pro Smart Screen

Specification

Key Amounts: 68 


Keycaps: PBT

Case Material: ABS


Switch Socket: Hot Swappable 3/5 pins


Anti-ghosting: NKRO in all Keys

Battery Capacity: 4000mAh

Connectivity: Type-C Wired, Bluetooth 5.0 & 2.4GHz

Compatible with Windows/ iOS/ Mac OS/ Android Systems

Switch Type

Gateron North Pole 2.0 Yellow Switch
Type: Linear
Operation Force: 50gf
Total Travel: 4.0mm Max.
Pre-Travel: 2.0±0.5m
Operation Life: Up to 80M cycles
Features: Linear, Sensitive, Quiet

Gateron North Pole 2.0 Brown Switch
Type: Tactile 
Operation Force: 55gf
Total Travel: 4.0mm Max.
Pre-Travel: 2.0±0.5m
Operation Life: Up to 80M cycles
Features:  Tactile, Sensitive, Rhythmic Precise, Quiet

Package Contents

1 x Keyboard


1 x Type-C Cable


1 x 2.4G Dongle


1 x User Manual
Much RGB
Lighting of each key looks good and the screen above the keyboard looks fantastic, and the software is intuitive. Typing feels good but some modifications might be needed depending on user preferences.
MACHENIKE KT68 Pro Smart Screen Hot-Swap Mechanical Keyboard
Aesthetic is good, love the RGB and LED screen, like a Cyberboard Vibes. As a keyboard enthusiast and using custom keybaord to mod needs some touch for feel and sound, but for most people its ready to use.
Good company but the shipping is a little bit slow but other than that its highly recommend.
Pretty nice!
Looks great but MAKE SURE TO DOWNLOAD THE SOFTWARE FROM THINKGEEKS WEBSITE AND NOT THE ORIGINAL MANUFACTURER AS IT HAS A TROJAN VIRUS ON THEIR SOFTWARE. THINKGEEKS DOES NOT HAVE A TROJAN.