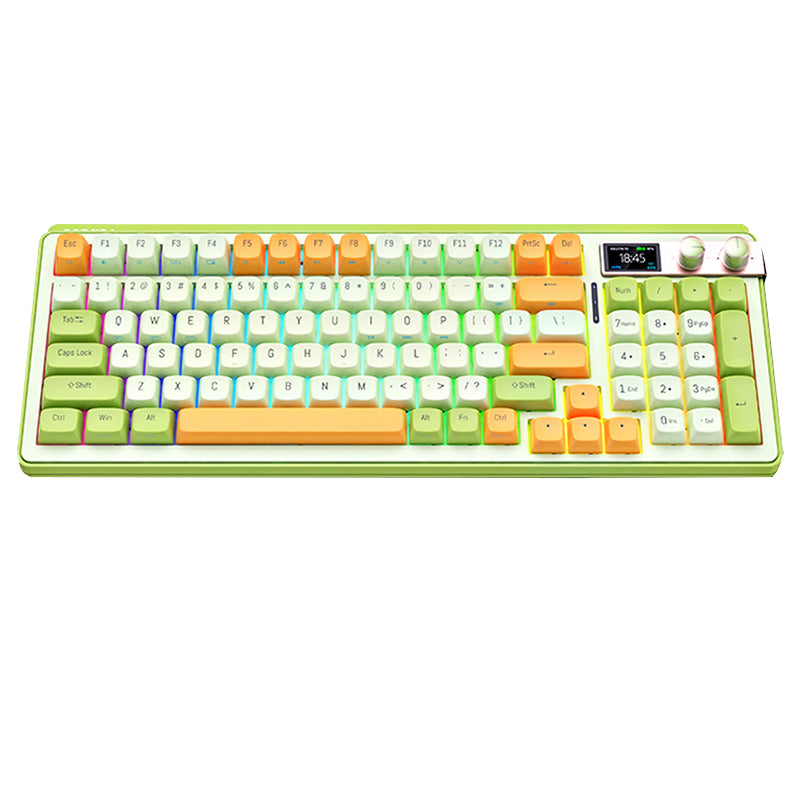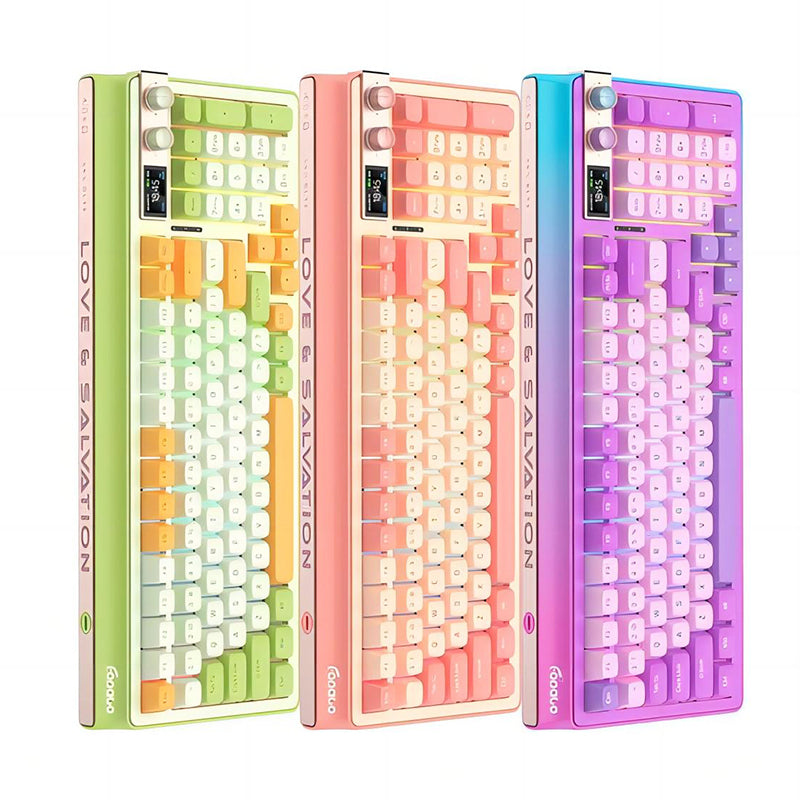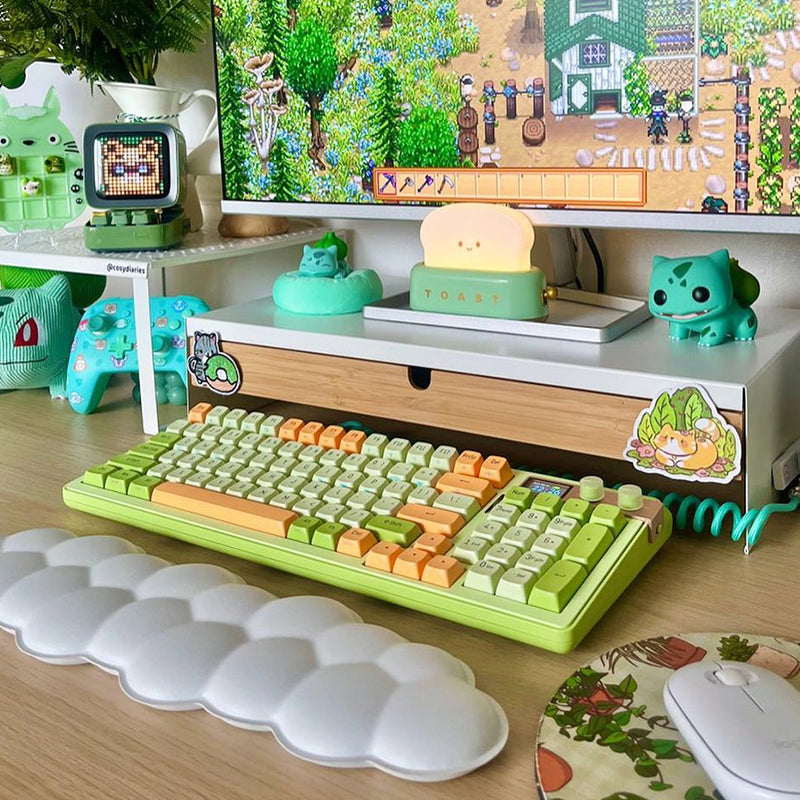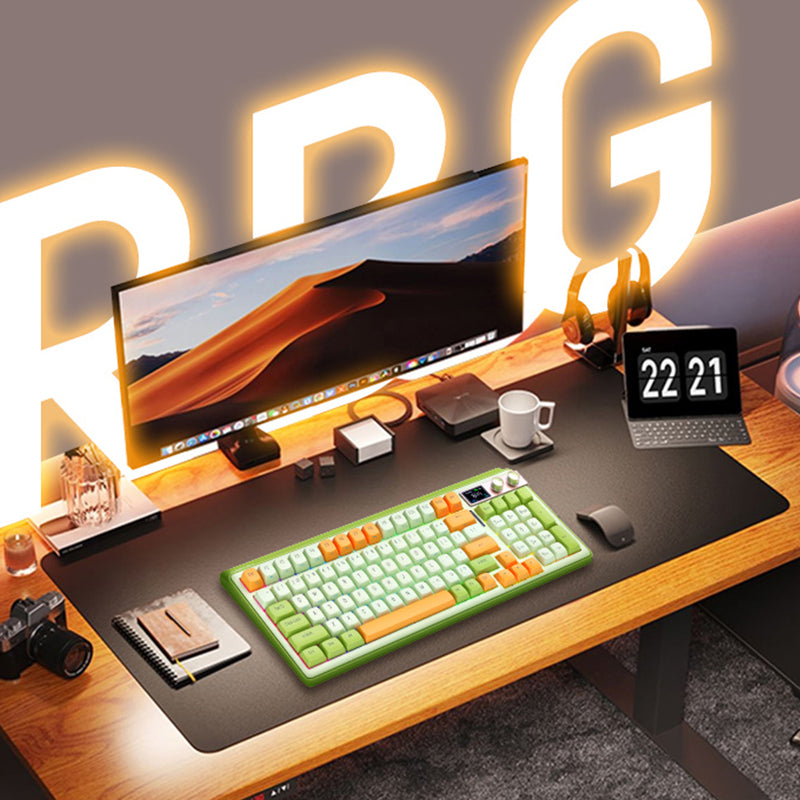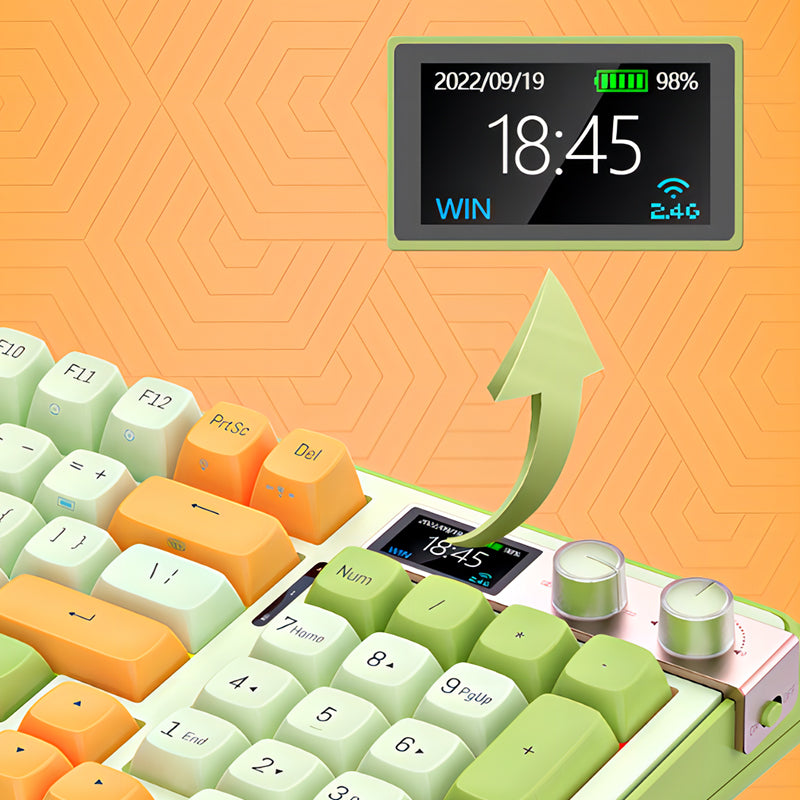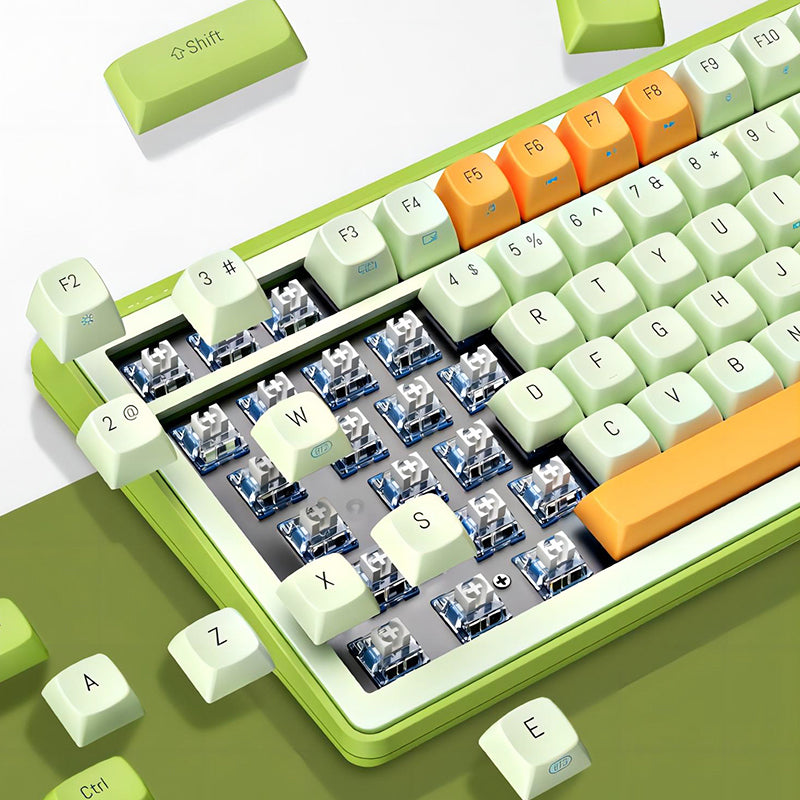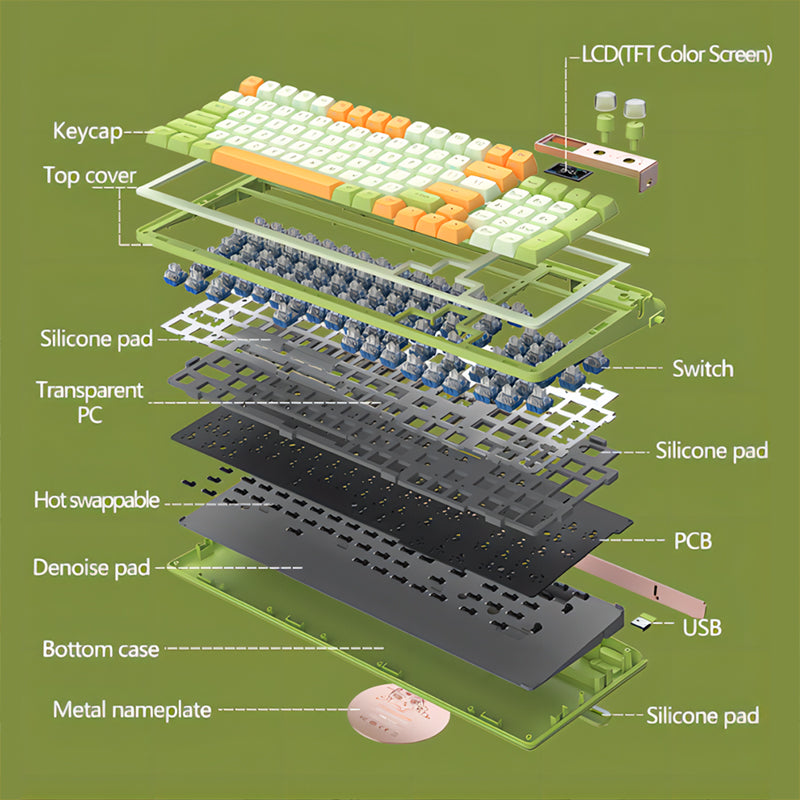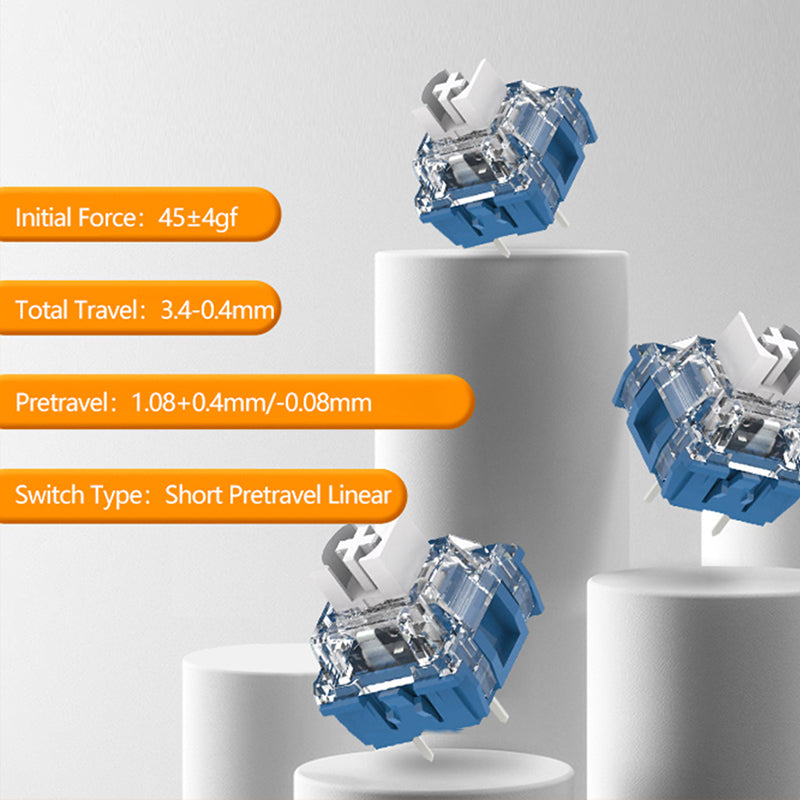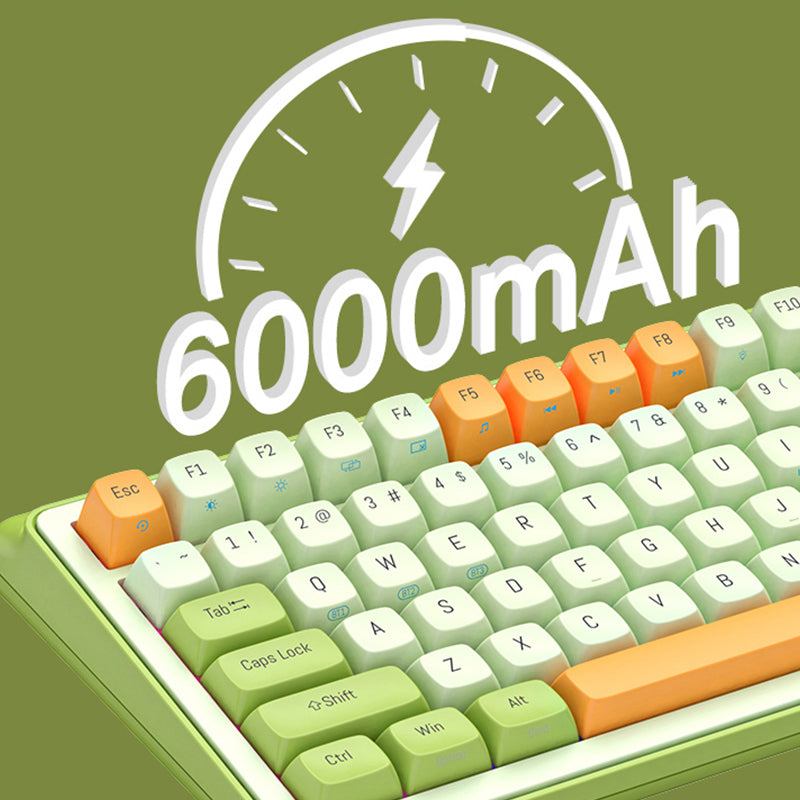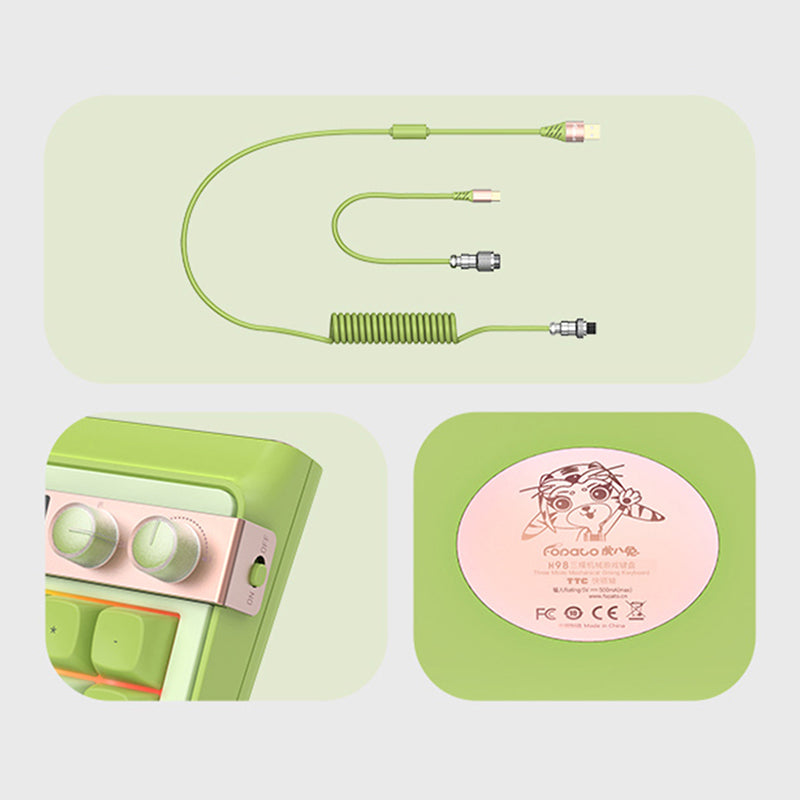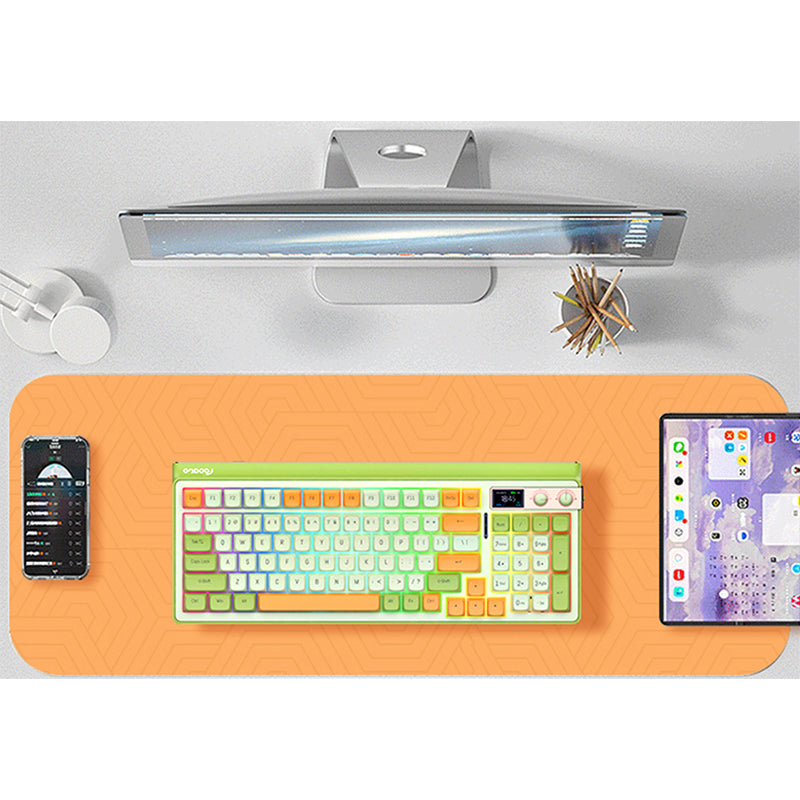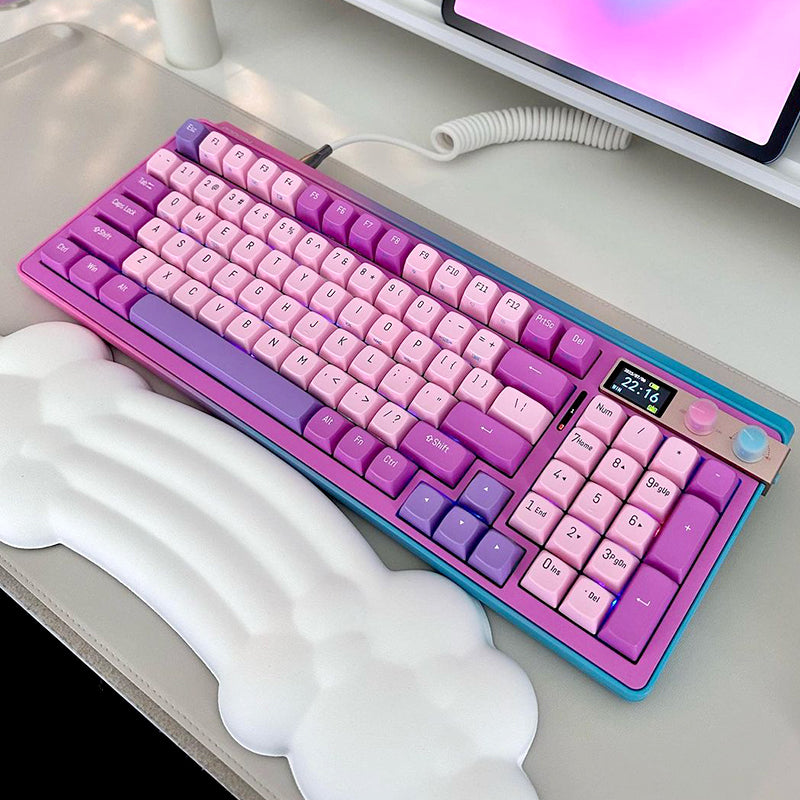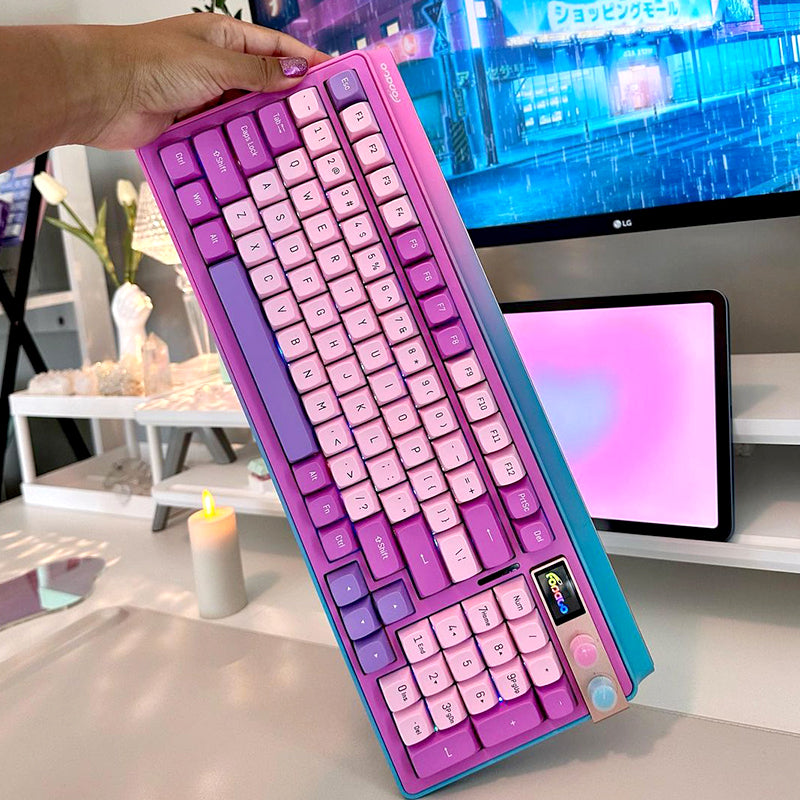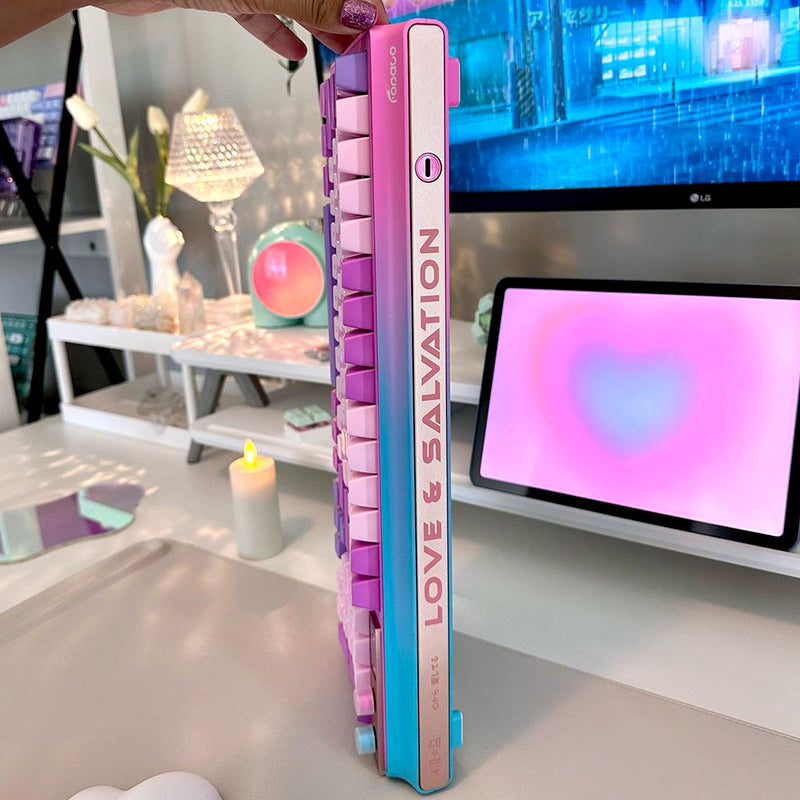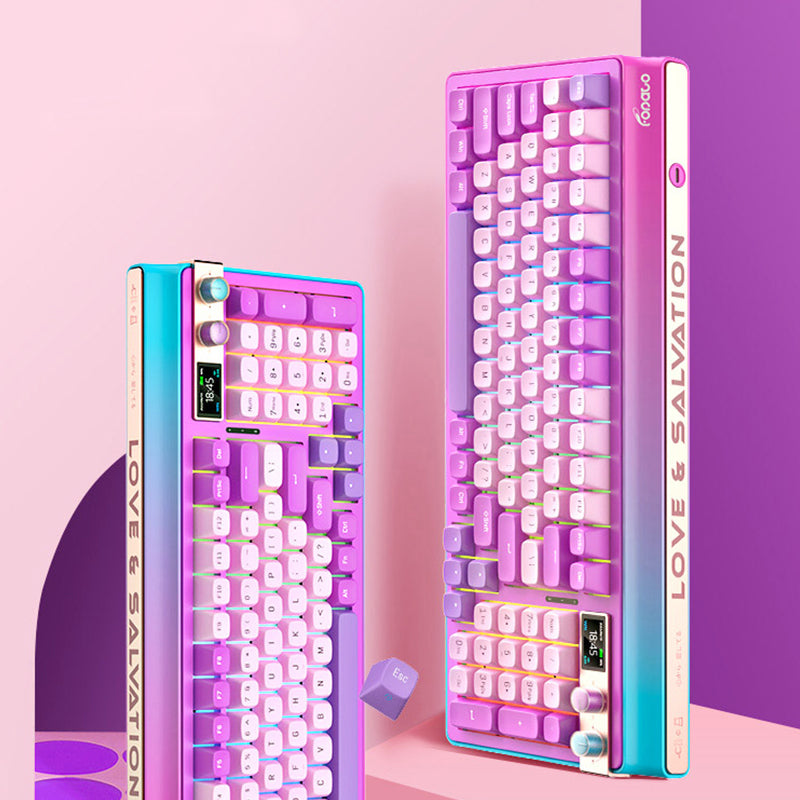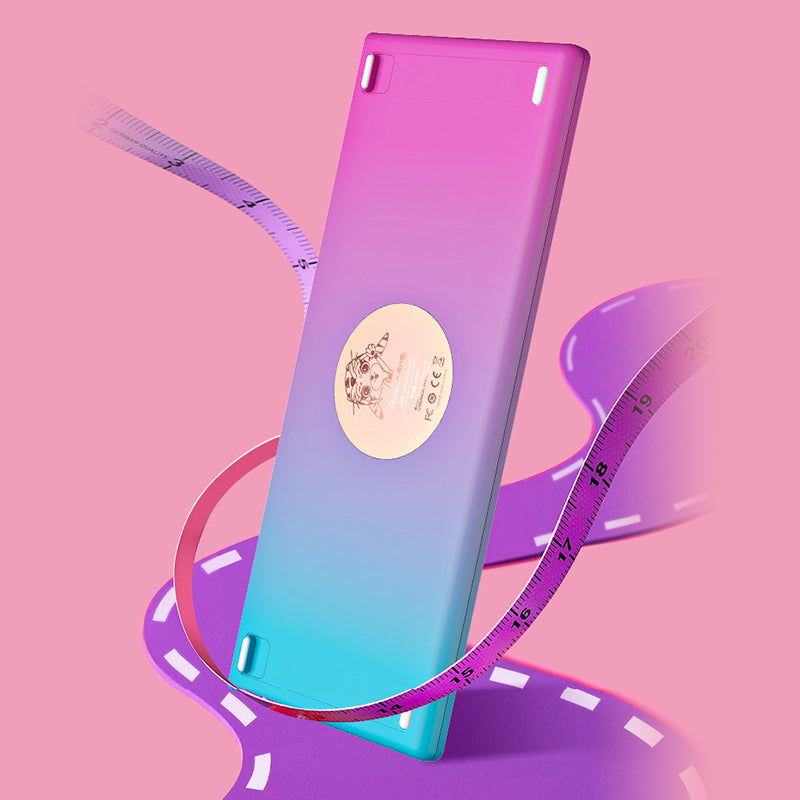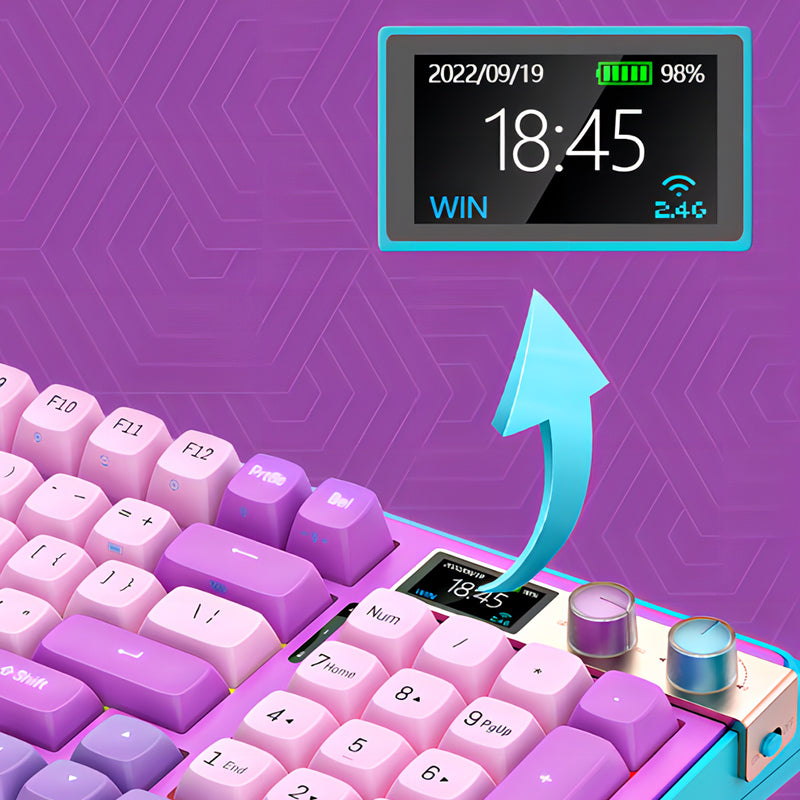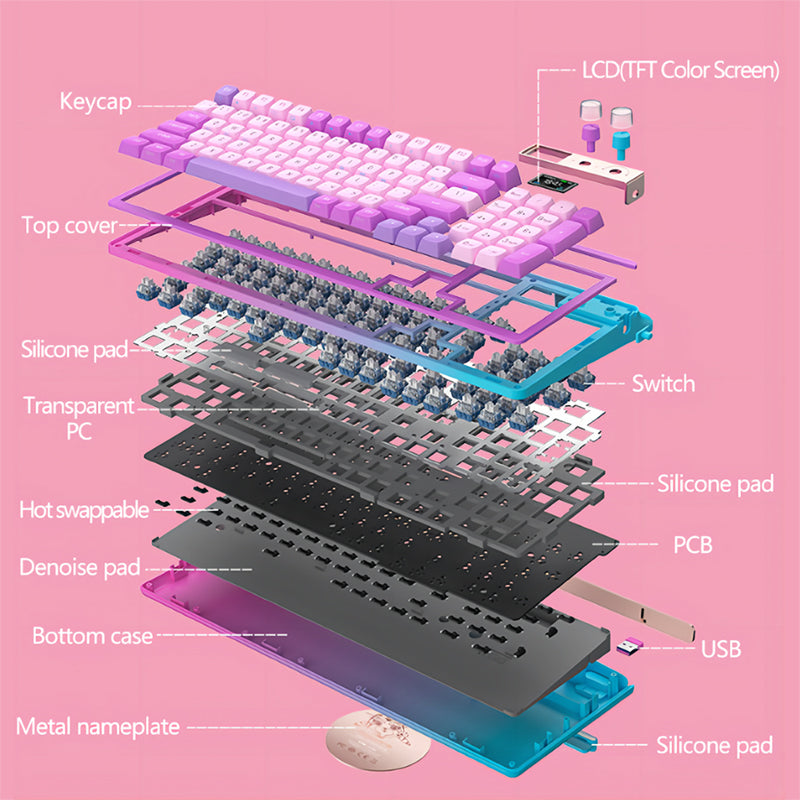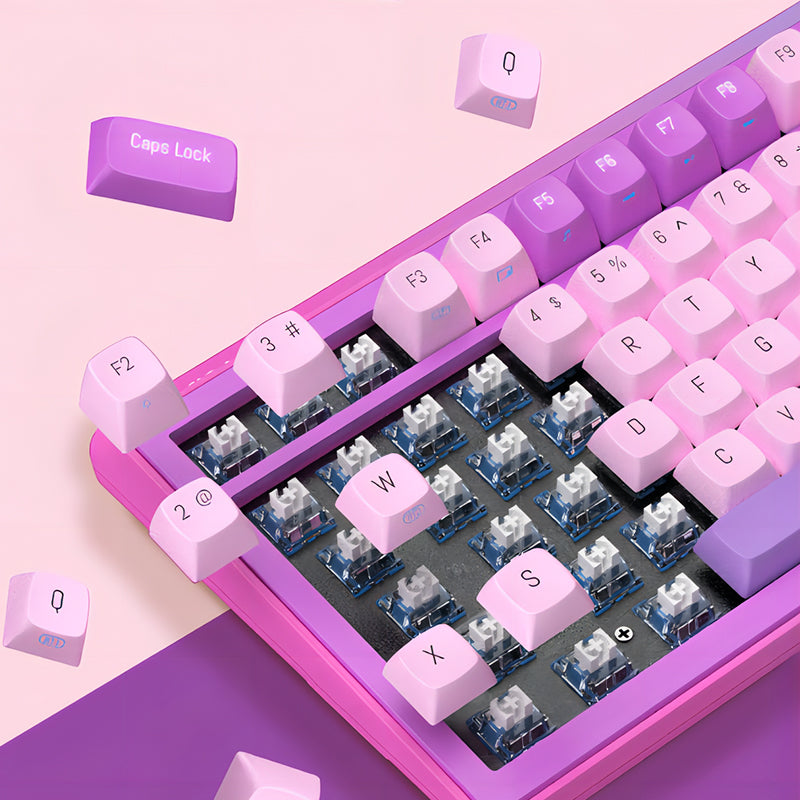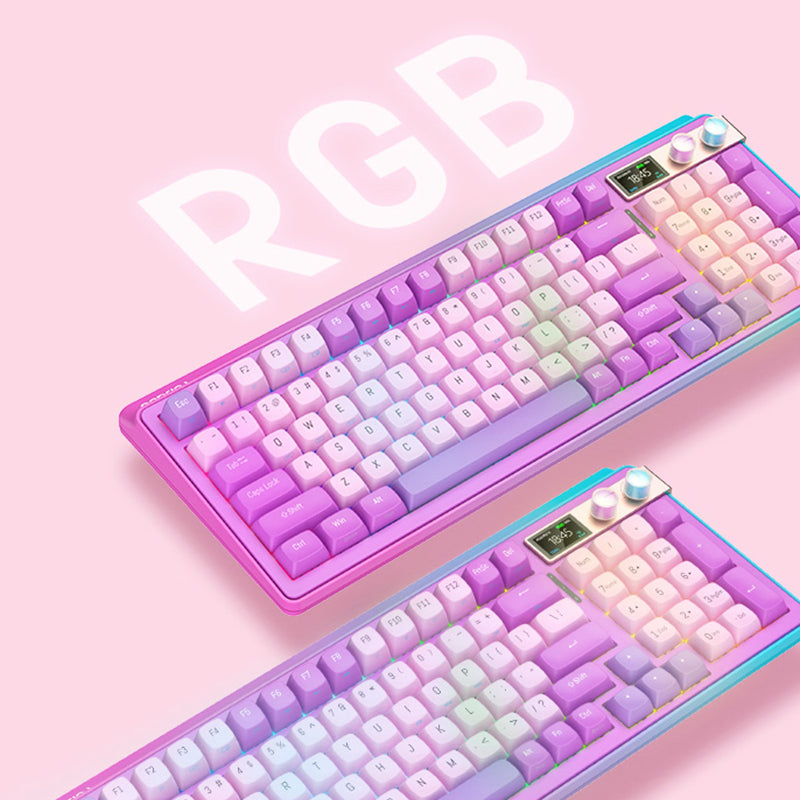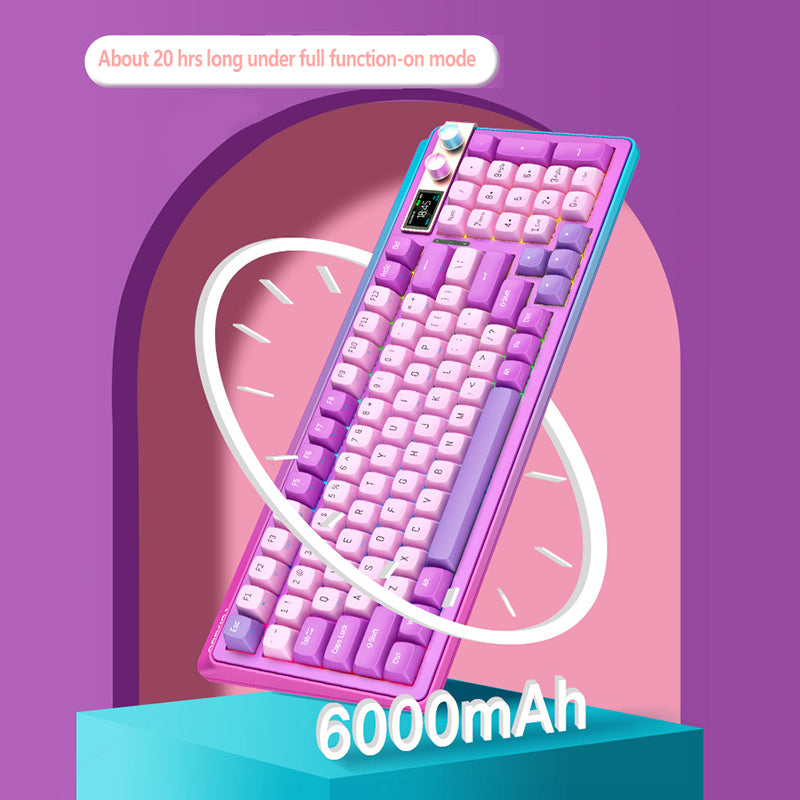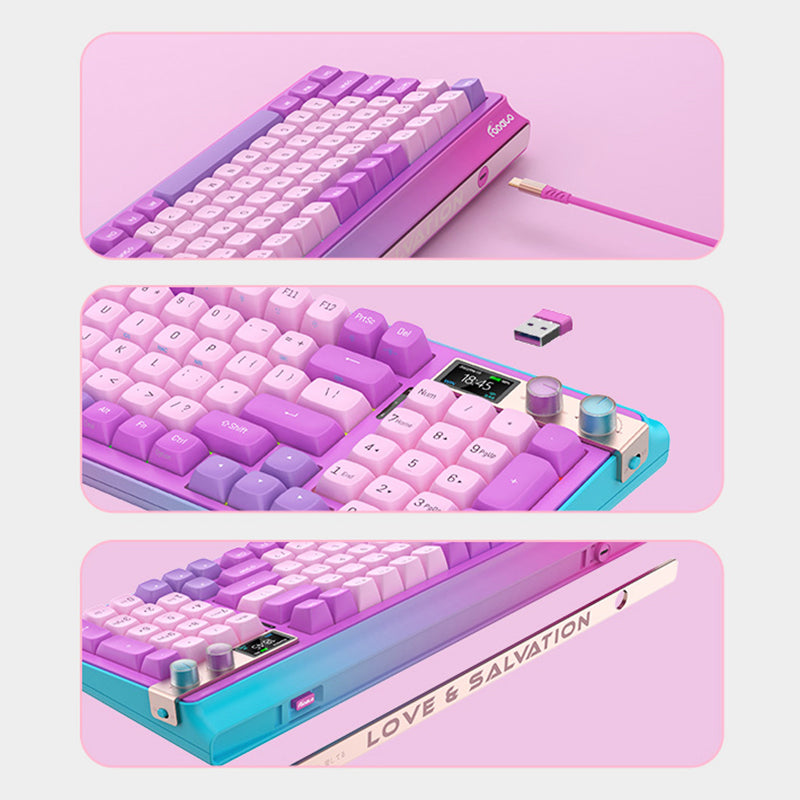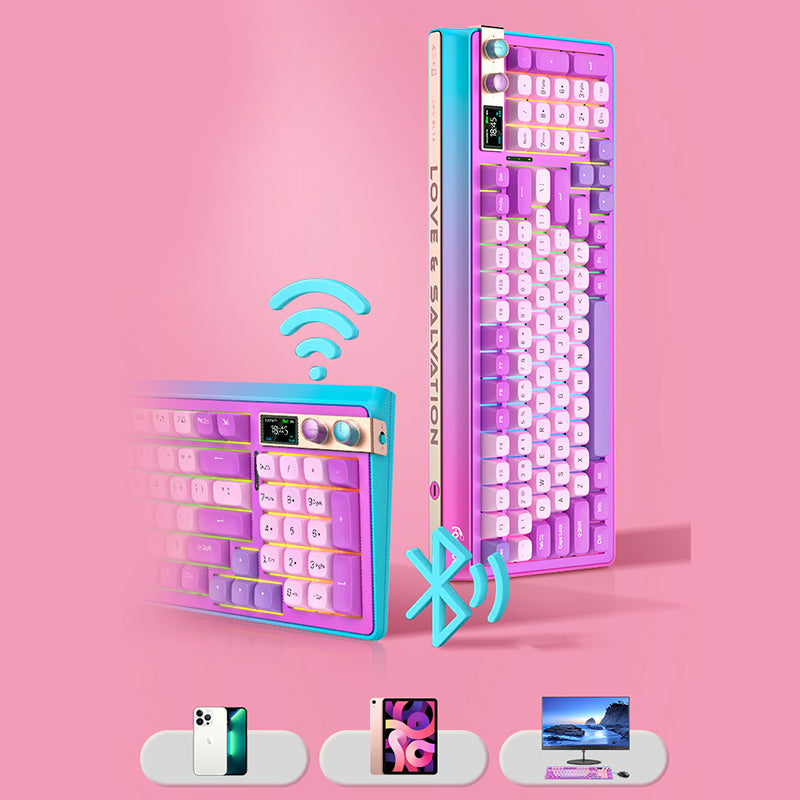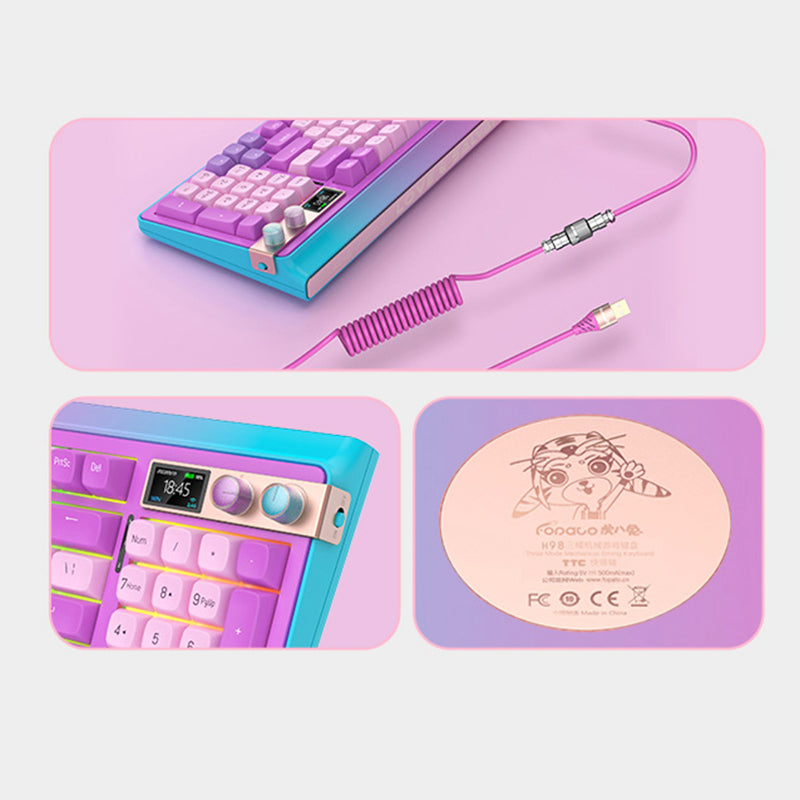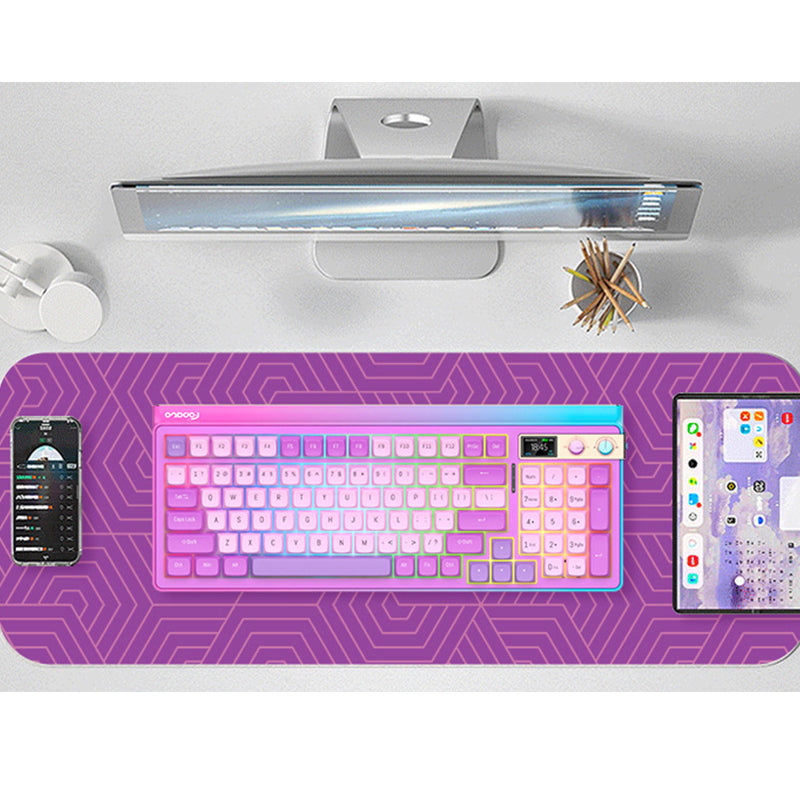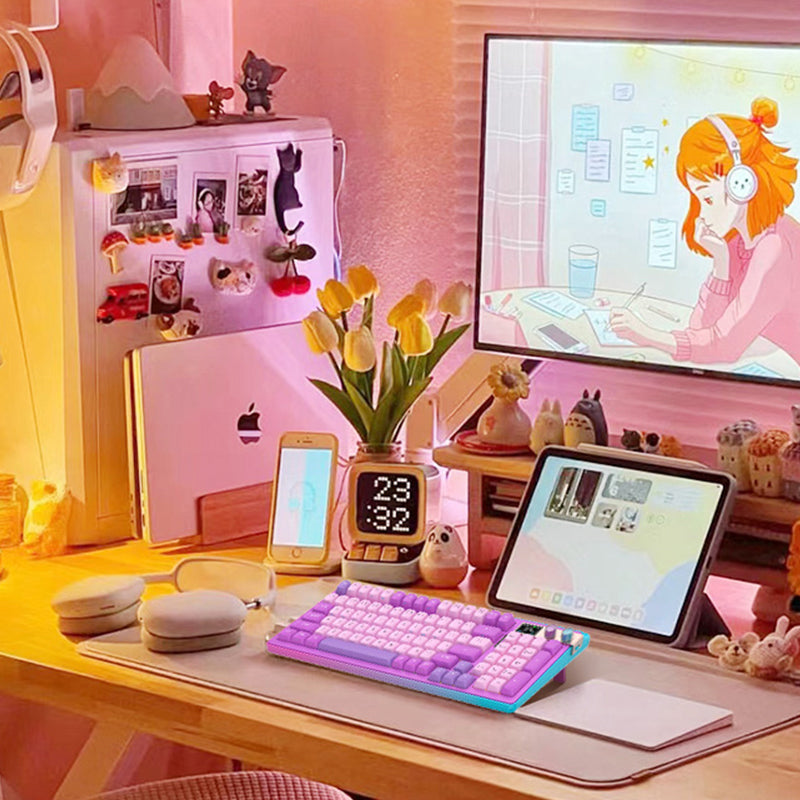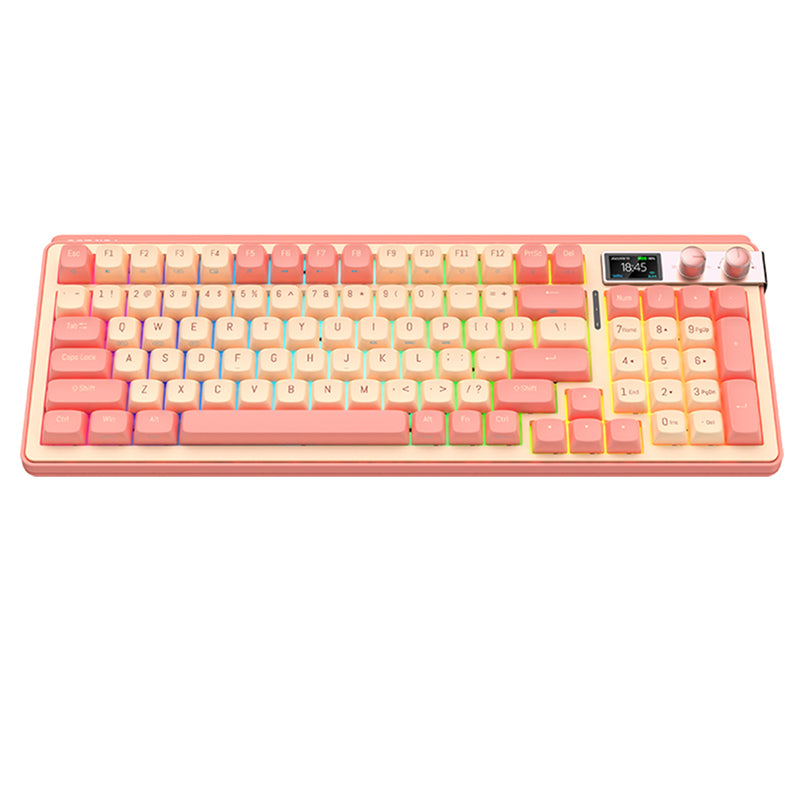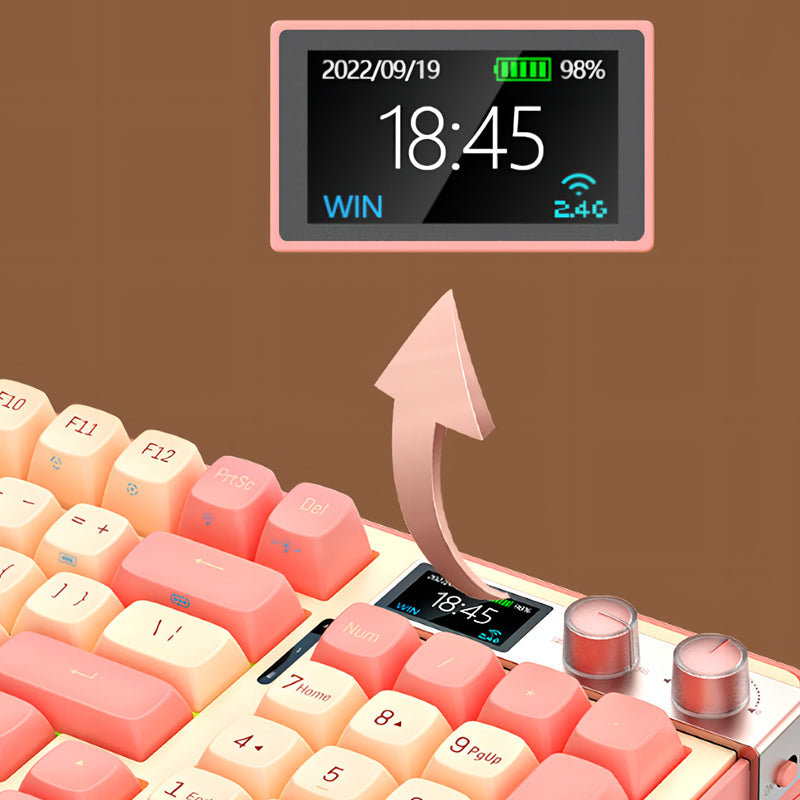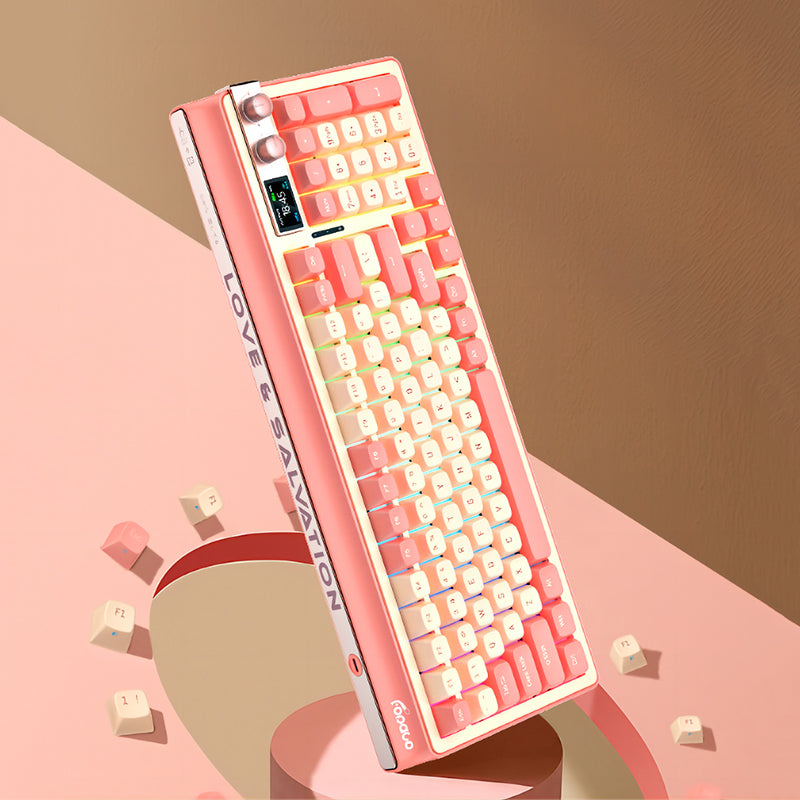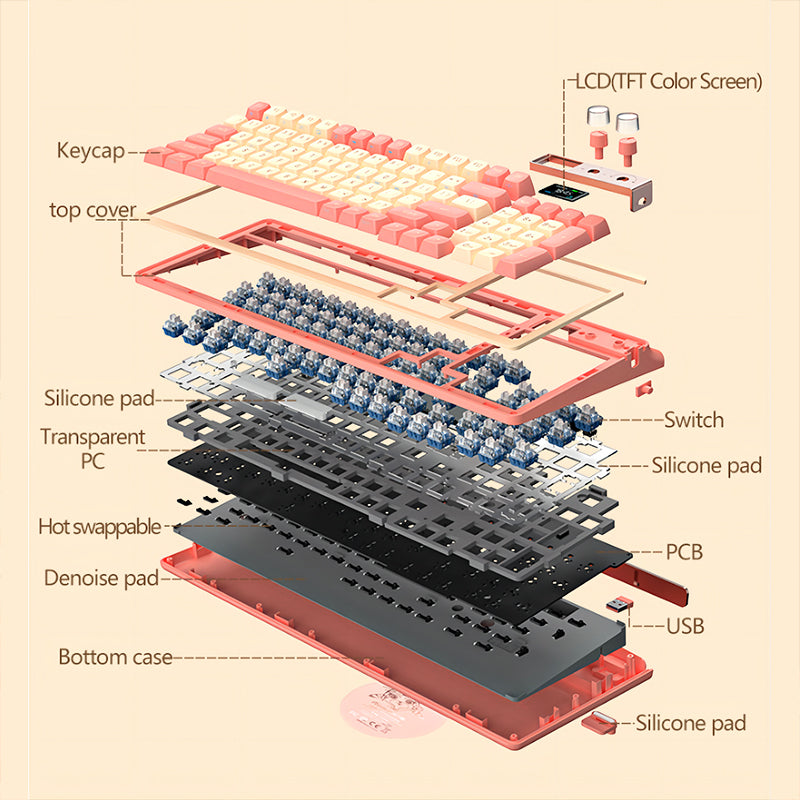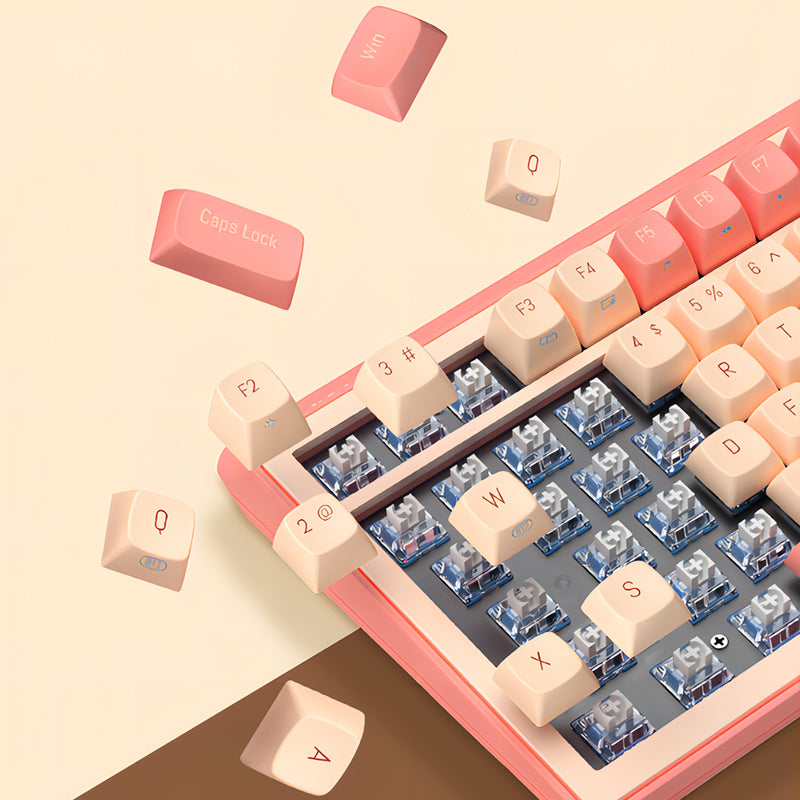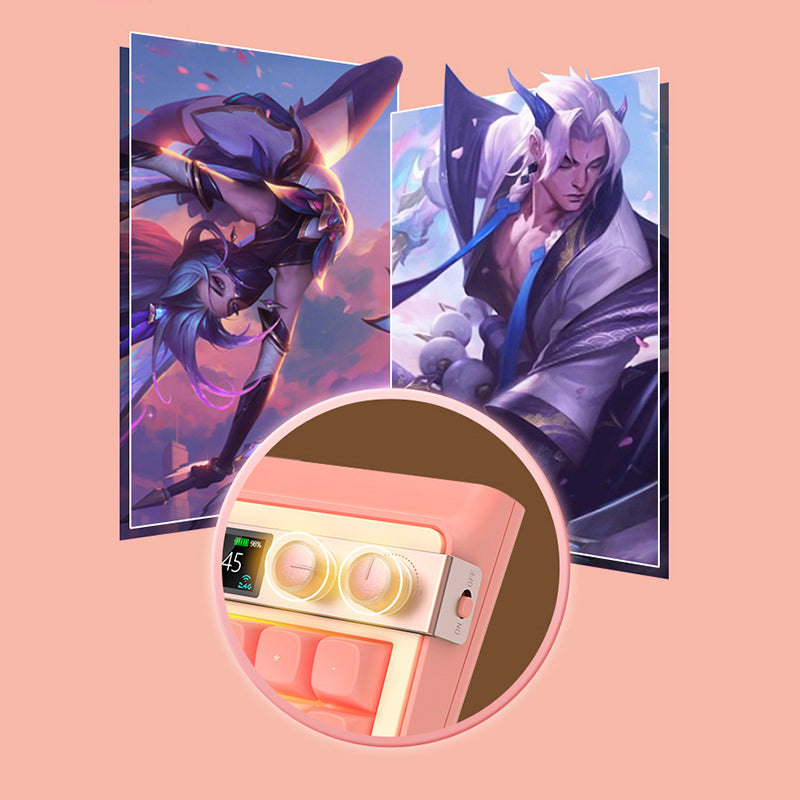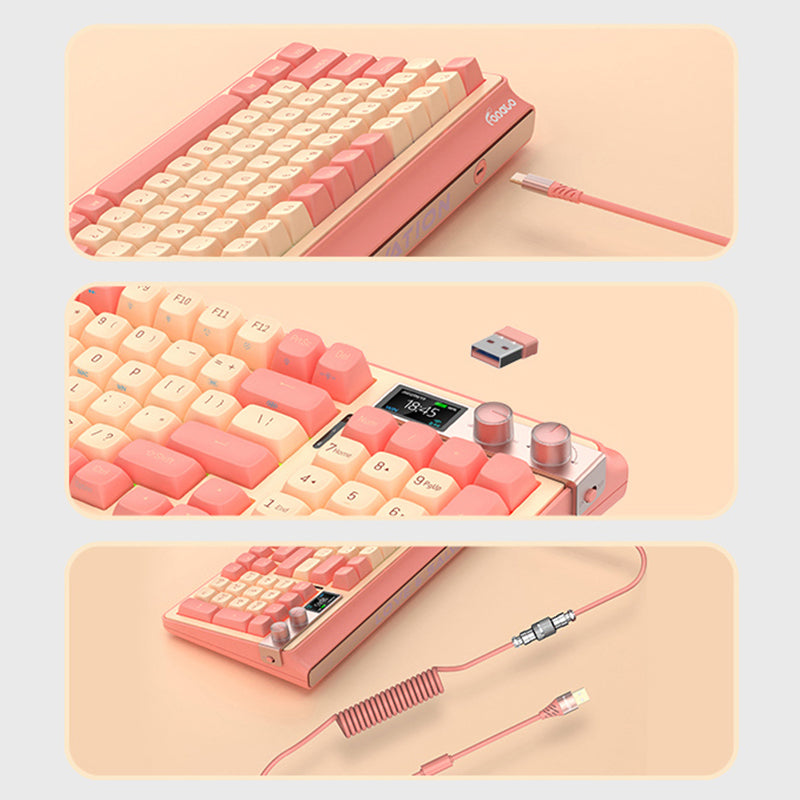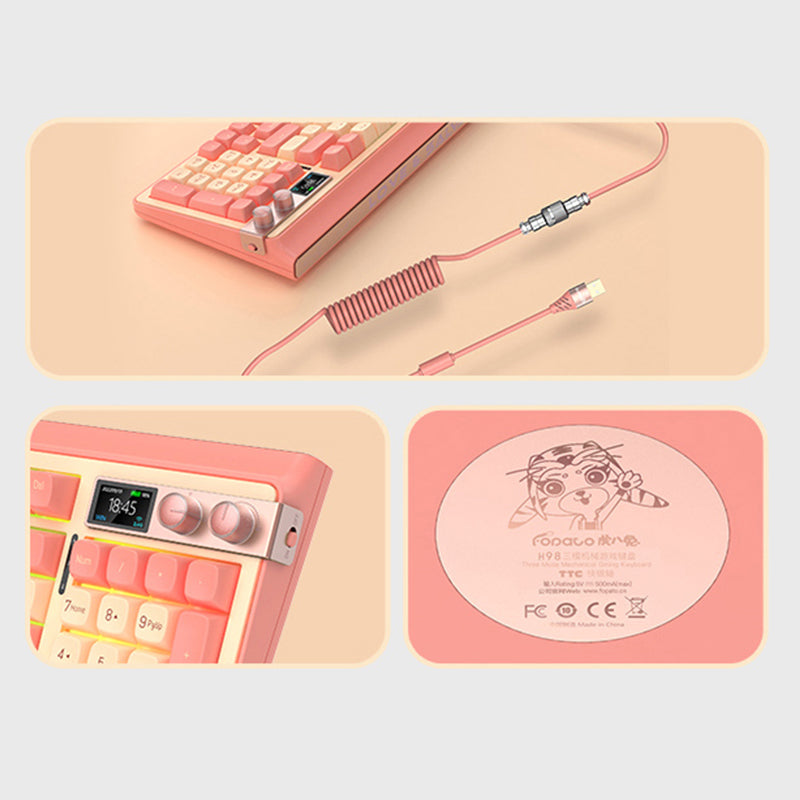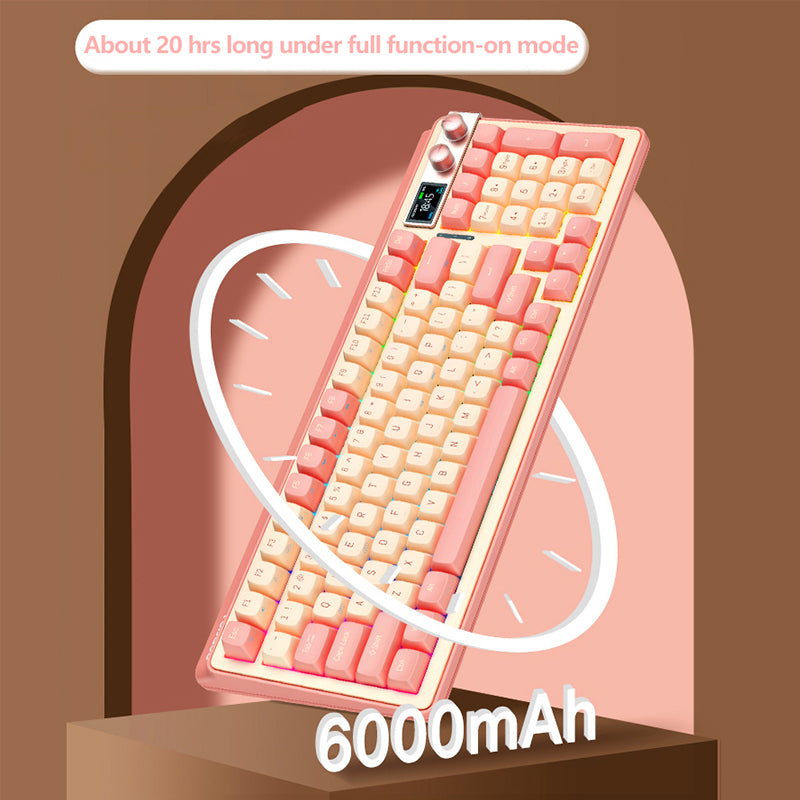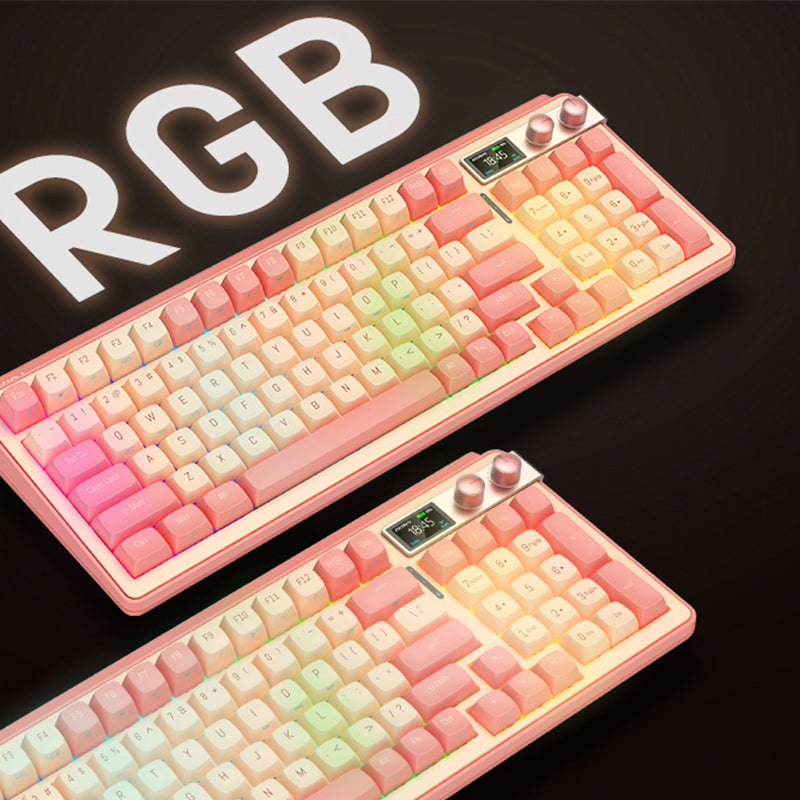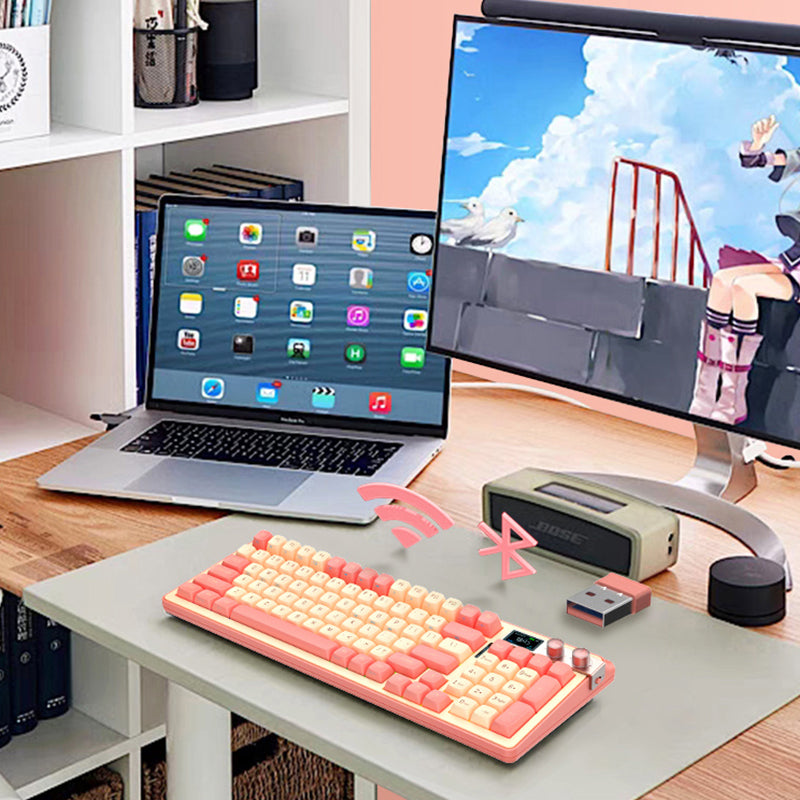 FOPATO H98 Love & Salvation Wireless Mechanical Keyboard With TFT Screen
Switch Type:
TTC Fast Silver V2 Linear
A vibrant TFT screen that brings a whole new level of convenience and functionality to your fingertips. With its crystal-clear display, you can effortlessly switch between applications, monitor your keystrokes, and even customize the keyboard's appearance, all in real-time! The possibilities are endless, and the visual spectacle will leave you mesmerized.

Built-in TFT Display Screen
The most interesting feature of the H98 mechanical keyboard is the inclusion of a bright 1.14" colorful TFT display screen. This screen can be programmed to show different active settings including battery percentage, active connection mode, active lighting effect, and more. The screen looks cool and adds to the premium finish of the keyboard.

Dual Rotary Knobs
You must have seen keyboards with a volume knob, in today's market volume knob has become a must-have for newly launched keyboards. But our new Fopato H98 mechanical keyboard comes with two independent knobs, one here is for conveniently adjusting the volume on the go, while the other knob allows for easily choosing the appropriate connection mode.

High-Performance TTC Speed Silver Switches
The all-new Fopato H98 mechanical keyboard comes equipped with TTC's latest Speed Silver mechanical switches. They offer smooth, linear feedback with quick trigger responses. The keyboard adopts high-quality TTC switch sockets, that support the hot-swappable function, easy replacement of switches supporting both 3pin and 5pin switches in the market.

Comfortable Gasket Mounted Structure
In order to treat the users with comfortable, elastic, soft typing feedback, the latest H98 mechanical keyboard features a specially designed gasket-mounted structure design. As the name tells us all, the keyboard plate is mounted onto the top and bottom covers using soft cushiony gasket mounts. This greatly helps in achieving a comfortable typing experience.

Versatile Three-Mode Connectivity
Connect the H98 to the source of your choice. It features three-mode of connectivity, supporting Wireless Bluetooth, Wireless 2.4GHz, and Wired USB Type-C connection. Using Wireless Bluetooth, the H98 can be connected to different devices simultaneously.

Dynamic RGB Backlight
Fopato H98 mechanical keyboard features dynamic RGB backlighting. It has about 22 built-in monochrome and RGB lighting effects that help you create the perfect mood while gaming. This is easily programmable using the custom driver software by the brand.

Long-Lasting 6000mAh Battery
Fopato H98 mechanical keyboard features a built-in 6000mAh large battery that provides long-lasting battery life of up to 20 hours with the backlight turned on and up to 80 hours with the backlight turned off.
General

Brand: FOPATO


Type: Mechanical Keyboard


Model: H98

Specification

Layout: 96% / 98-Key


Material of Keycaps: PBT


Tech: Double-Shot+UV Printing


Support System: Windows/Mac/Android/iOS

Connection: Wired/Bluetooth/2.4G


USB Type: Type-C


Wire Length: 2.1m


Battery: 6000mAh

Switch: TTC Fast Silver V2 Switch 
Type: Short Pre-Travel Linear
Initial Force: 45±4gf
Pretravel: 1.08+0.4mm/-0.08mm
Total Travel: 3.4±0.4mm

Weight & Size

Product Weight: 1.48kg


Package Weight: 1.6kg


Product Size(L x W x H): 519*198.5*63.5mm

Package Contents

1 x H98 Mechanical Keyboard


1 x Type-C Cable


1 x Keycap Puller


1 x Switch Puller


1 x User Manual
best diy kit
The TFT screen is vibrant and responsive, providing a seamless user experience.
nice keyboard
Very beautiful keyboard, the key sound is actually very quiet, not as loud as the video sound. Typing is very comfortable, I like it very much, this is a keyboard worth buying, the response is fast, and it is also suitable for gaming
recommended!
The FOPATO H98 TFT Screen Keyboard has exceeded all my expectations. Its sleek and modern design instantly adds a touch of sophistication to my workspace. The TFT screen is a game-changer, providing real-time information and notifications right on the keyboard. Typing on this keyboard is a joy, with well-spaced keys that offer a satisfying click with every press. The backlighting not only looks cool but also proves to be highly practical when working in dimly lit environments. Setting up the keyboard was a breeze, and I love the wireless functionality, which gives me the freedom to work from anywhere in my office. The shortcut keys are a brilliant addition, making it easy to access my most-used functions with a single press. The TFT screen's information display for time, date, and notifications is a genius feature that keeps me updated without having to glance at my phone constantly. Battery life is impressive, lasting for days on end with moderate use. The ergonomic design ensures a comfortable typing experience, even during extended work sessions. The wireless connection is reliable, with no noticeable lag or dropouts. The touchpad is surprisingly smooth and responsive, making it a worthy substitute for a separate mouse. Overall, the FOPATO H98 TFT Screen Keyboard is a versatile and high-quality peripheral that has improved my productivity and enhanced my workspace aesthetics.
The H98's sturdy construction gives me confidence that it can handle daily use without any issues.
The touchpad's responsiveness is excellent. It's incredibly accurate and a joy to use.