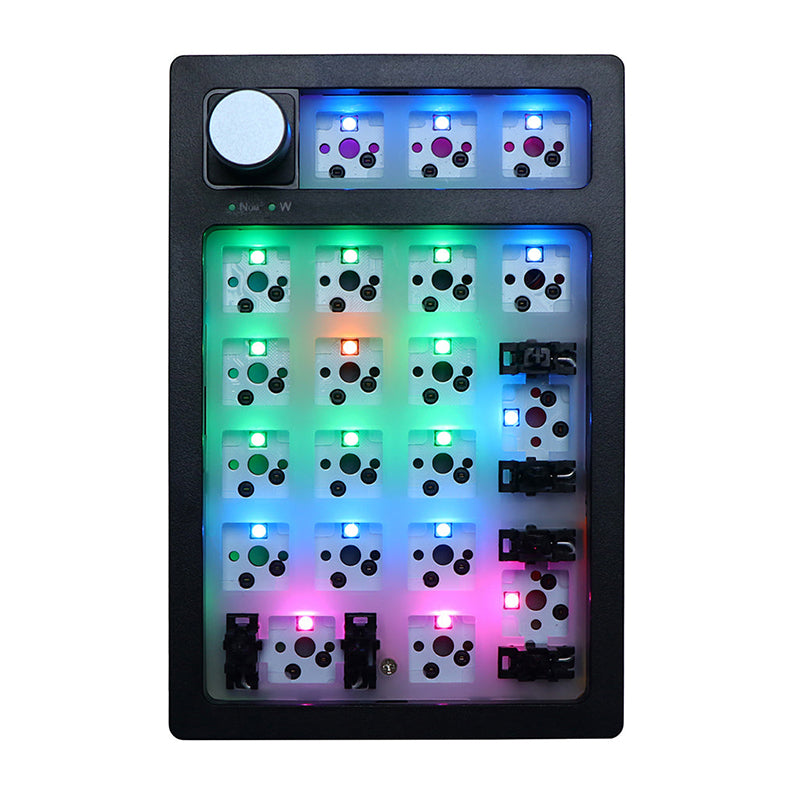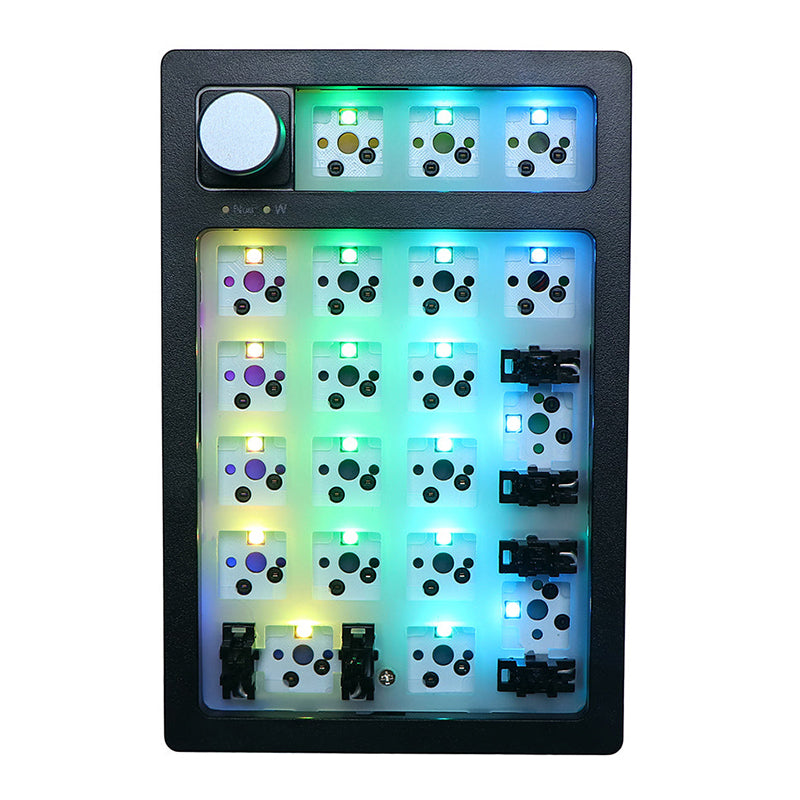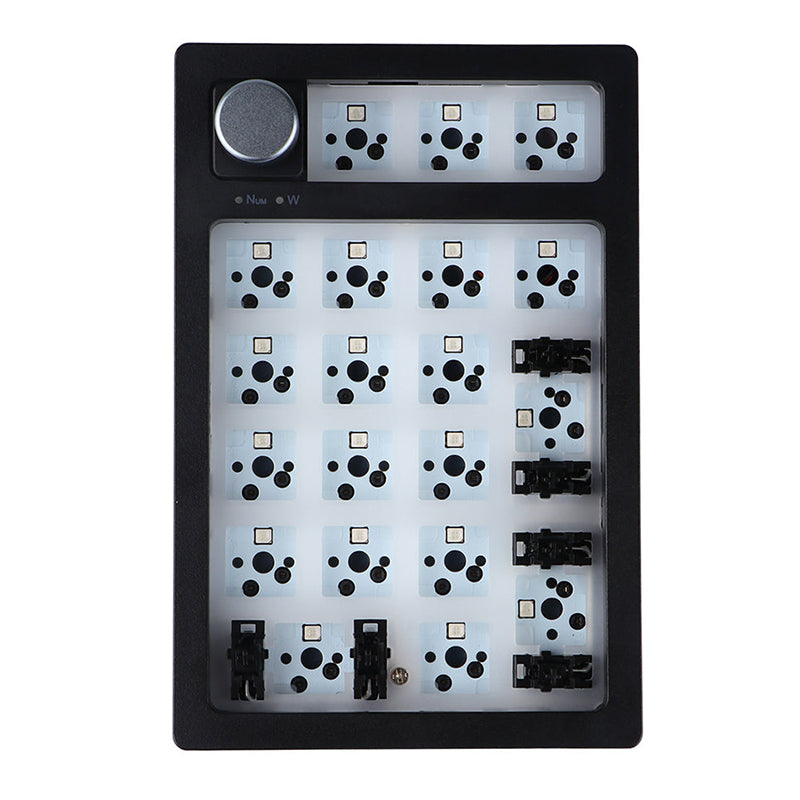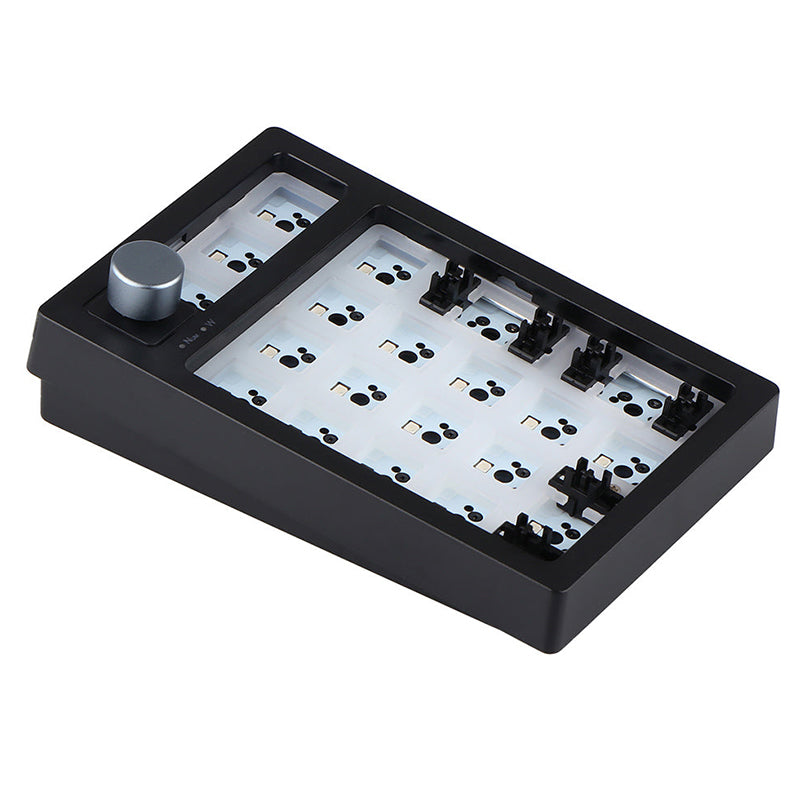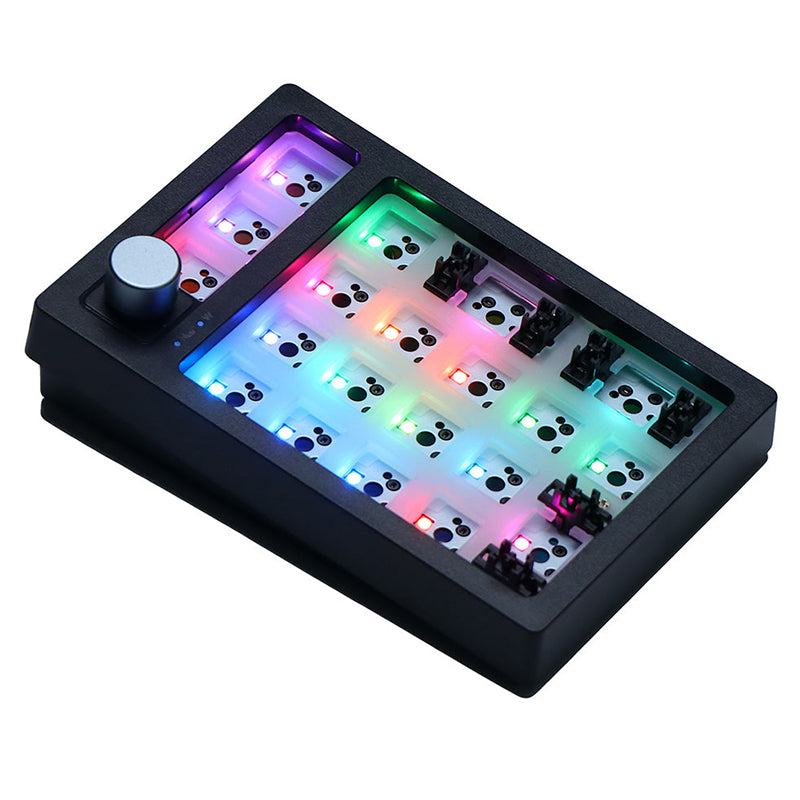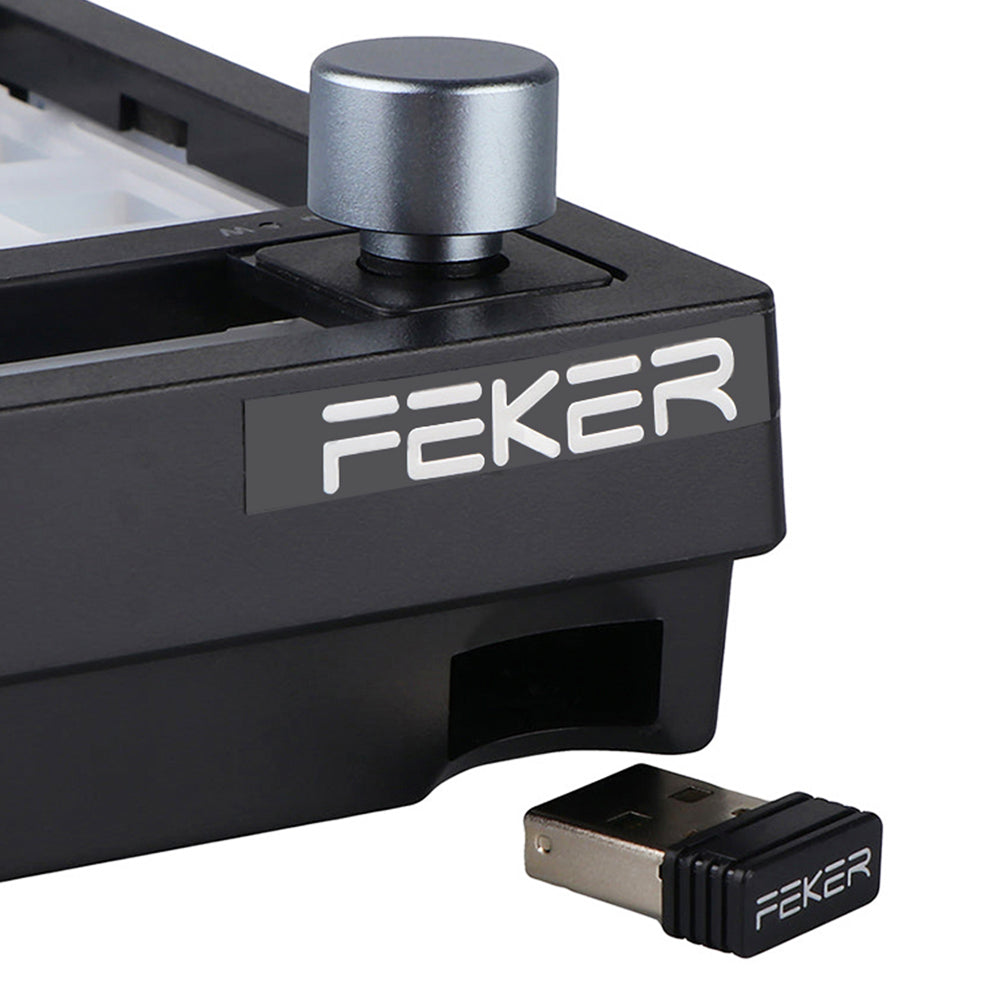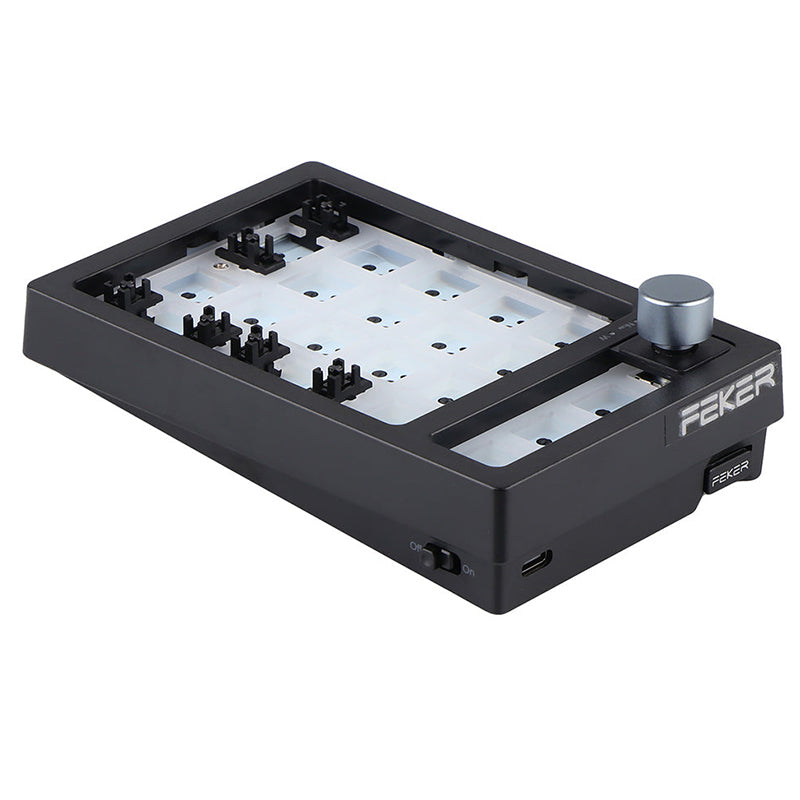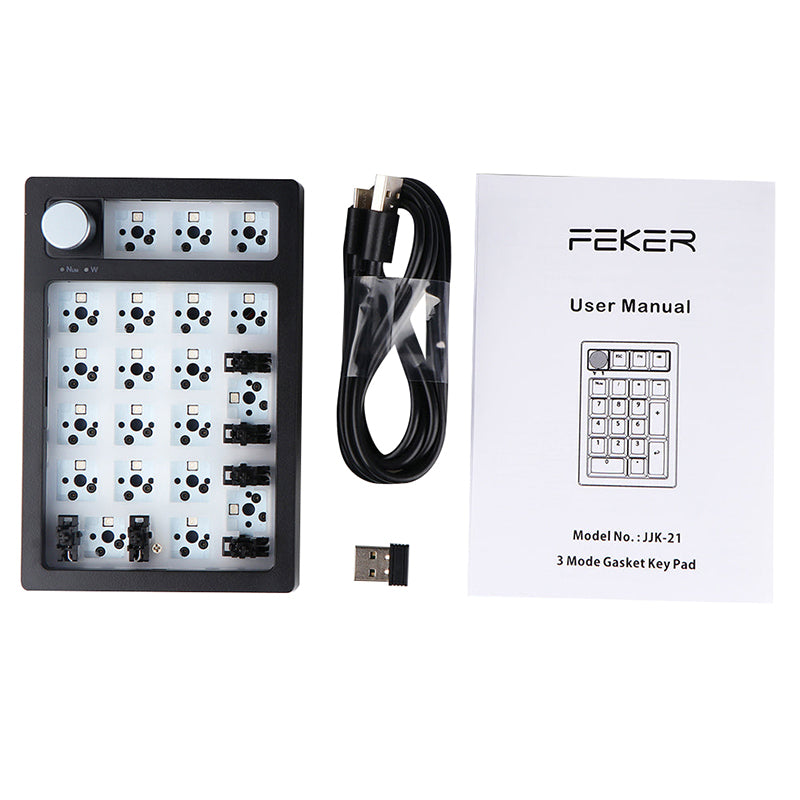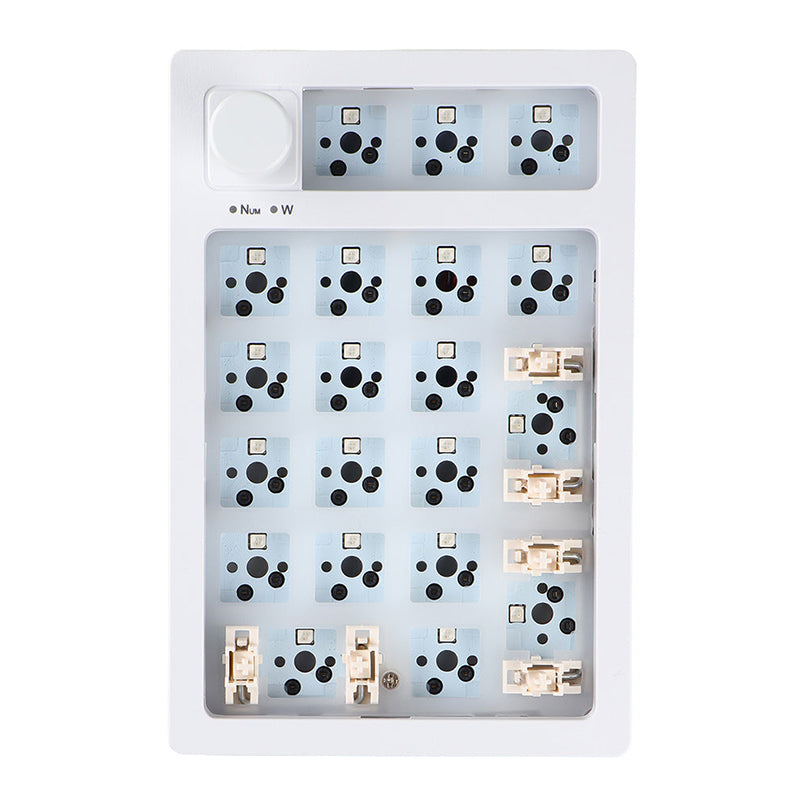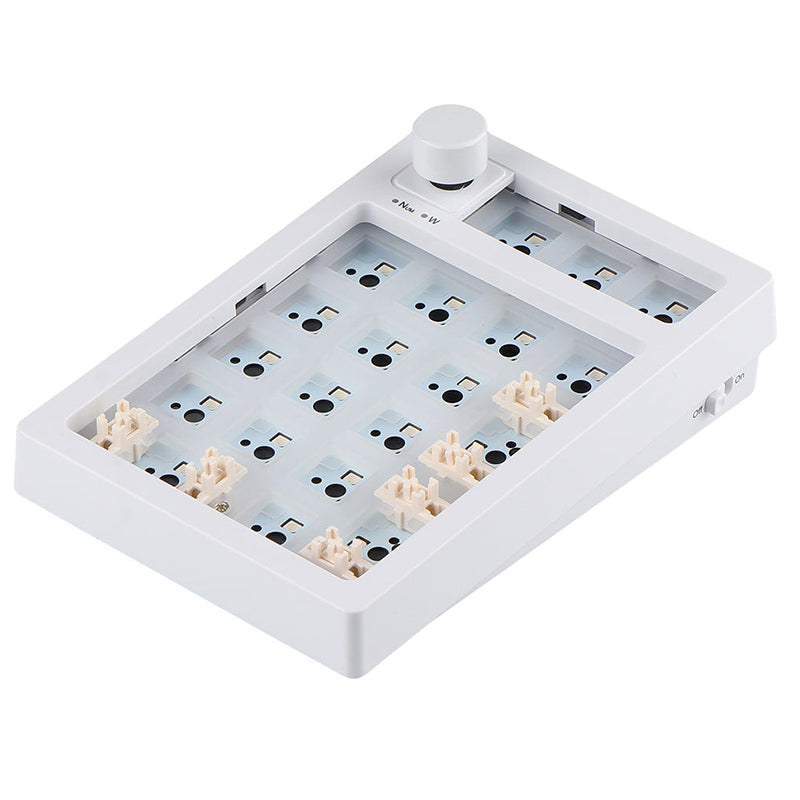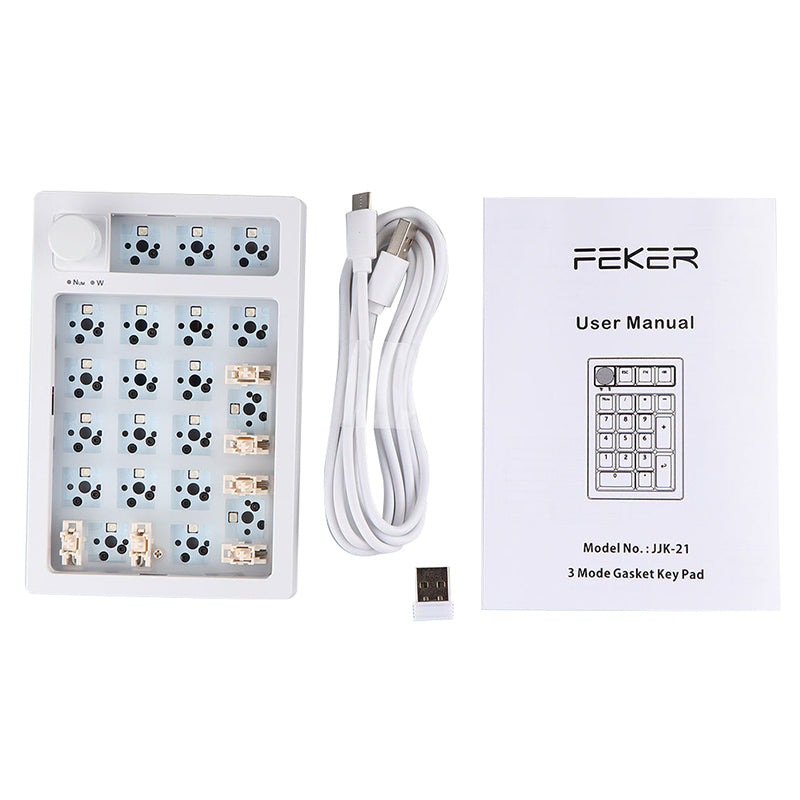 FEKER JJK21 Numpad DIY Kit with Knob
A Numpad Kit With A Knob
The Feker JJK21 Numpad kit follows this resolution to be programmable by the supportive software, additionally with a knob to be convenient for media control. With a 21-key PCB, this Numpad has the space and processing power to handle your most demanding tasks.

Gasket Mount & PC Mounting Plate
To achieve a superb performance, FEKER JJK21 features a gasket mount with a PC mounting plate, which works perfectly together to offer a soft and bouncing typing experience. What's more, a set of silicon foams are equipped to absorb sound while typing and also reduce the shallow sound of the bottom case

Hot-swappable PCB
FEKER JJK21 Numpad kit adopts a hot-swappable PCB that can work with most 3pin/5pin switches, such as Cherry, Gateron, Kailh, AKKO, Otemu... Hot-swappable PCB means that you don't need to solder the switch and it's easier for those who love different types of typing experiences.

RGB Backlights
Apart from working on the acoustic end, FEKER JJK21 Numpad also presents a great visual with dazzling RGB backlights. It provides several RGB effects and colors for you to set.

Bluetooth 5.0 & 2.4GHz Wireless & Wired Modes
Download the FEKER JJK21 Numpad Software - Win
General

Brand: FEKER


Type: Numpad DIY Kit 


Model: K21


Color: White/Black

Specification

Layout: 20%, 20 keys + 1 knob


Structure: Gasket-mounted

Stabilizer Type: Plate-mounted

Backlight: RGB


Connectivity: Bluetooth/2.4GHz/Type-C wired


Switch Sockets: Hot-swappable Support 3pin/5pin Switch

Anti-ghosting: Full Key Anti-ghosting


Battery: 1500mAh 

System Support: Windows XP/7/8/10

Weight 

Product Weight: 0.3kg


Package Weight: 0.4kg


Package Contents

1 x Keyboard Customized Kit (1* Case+PCB+EVA Foam+Stabilizers+Positioning Plate+Battery)


1 x Type-C Cable


1 x 2.4G Dongle


1 x User Manual
Great numpad with knob
Honestly this thing is great. The gasket and sound sound thick without lubing or mods, and the structure is pretty solid feeling (this thing weighs like a pound or two lol). I see a lot of people concerned about the automatic sleep mode and how it makes the numpad not register the first click, but this is only a problem in bluetooth or 2.4 mode, and when its plugged in (and in OFF mode) its constantly on. Granted, it automatically turning off is a bit of an issue even if its only in non-wired mode, but the other upsides make up for this tiny blip.
Good quality macropad
Decent quality build, doesn't feel flimsy and cheap. Software a little basic and could be limiting depending on your required shortcuts but easy to use
Grear Numpad
Great numpad with wireless connections and a knob. Also very nice to a have hotswap pcb with a gasket mounted pc plate
It is Great
Ive been able to set macros on it with some softwares
Fantastic DIY numeric keypad! This Numpad came with everything I needed to get the board ready for my switches and keycaps and I love the flex on it when typing. The knob is also a great addition since my main keyboard lacks a knob. Just lube the stabs and this board is ready to add everything else you need!
Setup Ideas From Customers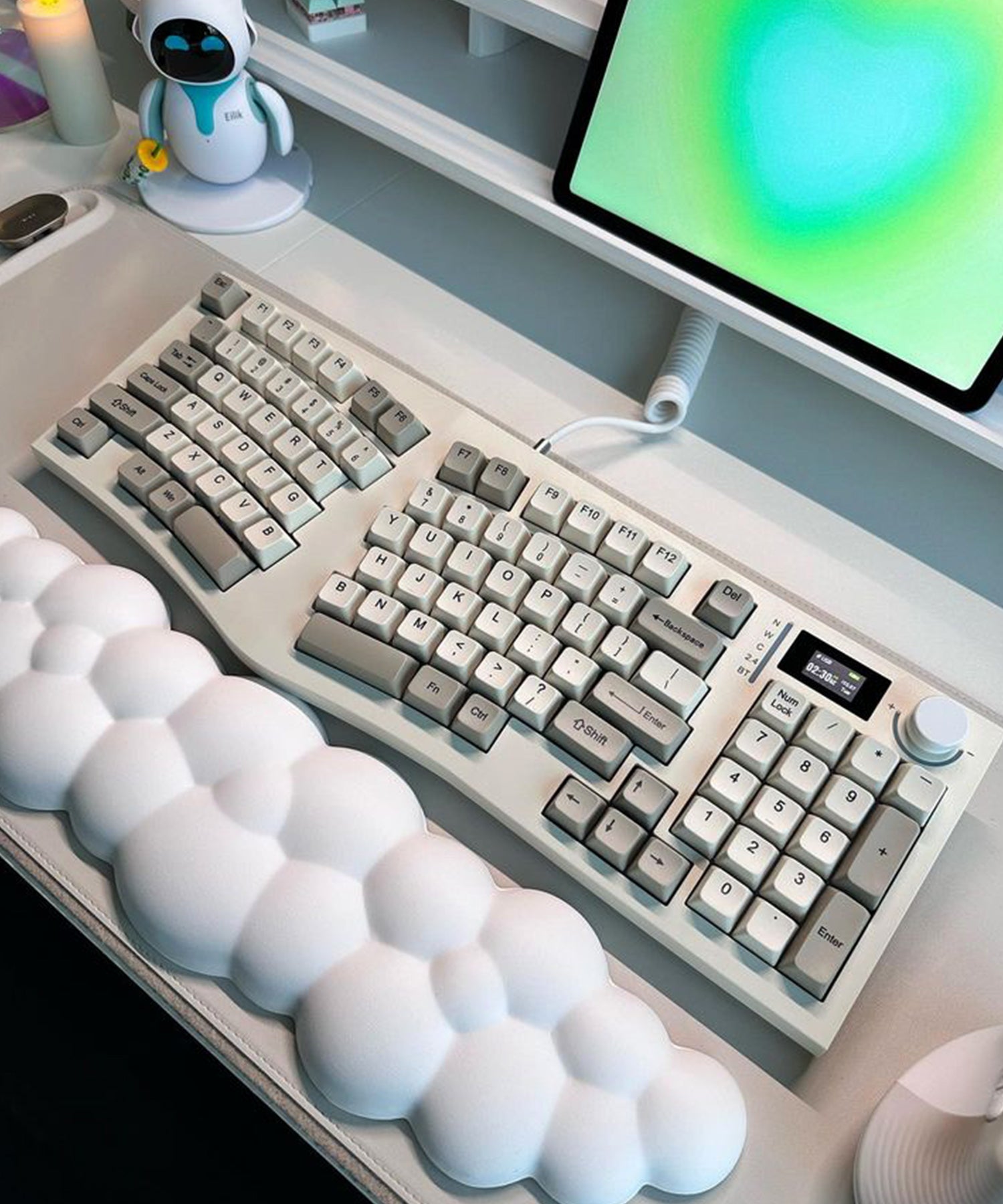 FEKER Alice98 Wireless Mechanical Keyboard With LED Screen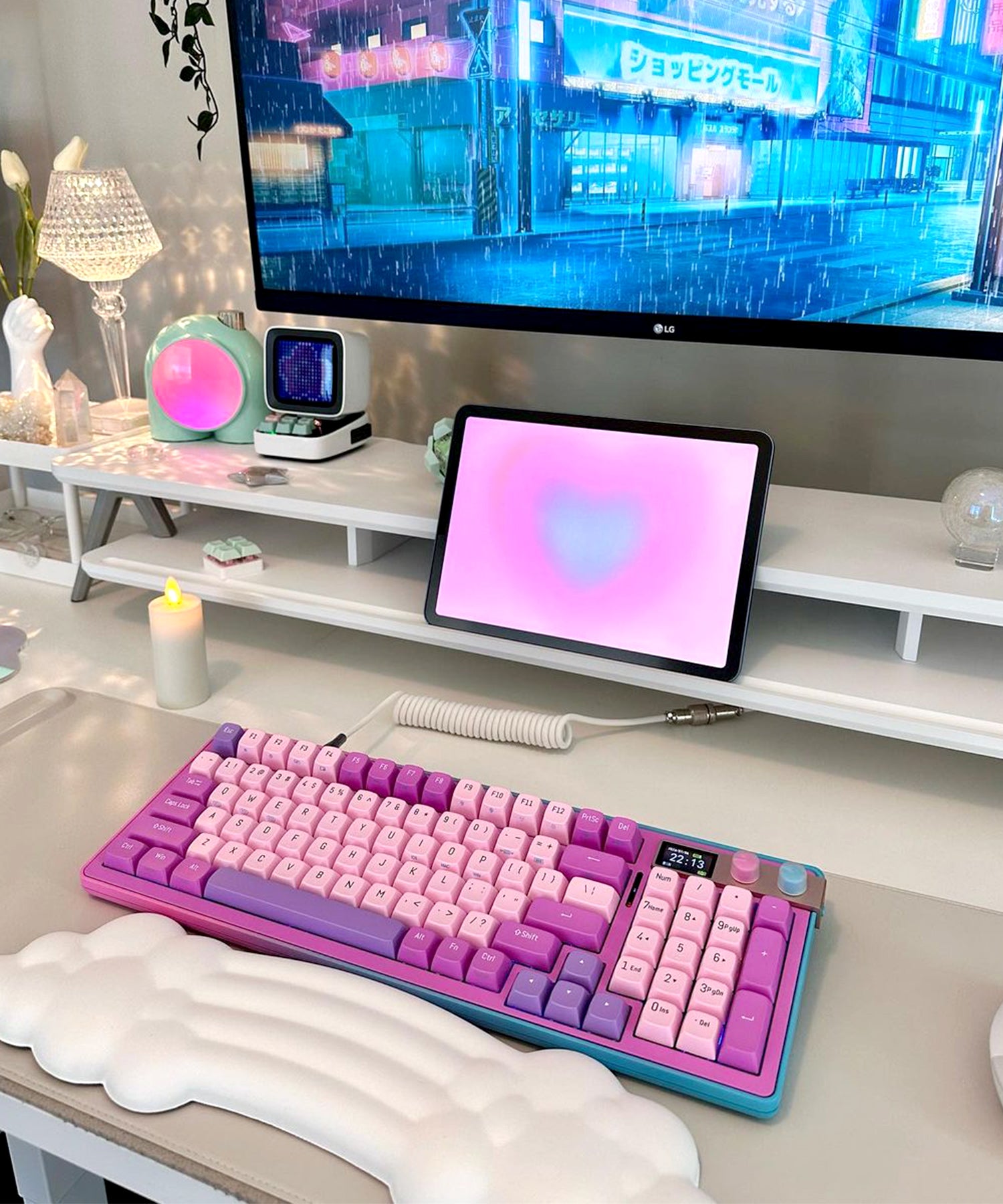 FOPATO H98 Love & Salvation Wireless Mechanical Keyboard With TFT Screen
FirstBlood B81 Crystal Transparent Wireless Mechanical Keyboard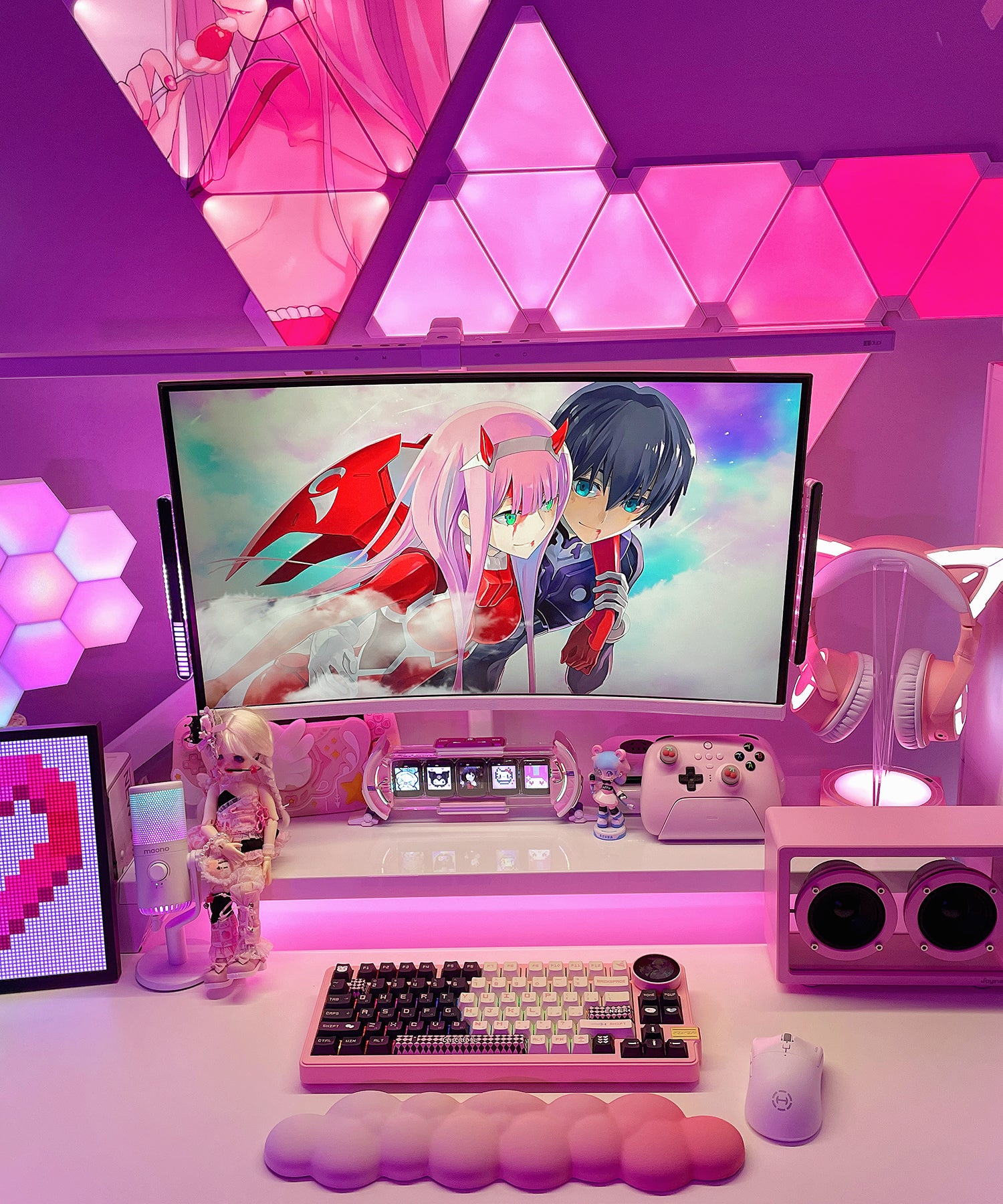 FEKER K75 Mechanical Keyboard with Multifunctional Knob Display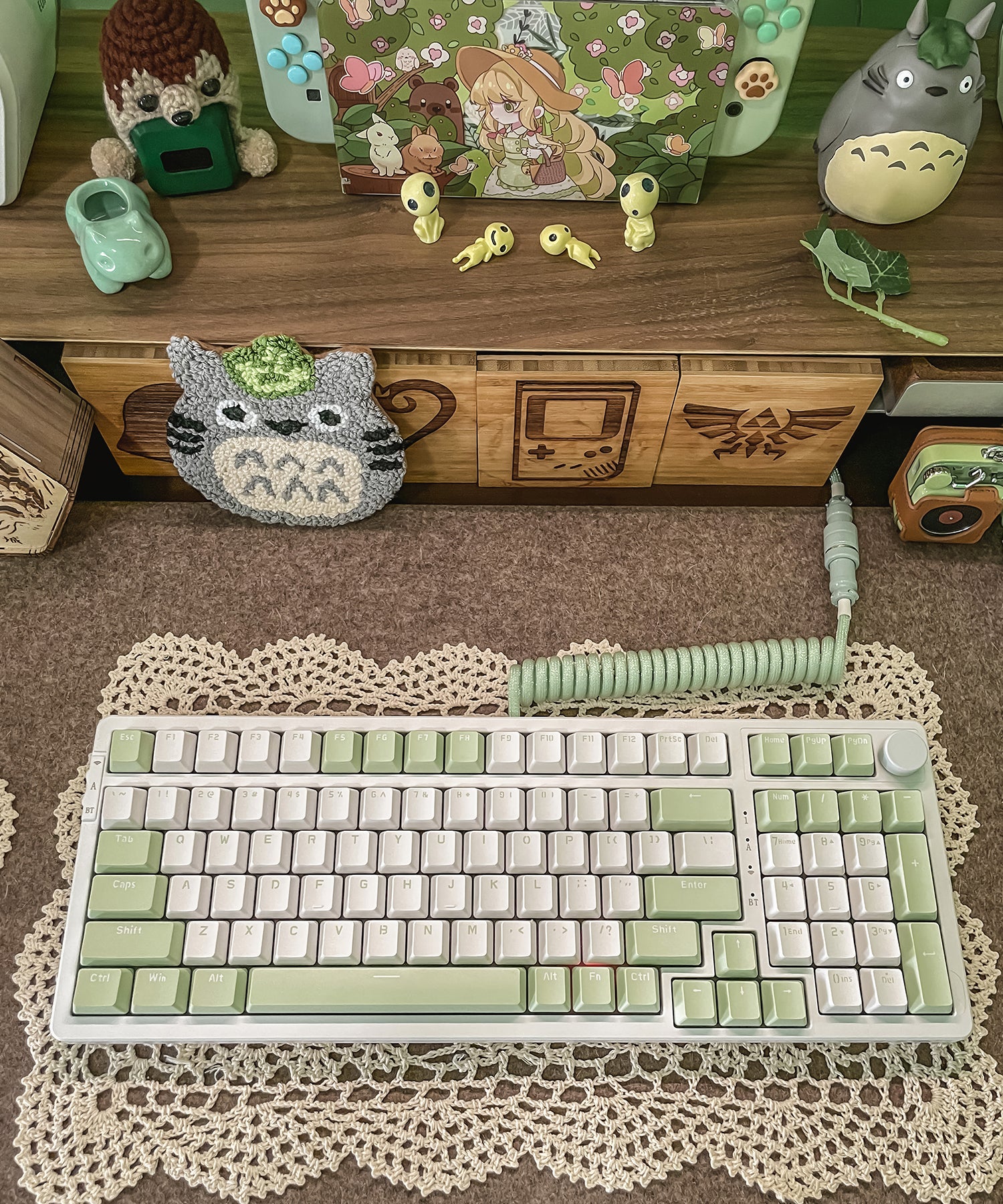 Ajazz AK992 Hot-swappable Mechanical Keyboard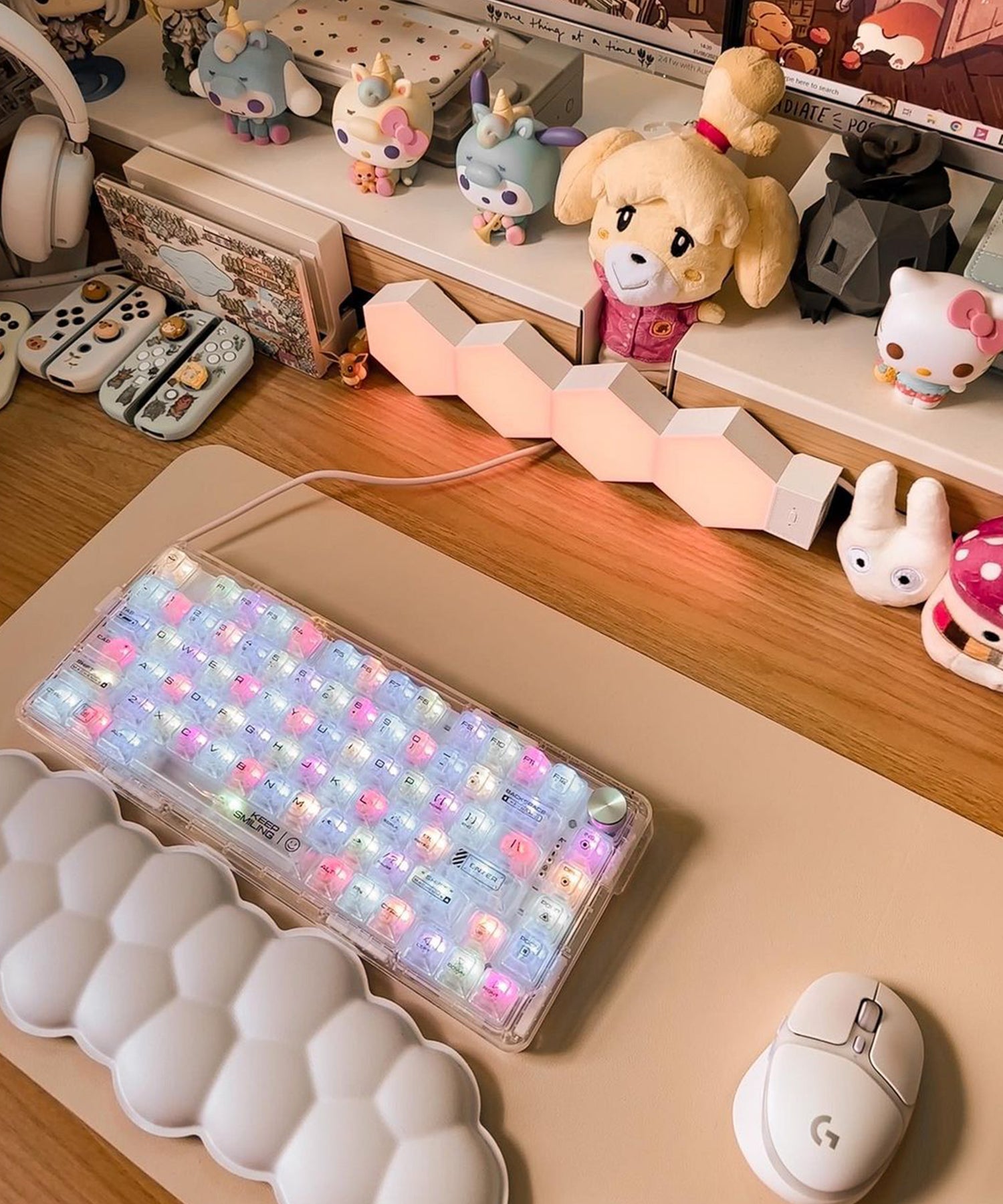 Machenike K500F-B81 RGB Clear Mechanical Keyboard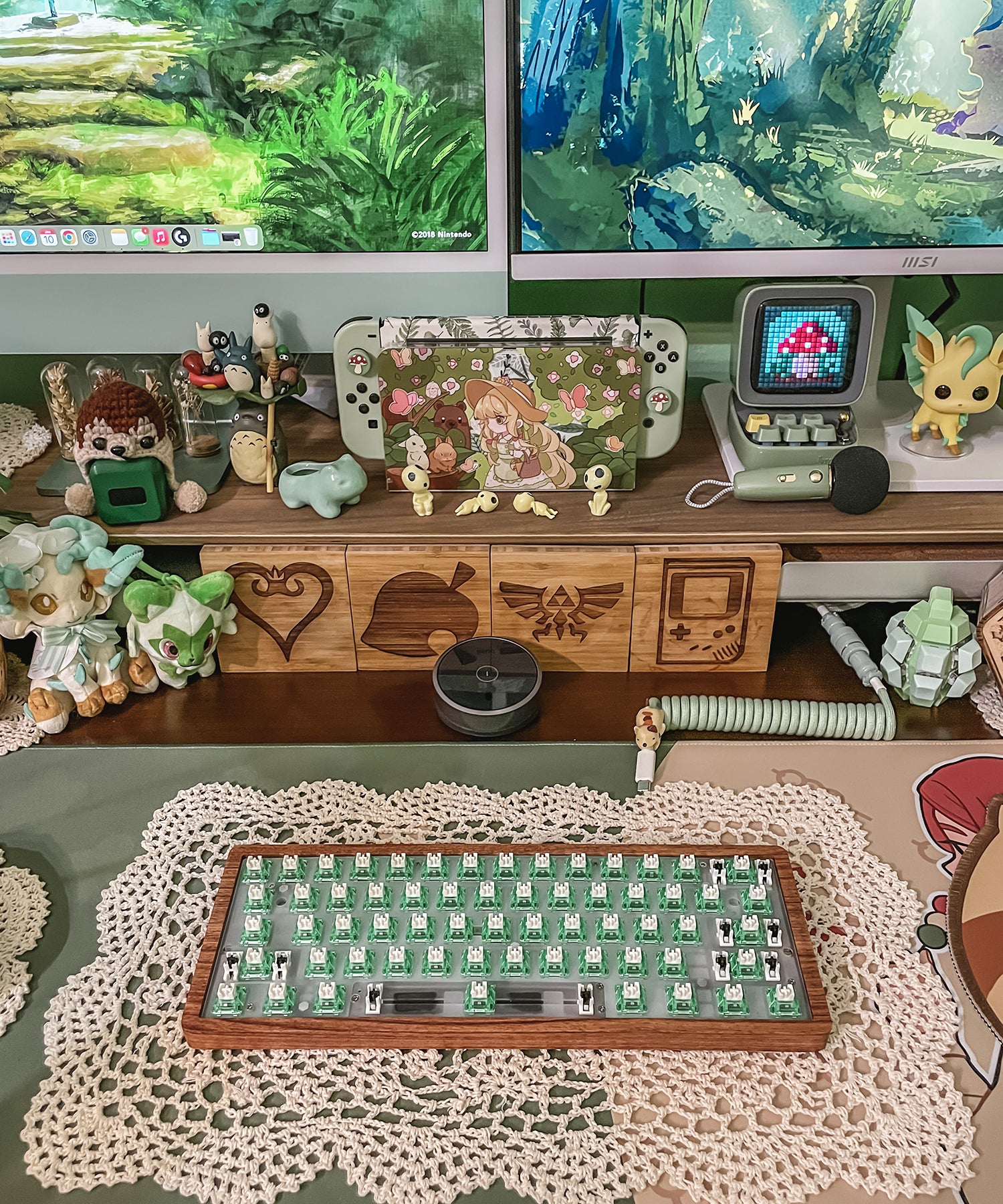 SKYLOONG GK61 Lite Gasket DIY Kit Wooden + Ajazz Diced Fruit Switch Set - Kiwi Switch