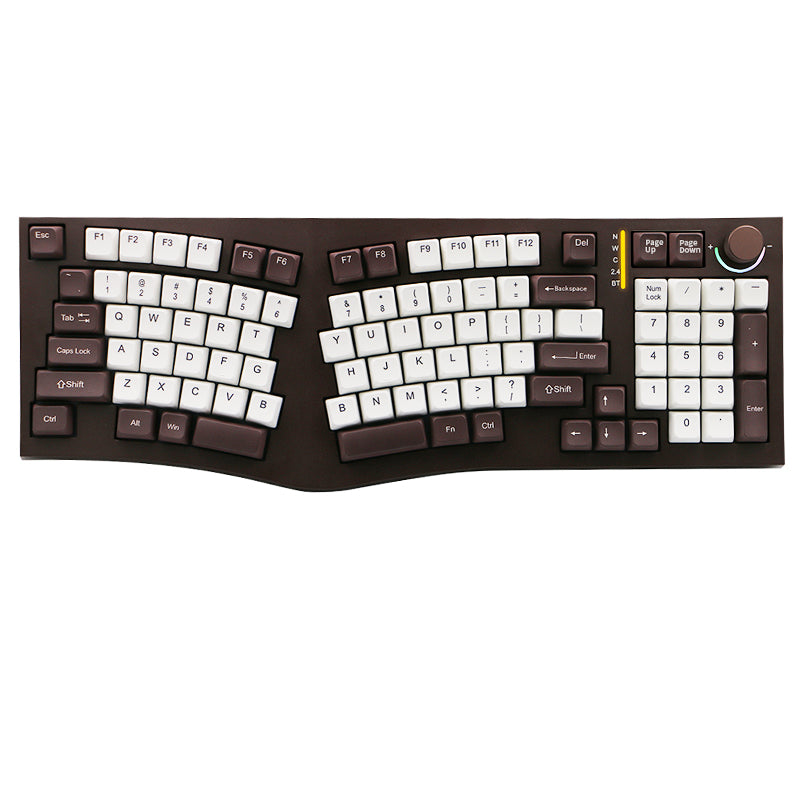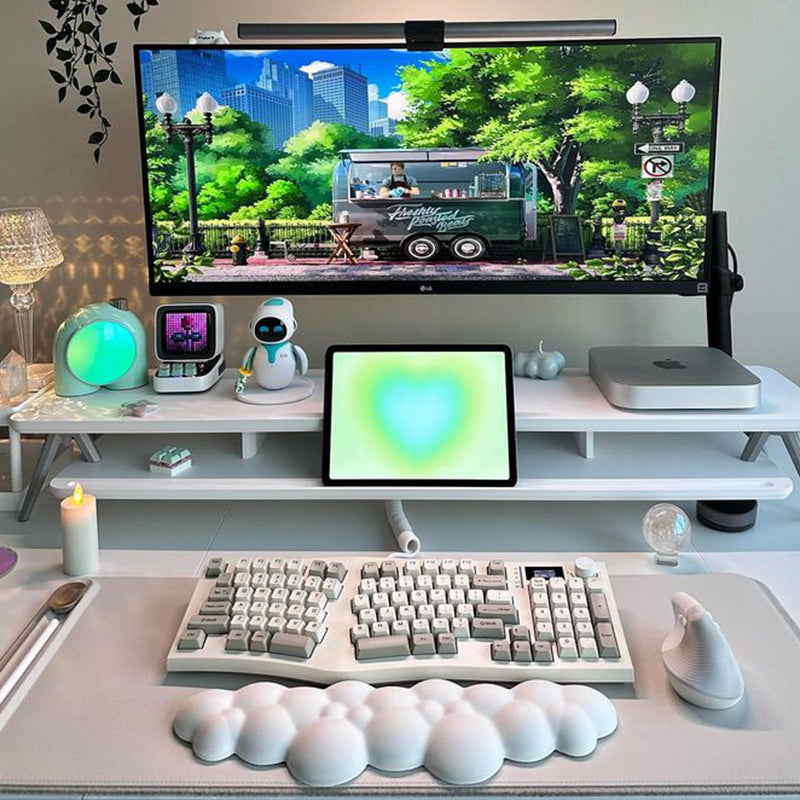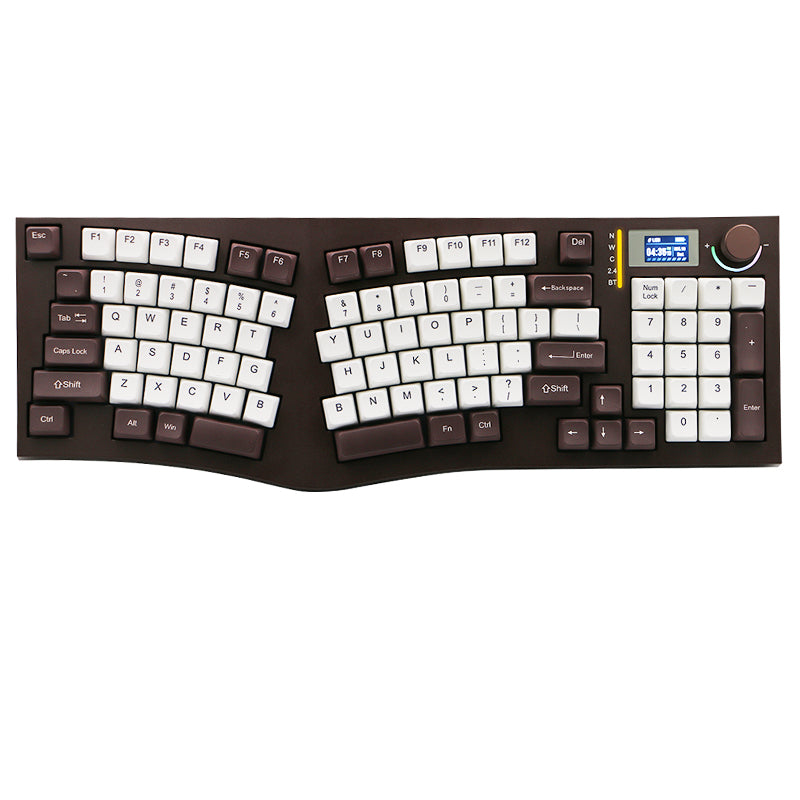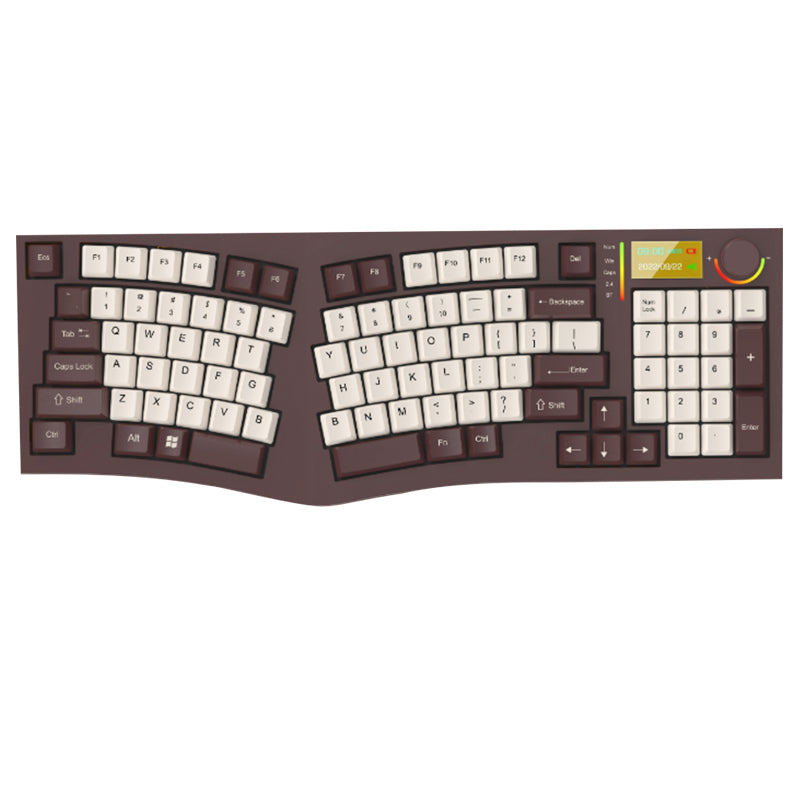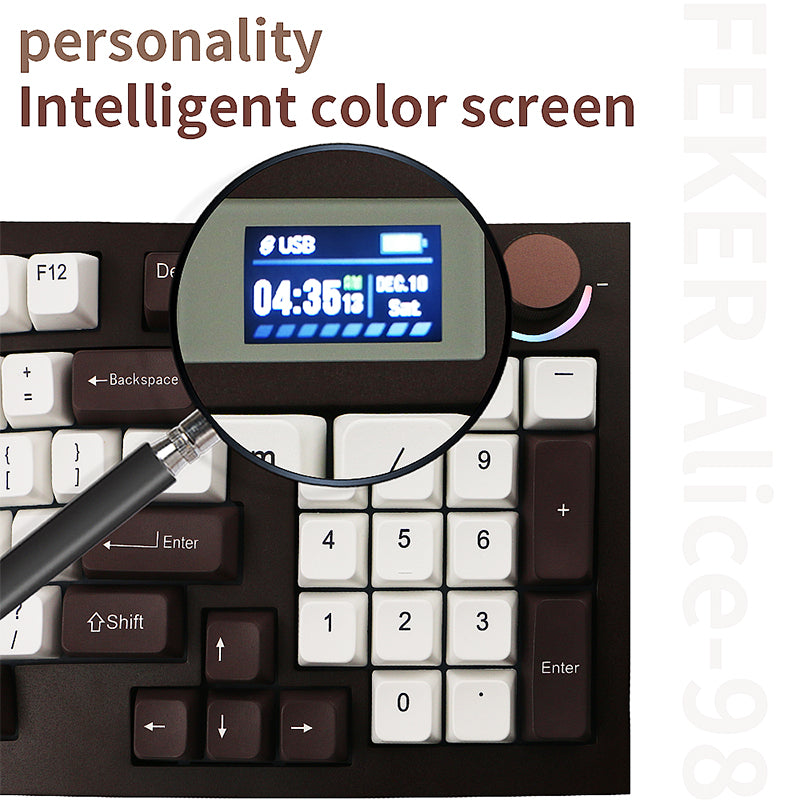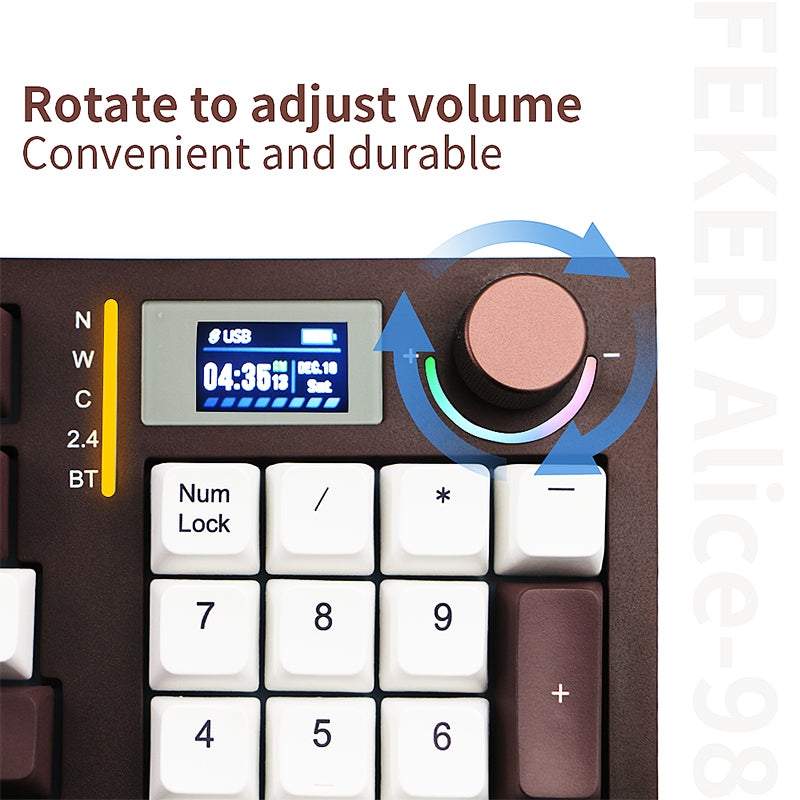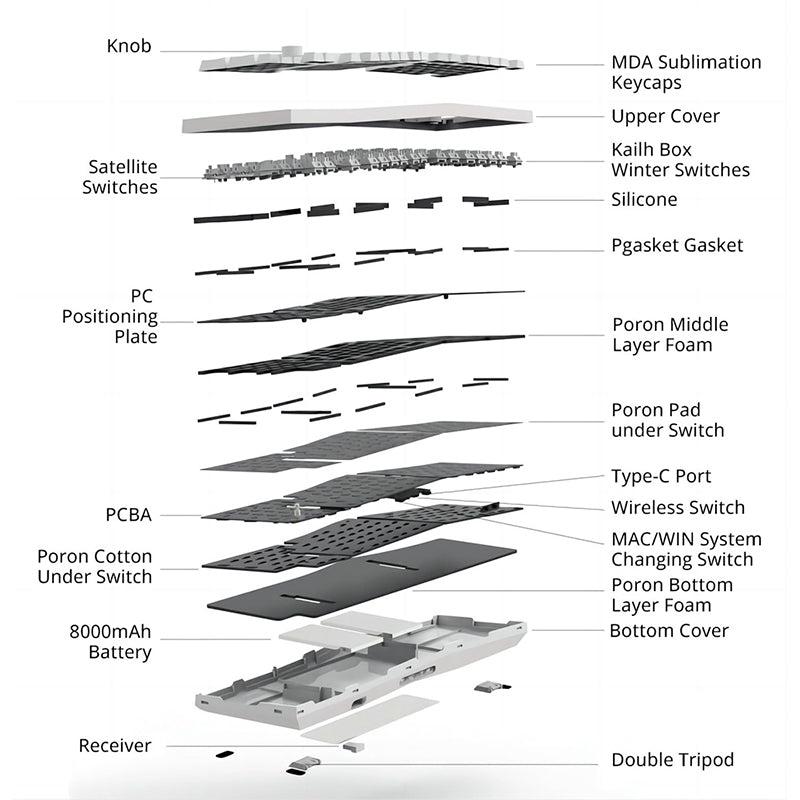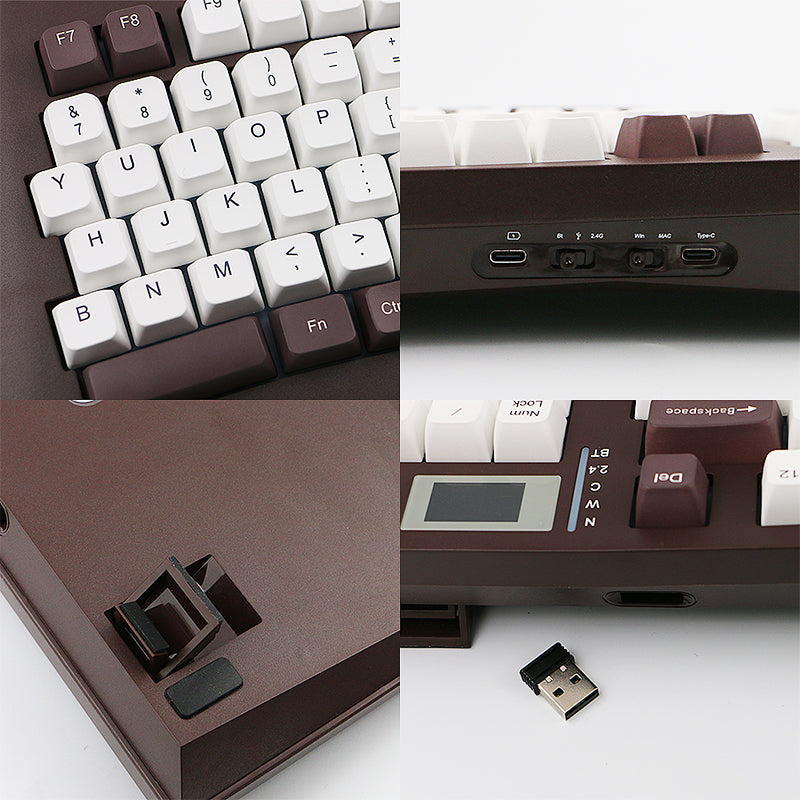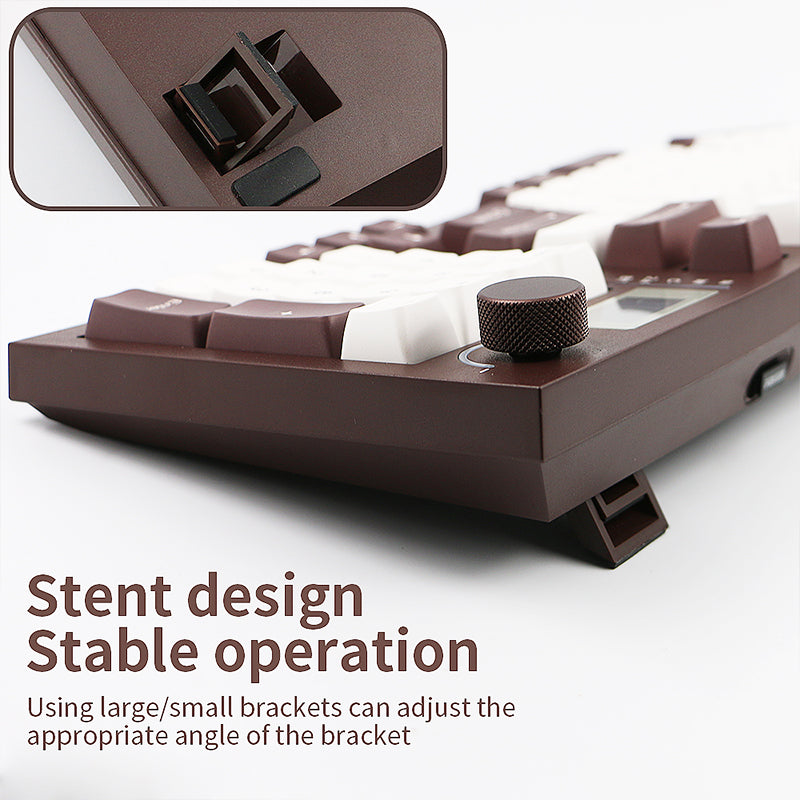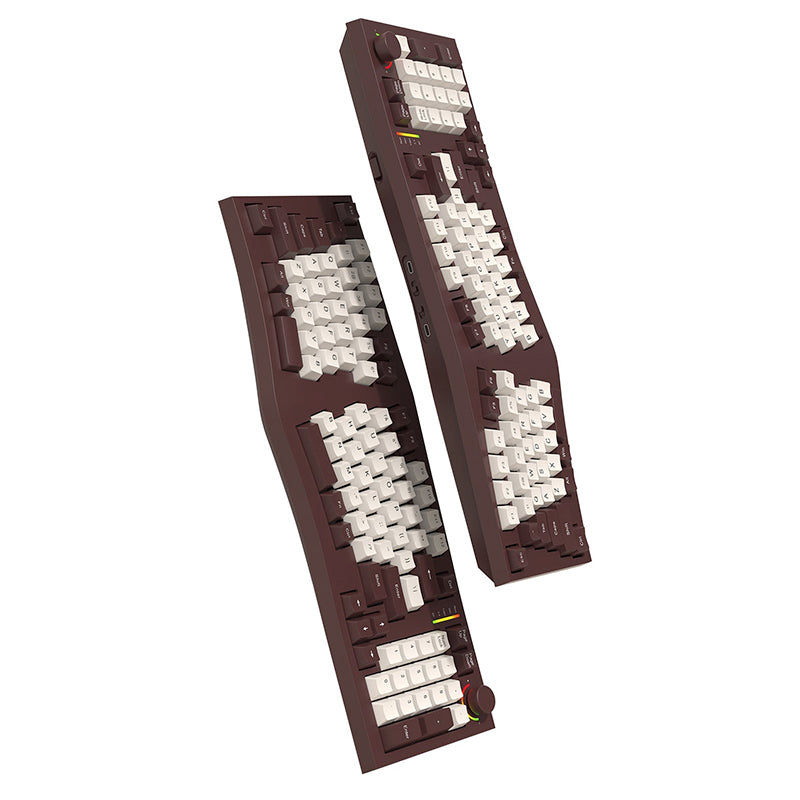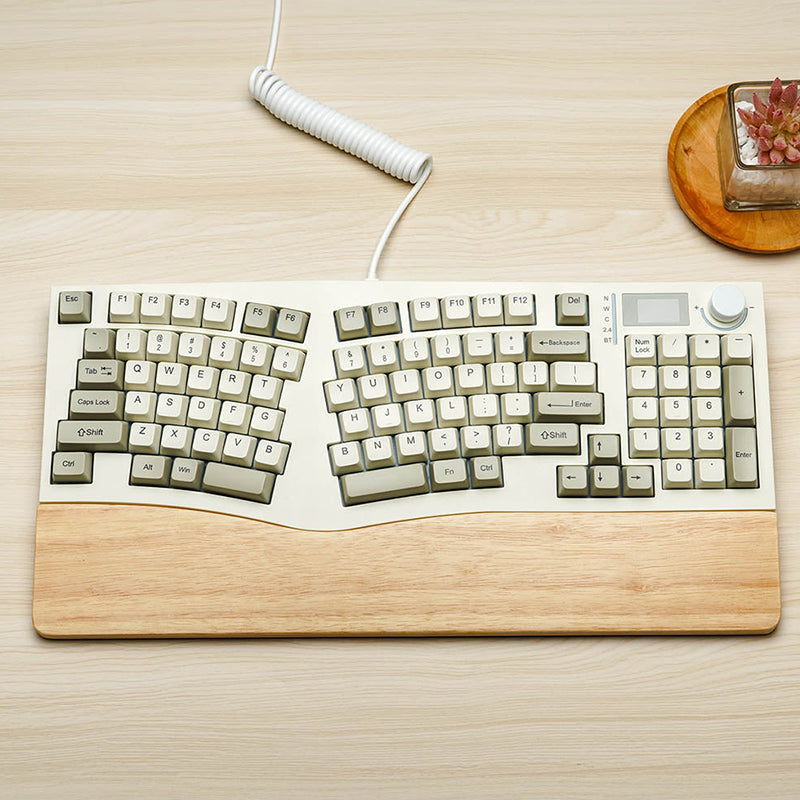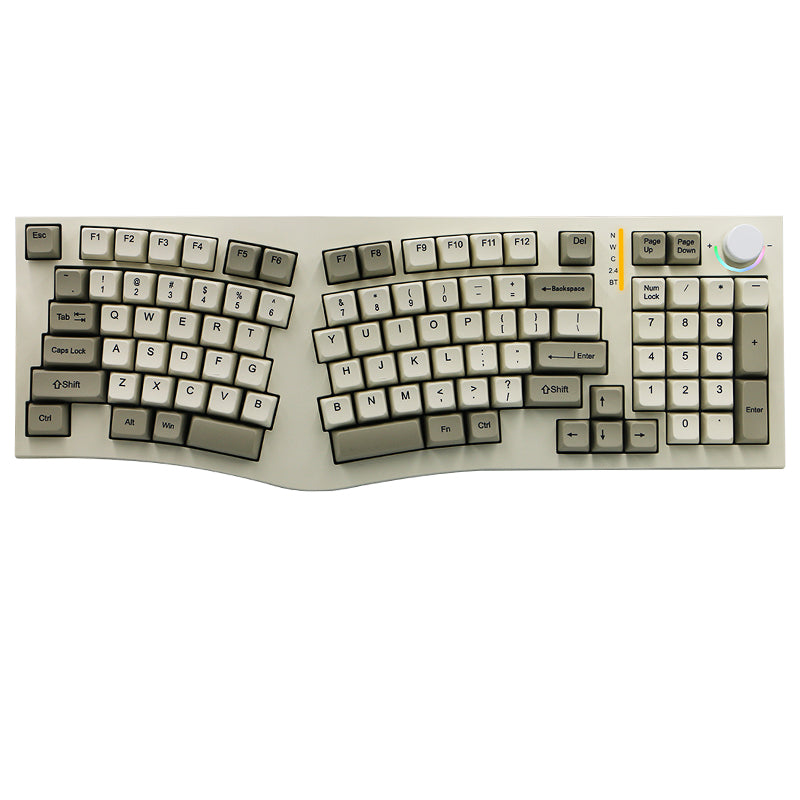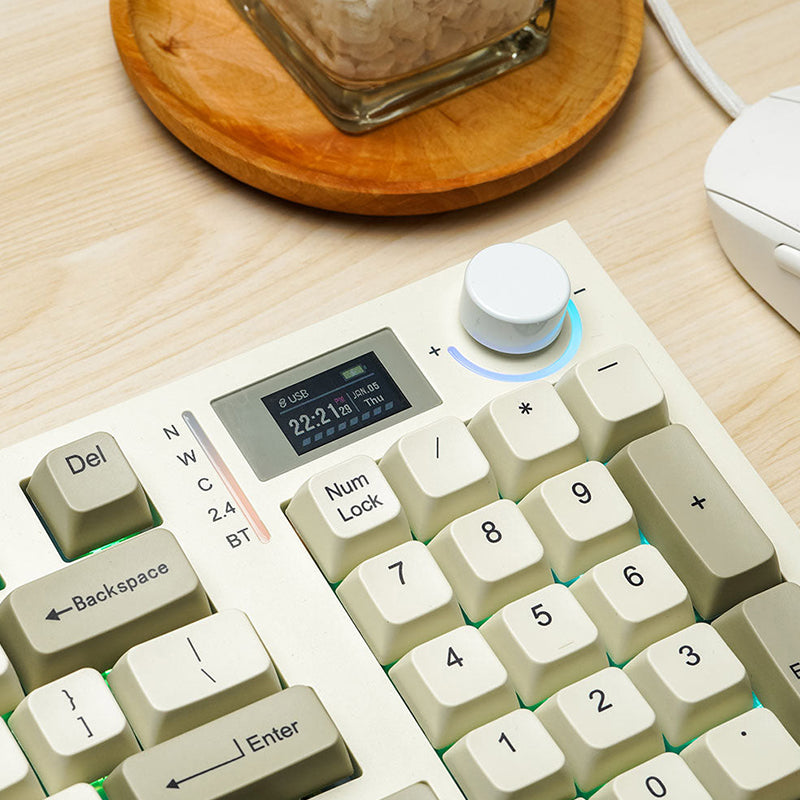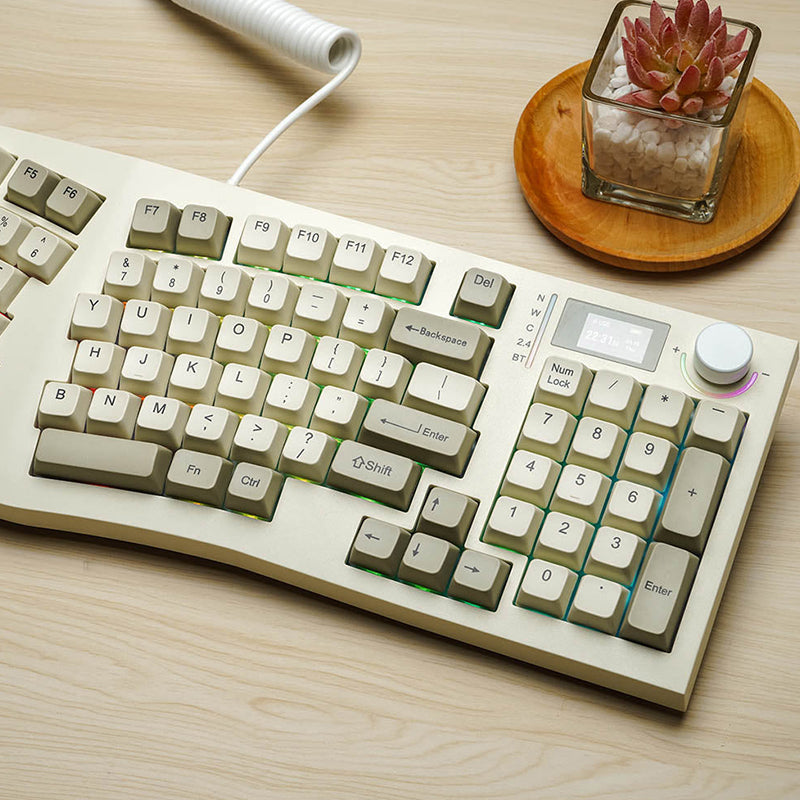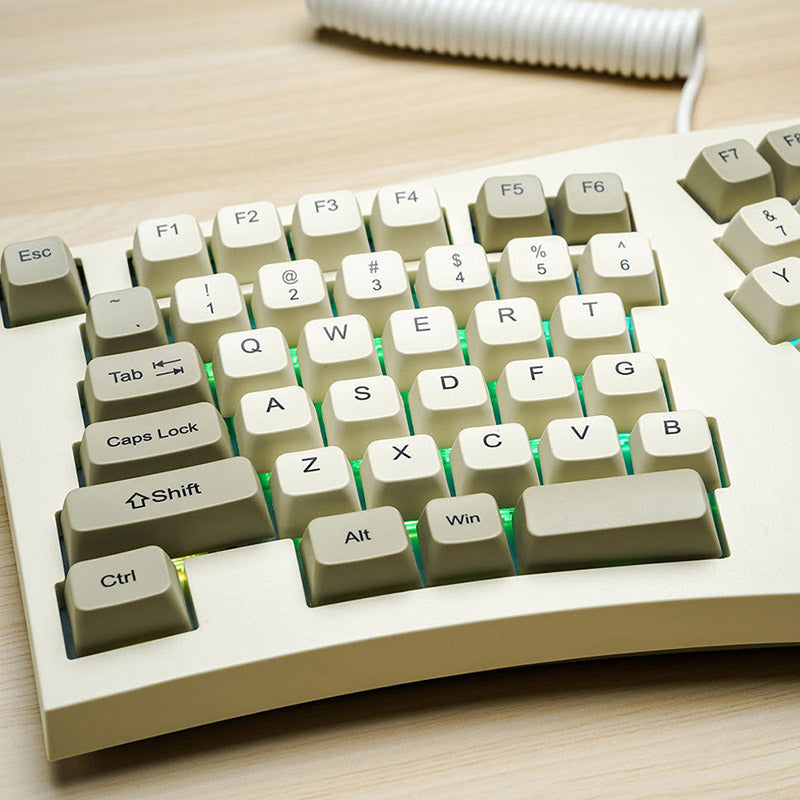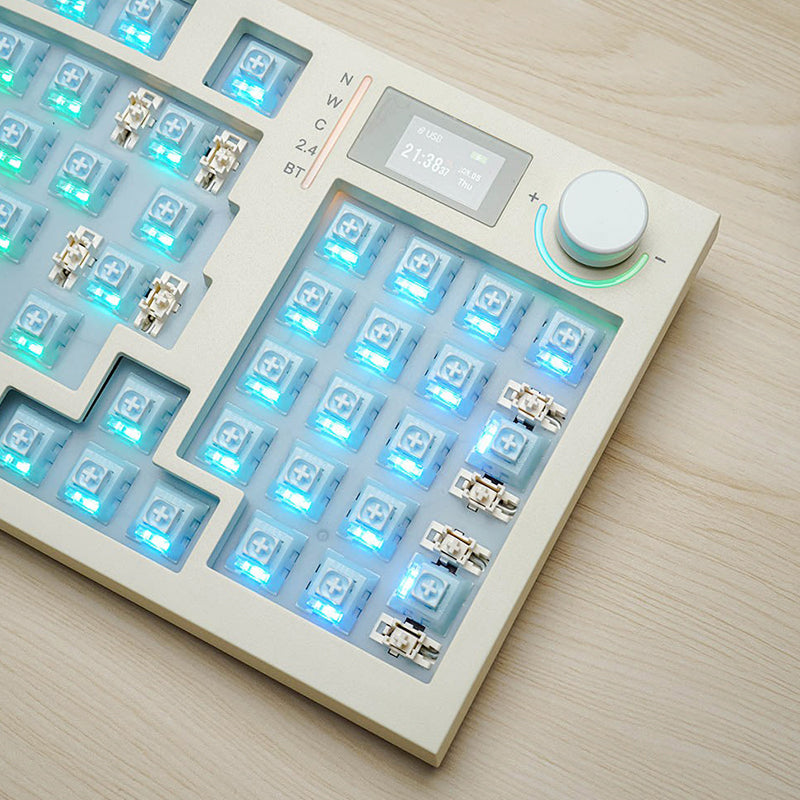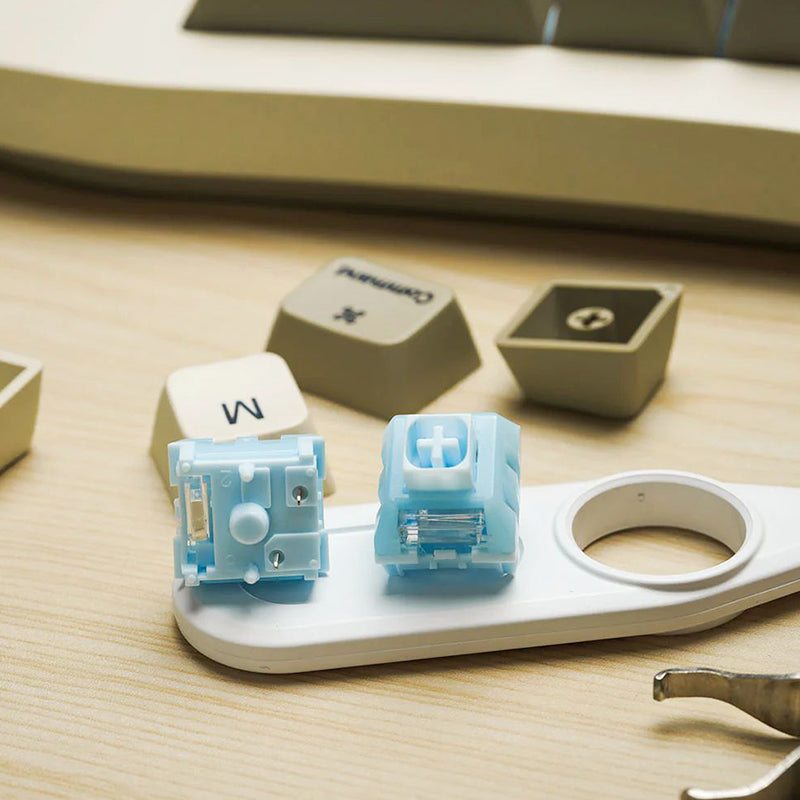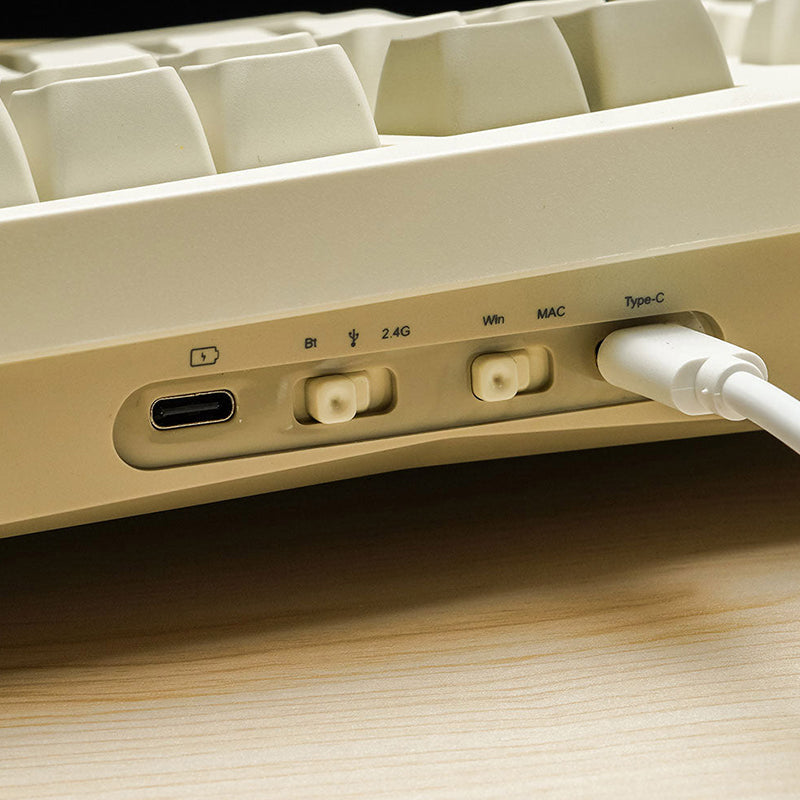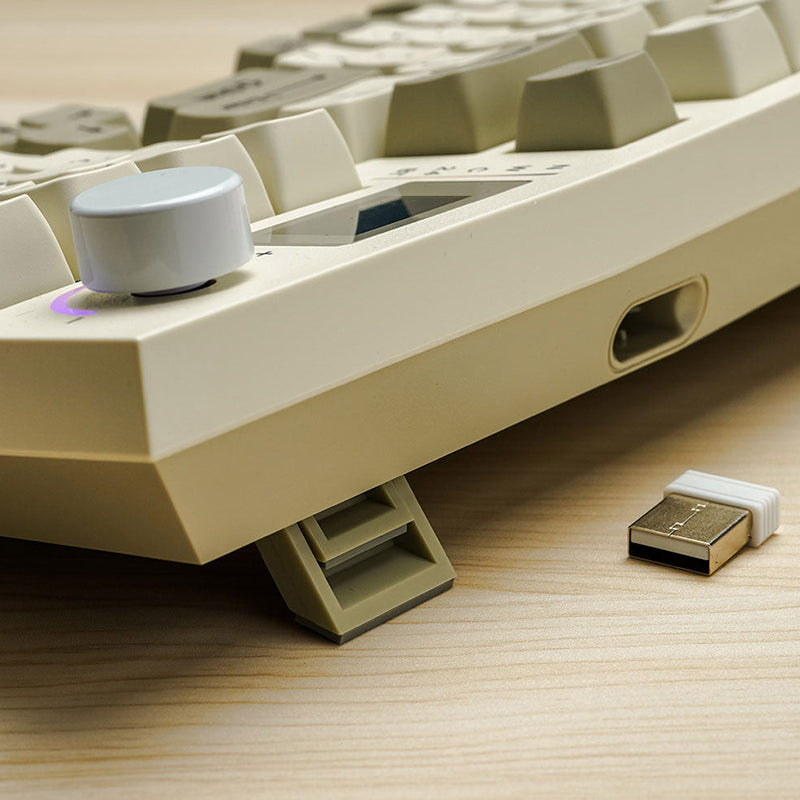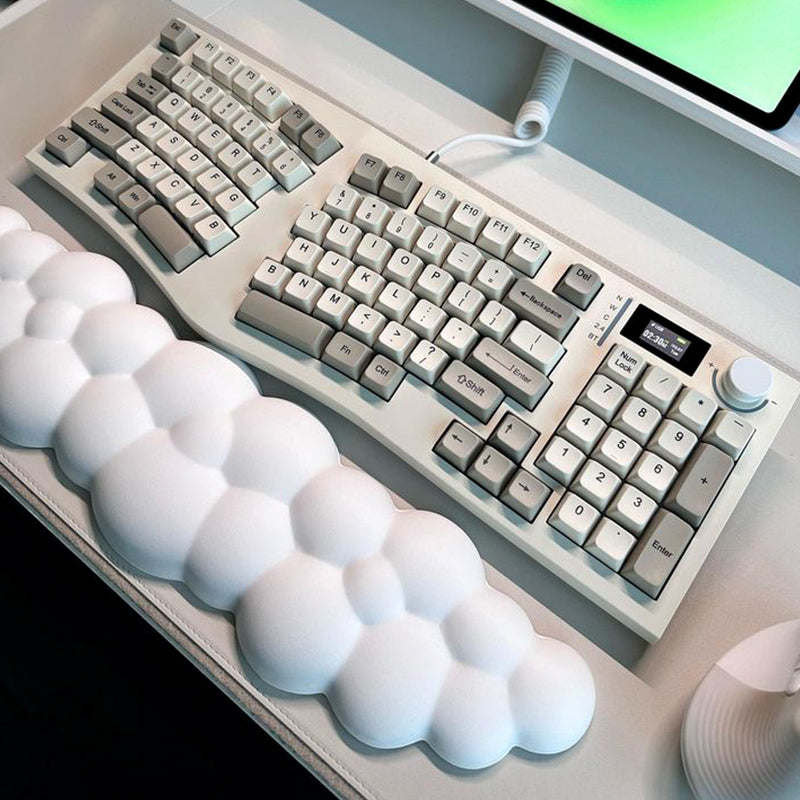 FEKER Alice98 Wireless Mechanical Keyboard With LED Screen
Version:
Without LED Screen
The FEKER Alice98 Mechanical Keyboard with LED Screen is ergonomically designed to reduce strain on your wrists and hands for maximum comfort. Get the best typing experience with the FEKER Alice98, the best working keyboard for your health.
The Ergo Alice layout With A Numpad
Experience an elevated level of comfort and style with the FEKER Alice 98 Mechanical Keyboard. Ergonomically designed for both accuracy and luxury, the Alice98 boasts an innovative Alice layout, angled letters, and bottom row, and a dual-piece spacebar for an effortless typing experience. With a built-in media control knob, this keyboard is the perfect companion for those seeking the ultimate typing experience.

LED Screen or Keys Beside the Rotary Knob
FEKER Alice98 is a revolutionary mechanical keyboard with a striking LED screen. Use the screen to customize and change your own memes, check the connection status and see the date and time with a glance. Enjoy endless hours of fun with the PgUp and PgDn keys and the LED screen!

Gasket Mount, PC Plate & Sound Absorption Foams
To reach a top typing experience, FEKER Alice 98 is assembled by a gasket mount, which is constructed with the PC plate laying on the top and the bottom case perfectly without any screws in the middle, presenting a soft and even typing feeling at each corner of the keyboard. FEKER has also made an effort to enhance the sound by placing a set of sound-dampening Poron foams. All is to provide a stunning typing sound and a premium typing feeling.

South-facing LED RGB Backlight & Kailh Winter Switch
FEKER Alice features south-facing LED RGB backlights with 21 light effects. This is also perfect with the Kailh Winter Switch which is shine-through with amazing RGB lights. What's more, the switches are pre-lubed to increase the smooth sense. With the triggering force of 38gf to be pressed, the tactile switches are perfect on the keyboard to be easily pressed and shine through.

Triple Modes (Type-C Wired, Bluetooth 5.0 & 2.4GHz Available)
The FEKER Alice 98 supports connection via Bluetooth or 2.4GHz for wireless connectivity, or with the included Type-C USB cable. With Bluetooth 5.0, it easily connects seamlessly with your devices within 10 meters. Equipped with an 8000 mAh battery, the keyboard is also easily switched among the three modes for efficient multitasking and speedy performance.

NKRO Detachable Type-C Cable
The keyboard also supports NKRO. That means you can type in multiple keys without conflicts. The keyboard comes with a 1.8m hand-braided type-C cable with golden-plated connectors. Now you can easily build up your own mechanical keyboard with this keyboard!
General

Brand: FEKER


Type: Mechanical Keyboard


Model: Alice98

LED-Screen Version (96 Keys + 1 Knob)

Normal Version (98 Keys + 1 Knob)

Specification

Hot-Swappable: Yes

Structure: Gasket Mount

Case Material: ABS Plastic


LED: South-facing

Backlist: SMD RGB Backlit, 21 Effects

Connectivity: Type-C Wired, Bluetooth 5.0 & 2.4GHz


Battery Capacity: 8000mAh

Cable Length: 1.8m

Keycaps Material: PBT

Kailh Winter Switch
Type: Tactile
Initial Force: 40gf  
Operating Force: 38±10gf
Pre Travel: 2.0±0.4mm  
Total Travel: 3.6±0.3mm  
Bottom Force: 52±5gf


Weight & Size

Product Weight: 1.1kg


Package Weight: 1.5kg


Product Size(L x W x H): 43.5cmx15.6cmx4.3cm

Package Contents

1 x Keyboard


1 x USB Cable


1 x 2.4G Receiver


1 x Instructional Manual
Good but software needs to be fixed.
The keyboard works as expected and it's nice with my keycaps. However, the software is very buggy and one of the main reasons I purchased this keyboard was because of the LCD screen. 4 stars for now and 5 stars if the software gets updated.
Feker Alice 98
Excelente product, I'm in love with it!
Big & Beautiful
Very good looking, came with two switches and tools, shipping took a while, I love the dial and the color, shape is comfortable
Easy site navigation; will continue to purchase from WhatGeek.
I purchased a FEKER Alice 98 keyboard. The site was easy to navigate, purchasing was strait forward and tracking was updated regularly. Iif been shopping for an Alice layout, that is as near to 100% as possible for a while and WhatGeek seemed to always have sales. When I shop next for new switches and keycaps, I'll definitely continue using WhatGeek.
Build quality needs improvement
While the customer service for WhatGeek was superb, the build quality of the Feker Alice 98 was very lacking. As compared to the Feker Alice 80 which is one of the best keyboards I have ever used, the Feker Alice 98 felt cheap, light weight, and would not lay flat on my desk. It would be amazing if Feker could produce an Aluminium version of the 98 that had high quality build, and or a 98 version with the same quality as the 80.
Thanks for your time, we will give your valuable suggestions to the product department.
Setup Ideas From Customers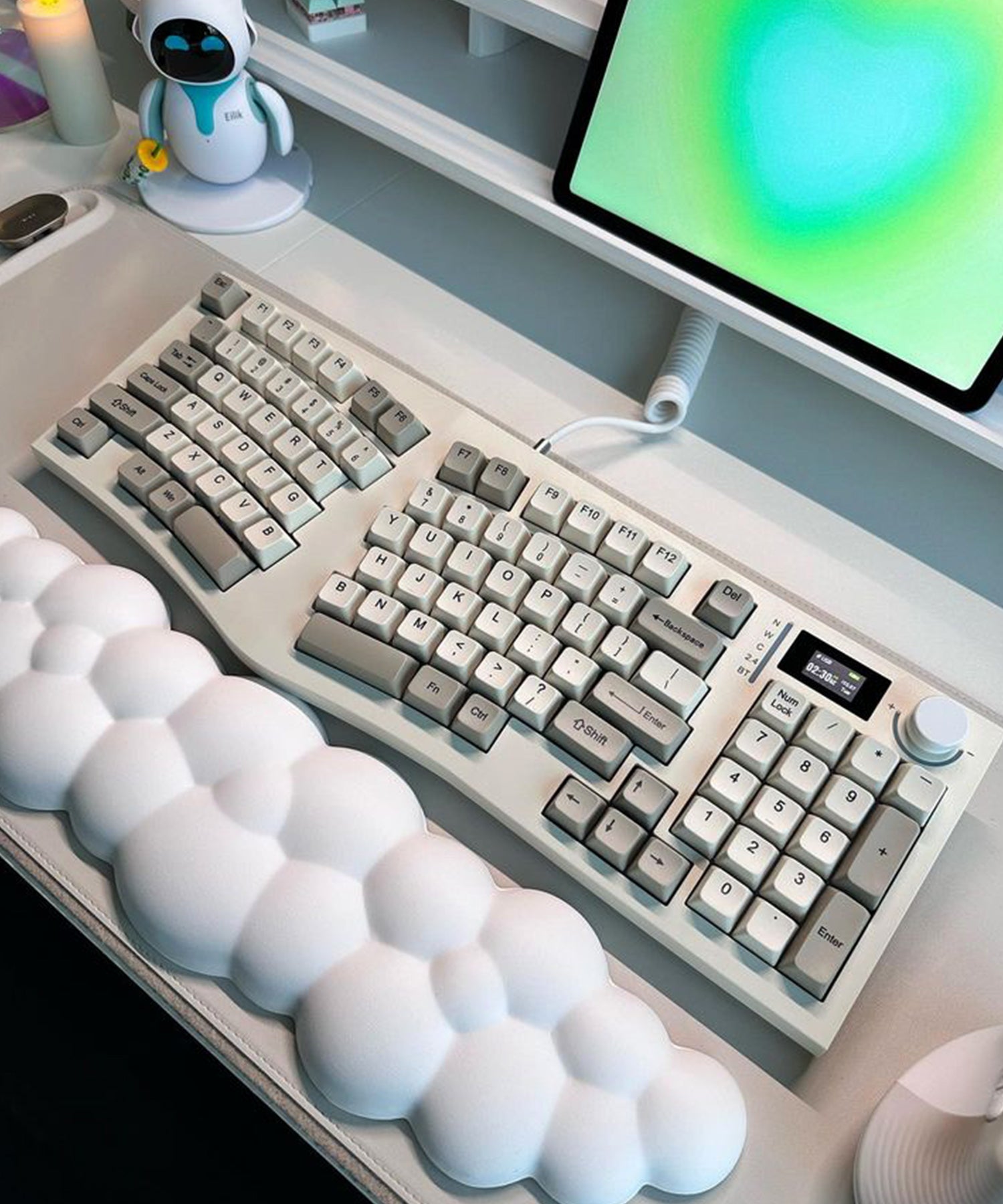 FEKER Alice98 Wireless Mechanical Keyboard With LED Screen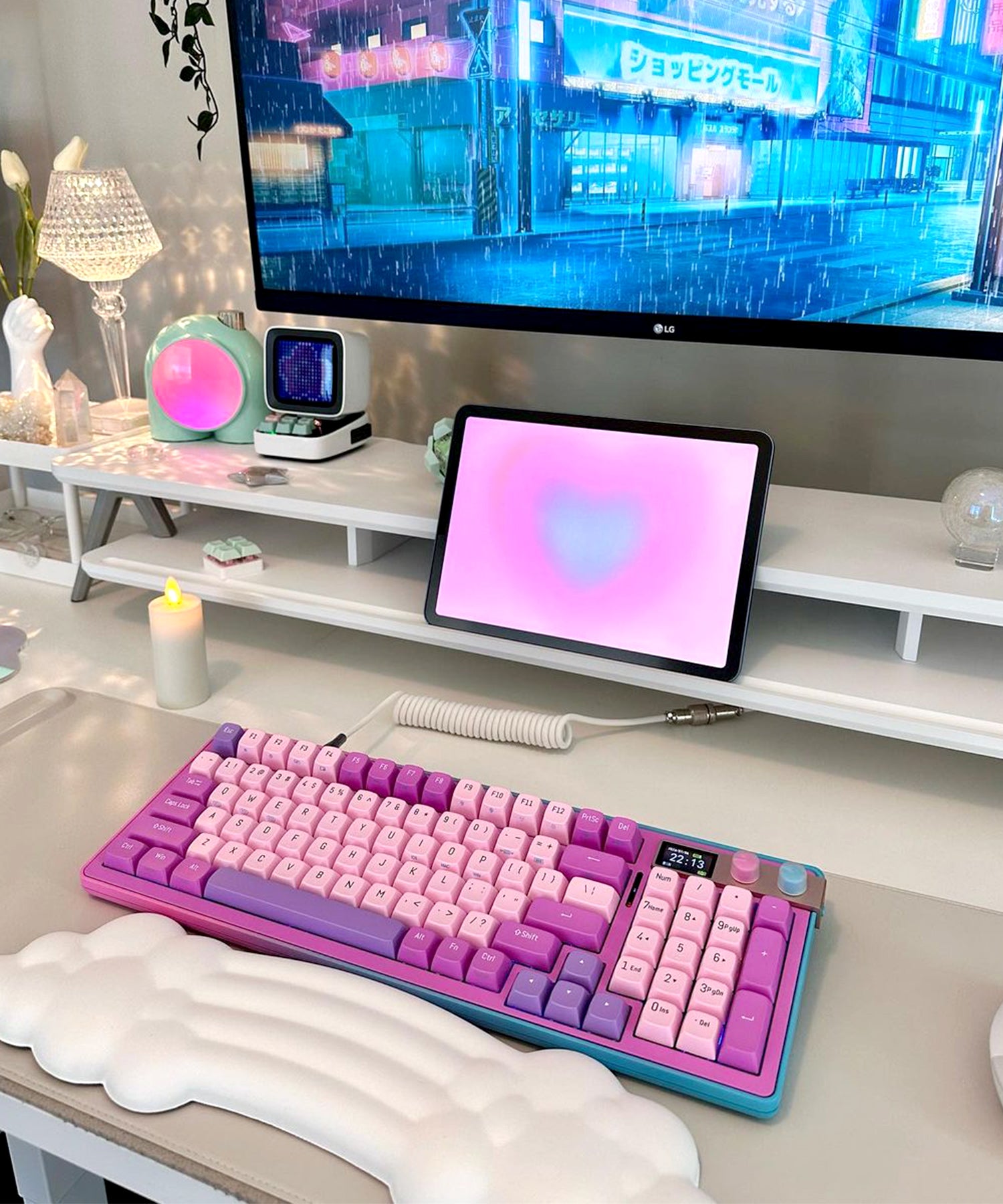 FOPATO H98 Love & Salvation Wireless Mechanical Keyboard With TFT Screen
FirstBlood B81 Crystal Transparent Wireless Mechanical Keyboard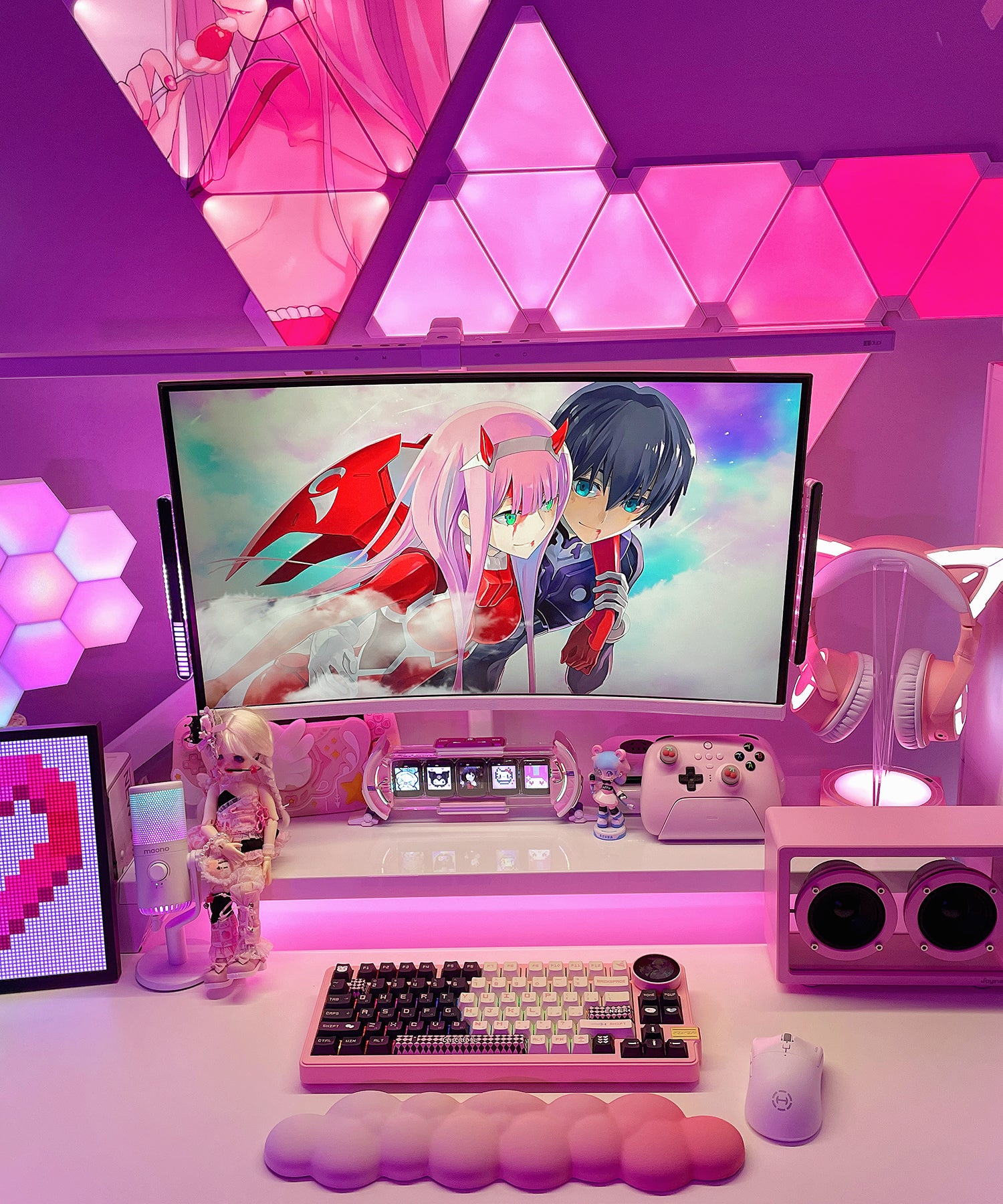 FEKER K75 Mechanical Keyboard with Multifunctional Knob Display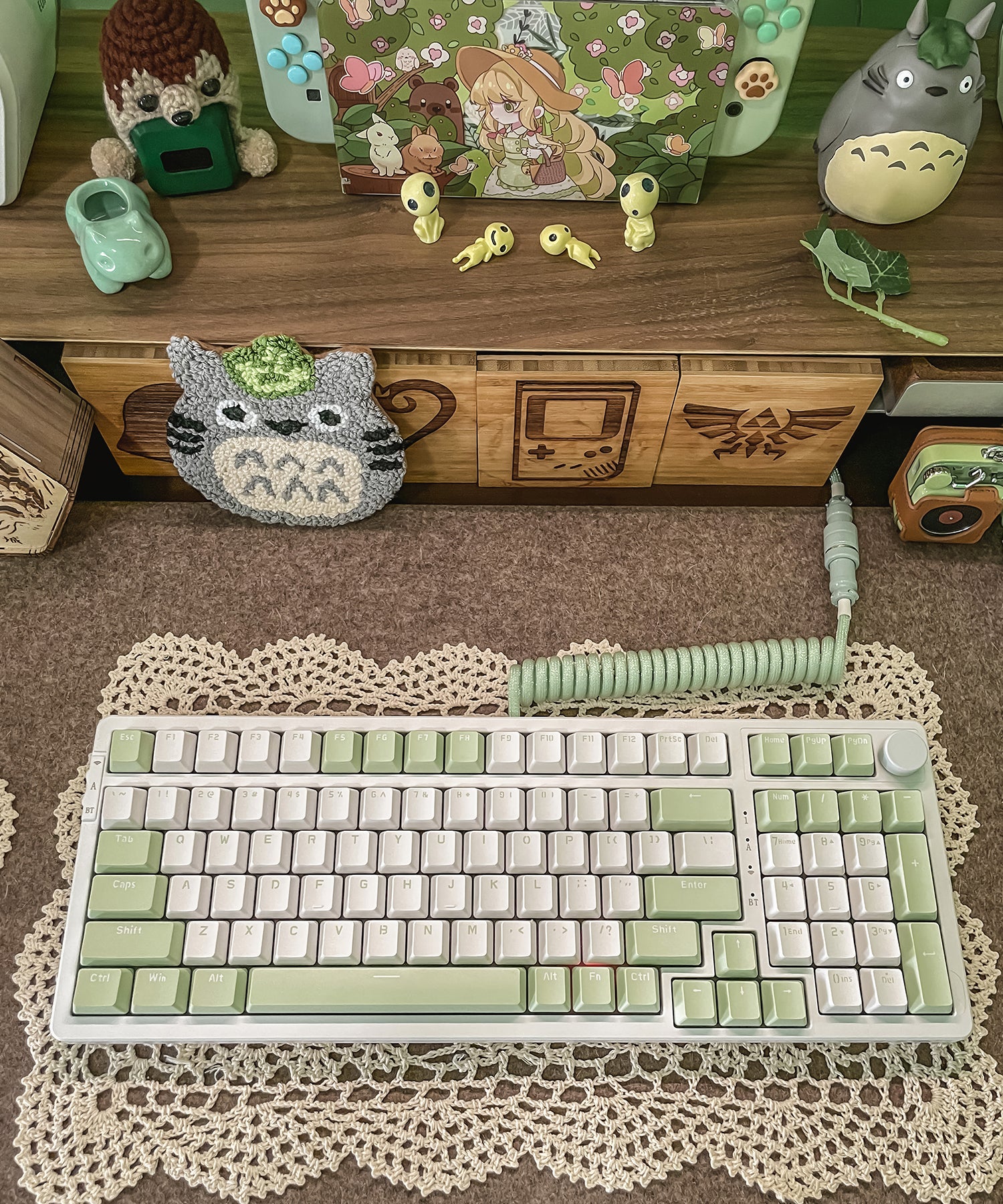 Ajazz AK992 Hot-swappable Mechanical Keyboard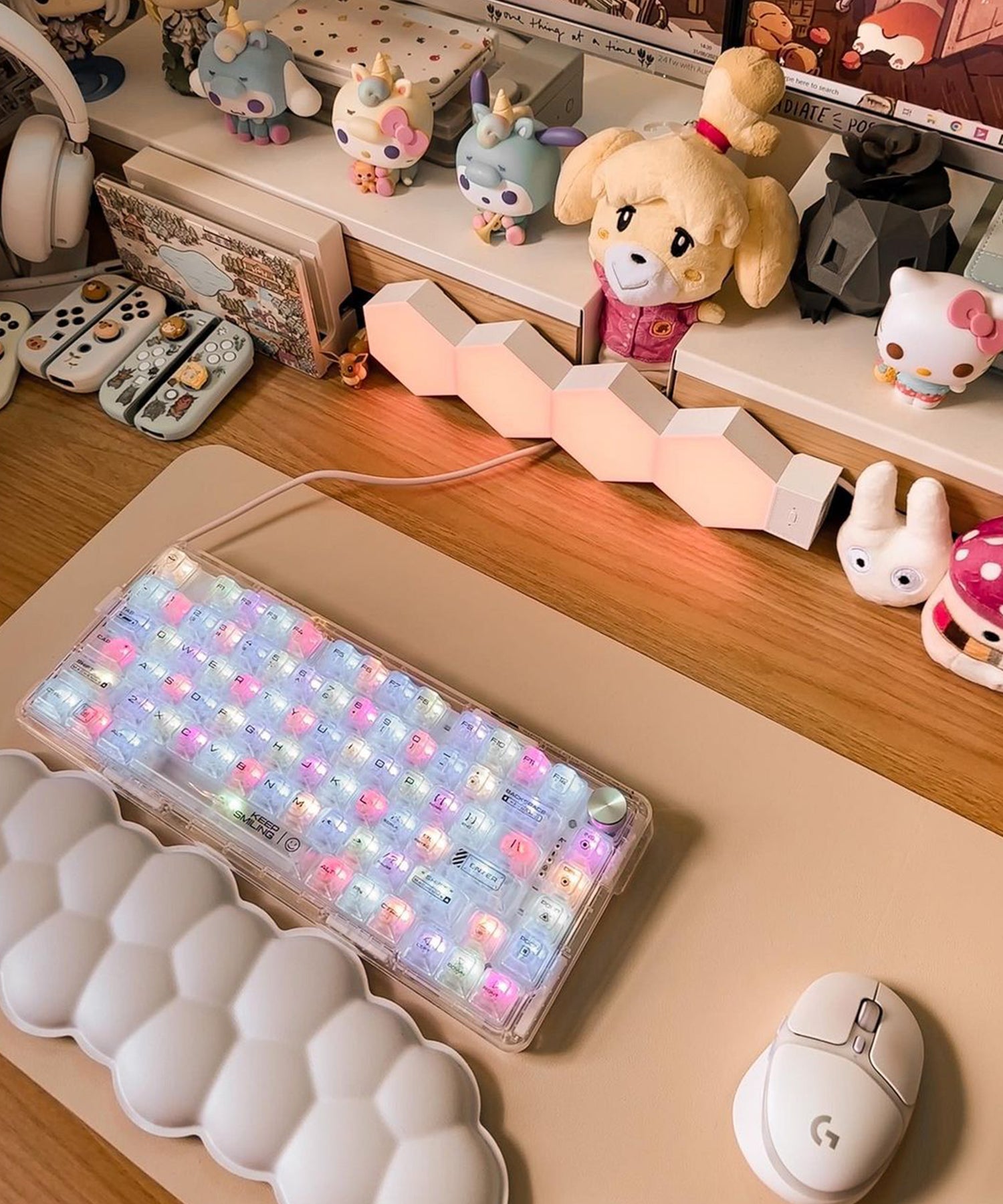 Machenike K500F-B81 RGB Clear Mechanical Keyboard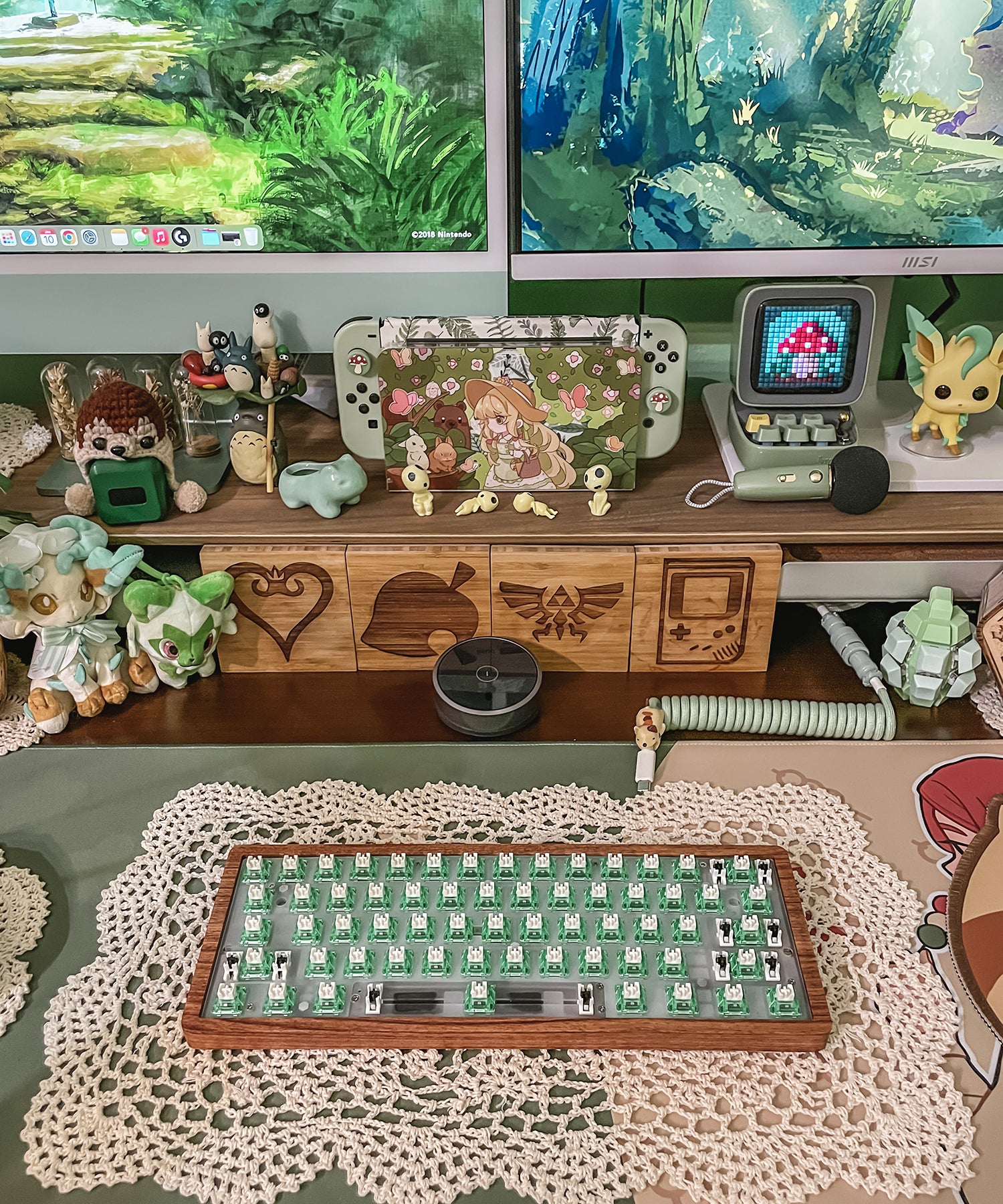 SKYLOONG GK61 Lite Gasket DIY Kit Wooden + Ajazz Diced Fruit Switch Set - Kiwi Switch