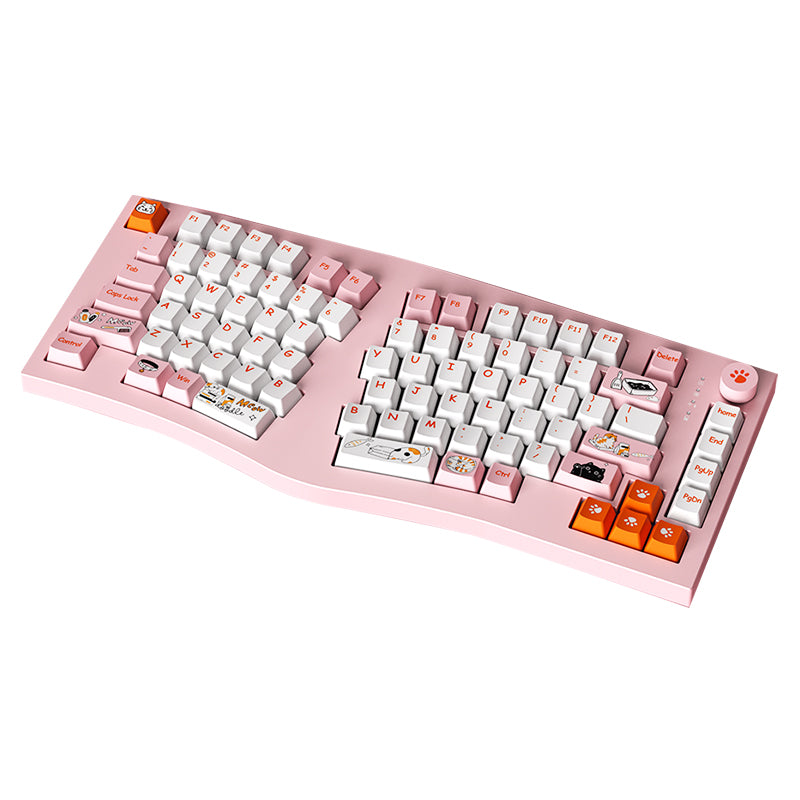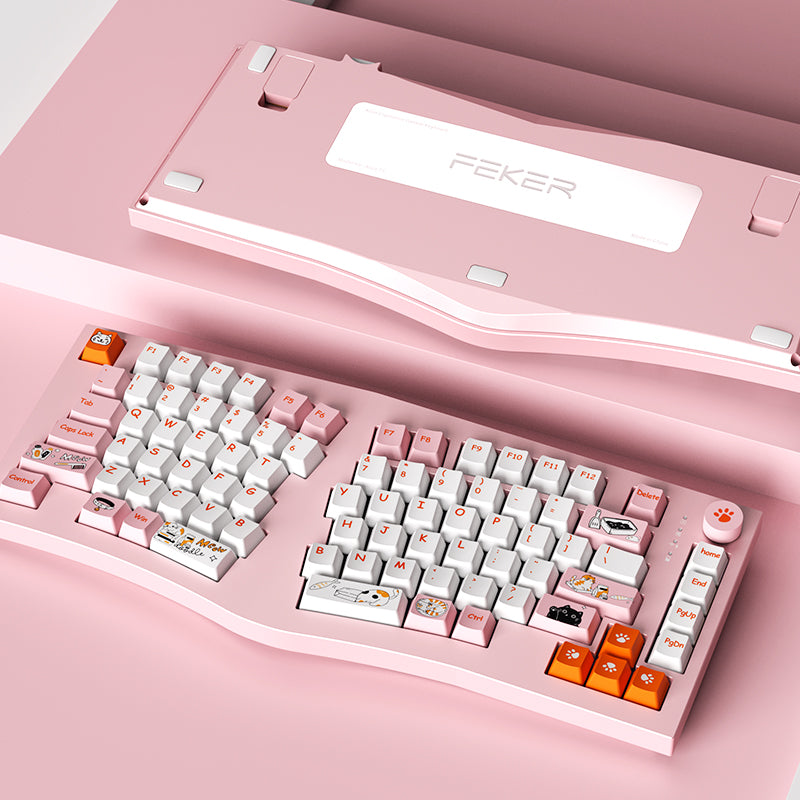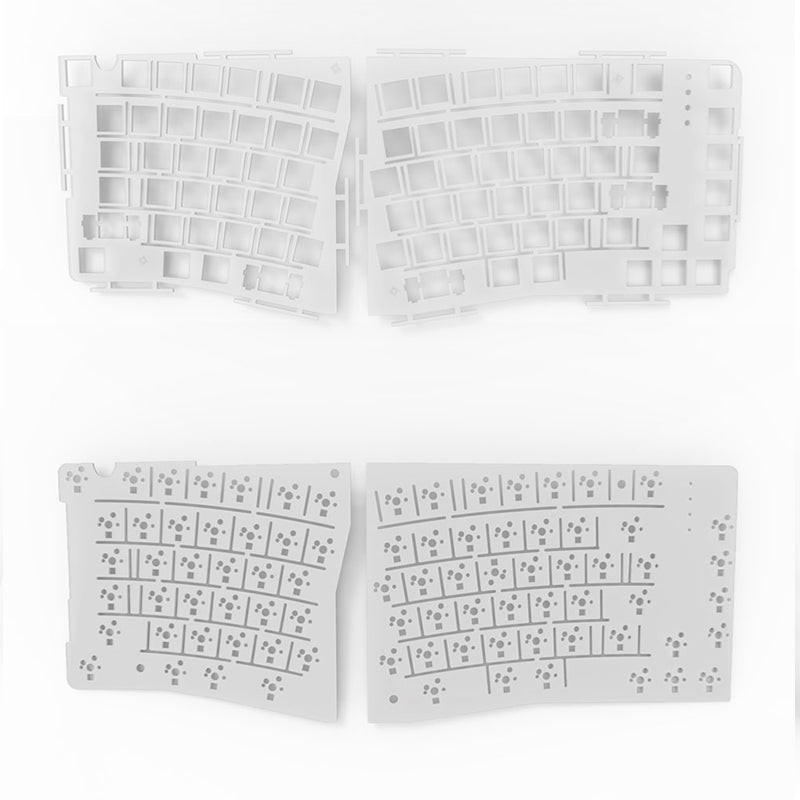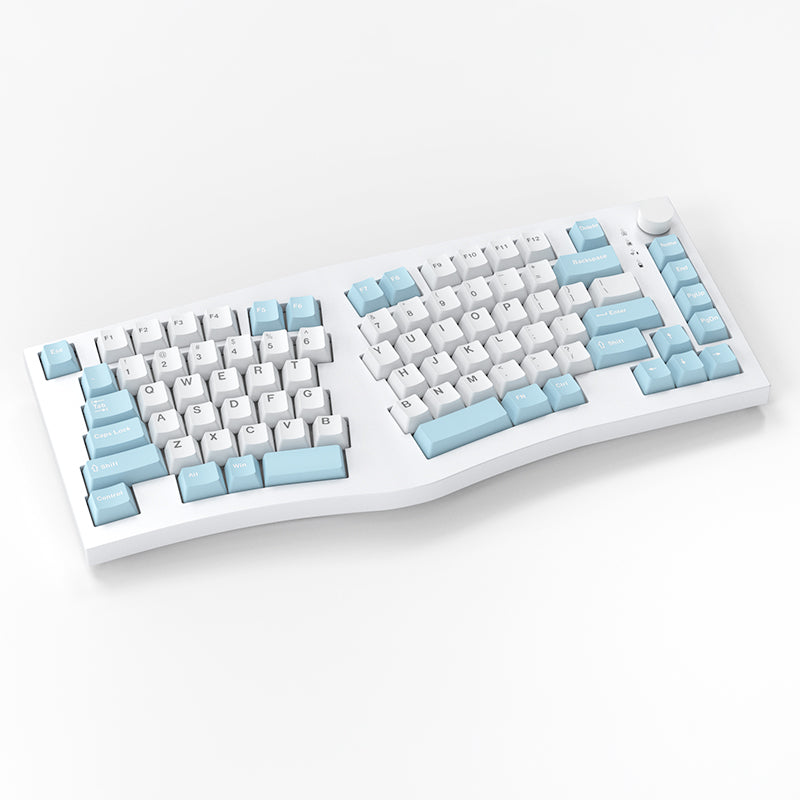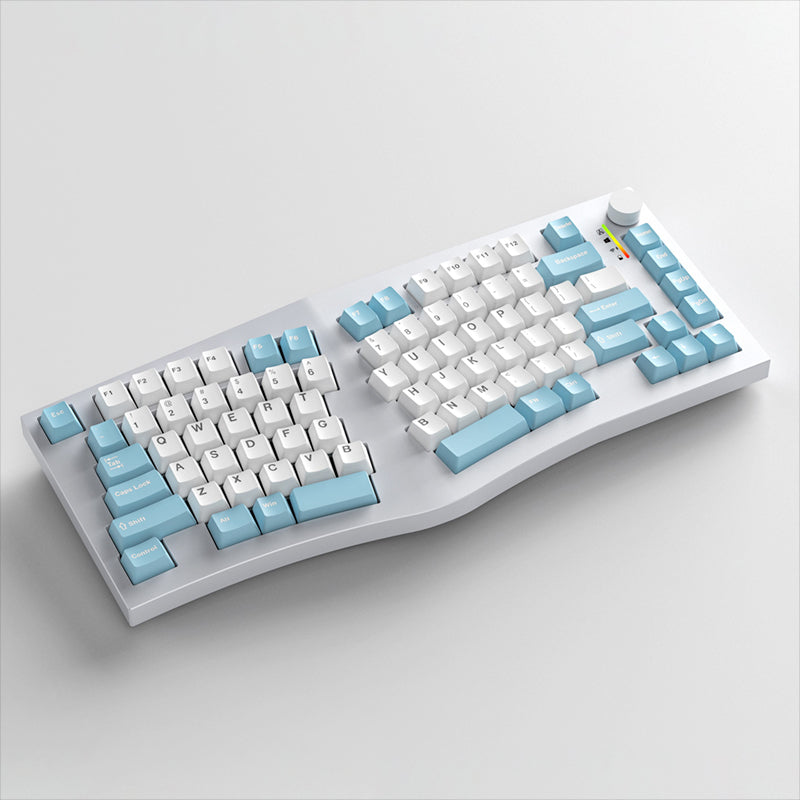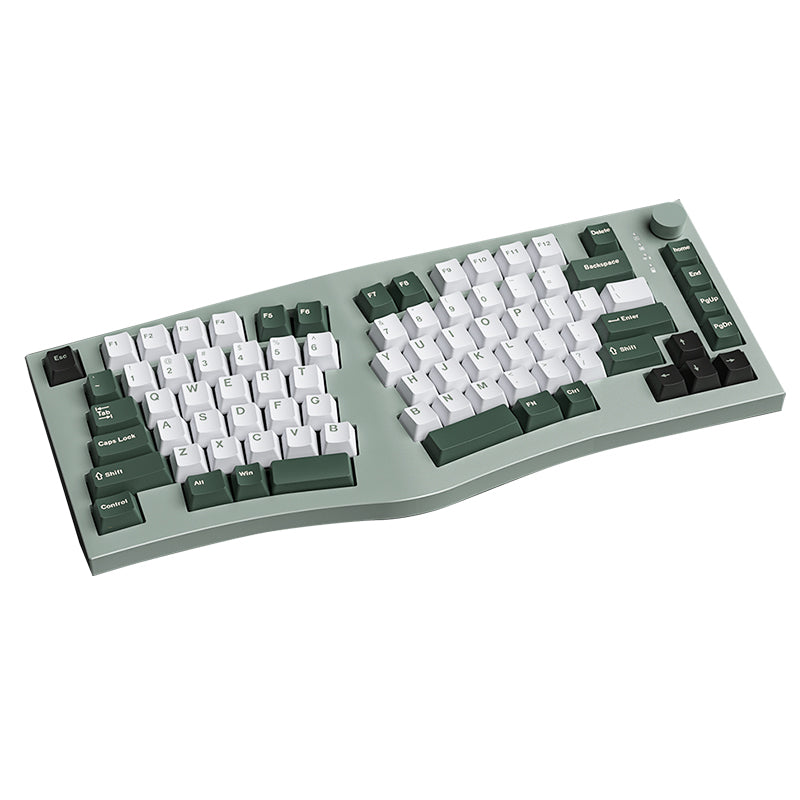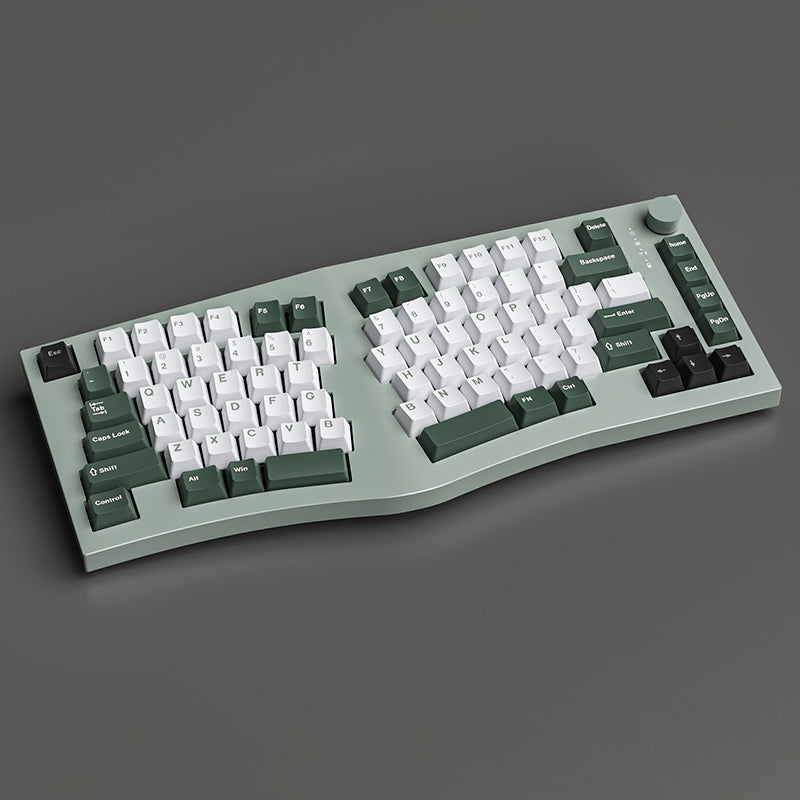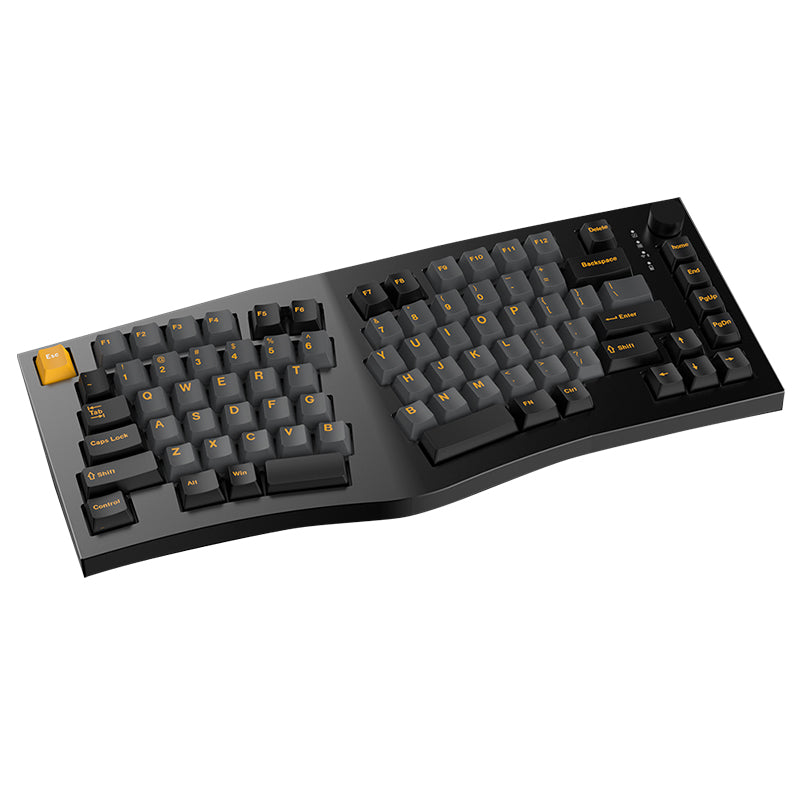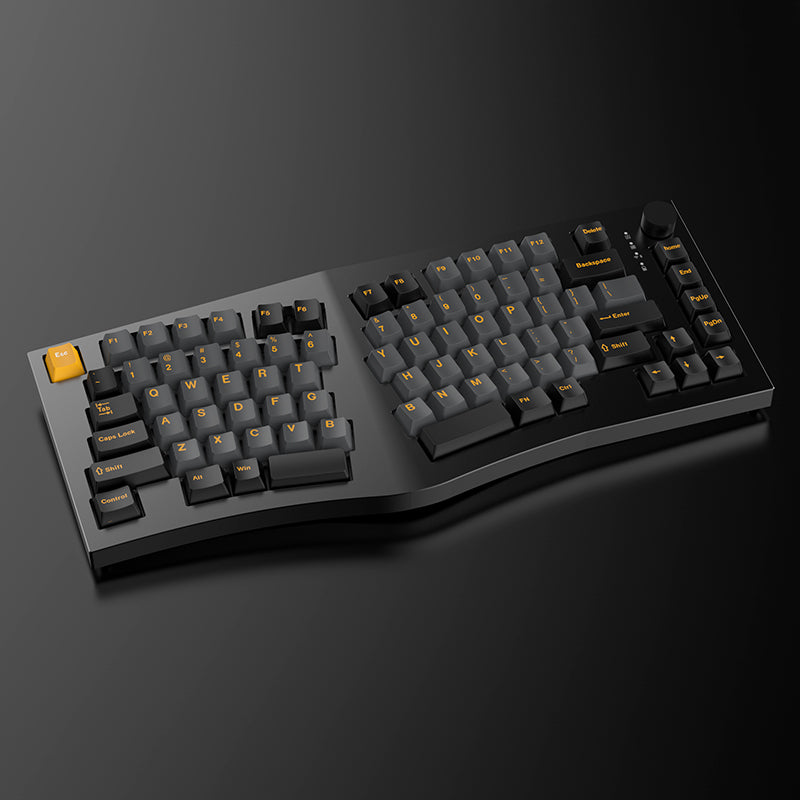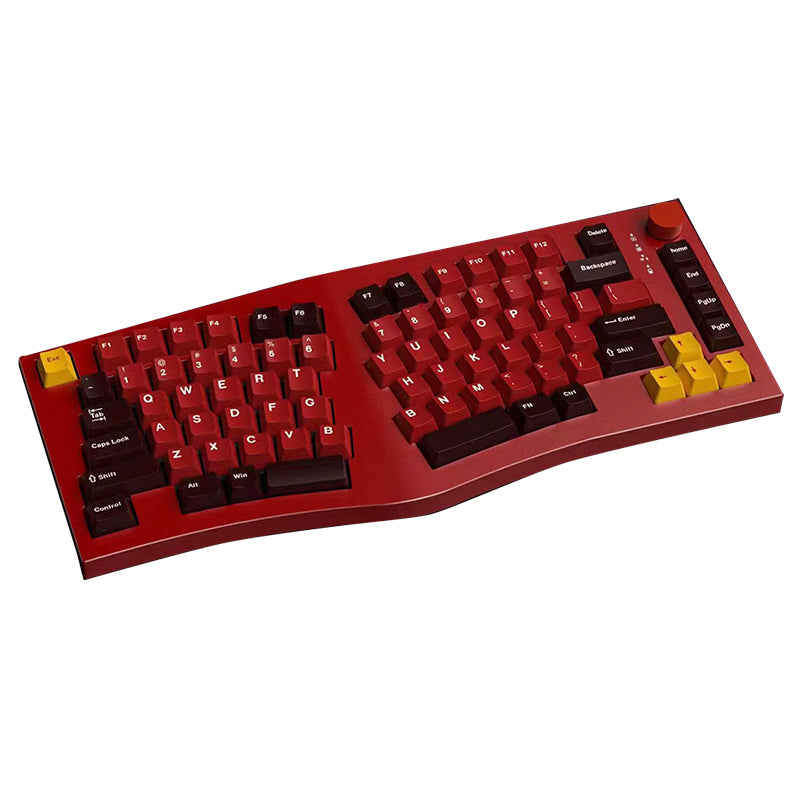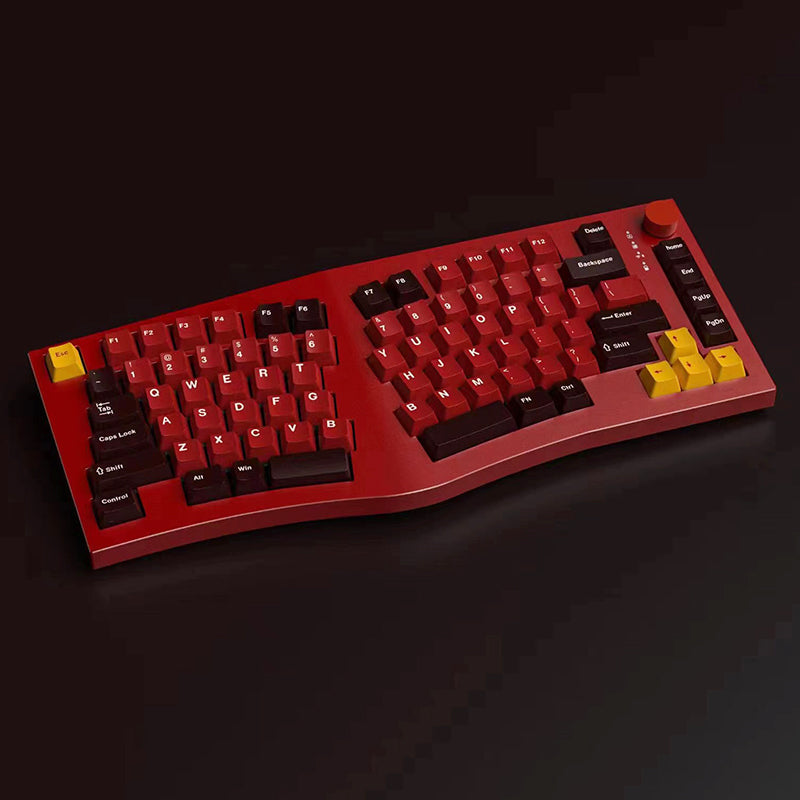 FEKER Alice75 Aluminum Mechanical Keyboard
The Ergo Alice layout with F-row
Feker has released the Alice layout keyboards and DIY kits for enthusiasts. With this split Alice layout, Feker adds an F-row to the top. It's from a 75% layout which is split into left and right halves, leaving a small gap in between. The letters and the bottom row are angled at a certain degree to fit the direction of your hands when staying on the desk naturally. The spacebar is split into two pieces to accommodate this design. It is considered to reach a balance in the aspect of ergonomics.

Gasket Mount, POM Plate & Poron Foams
To reach a top typing experience, Feker Alice75 is assembled by a gasket mount, which is constructed with the POM plate laying on the top and the bottom case perfectly without any screws in the middle, presenting a soft and even typing feeling at each corner of the keyboard. Feker has also made an effort to enhance the sound by placing a sound-dampening IXPE switch pad, a Poron PCB foam and a bottom Poron foam. These layers can greatly buff keystrokes. All is to provide a stunning typing sound and a premium typing feeling.

Triple Modes: Type-C Wired, Bluetooth 5.0 & 2.4GHz Available
The Feker Alice75 still supports connection via Bluetooth or 2.4GHz for wireless connectivity, or with the included Type-C USB cable. With Bluetooth 5.0, it easily connects seamlessly with your devices within 10 meters. Equipped with an 8000 mAh battery, the keyboard is also easily switched among the three modes for efficient multitasking and speedy performance.

Premium Aluminum Case & South-facing LED RGB Backlight
Feker Alice75 comes in a solid Aluminum case that avoids wobbling. With slight-angled slopes from both sides (3 degrees) that are peaked in the middle part, the keyboard presents an ergonomic standard for easy typing. What's more, the keyboard features south-facing LED RGB backlights with 21 light effects. This is also perfect with the newly launched Corgi linear switches which include LED lenses to fit the amazing RGB lights.

NKRO & Detachable Type-C Cable
For this model, we go with plate-mounted stabilizers for they are easier to be taken off if some extra modding is needed. In the meanwhile, the keyboard also supports NKRO. That means you can type in multiple keys without conflicts. The keyboard comes with a 1.8m hand-braided type-C cable with golden-plated connectors. Now you can easily build up your own mechanical keyboard with this keyboard

Notel: Feker Alice75 comes with matching keycaps but NOT with switches.
General

Brand: FEKER


Type: Mechanical Keyboard


Model: Alice80

Specification

Key Amounts: 81 Keys + 1 Knob


(2.25U, 2.75U Spacebar; 1.75U, 2.25U Shift; 1.25U FN; 1.25U Alt)

Keycaps Profile: MDA

Keycaps Material: Dye Sublimation PBT

LED: South-facing

Mount Type: Gasket Mount 

Gasket Material: PORON

Case Material: Aluminum

Plate Material: PC

Switch Socket: Hot Swappable 3-5 Pins

Switch: Without

Connectivity: Type-C Wired, Bluetooth 5.0 & 2.4GHz

Battery Capacity: 8000mAh

Anti-ghosting: NKRO in All Keys

Backlit: SMD RGB Backlit, 21 Light Effects

Weight & Size

Product Weight: 1.5kg


Package Weight: 1.9kg


Product Size(L x W x H): 36.8x12.8x4.0cm

Package Contents

1 x Keyboard Kit

1 x Keycaps Set

1 x Type-C Cable

1 x 2.4G Receiver

1 x Switch Puller

1 x User Manual
Setup Ideas From Customers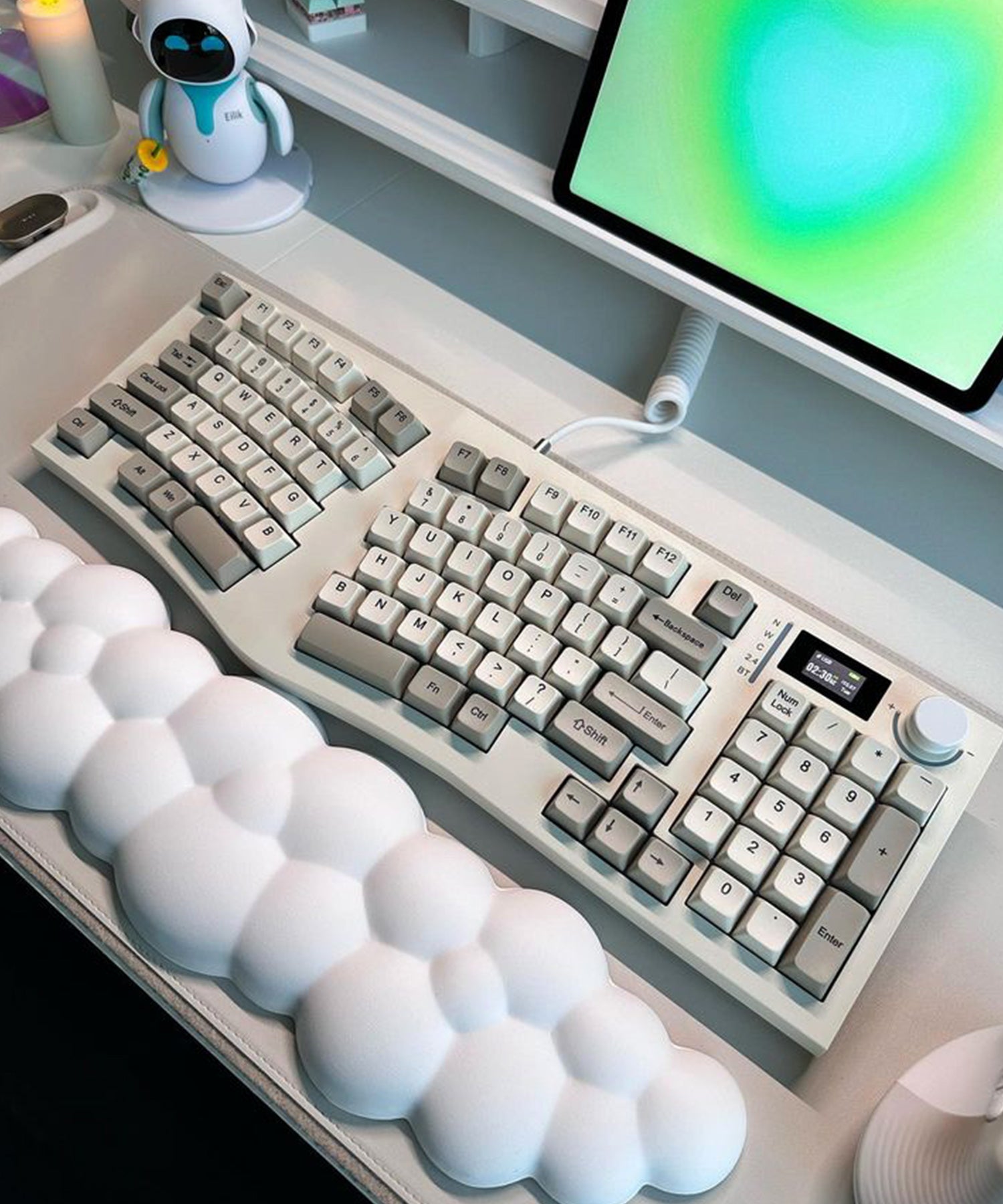 FEKER Alice98 Wireless Mechanical Keyboard With LED Screen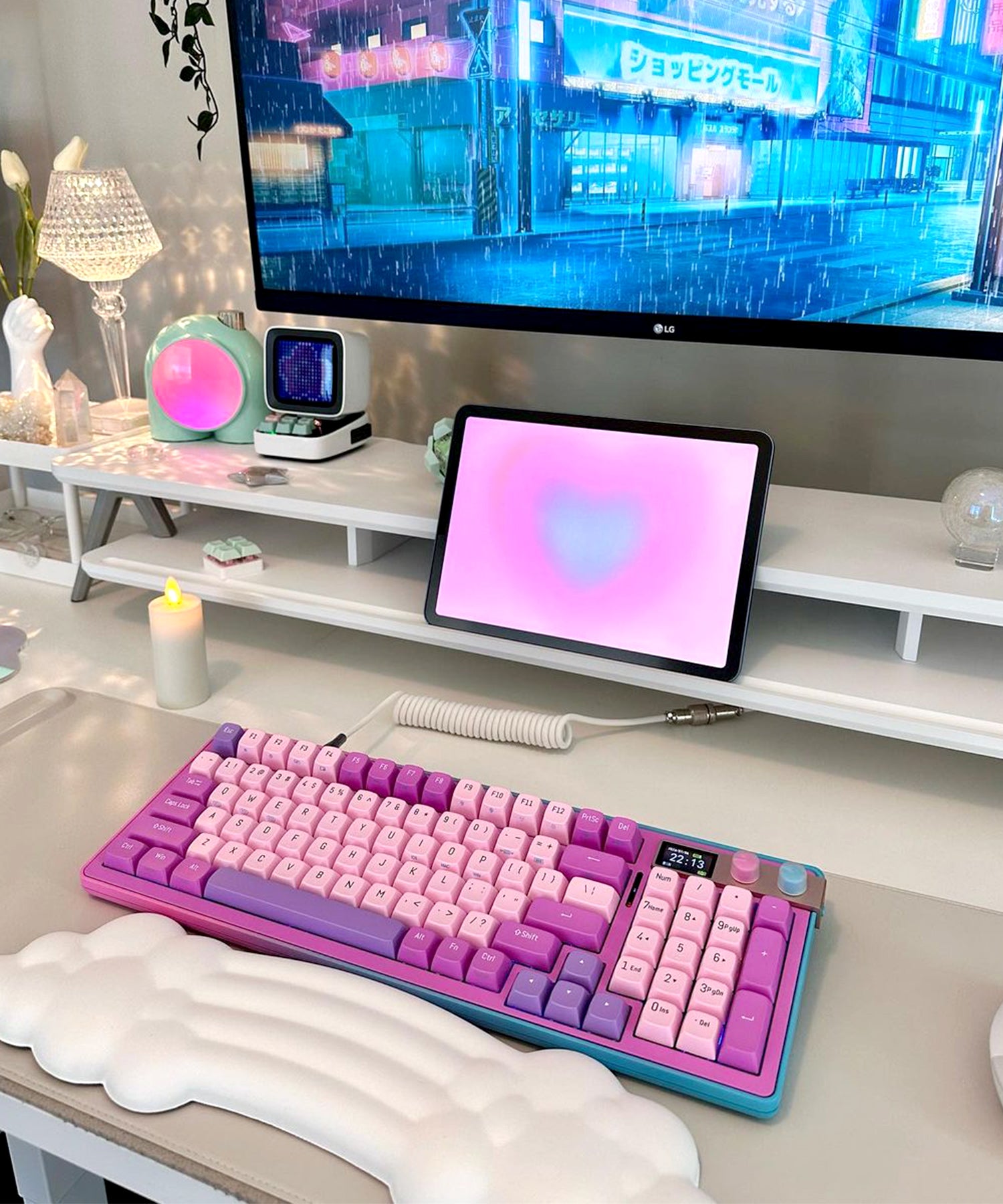 FOPATO H98 Love & Salvation Wireless Mechanical Keyboard With TFT Screen
FirstBlood B81 Crystal Transparent Wireless Mechanical Keyboard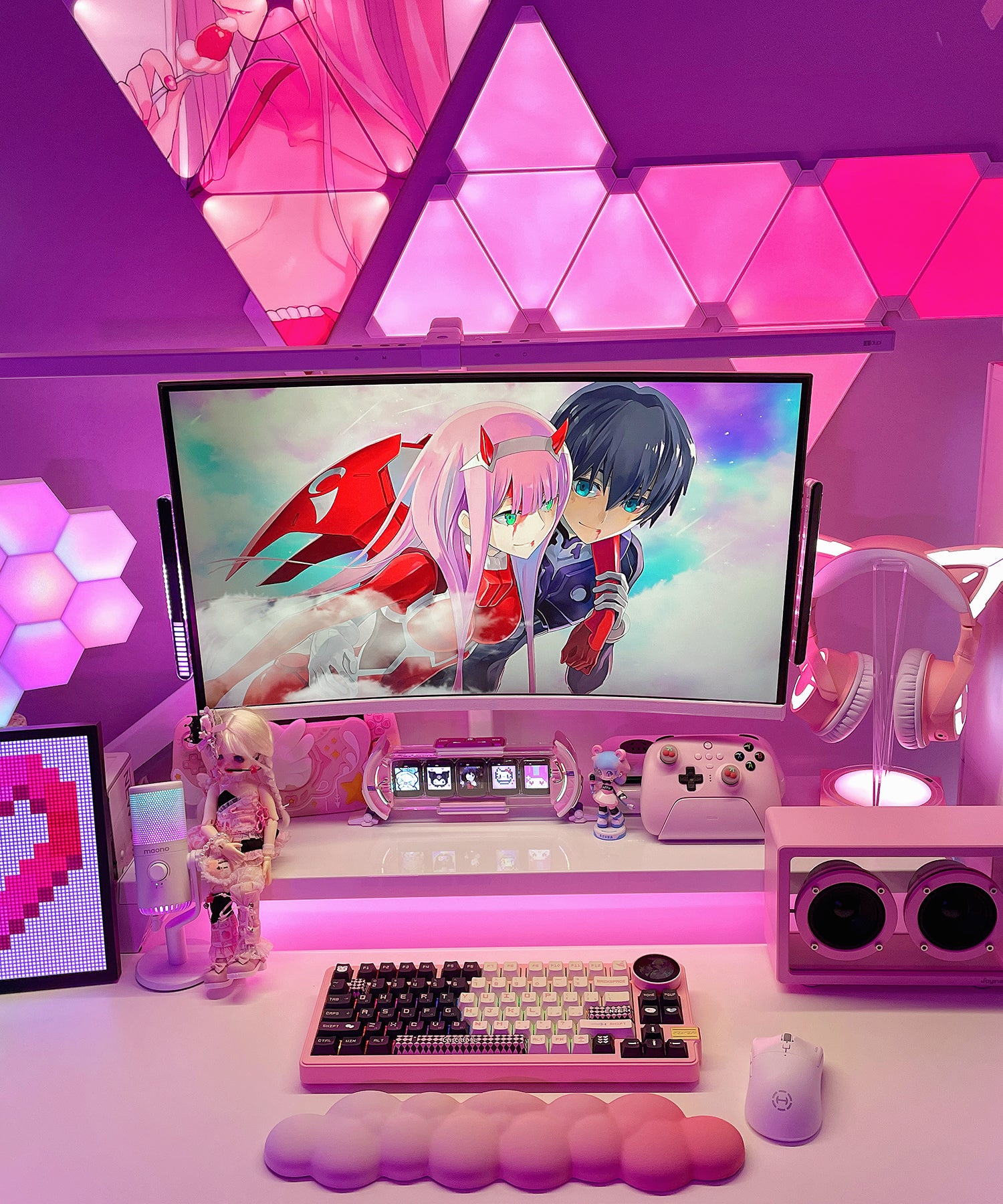 FEKER K75 Mechanical Keyboard with Multifunctional Knob Display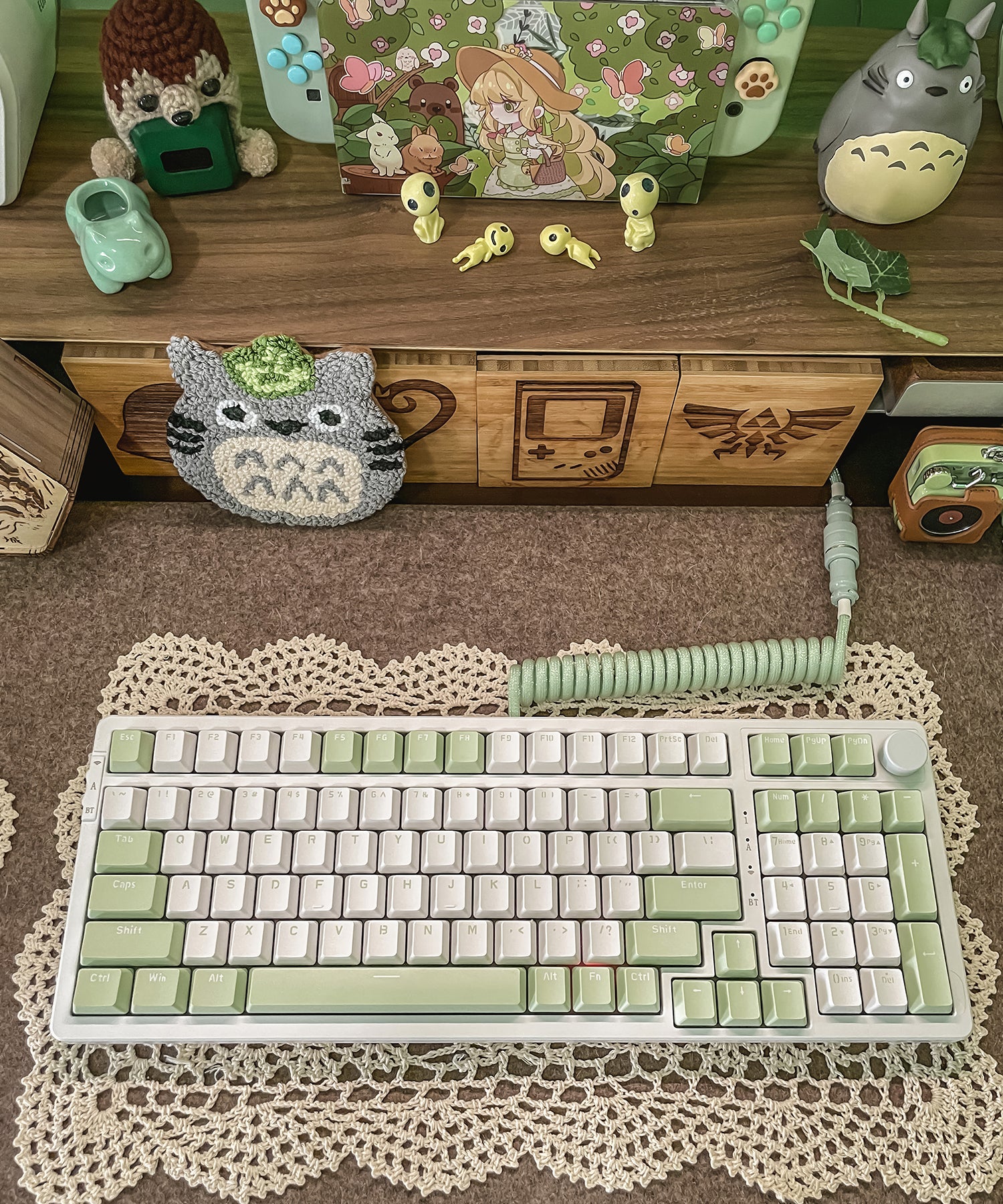 Ajazz AK992 Hot-swappable Mechanical Keyboard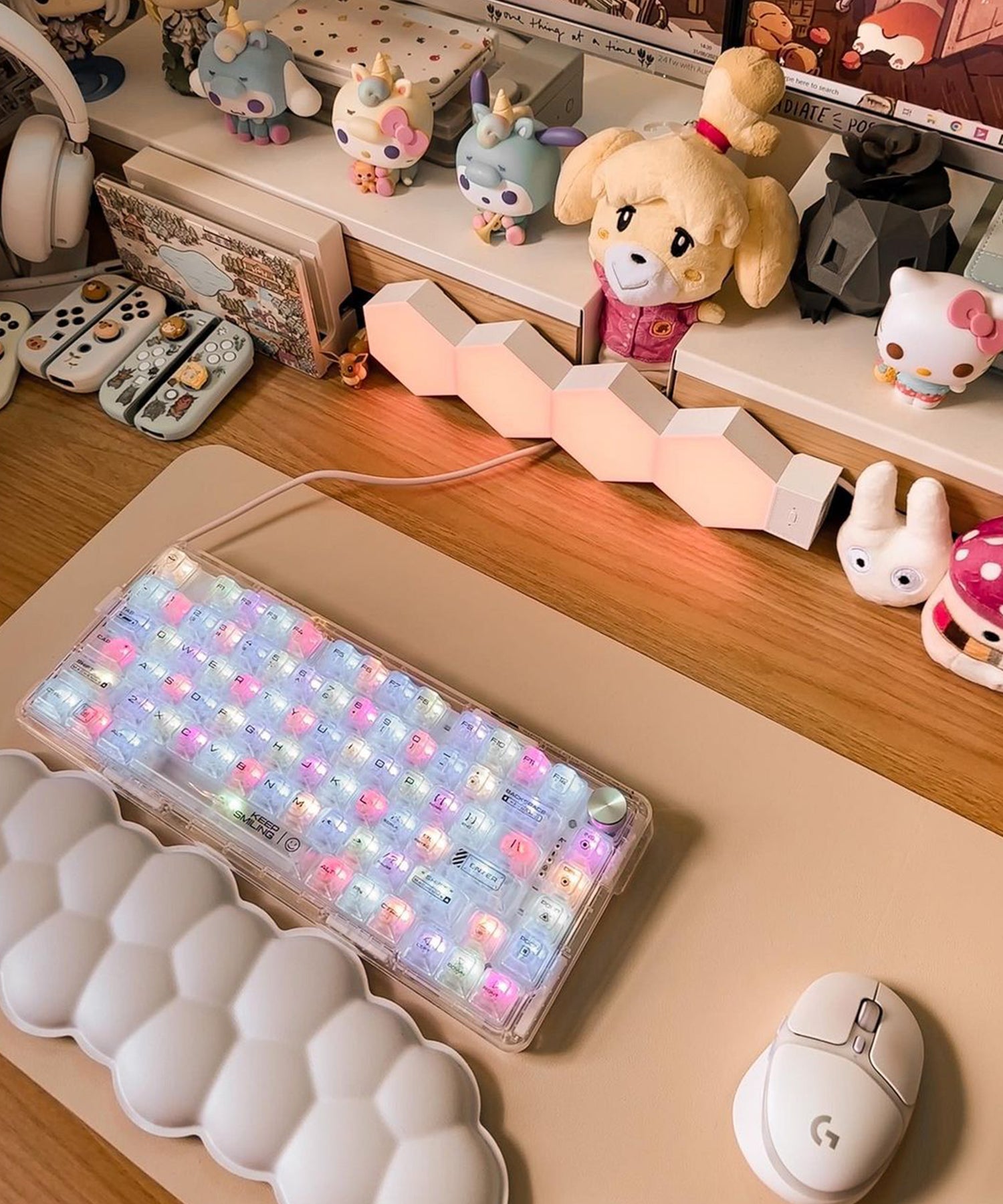 Machenike K500F-B81 RGB Clear Mechanical Keyboard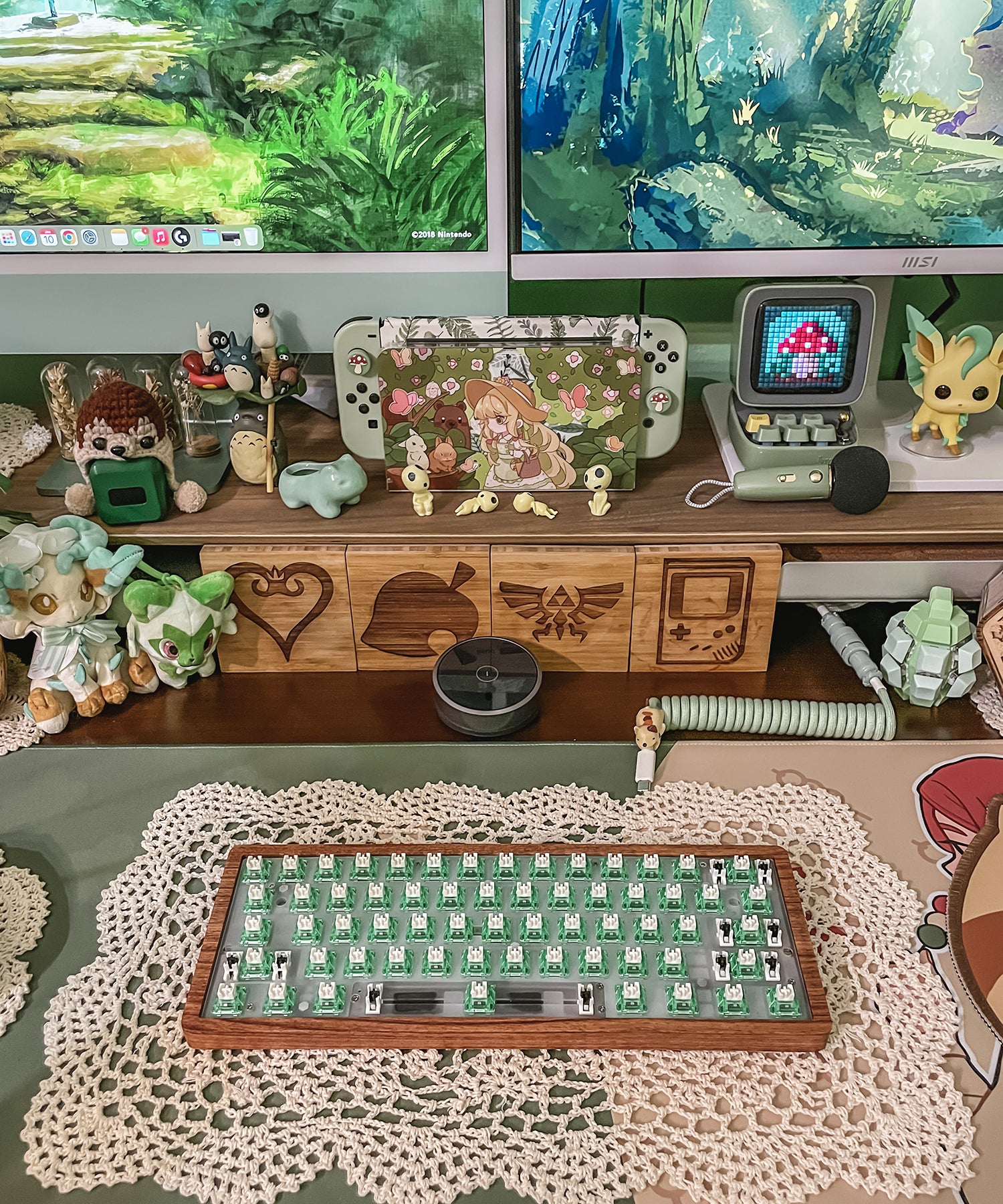 SKYLOONG GK61 Lite Gasket DIY Kit Wooden + Ajazz Diced Fruit Switch Set - Kiwi Switch