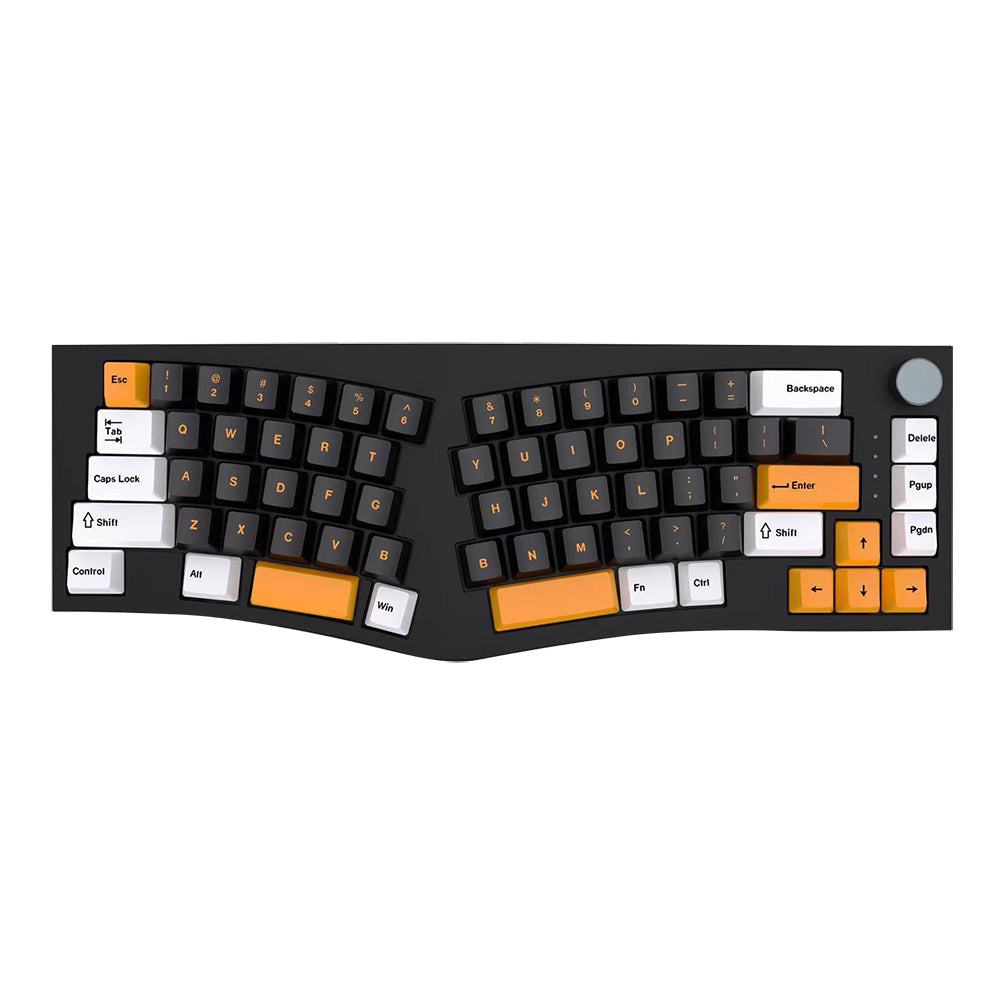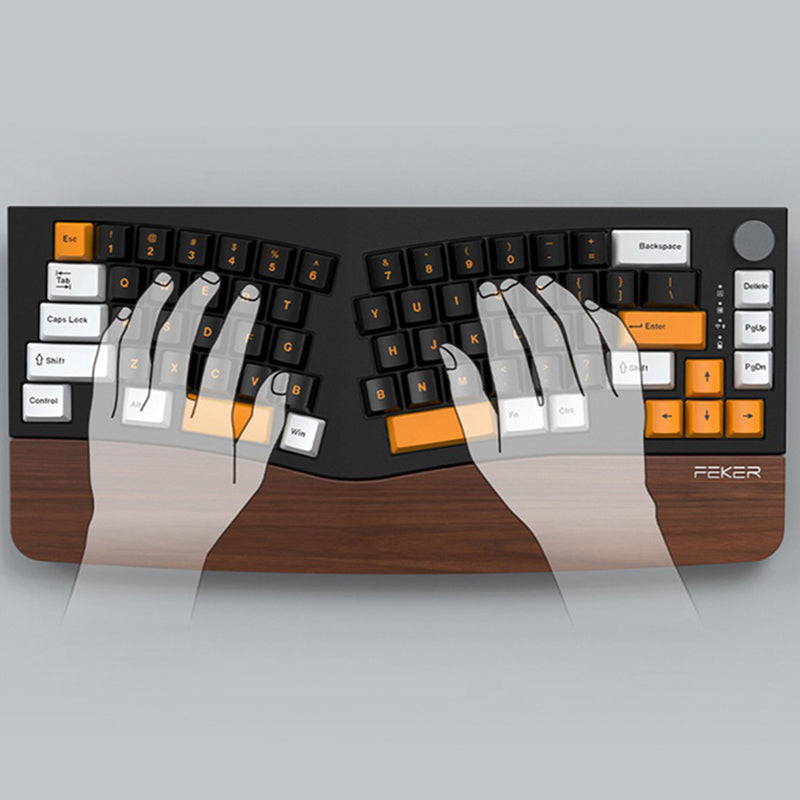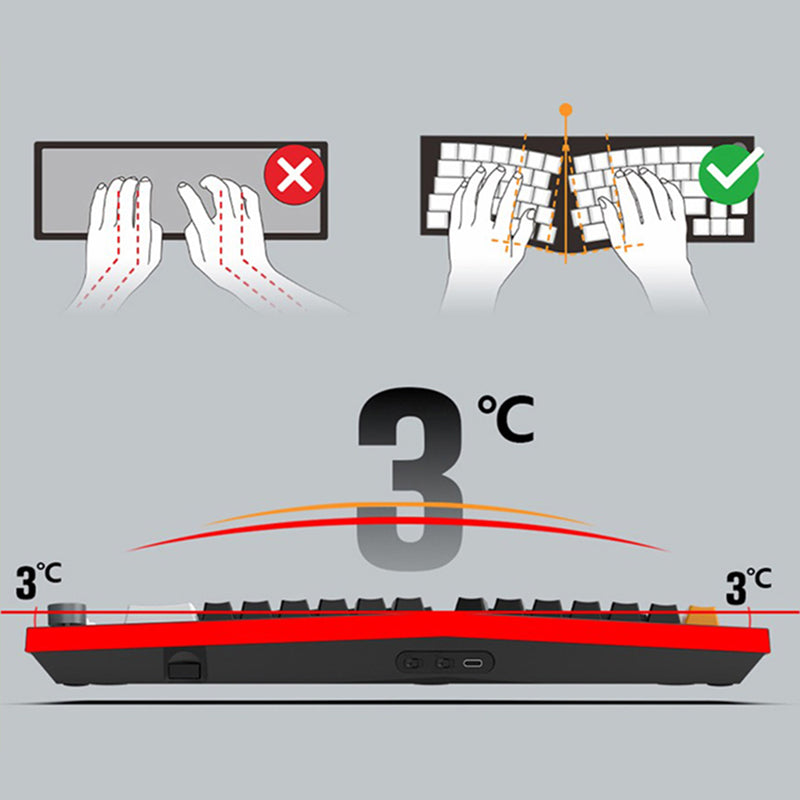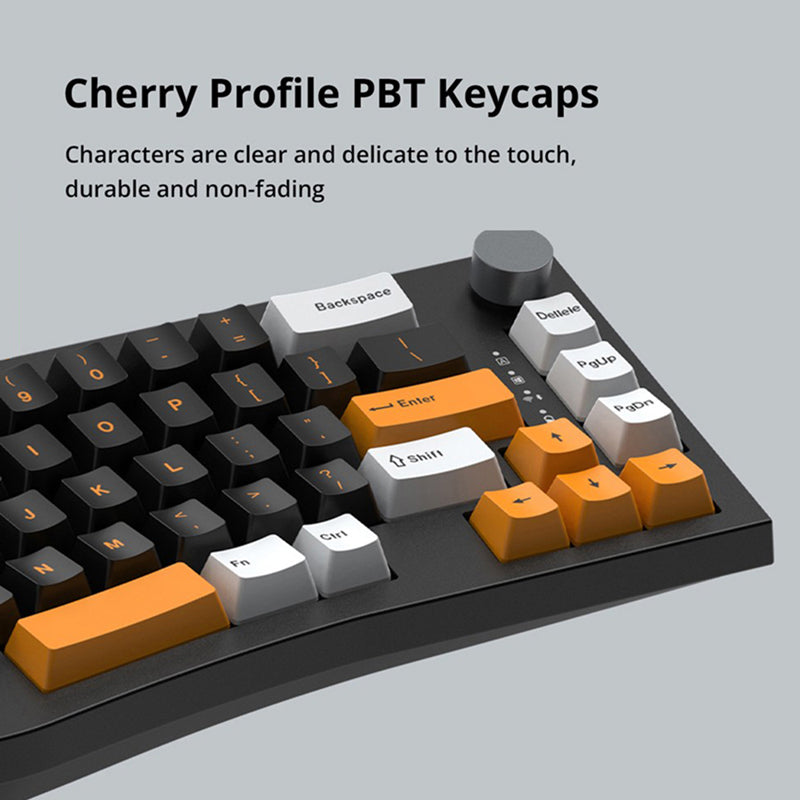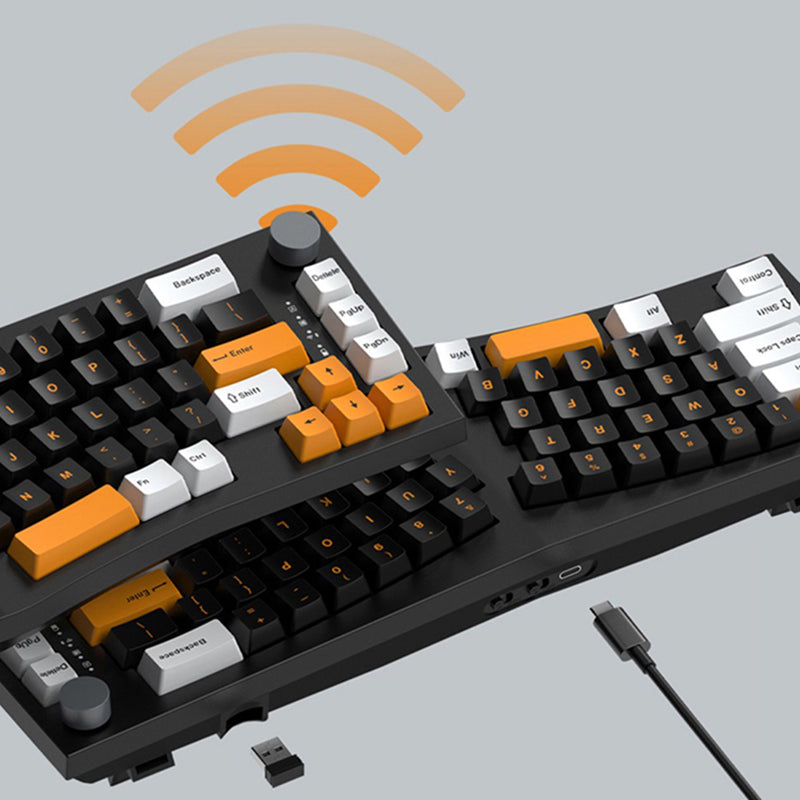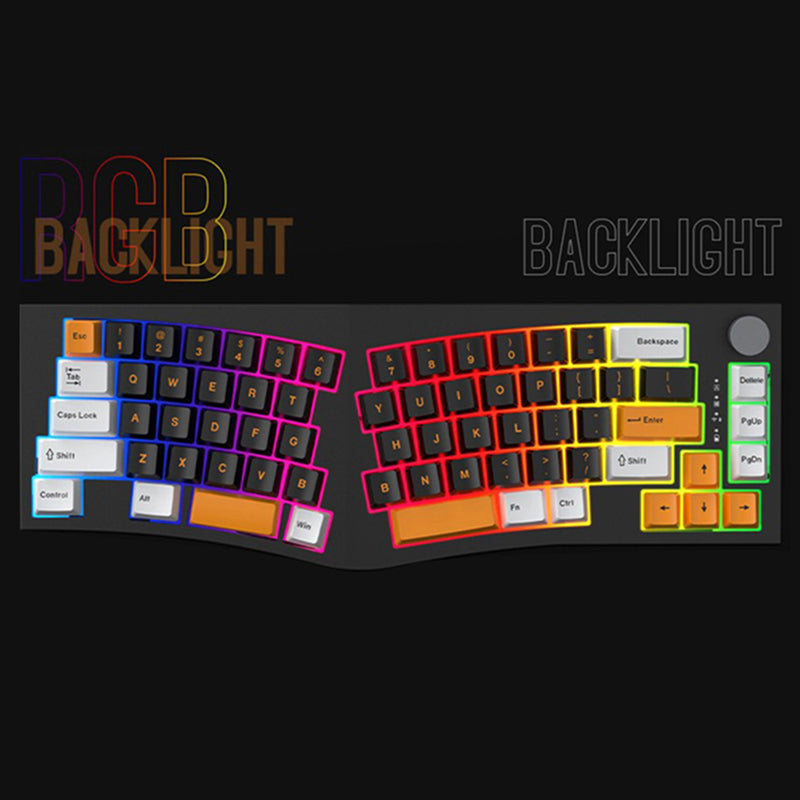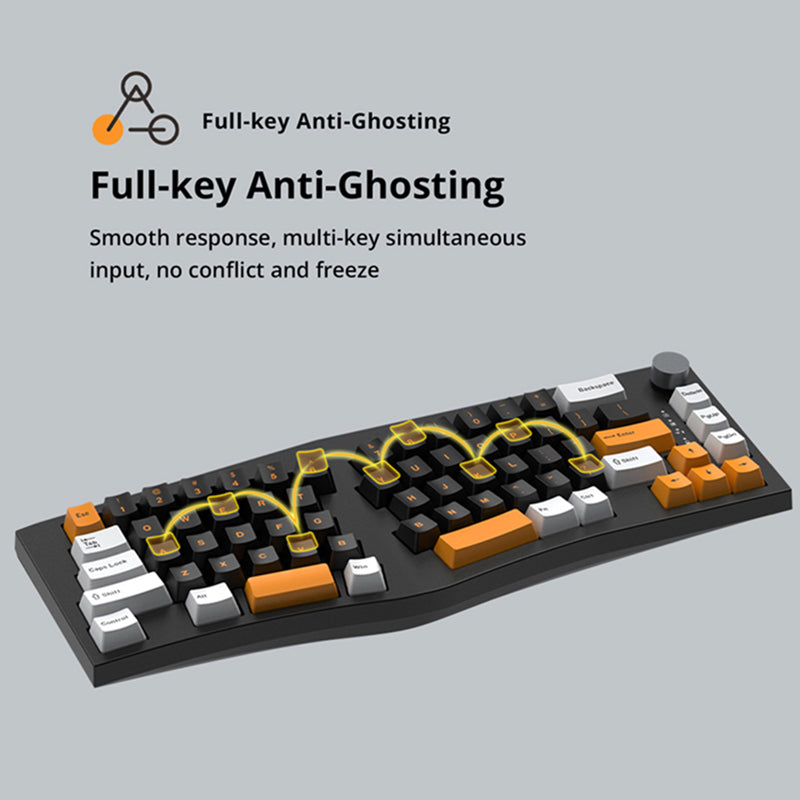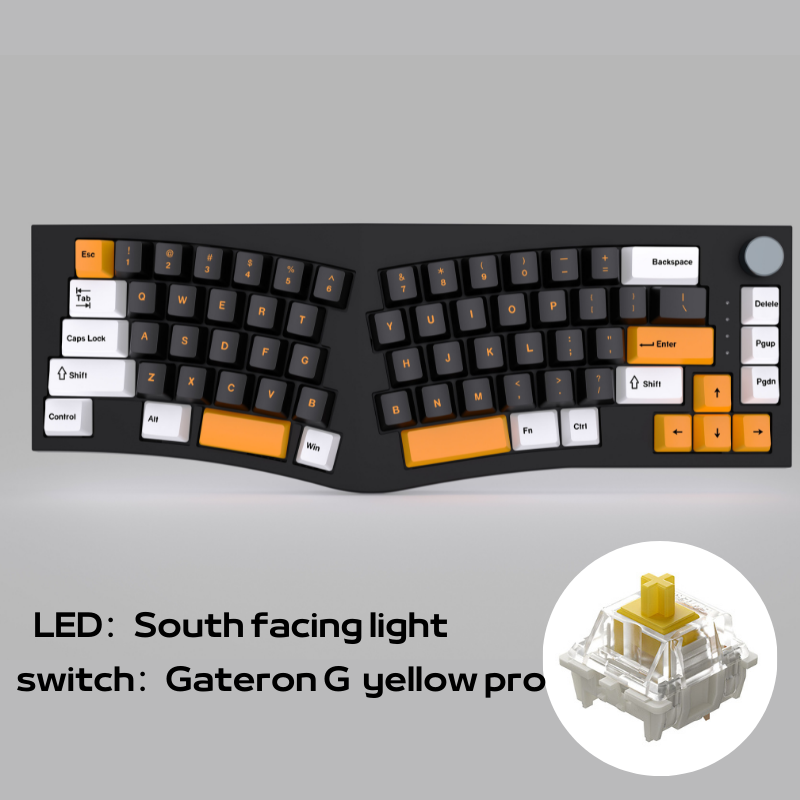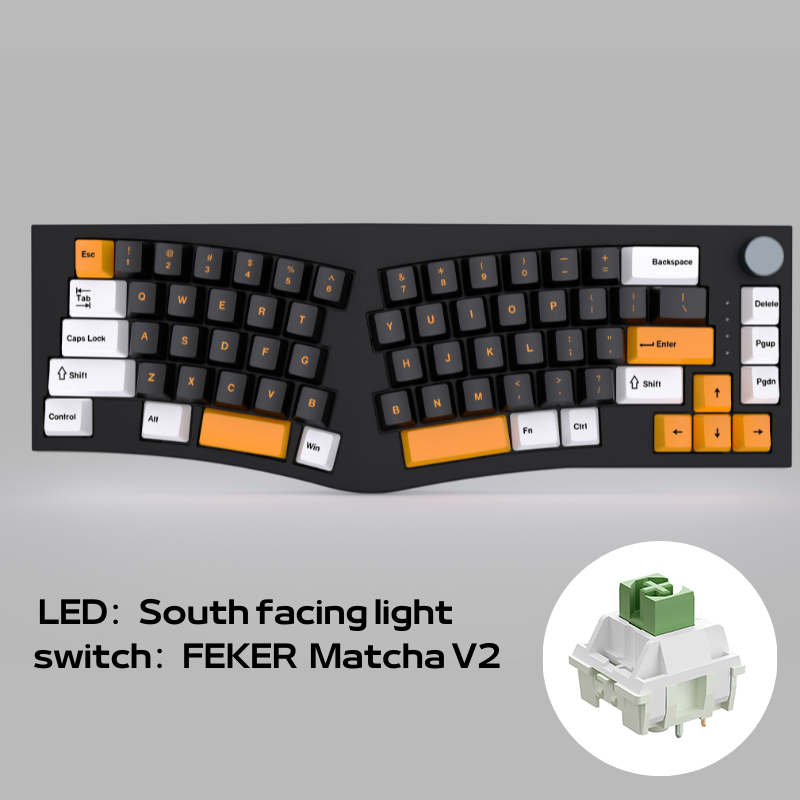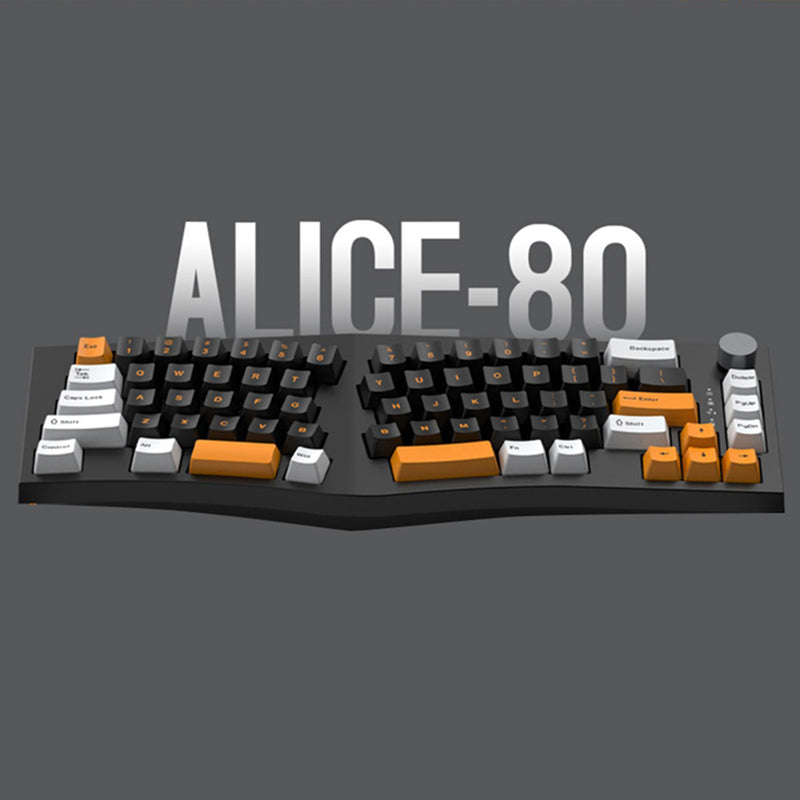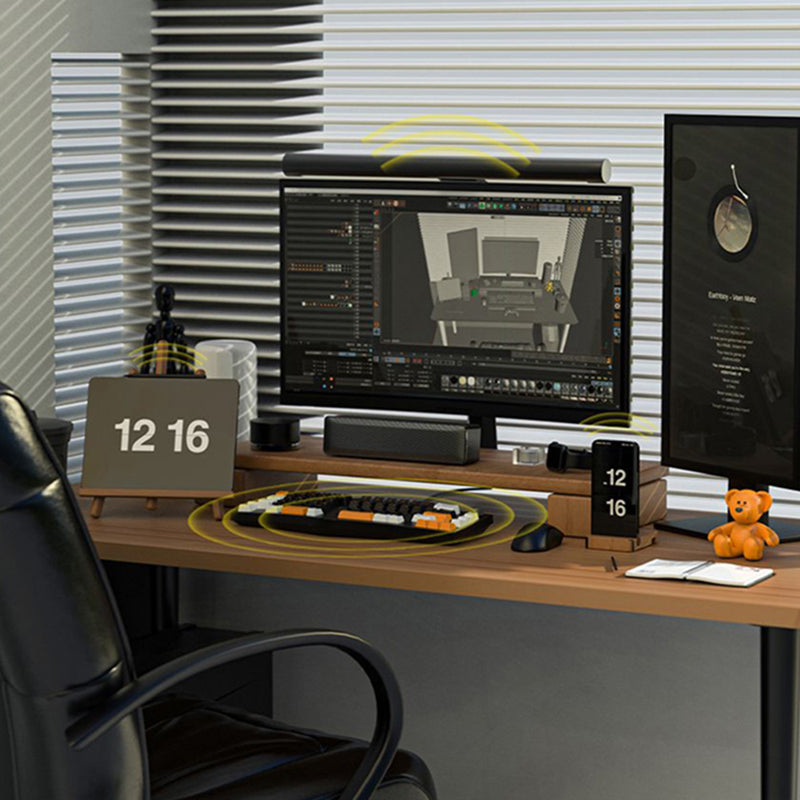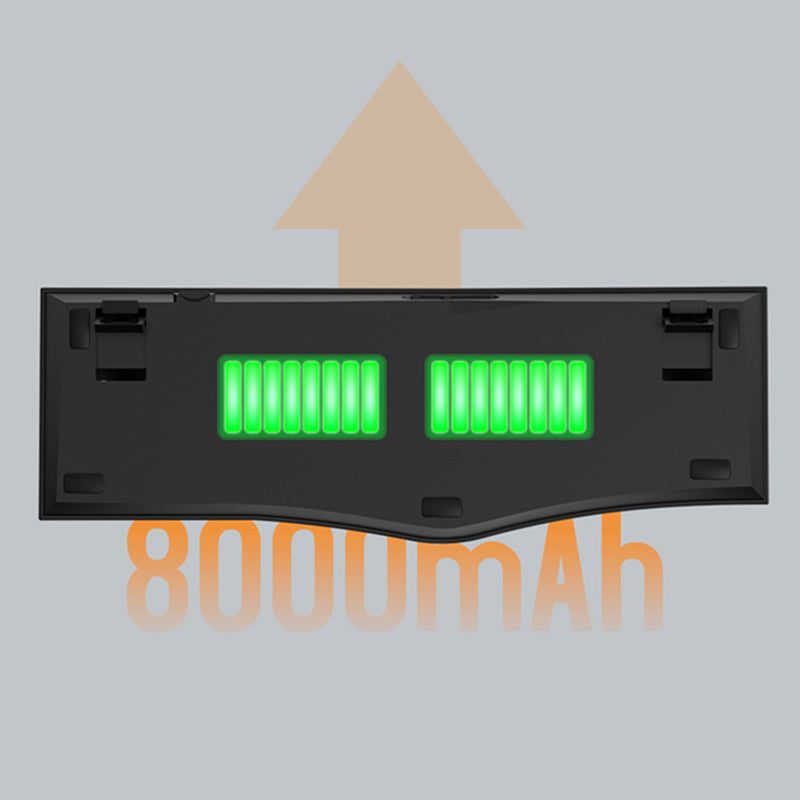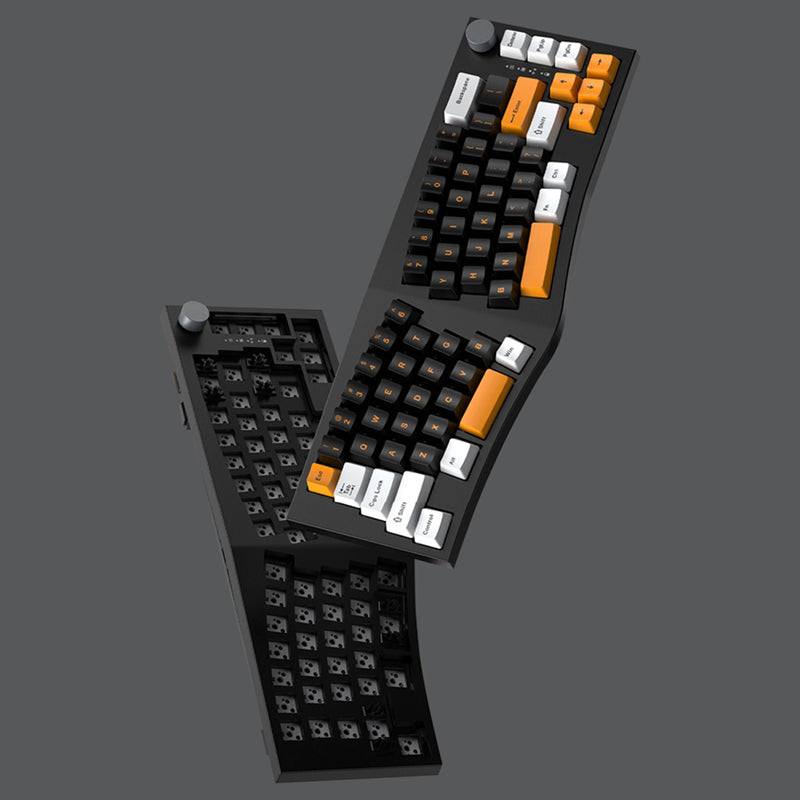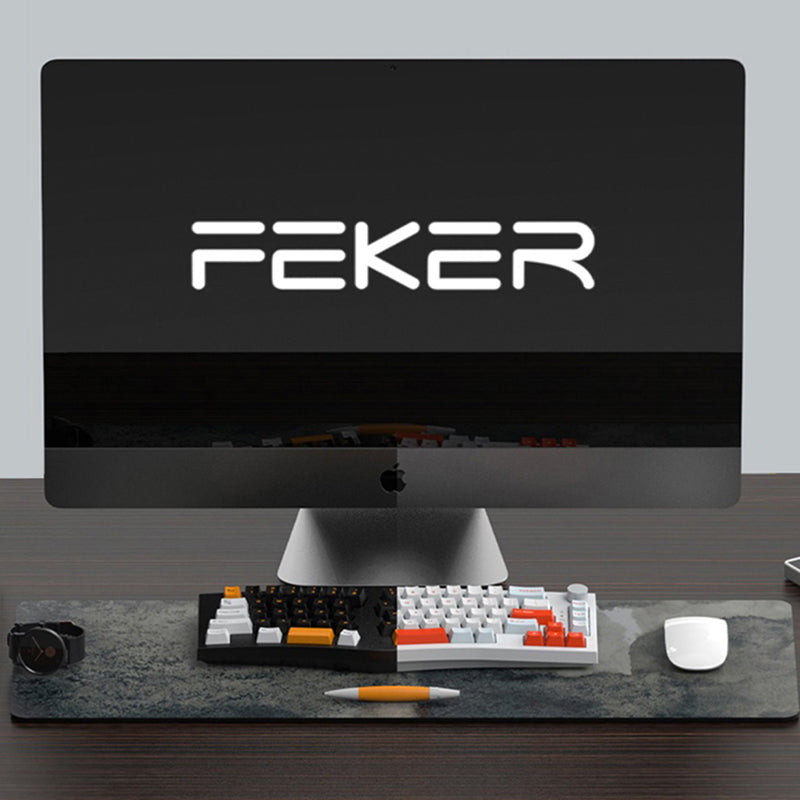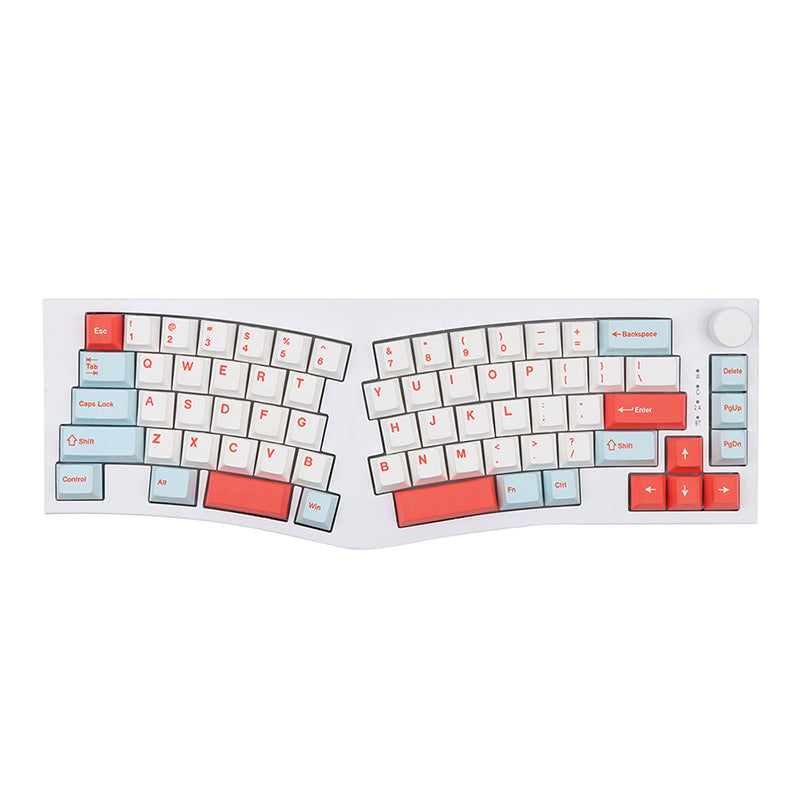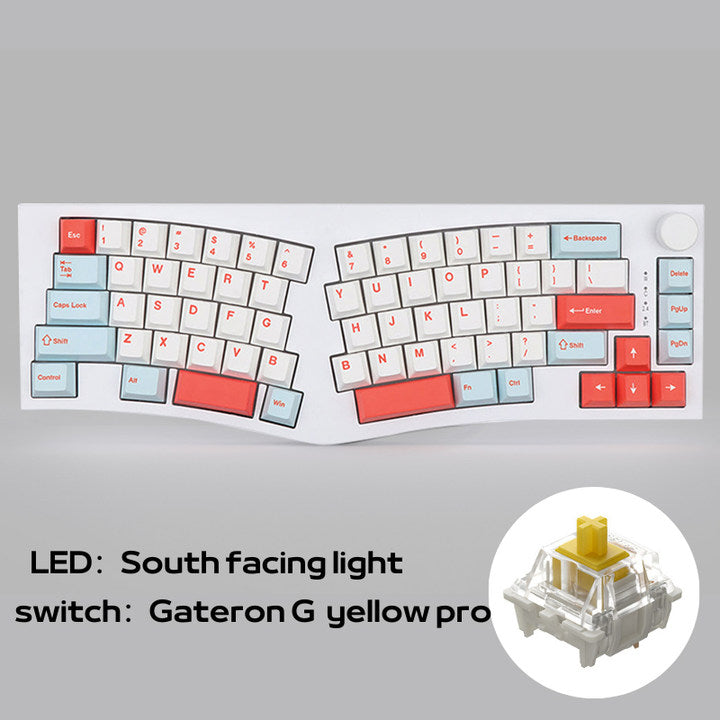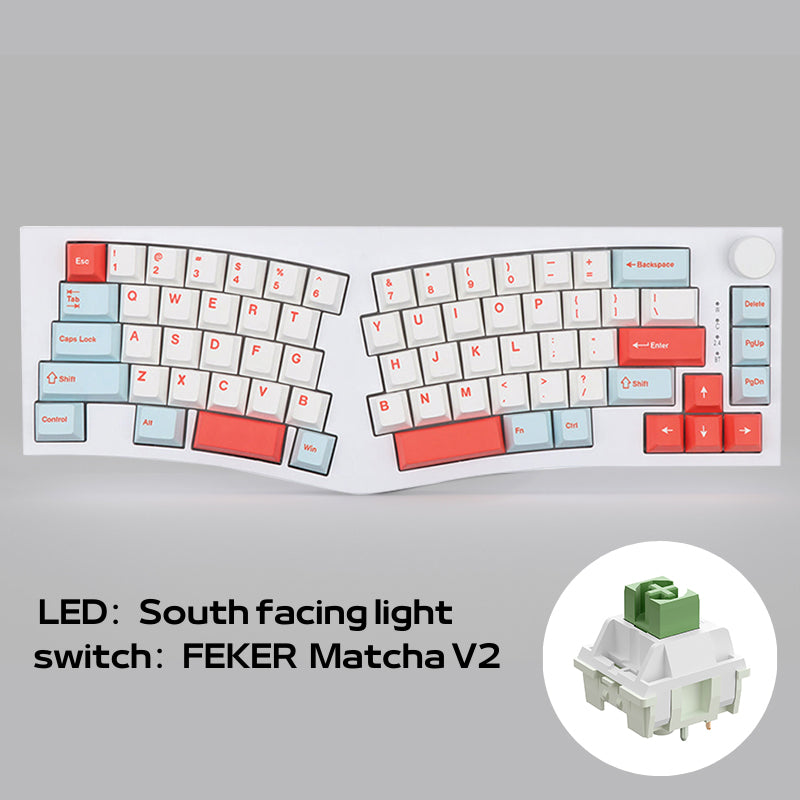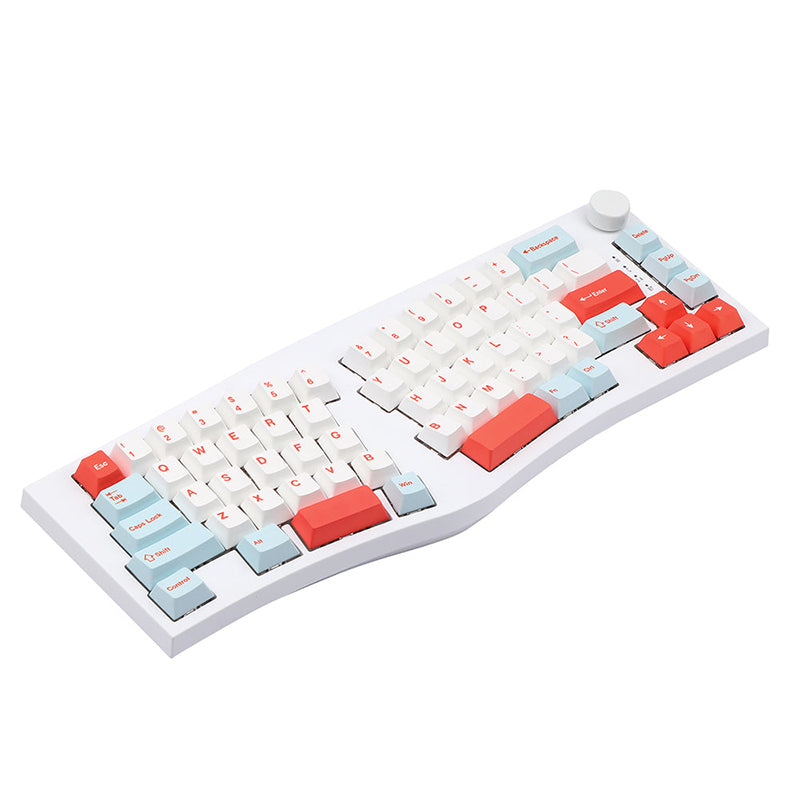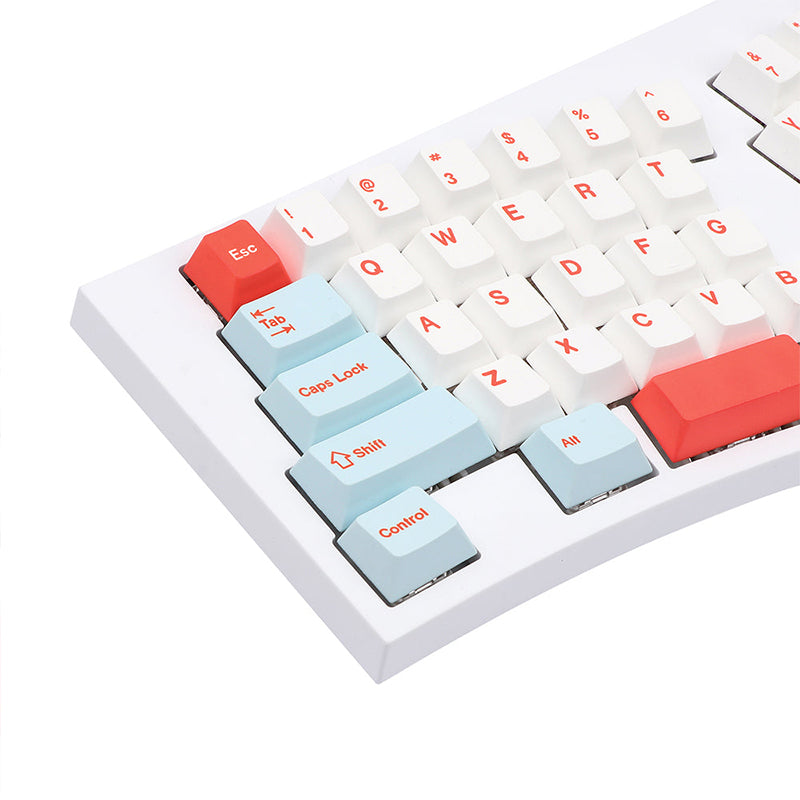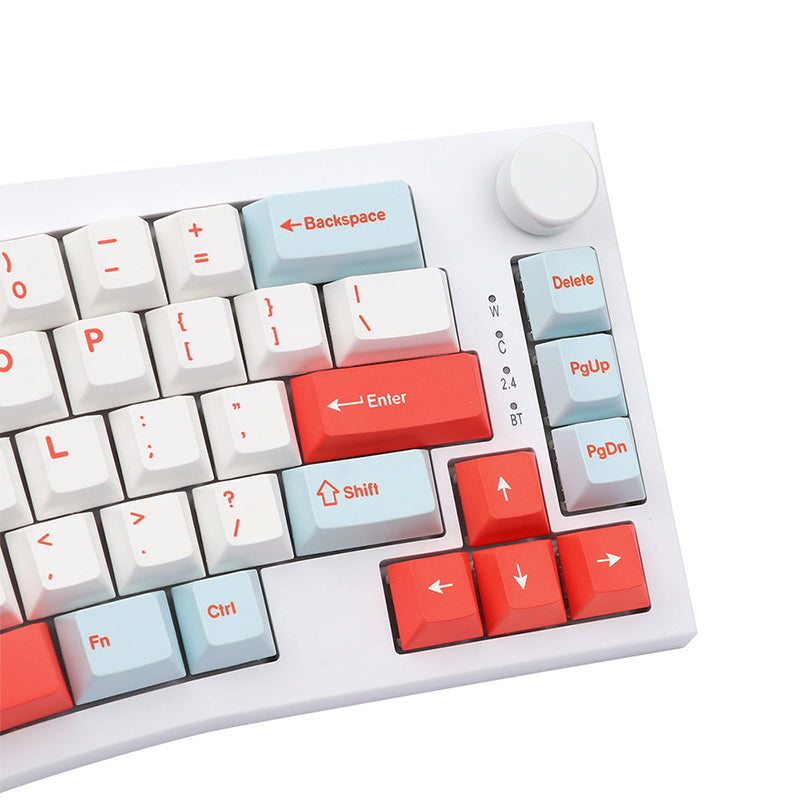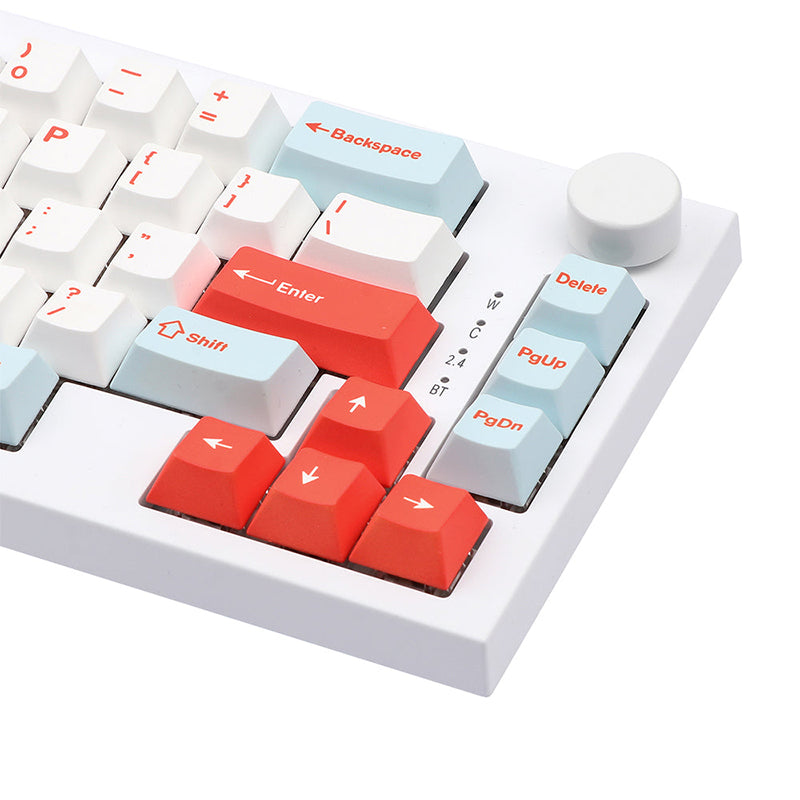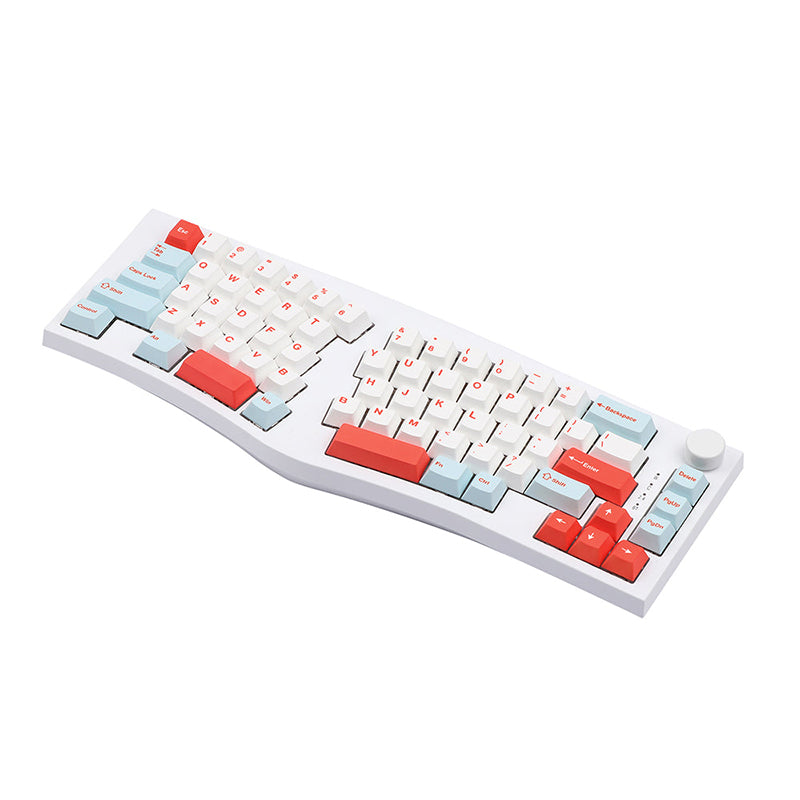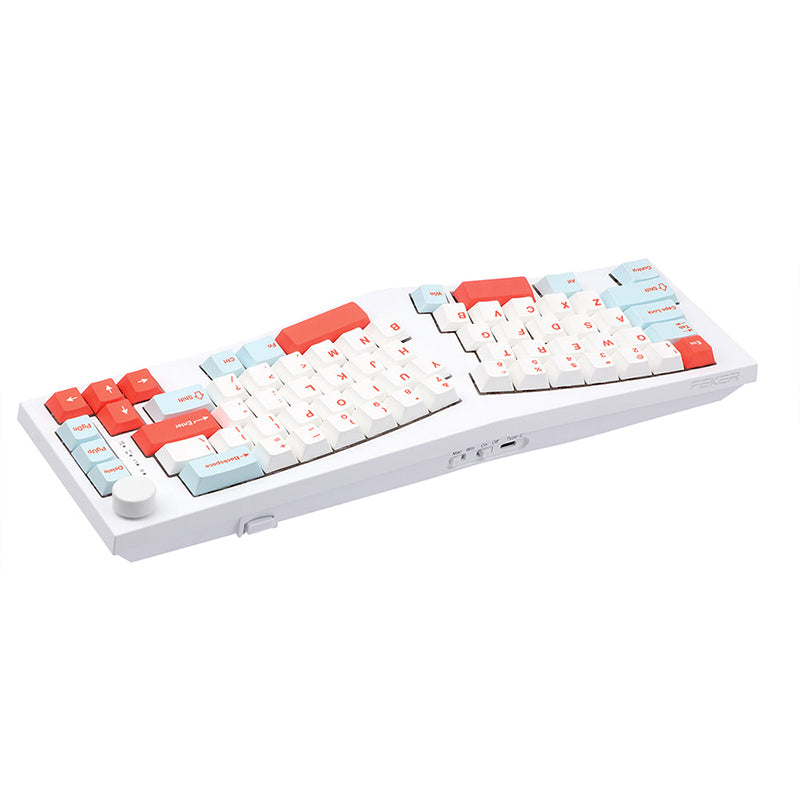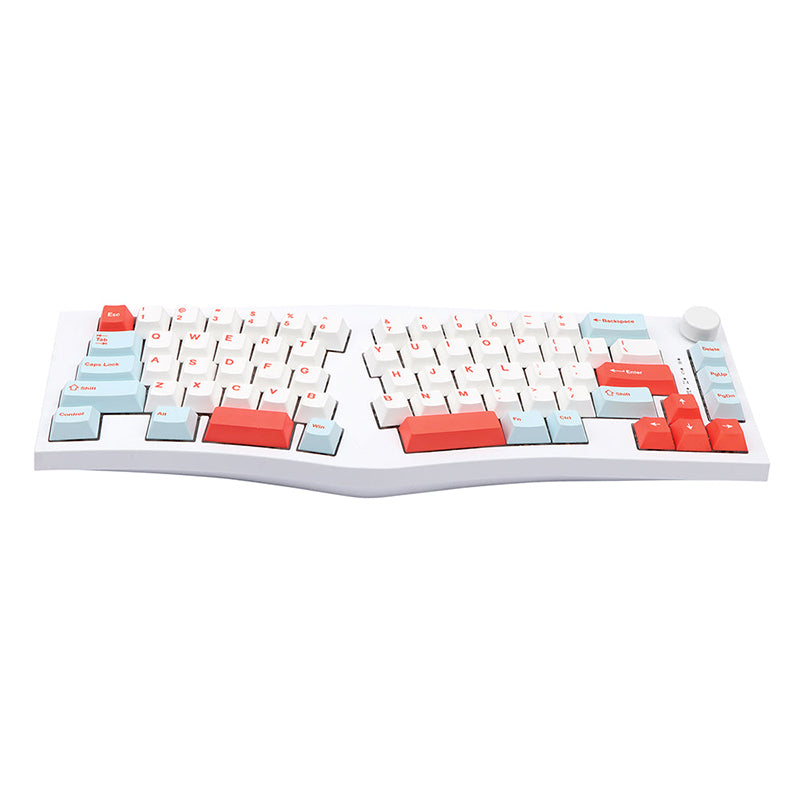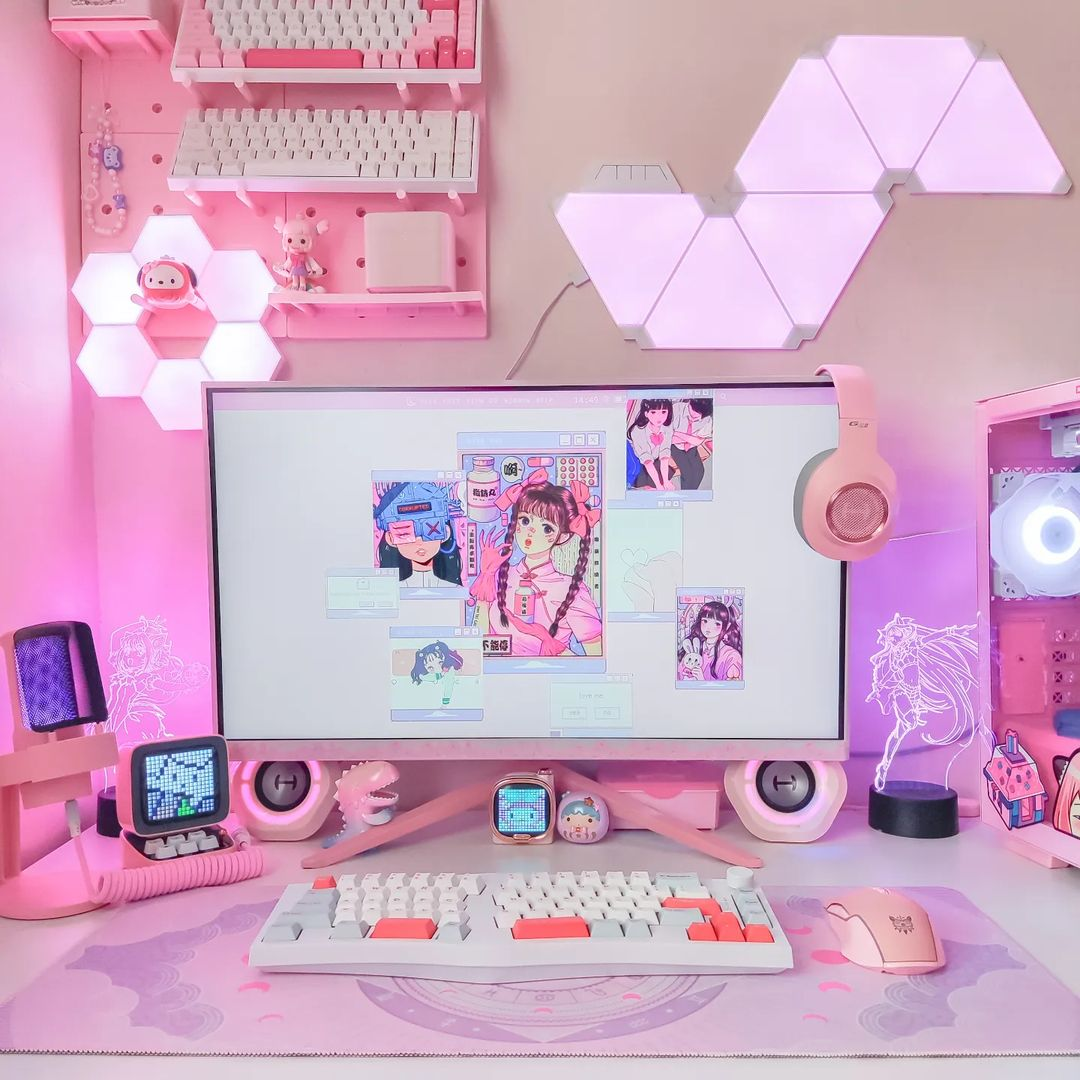 FEKER Alice80 Mechanical Keyboard
Switch Type:
Gateron Pro 2.0 Yellow Linear
The Feker Alice80 is an ergonomic mechanical keyboard that offers an intuitive and comfortable typing experience thanks to its Alice format. The build quality is excellent, the factory-lubricated switches are of excellent quality and the keycaps are comfortable and well-built.

We highly recommend it to all copywriters, writers and programmers who spend many hours a day typing and want an impeccable, fast and comfortable keyboard.

Choosing an ergonomic split-layout mechanical keyboard can bring many benefits, especially if you spend many hours a day typing on your computer. 

Comfort: Ergonomic keyboards are designed to minimize muscle strain, reduce pain, and prevent or alleviate typing-related conditions like carpal tunnel or repetitive stress syndrome.

Typing experience: Mechanical keyboards offer tactile and audible feedback that many users find satisfying. This feedback can also help improve typing speed and accuracy.

Customization: Many mechanical keyboards allow you to customize your switches. This means that you can choose the resistance and the type of feedback you prefer and possibly use different types of switches for different keys.

Efficiency: Thanks to the layout of the keys, ergonomic keyboards promote a natural posture of the hands and wrists, thus improving efficiency and typing speed.

Keep in mind that there is some learning curve when switching to an ergonomic keyboard, as the layout can be very different from what you are used to. However, many users find that the benefits far outweigh the time required to get used to the new arrangement.
The peculiarity lies precisely in the Alice ergonomic design that removes all the function keys and is remedied with the FN key and the key combinations.
FN+N -> Change to a wired USB device (Dongle can choose not to plug into the computer)
FN+G -> Switch to the 2.4G link, the blue light of 2.4G will flash, Dongle must be plugged into the computer.
Wider Compatibility
FEKER Alice allows you to connect in multiple ways including Bluetooth 5.0, USB Type-C, and through a 2.4GHz wireless connection. You can use it with a great number of devices with ease.
General

Brand: FEKER


Type: Mechanical Keyboard


Model: Alice80

Specification

Key Amounts: 68 Keys + 1 Knob


(2.25U, 2.75U Spacebar; 1.75U, 2.25U Shift; 1.25U FN; 1.25U Alt)

Backlit: SMD RGB Backlit, 21 Light Effects

LED: South-facing

Structure: Gasket Mount 

Gasket Material: Silicone

Case Material: ABS Plastic

Plate Material: PC

Keycap Material: Dye Sublimation PBT

Switch Socket: Hot Swappable 3-5 Pins


Switch FEKER Switch (Tactile) / 

Gateron Pro 2.0 Yellow Switch(Linear)  

Connectivity: Type-C Wired, Bluetooth 5.0 & 2.4GHz

Battery Capacity: 8000mAh

Anti-ghosting: NKRO in All Keys

Weight & Size

Product Weight: 1.098kg


Package Weight: 1.56kg


Product Size(L x W x H): 36.8x12.8x4.0cm


Package Size(L x W x H): 40x18x5.8cm

Package Contents

1 x Alice80 Keyboard


1 x 2in1 Switches & Keycaps Puller


1 x Type-C Cable


1 x 2.4G Dongle


1 x User Manual
I love it
I was really looking forward to this keyboard and after receiving I can say I'm not disappointed! The knob is nice to have and the led lighting makes me love it.
FEKER Alice80 Mechanical Keyboard
1st Alice style keyboard
Worth the wait for this keyboard! Honestly is pretty good stock, but imo it's even better modded. I personally use this more for writing purposes so I didn't have to worry about wanting to change or remap keys, so I can't say for sure how the software works. Otherwise, for more casual use it's great.
Setup Ideas From Customers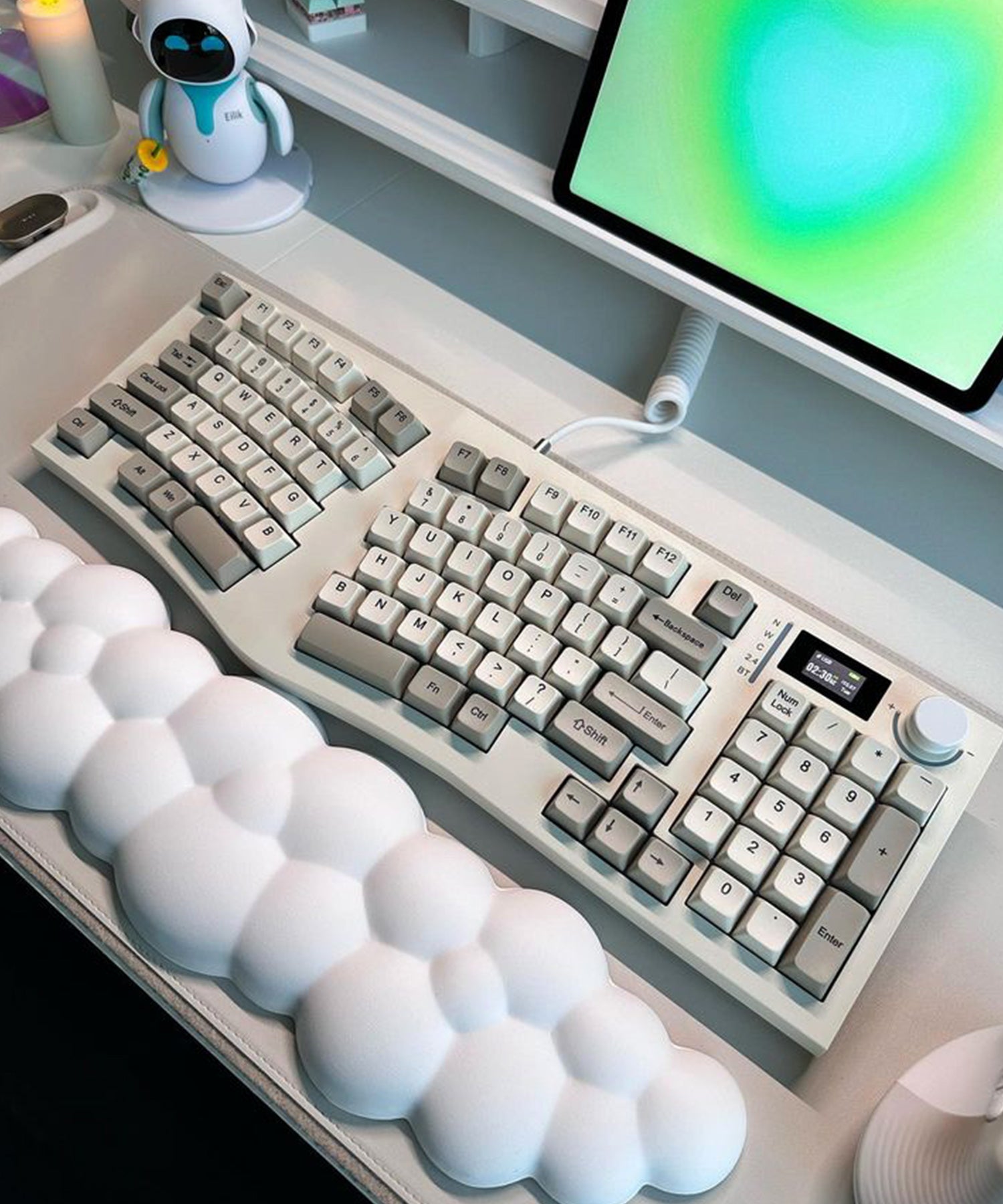 FEKER Alice98 Wireless Mechanical Keyboard With LED Screen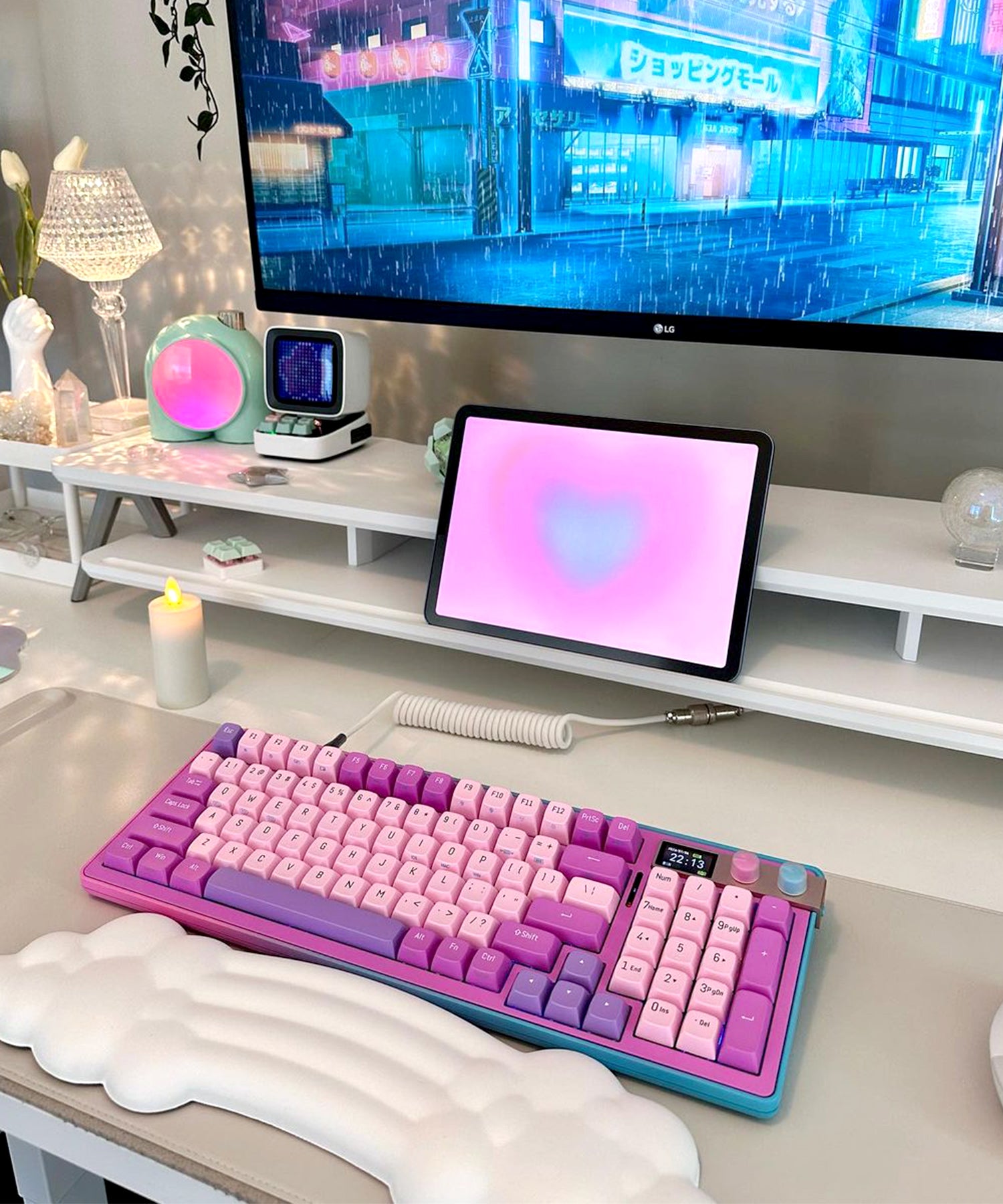 FOPATO H98 Love & Salvation Wireless Mechanical Keyboard With TFT Screen
FirstBlood B81 Crystal Transparent Wireless Mechanical Keyboard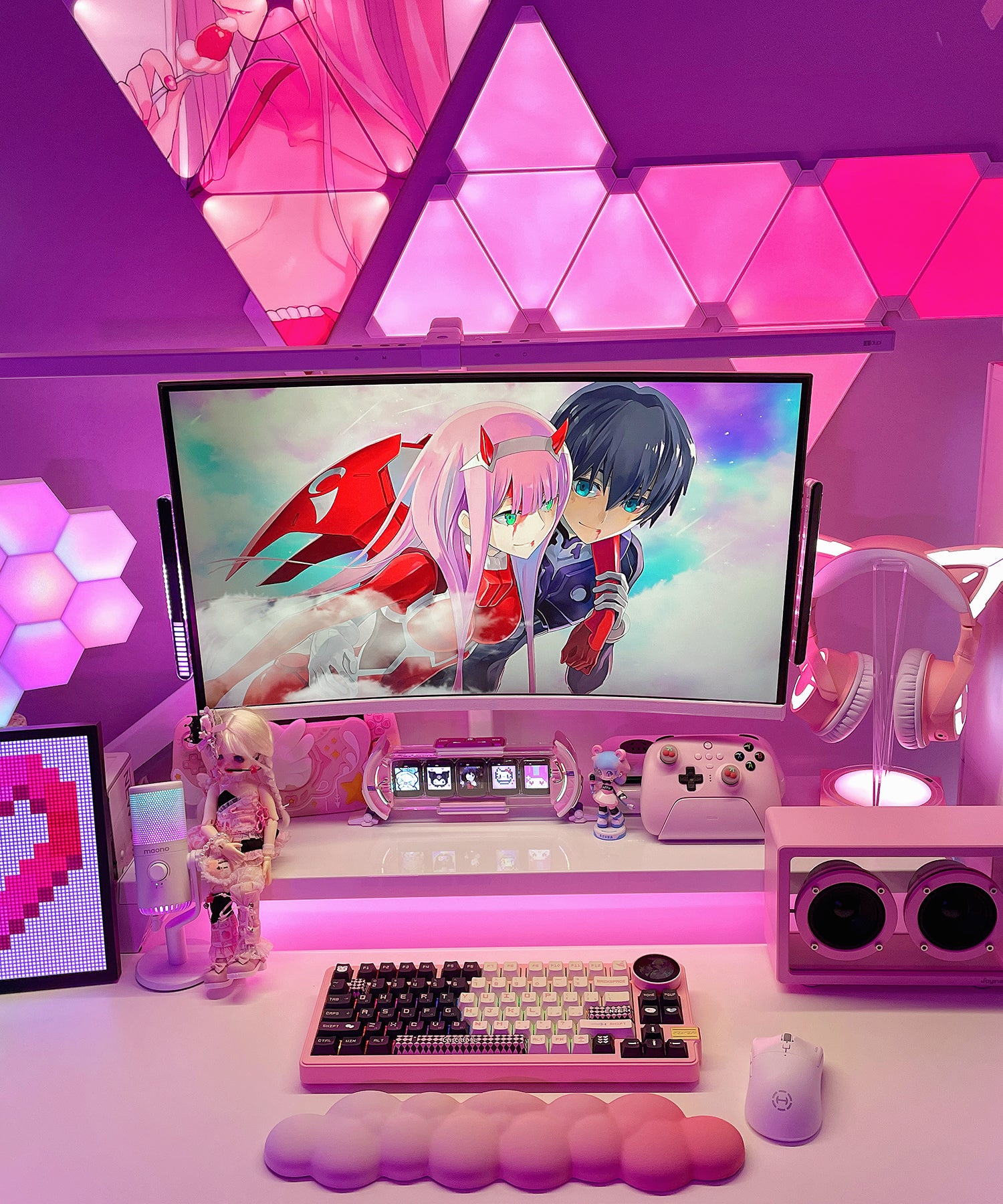 FEKER K75 Mechanical Keyboard with Multifunctional Knob Display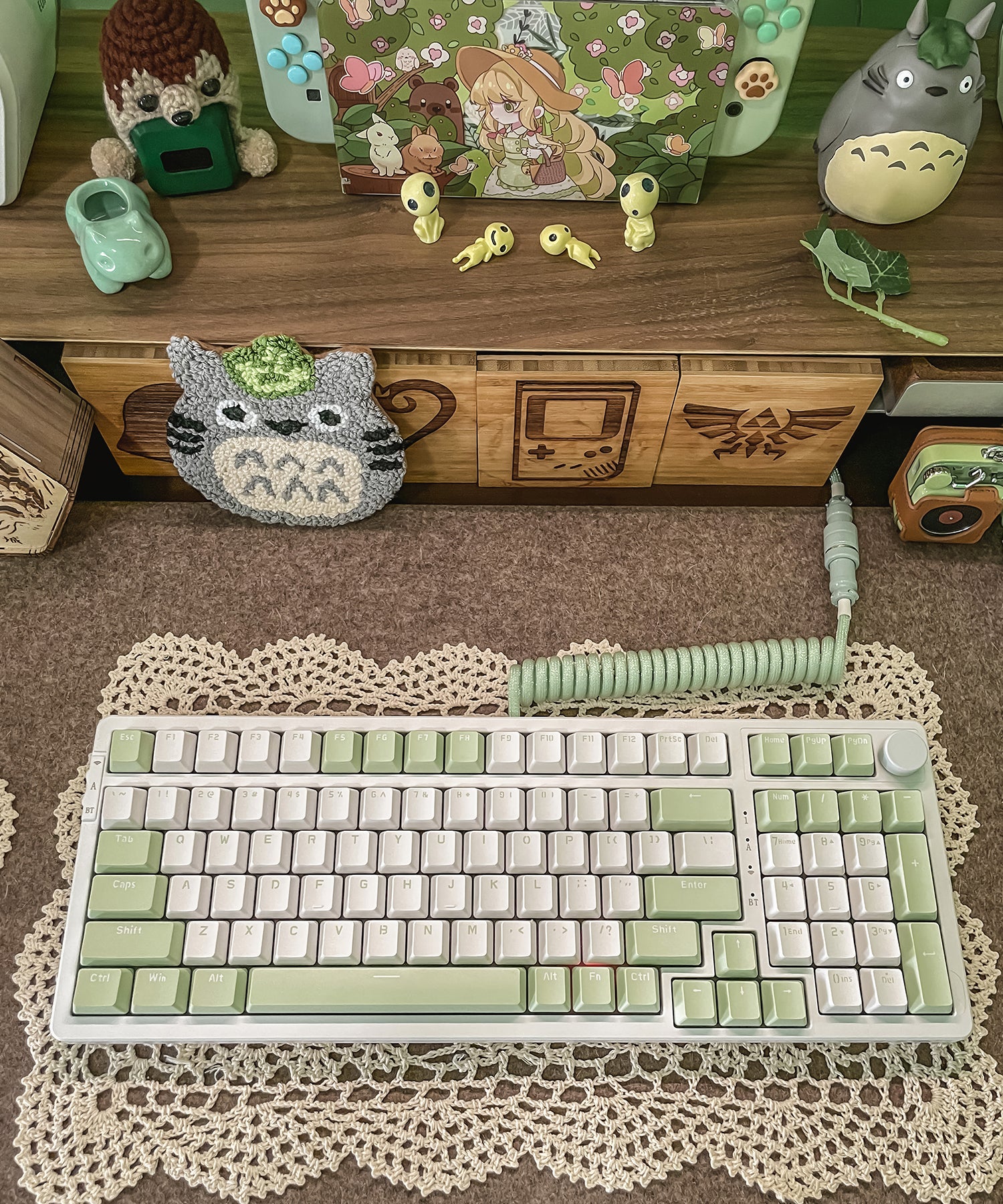 Ajazz AK992 Hot-swappable Mechanical Keyboard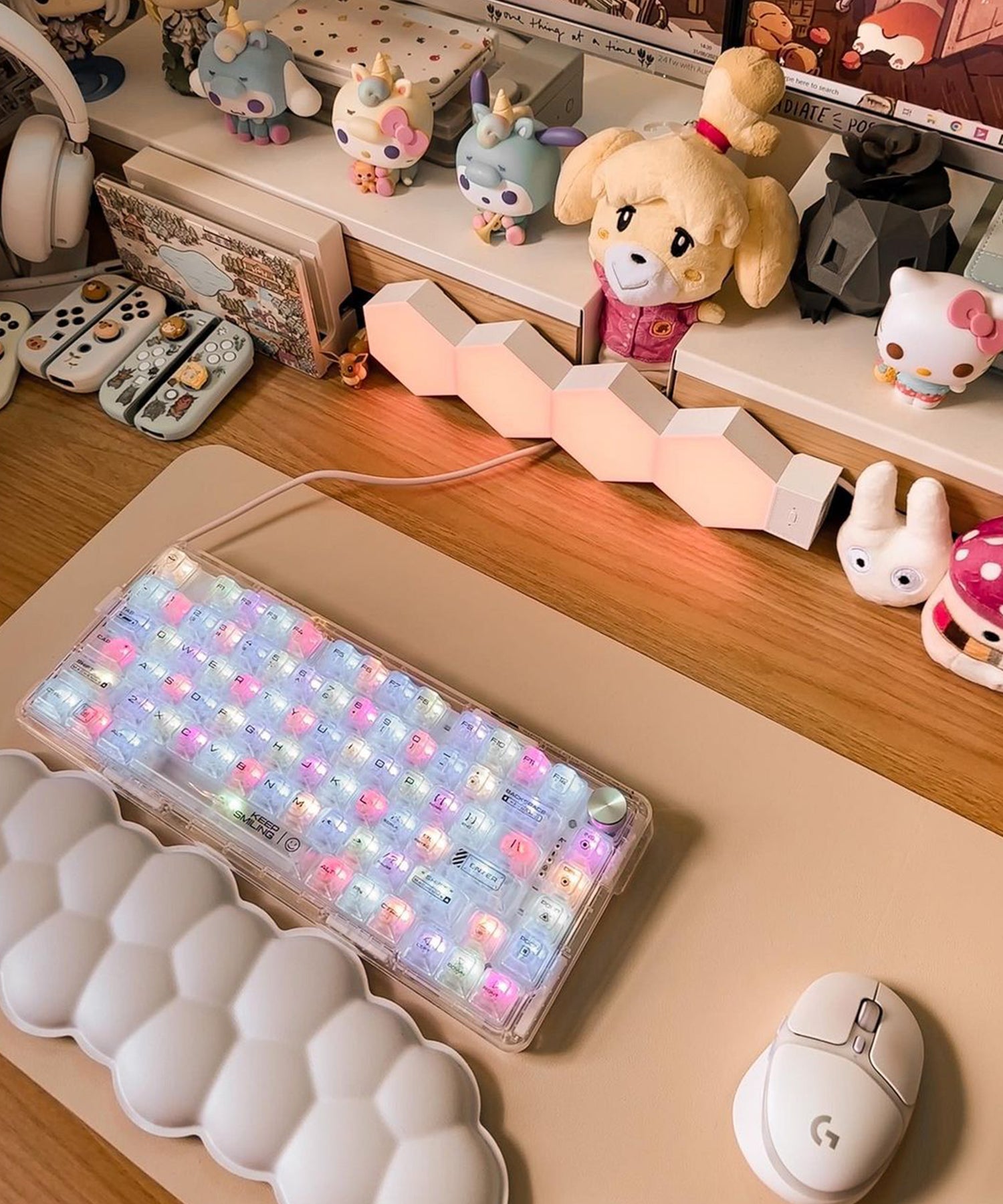 Machenike K500F-B81 RGB Clear Mechanical Keyboard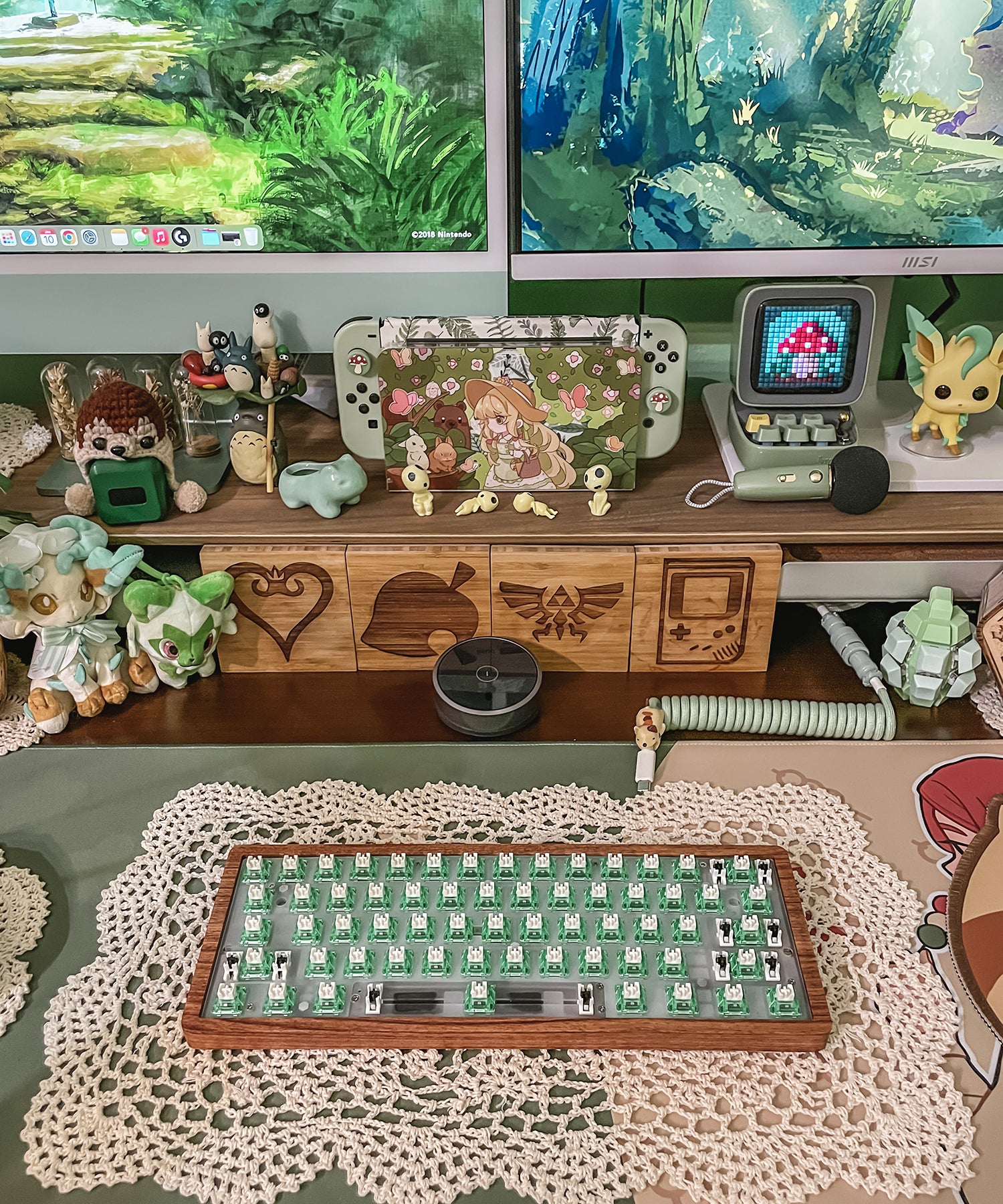 SKYLOONG GK61 Lite Gasket DIY Kit Wooden + Ajazz Diced Fruit Switch Set - Kiwi Switch