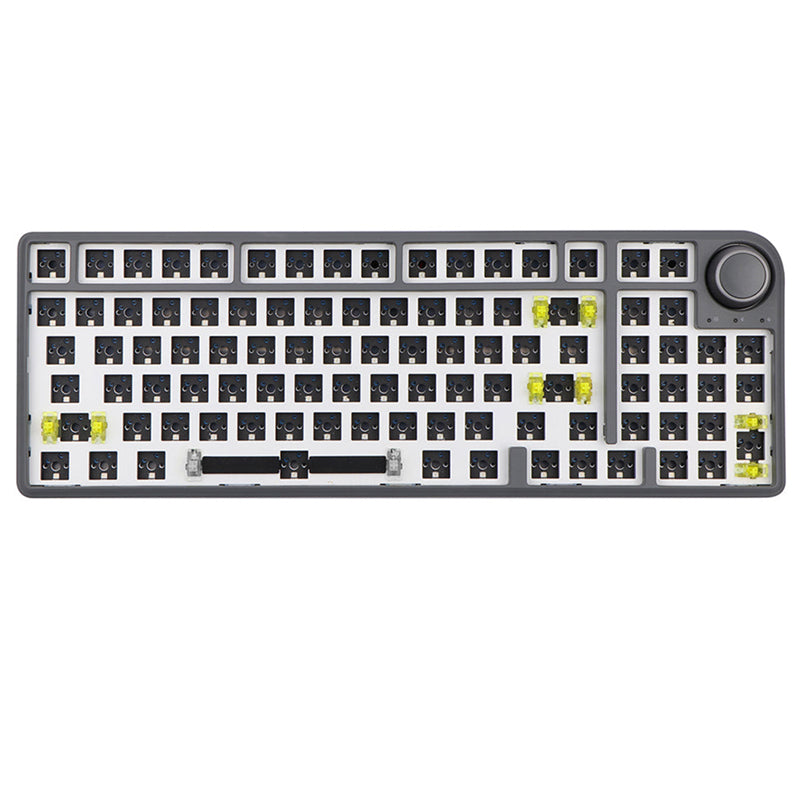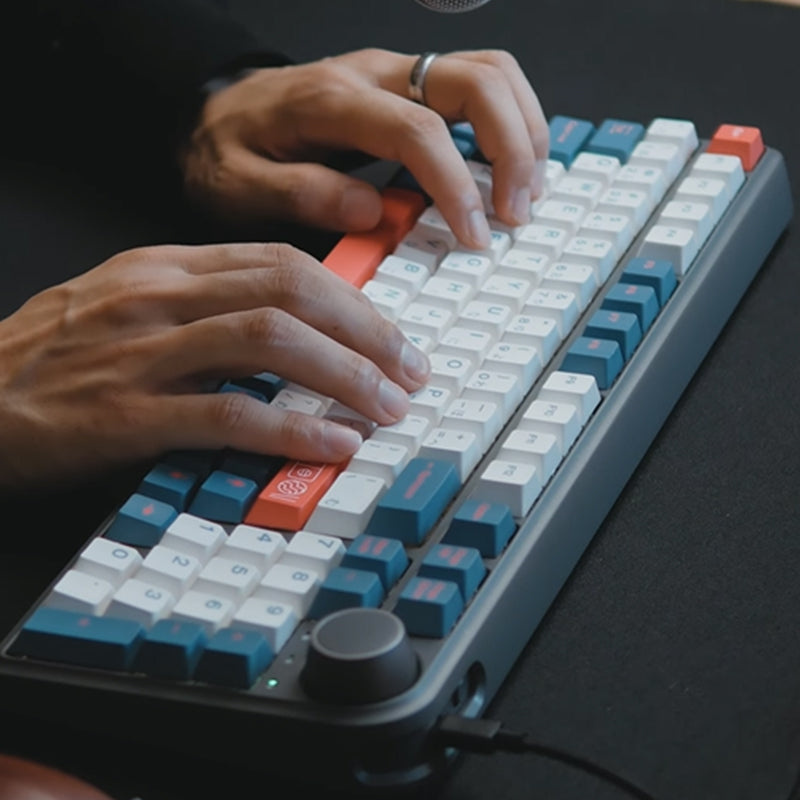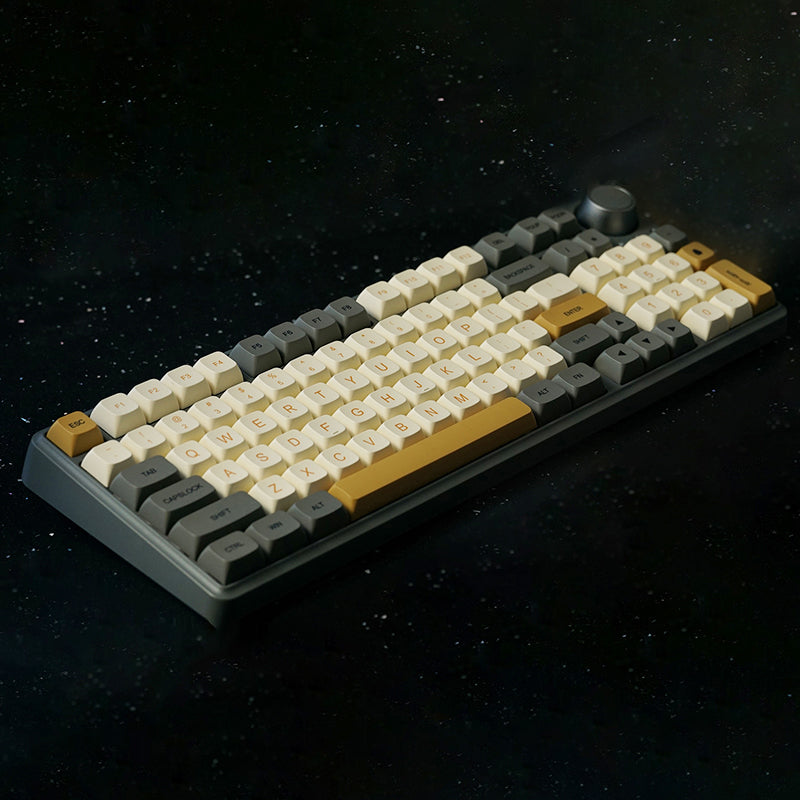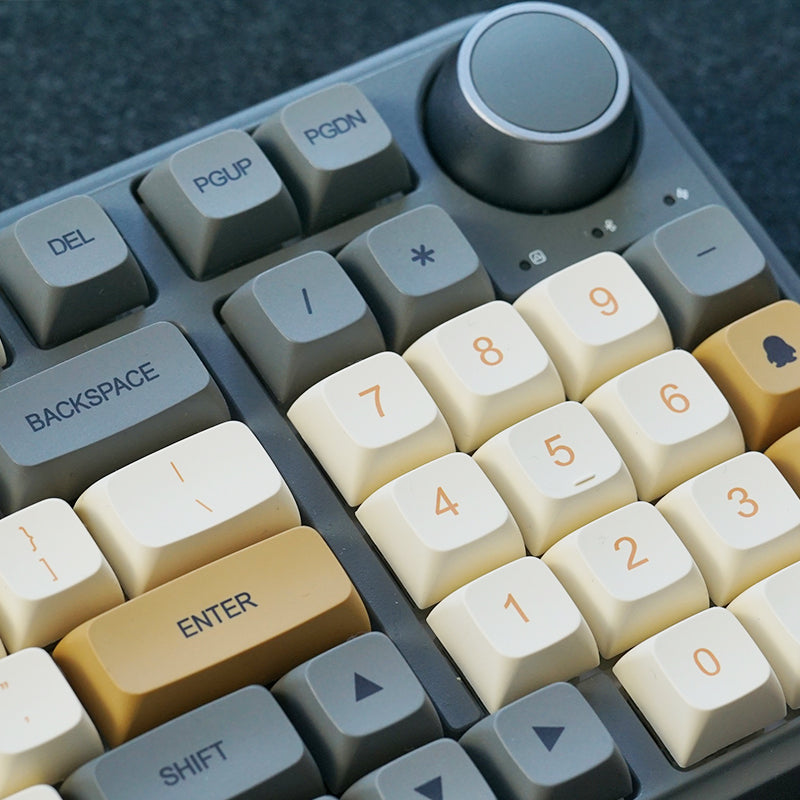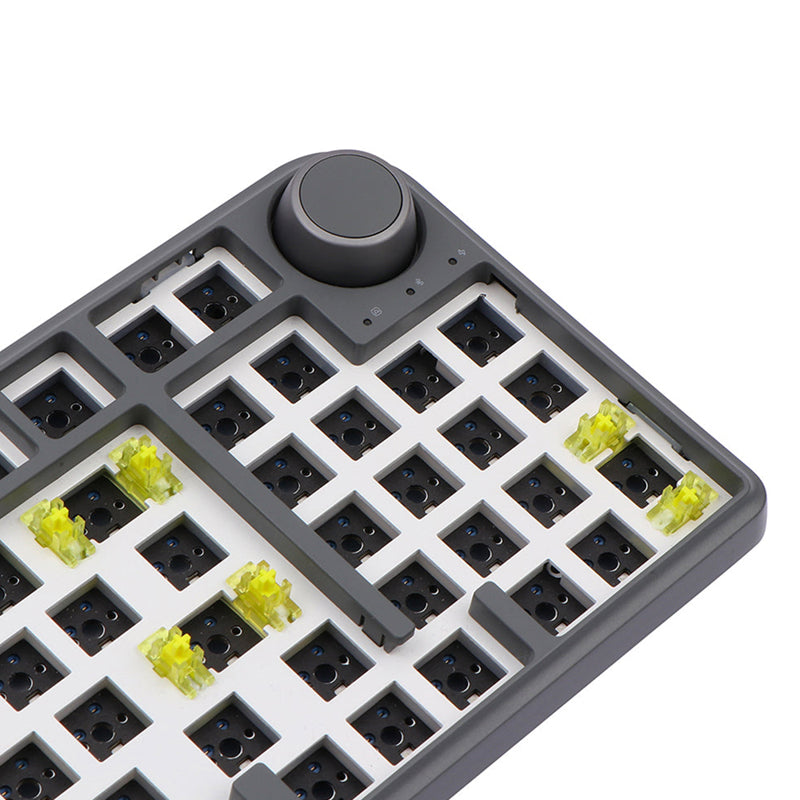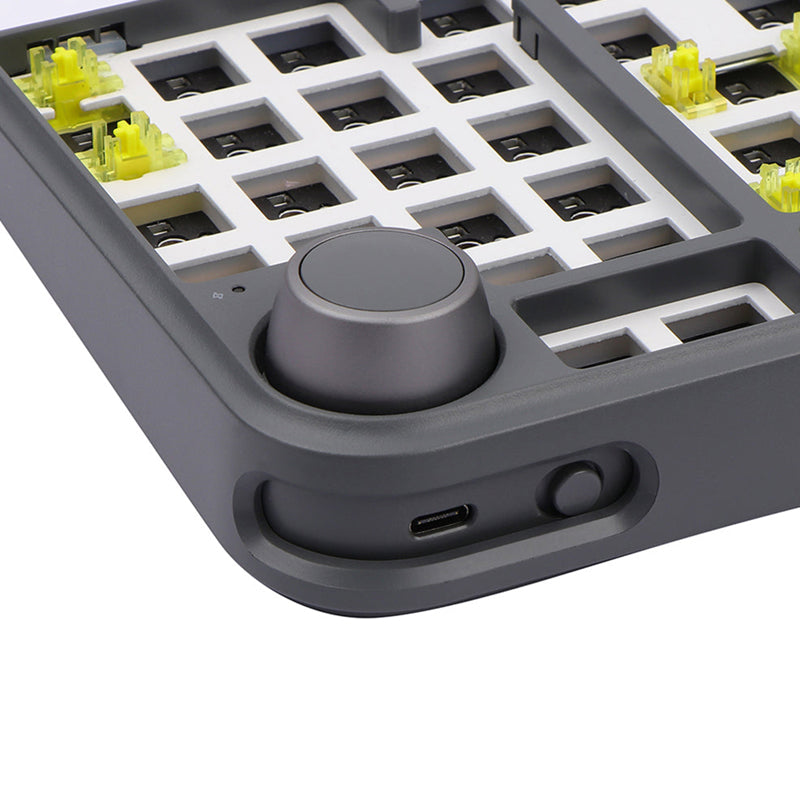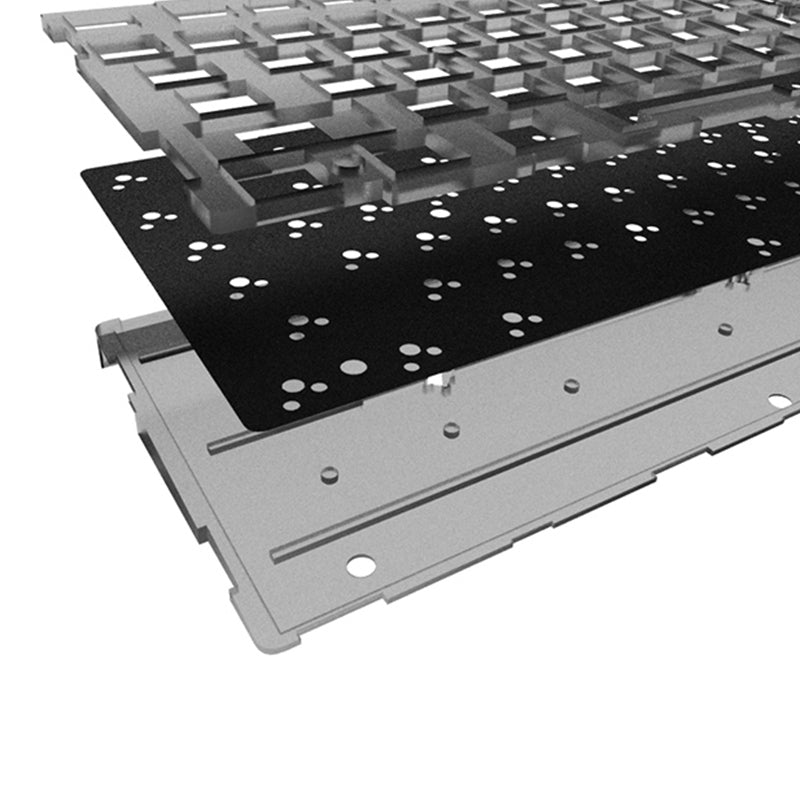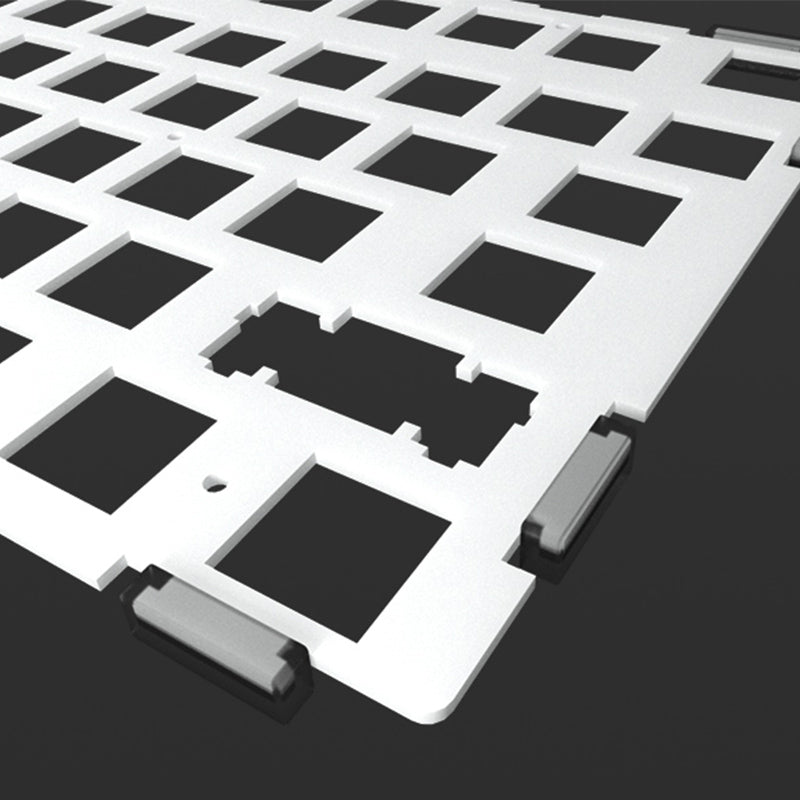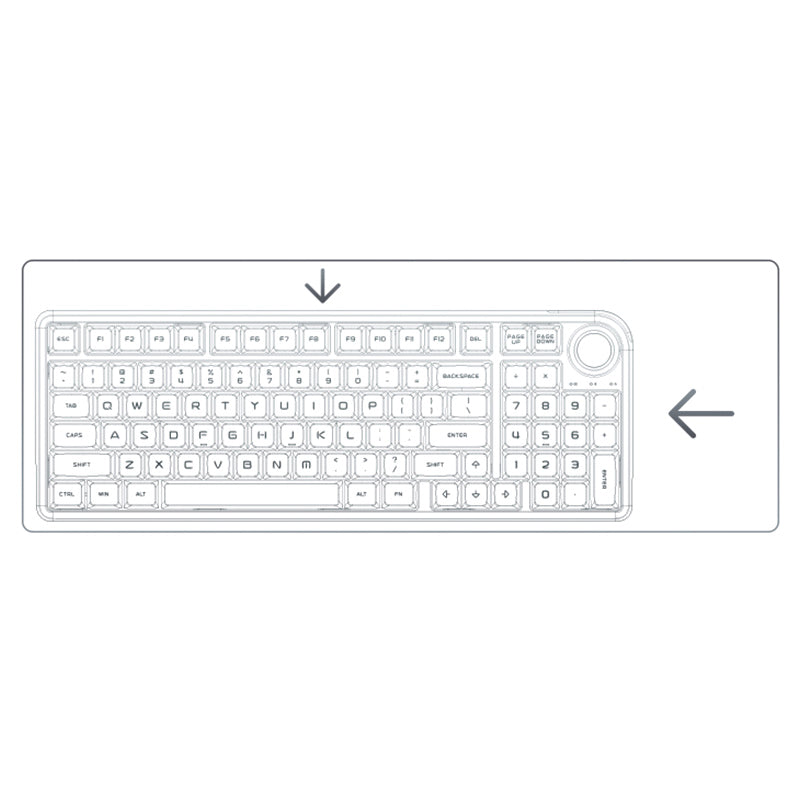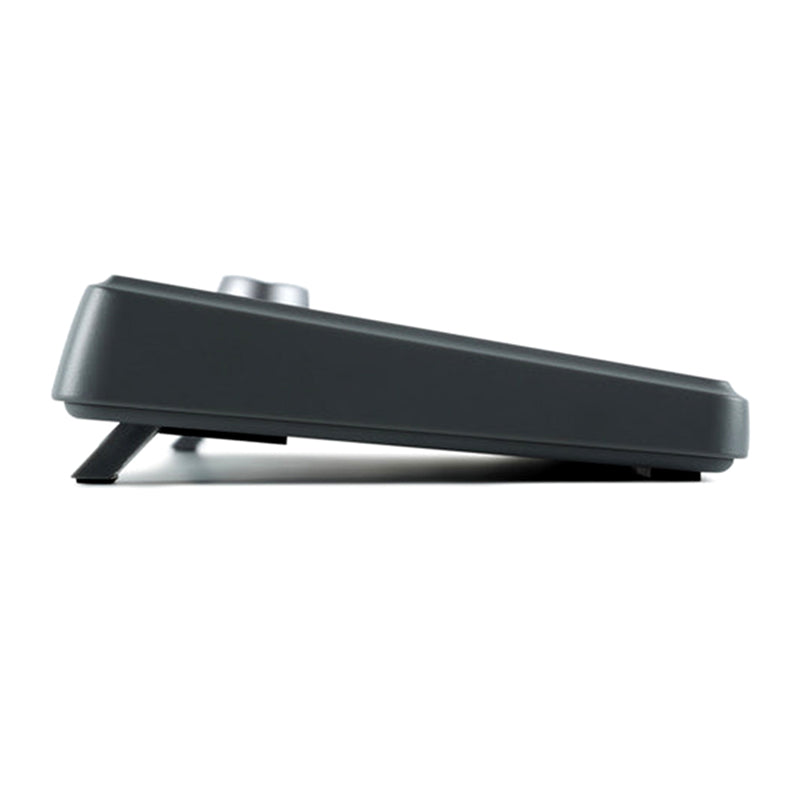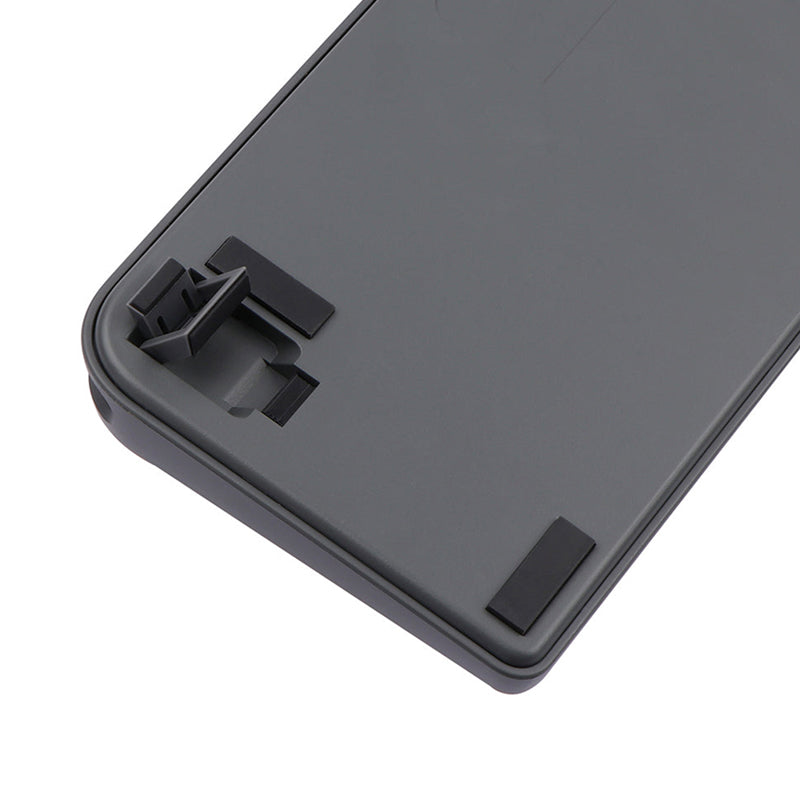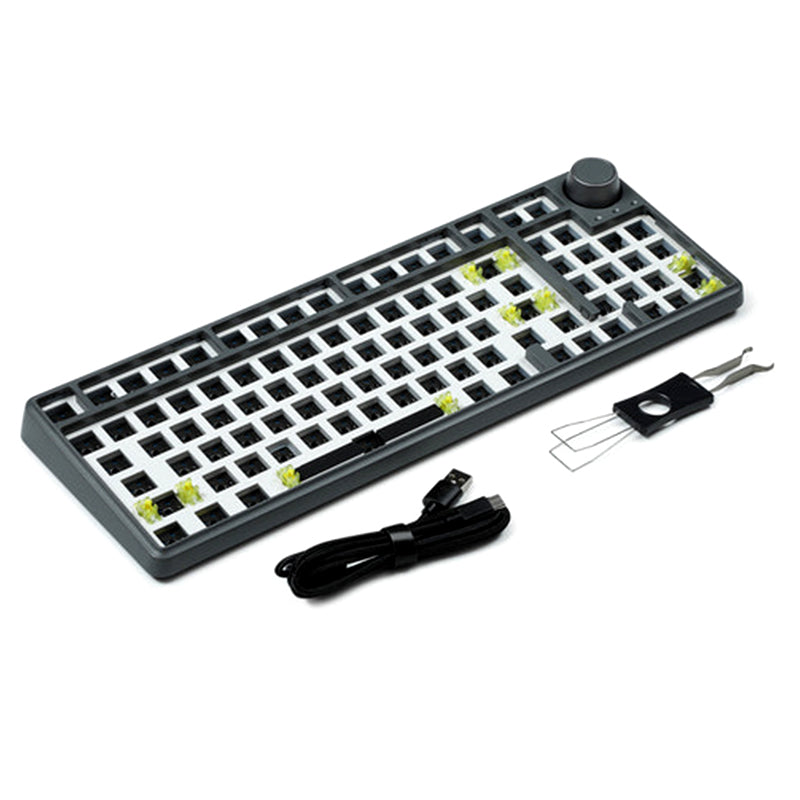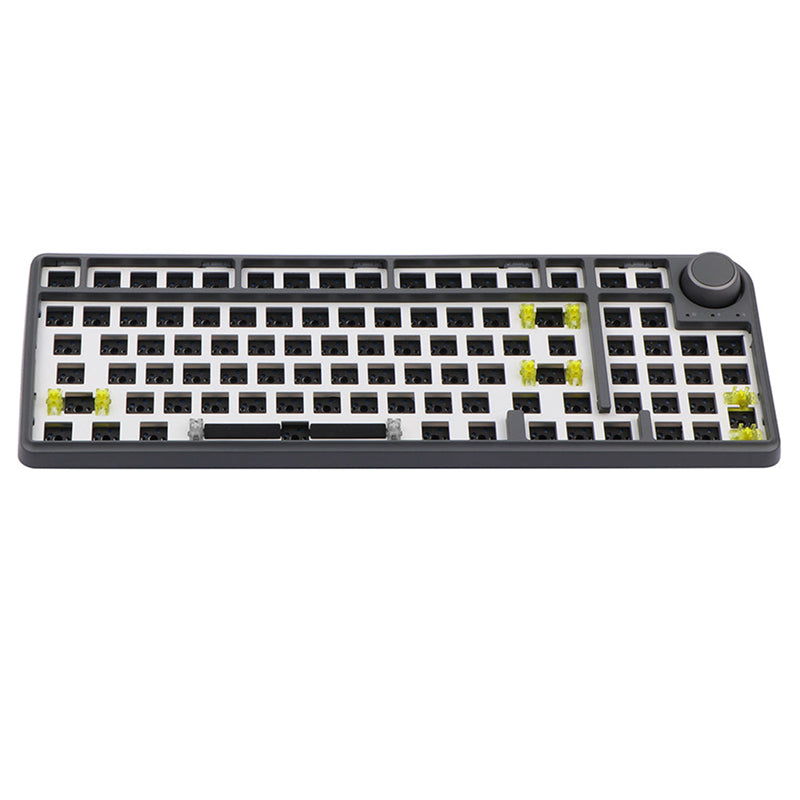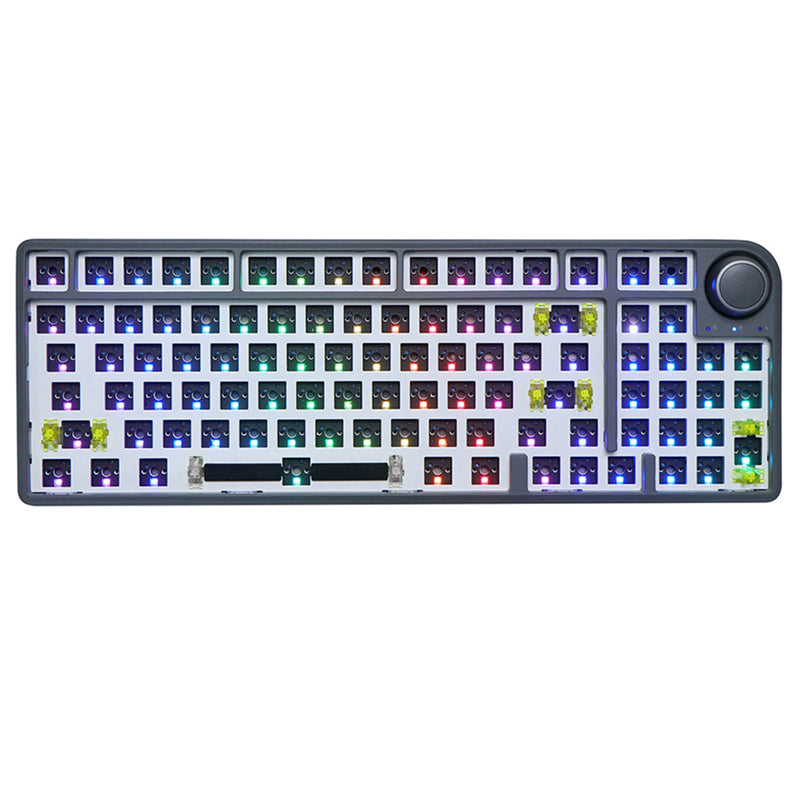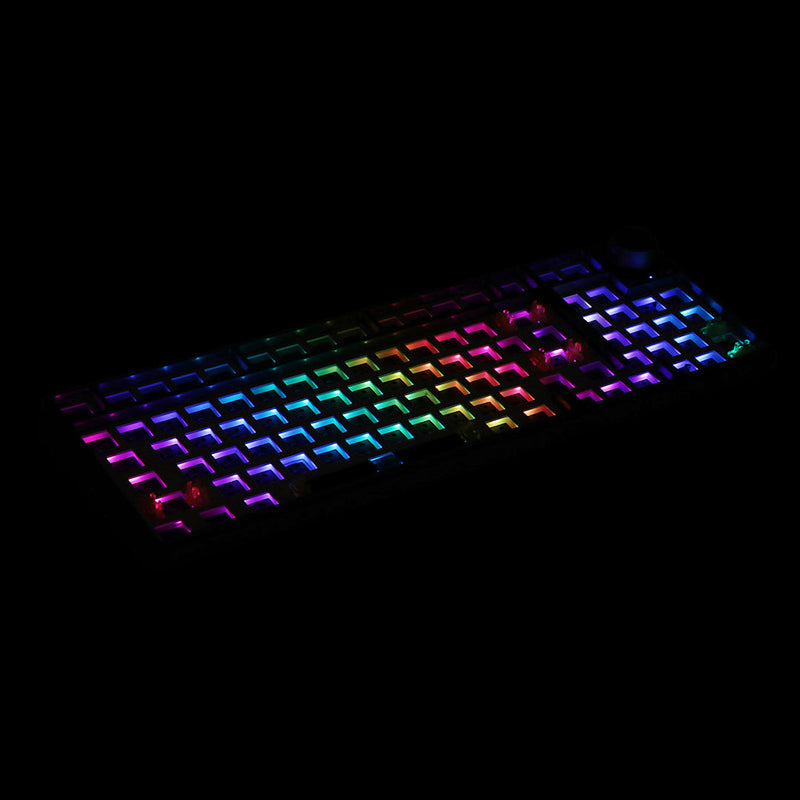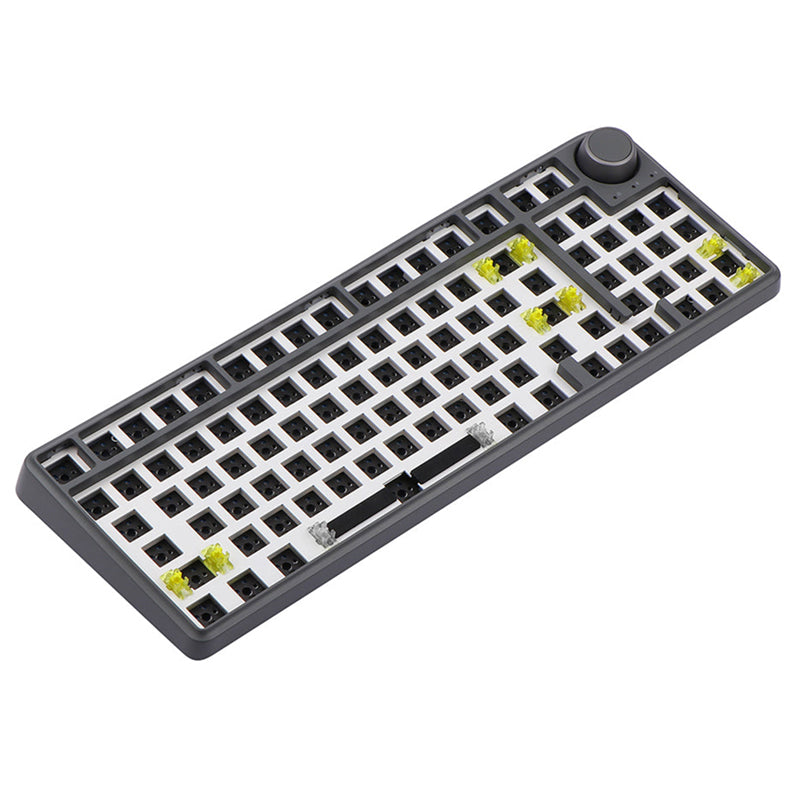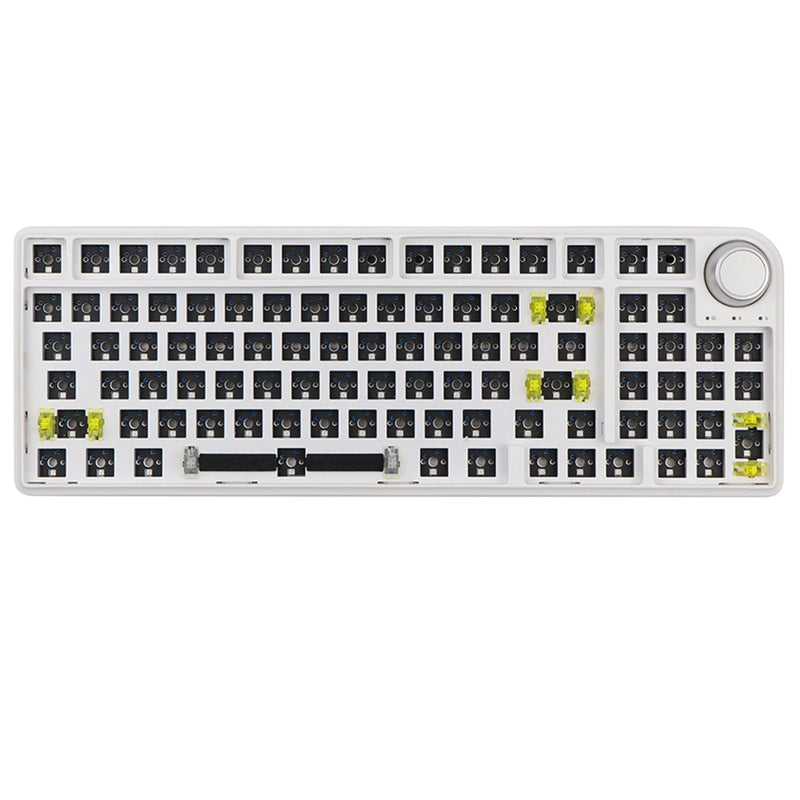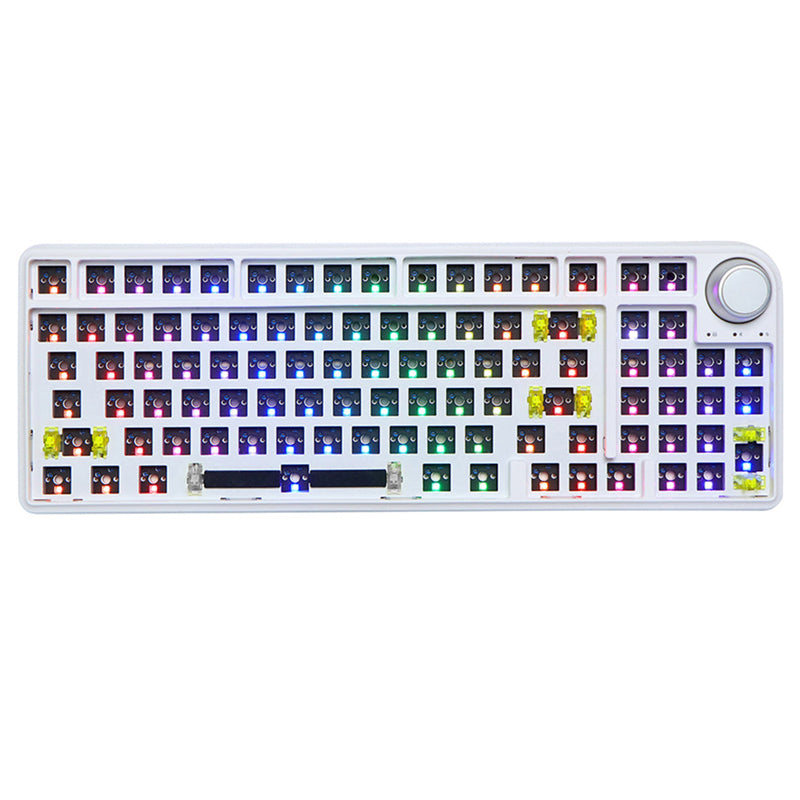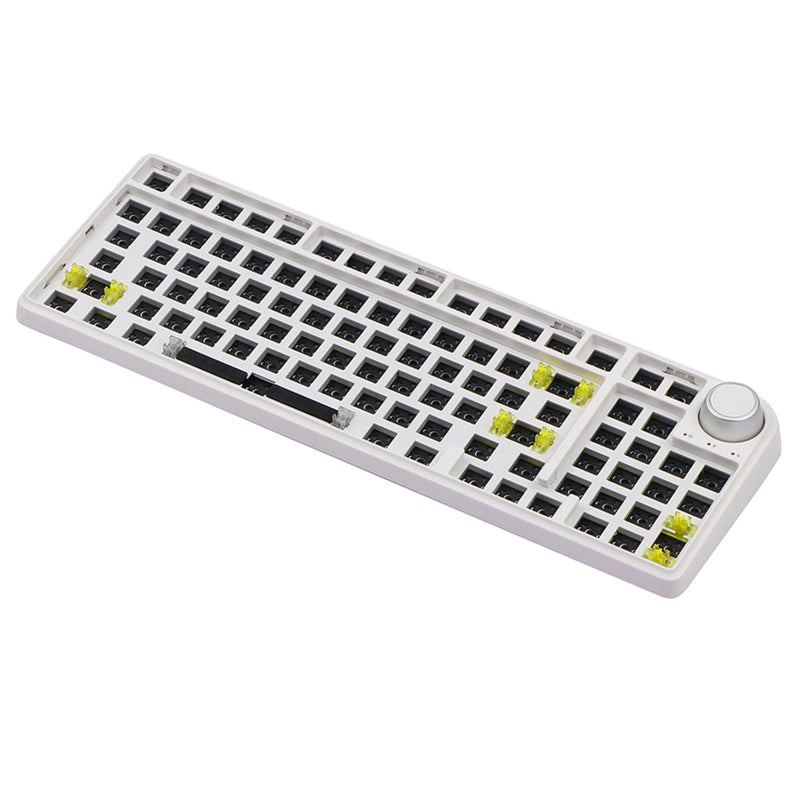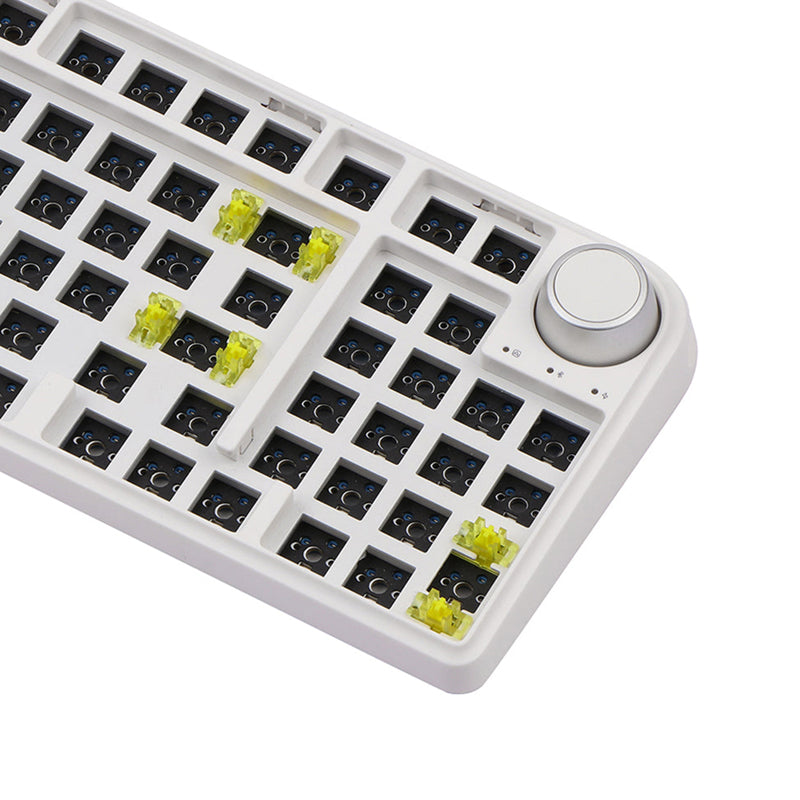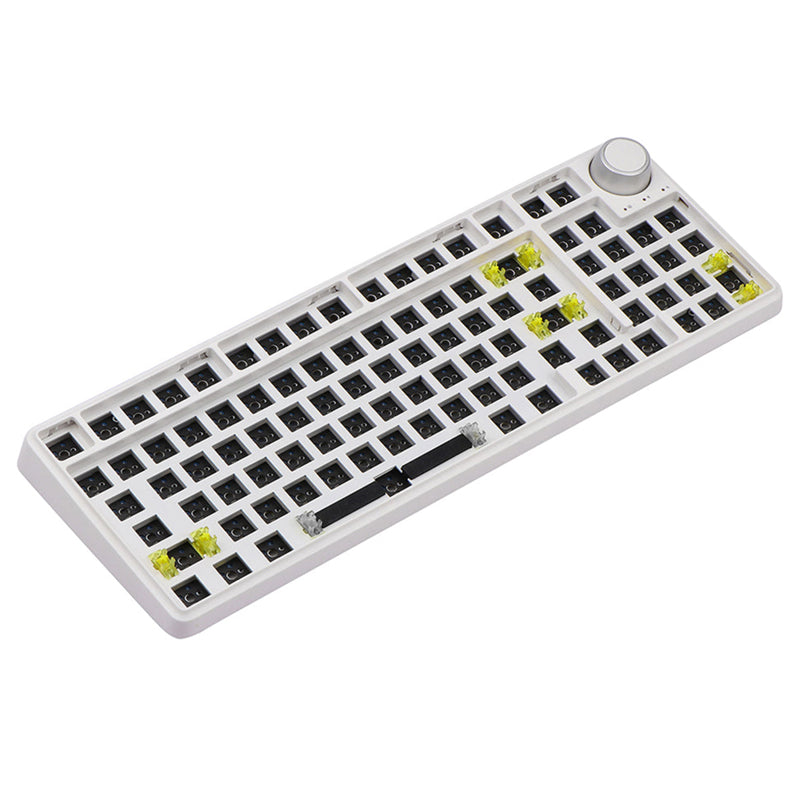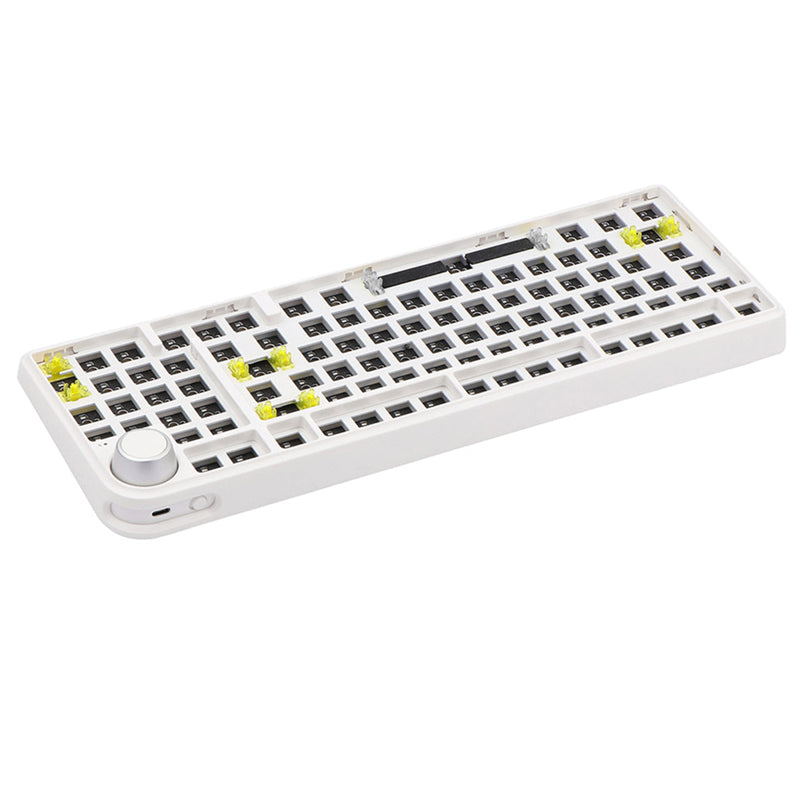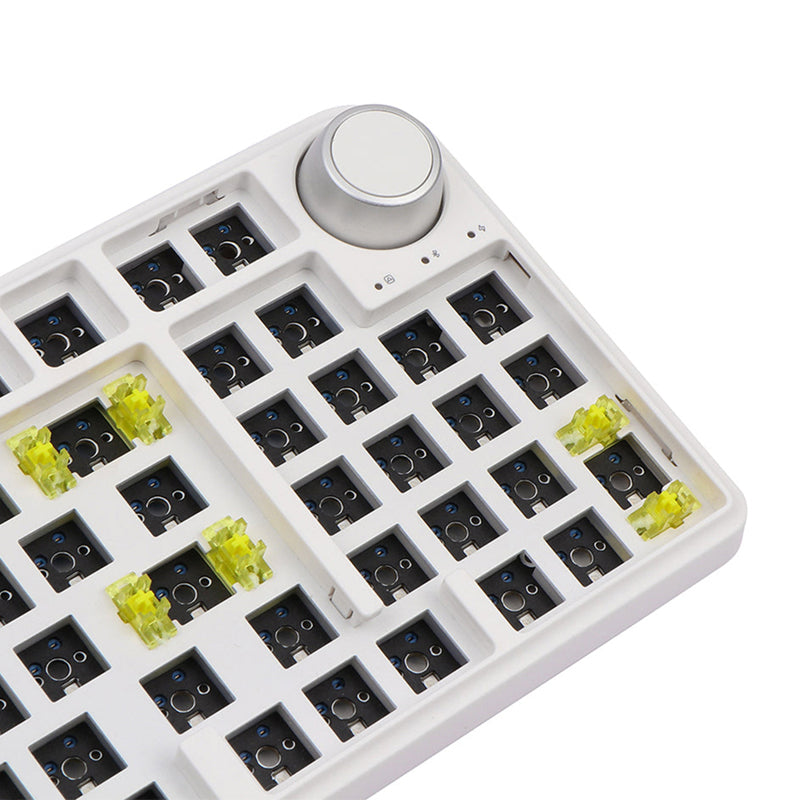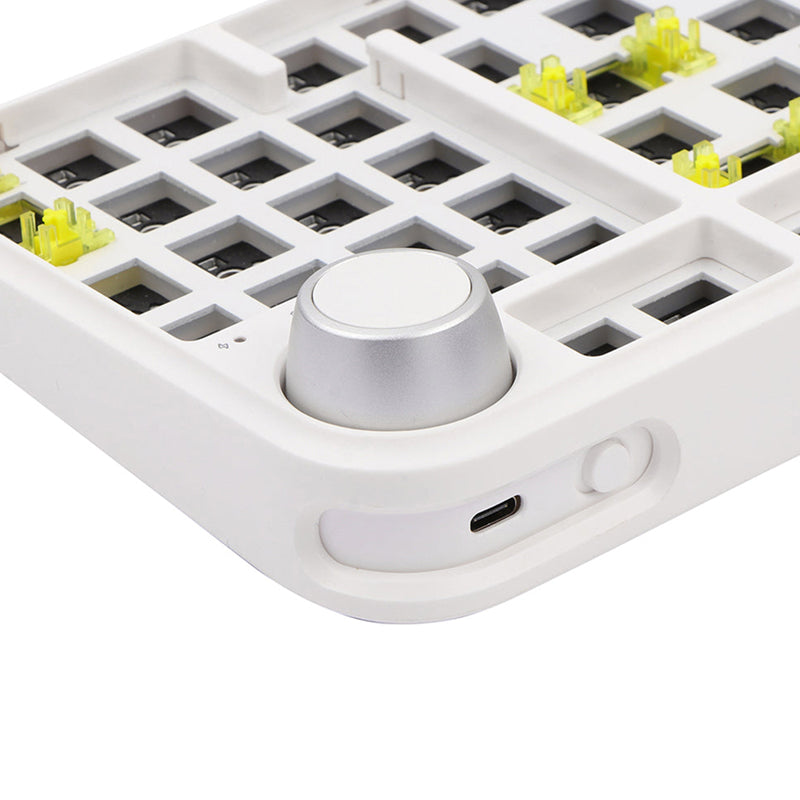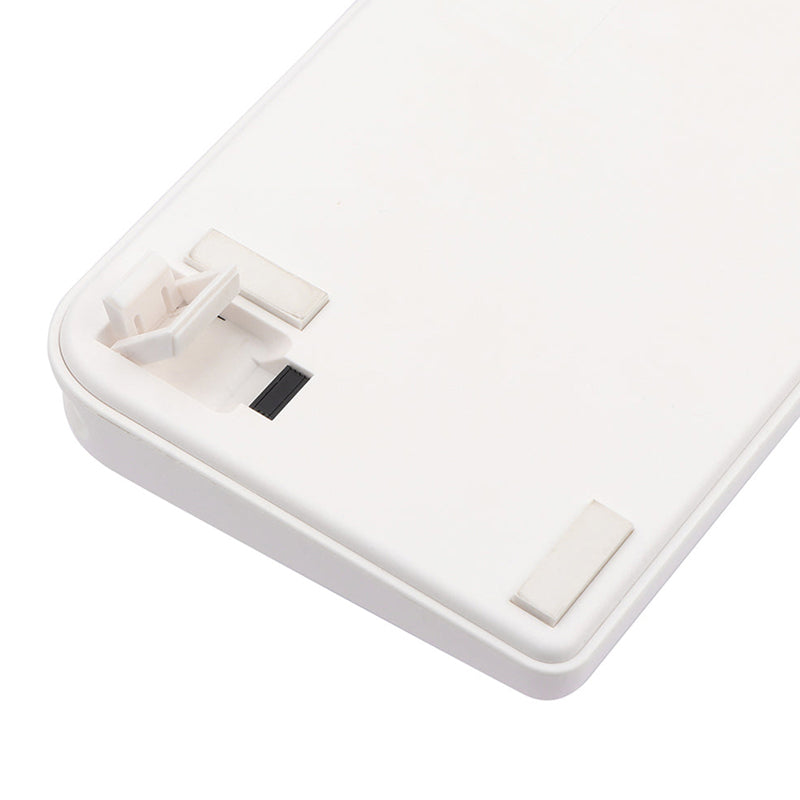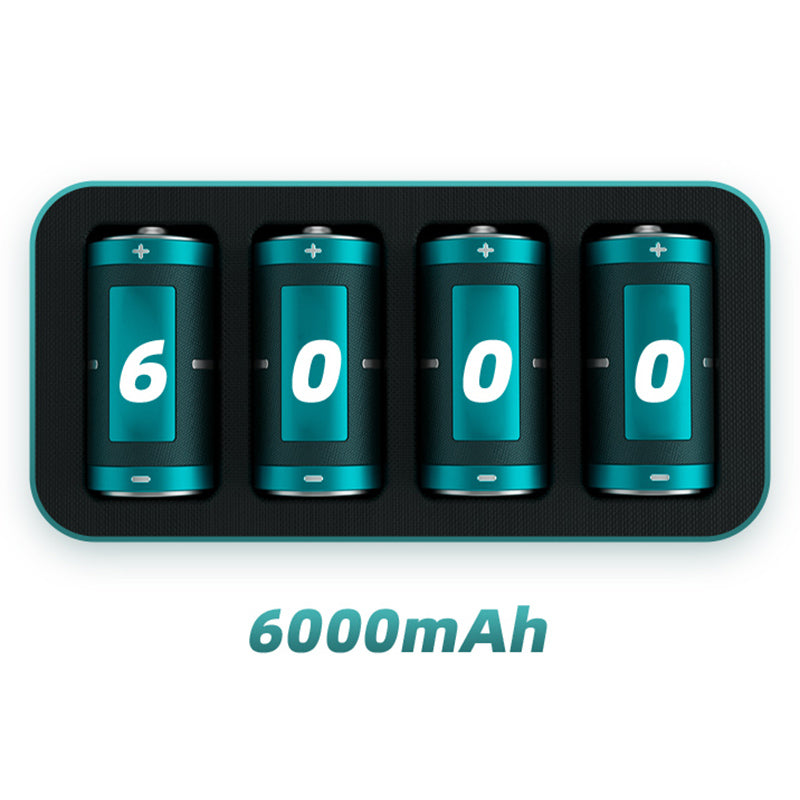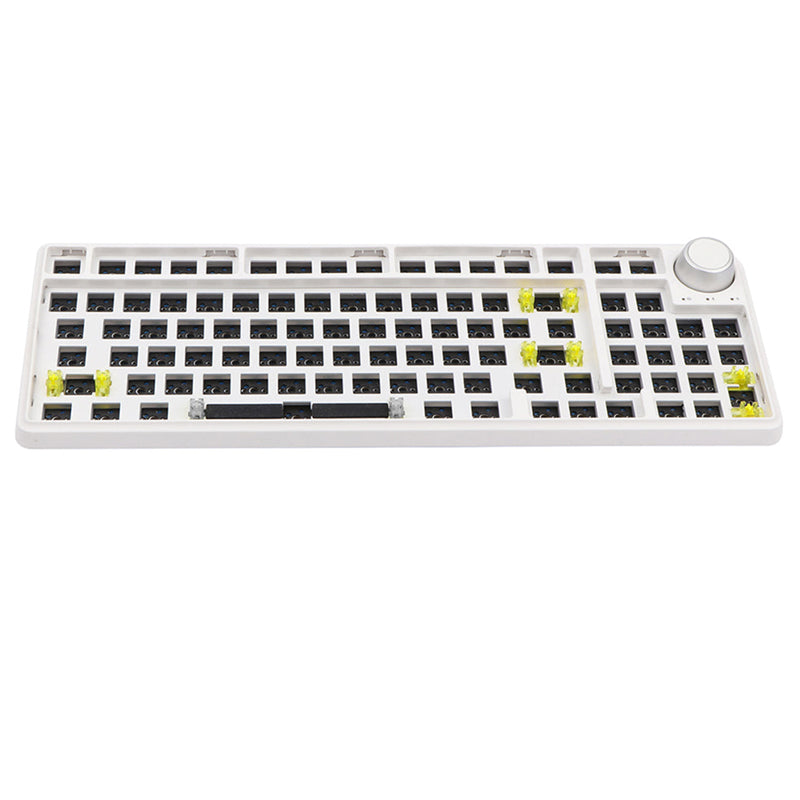 Dukharo VN96 Barebones DIY Kit
Full-size Board (96% Layout)
VN96 is equipped with a complete set of keys including full arrow keys with a numpad on board. You can use it with a great number of devices with ease.

Easy Customization
Built with gasket mounted top notch including sound absorbing foam. Hot-swappable sockets for easy customization along with the equipped denoise padding which provides softer keystroke landing. The programmable RGB array is compatible with most of the switches that are available.

Wider Compatibility
VN96 allows you to connect through multiple ways including Bluetooth, USB Type-C and through 2.4GHz wireless connection supported by a 6,000mAh battery. You can use it with a great number of devices with ease.

Ergonomic Design
Designed to fit in any environment whether it be for home use or using it for work purposes in your office. Minimalistic footprint comprising a full-sized arrow key provides better functionality.

Intuitive Controls
The knob control provides users with additional convenience for adjusting volume and play/pause functionality.
LED: South-facing
General

Brand: Dukharo


Type: DIY Keyboard Kit


Model: VN96


Color: White, Black

Specification

Mounted: Gasket

Layout: 96%

Keys Number: 96

Backlight: RGB

LED: South-facing

Batteries: 6000mAh

Connectivity: USB-C, Bluetooth 5.0, 2.4 GHz 

Switch Sockets: Hot-swappable Support 3pin/5pin Switch

The Size of The Space Bar Stabilizers: 6.25

Anti-ghosting: Full Key Anti-ghosting

Dampening: Sound-absorbing Foam, Silicone Pad

System Support: Windows/macOS/IOS/Android

Weight & Size

Product Weight: 0.9kg

Package Weight: 1.1kg

Product Size(L x W x H): 38.3*13.8*3cm


Package Contents

1 x Keyboard Kit


1 x Type-C Cable


1 x Keycap Puller


1 x 2.4G Dongle


1 x User Manual
Spacebar stuck
Looks good but spacebar stabilizers cause spacebar to get stuck in a down position
Nice Keyboard, But...
Overall this is a nice keyboard and has all of the features that I wanted. However, I am having an ongoing issue with the space bar sticking at times and it is frustrating to deal with this issue with a new board.
Hello Brave Raven,
We apologize for the issue you have experienced with the item you ordered.
Our after-sale staff have contacted you,please check your email from support@whatgeek.com .
Do not worry, we will solve this problem for you.
Yours faithfully,
Echo from WhatGeek.
Very pleasing quality keyboard
The quality is overall very well. Only by the start of using my keyboard the USB-reiver did not work. It was seen by my pc, and the keyboard was working also just fine (full battery etc.). I still haven't been able to fix this, which is very bad in my opinion. Only after some research on the web I could find some helpfull information in written English.. instead of Chinese (please why don't people make manuals standard in two or more world languages?). Apparantly you can connect the keyboard to your pc via bluetooth pairing, and even up to 3 devices! Which is a good added bonus I didn't know before. If you want to adjust anything on your keyboard's settings then you should visit the Dukharo.com site and search for the latest driver download link. Only trough the latest version (and plugged in with cable using the "FN+5" keyboard setting) you were able to get in the settings of the device. But only to find very limeted options, regarding key settings. Light settings are plenty tho. Overall once set up, I rate it as a very nice to have keyboard, which adds valua to your overall setup.
Perfect 96!
Ordered the barebone kit. Packaged well. Didn't have to mod the board because it already pretty solid and perfect out of the box. Just needed to tweak the spacebar stabs, added the switches and keycaps and it was good to go. Only downside, its not qmk/via and software is a bit of a challenge to install.
Setup Ideas From Customers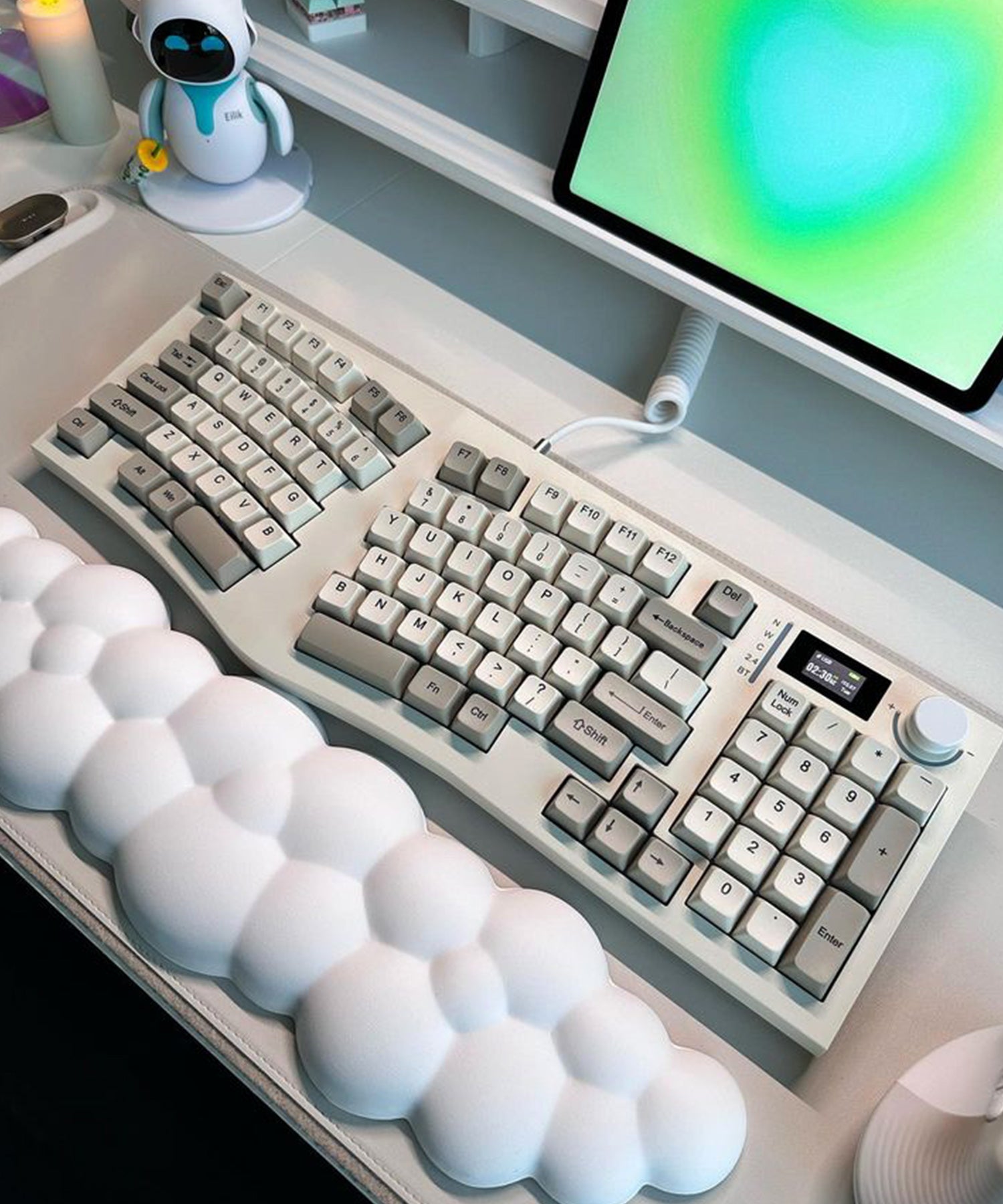 FEKER Alice98 Wireless Mechanical Keyboard With LED Screen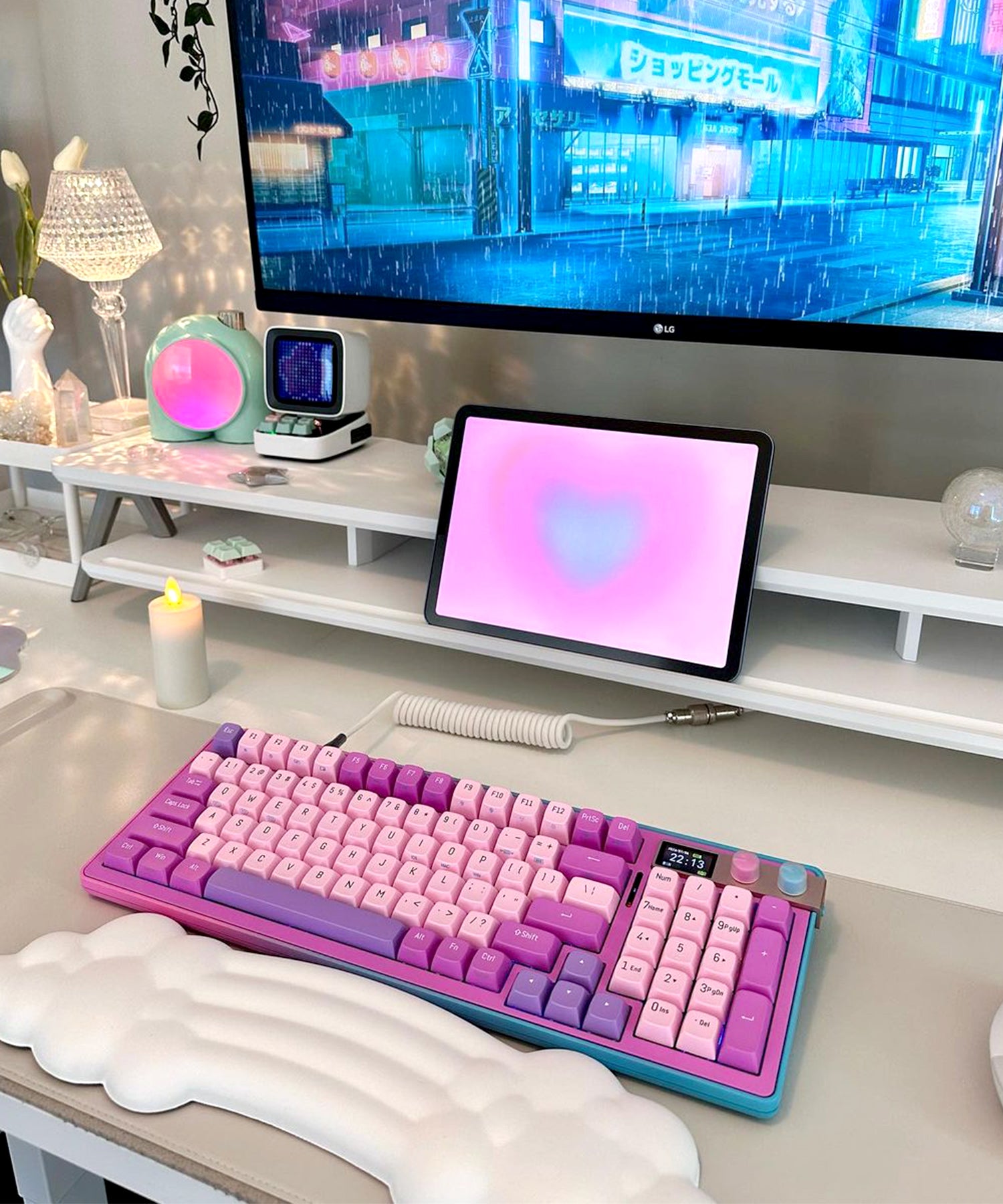 FOPATO H98 Love & Salvation Wireless Mechanical Keyboard With TFT Screen
FirstBlood B81 Crystal Transparent Wireless Mechanical Keyboard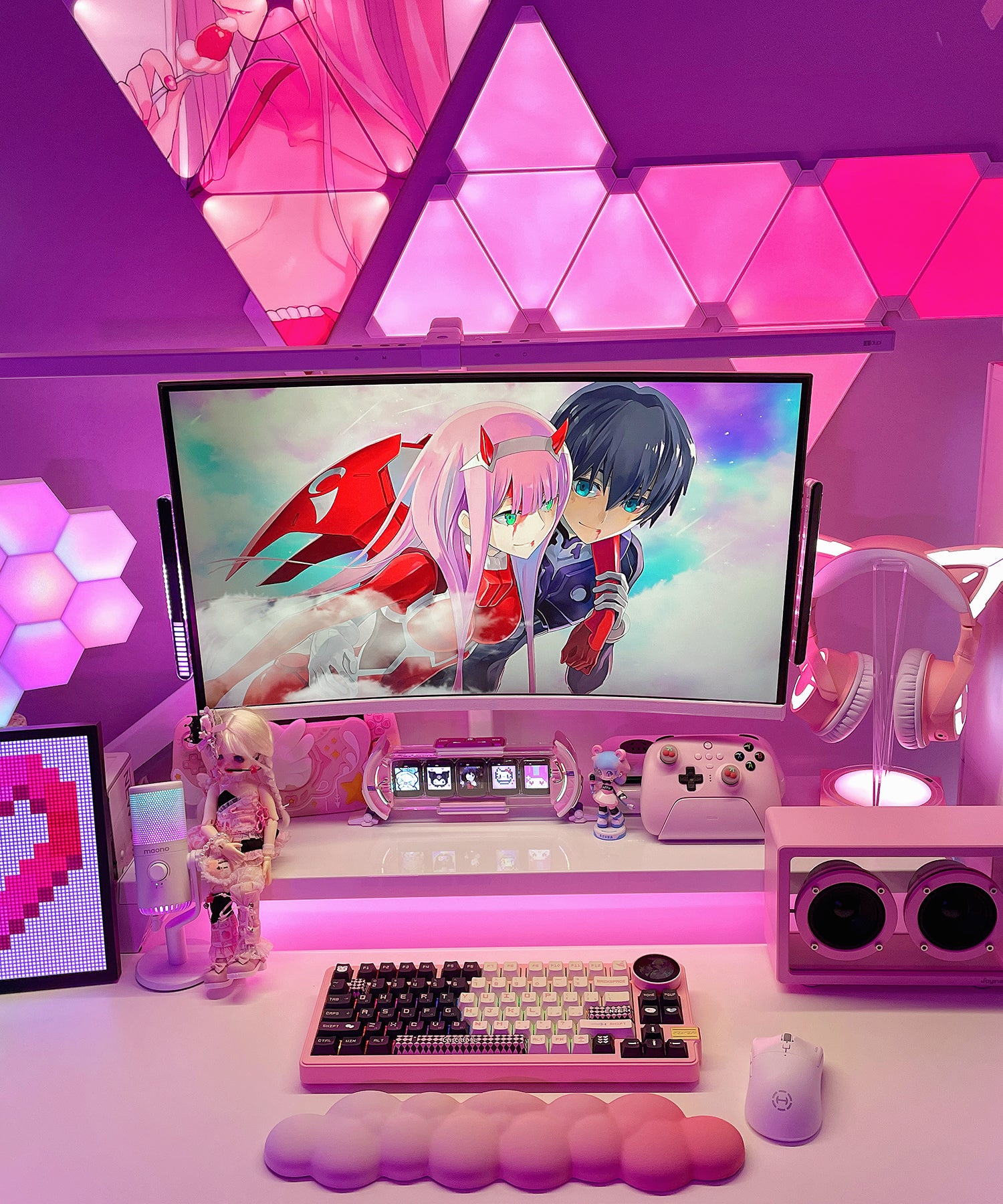 FEKER K75 Mechanical Keyboard with Multifunctional Knob Display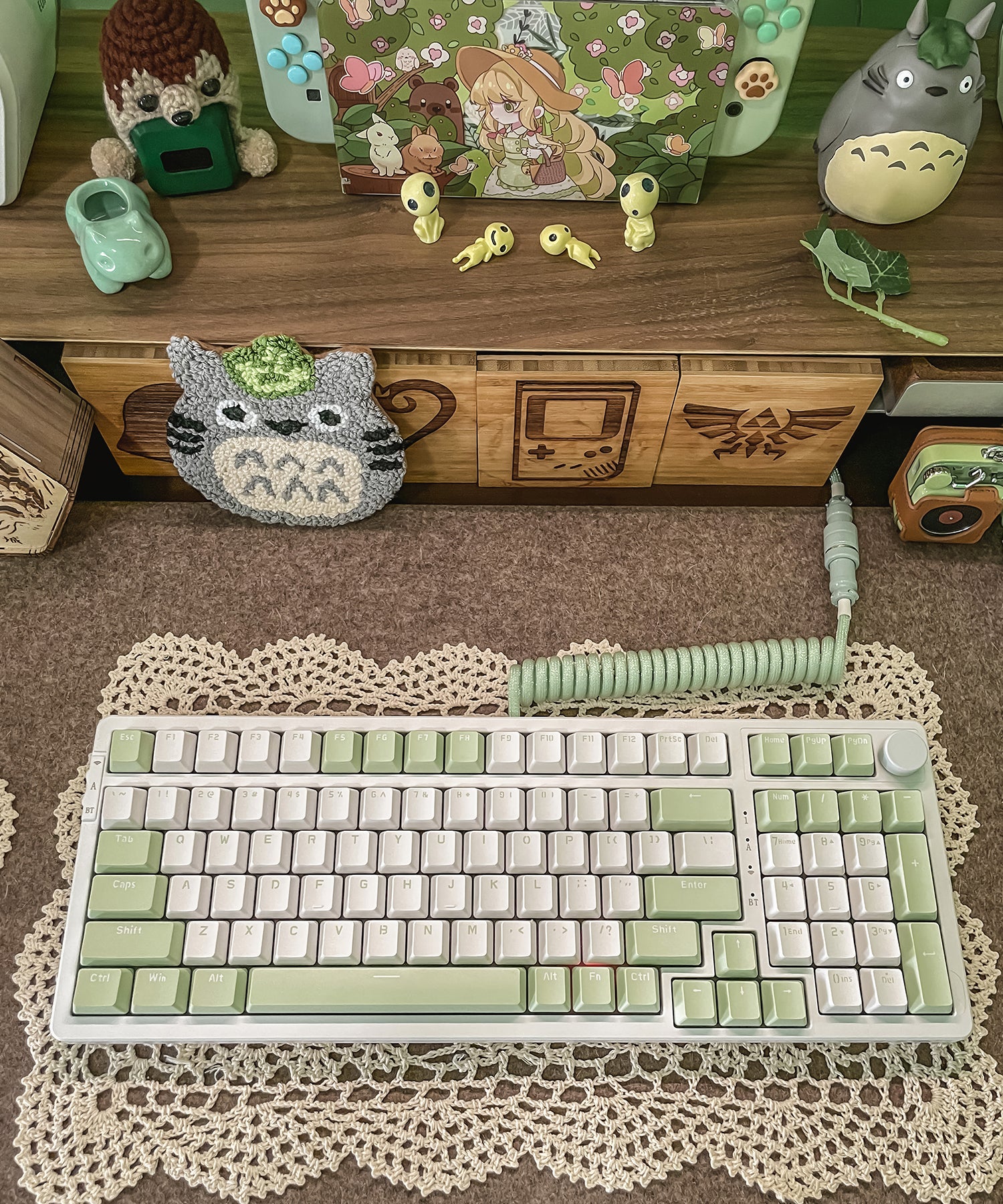 Ajazz AK992 Hot-swappable Mechanical Keyboard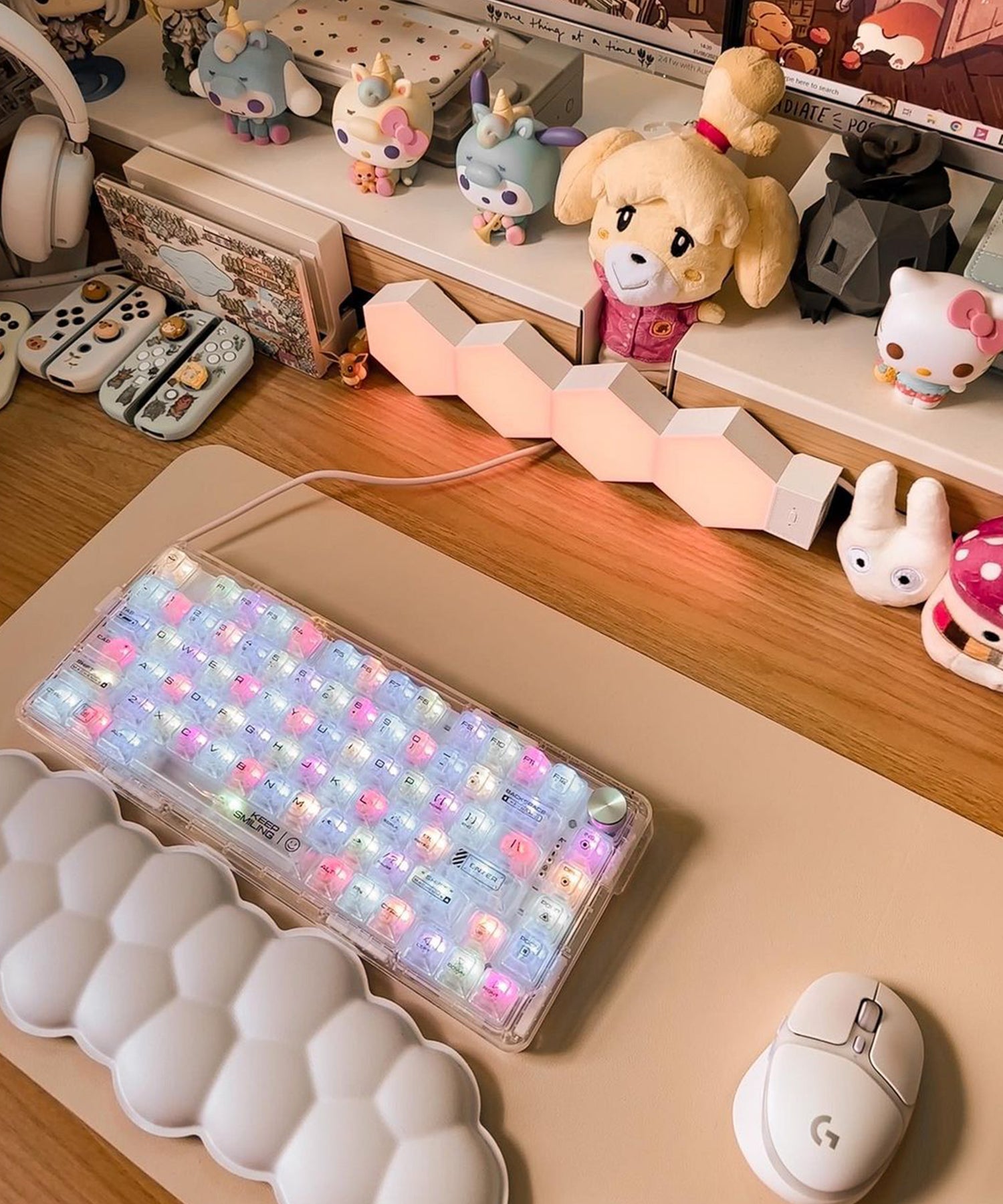 Machenike K500F-B81 RGB Clear Mechanical Keyboard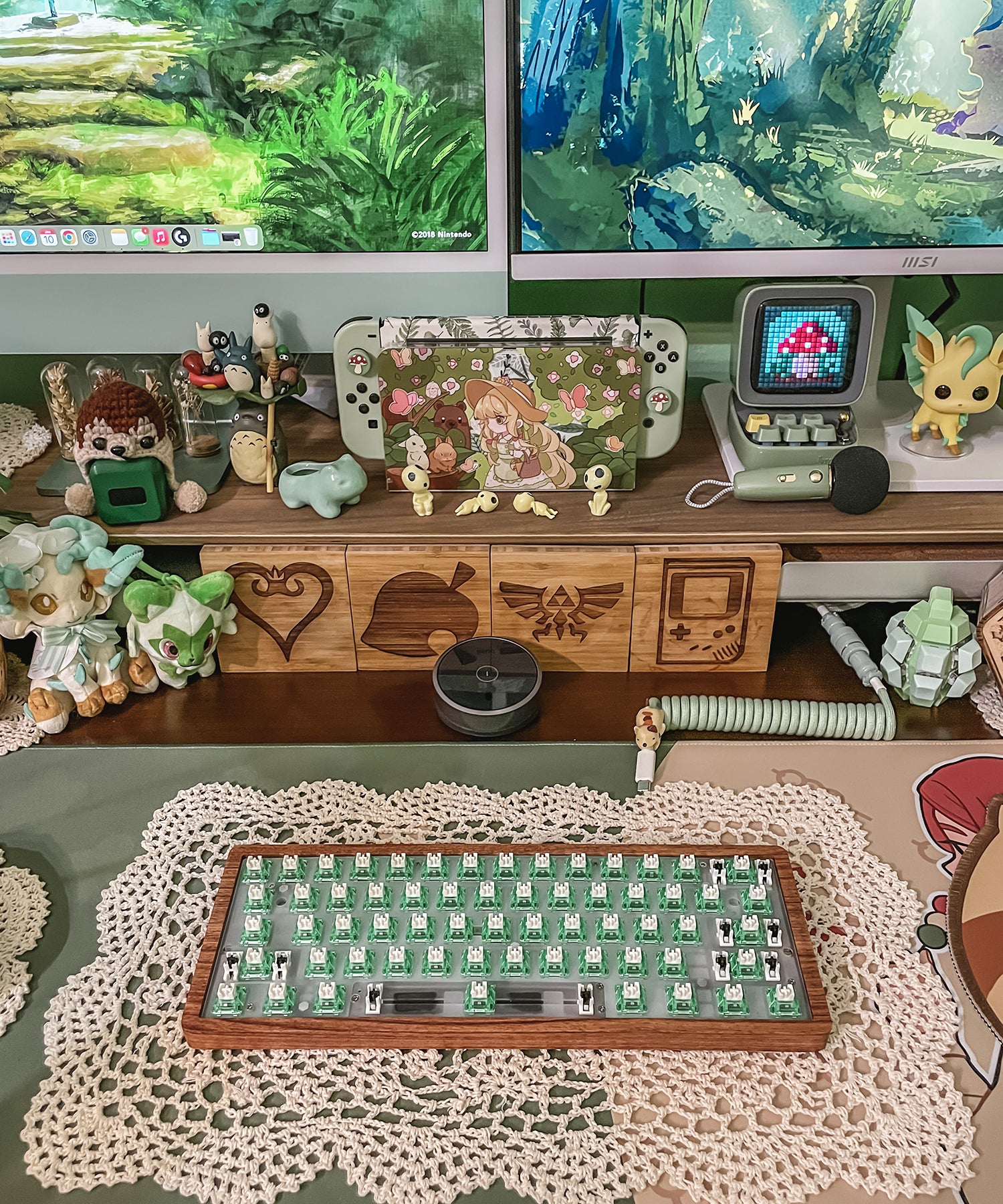 SKYLOONG GK61 Lite Gasket DIY Kit Wooden + Ajazz Diced Fruit Switch Set - Kiwi Switch