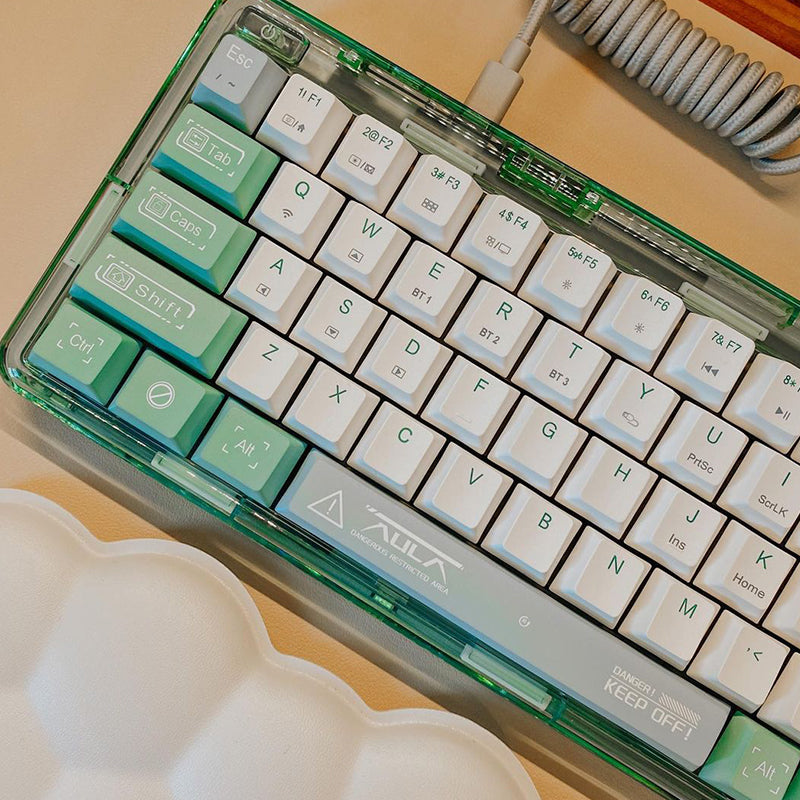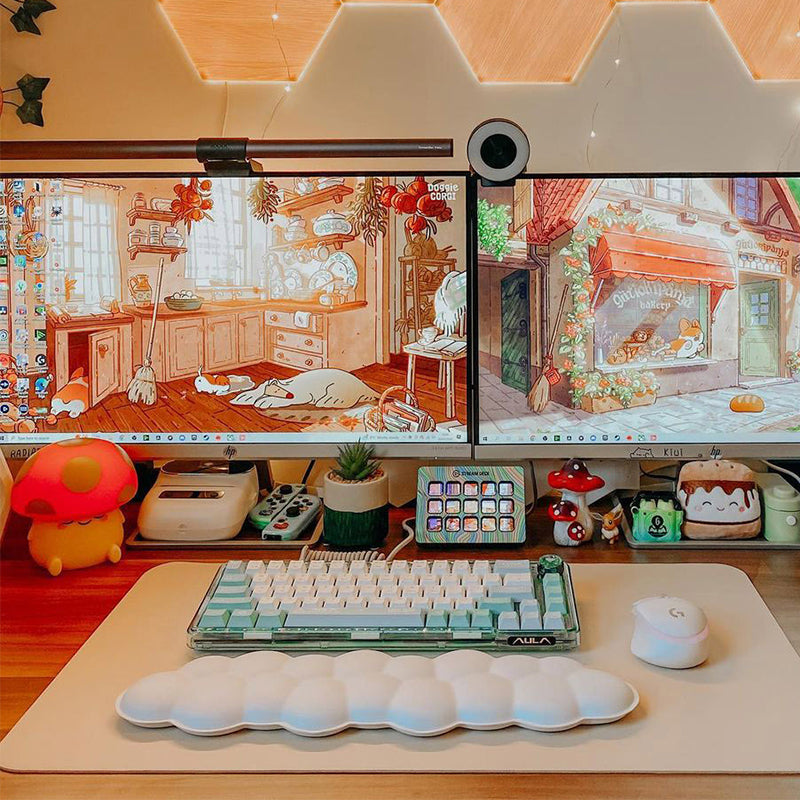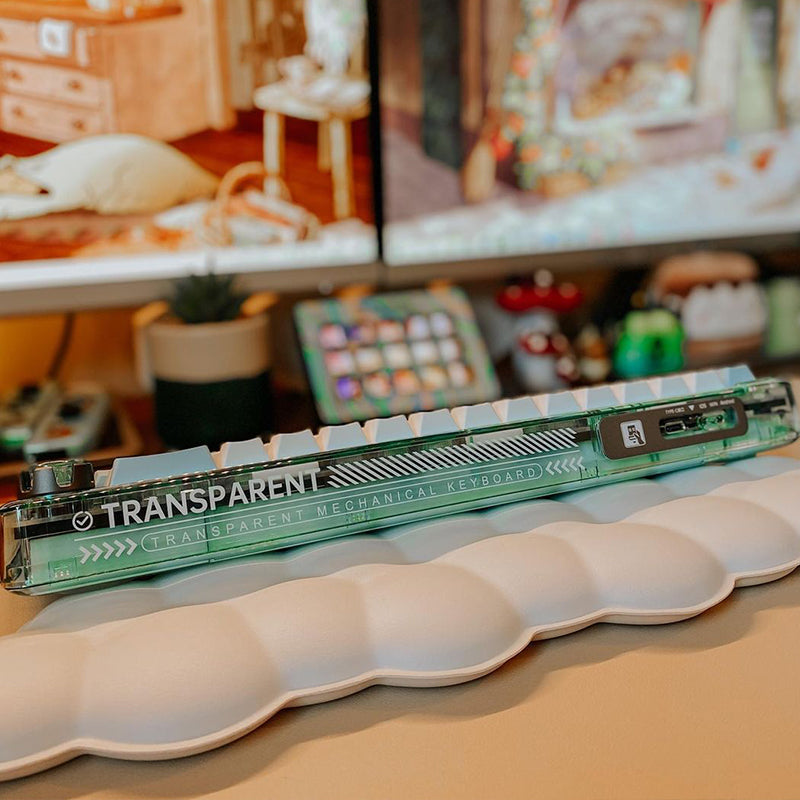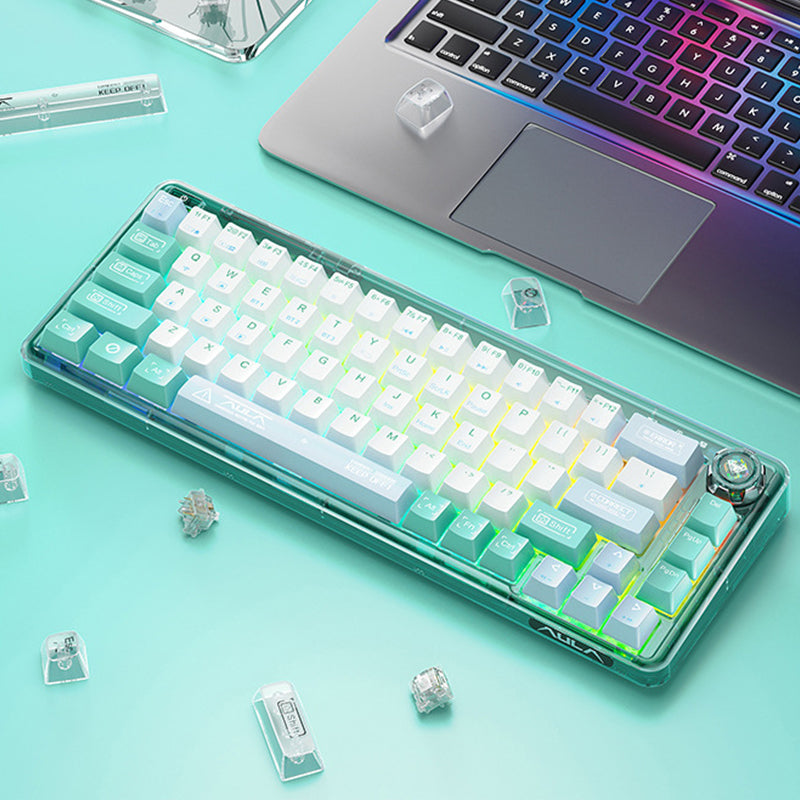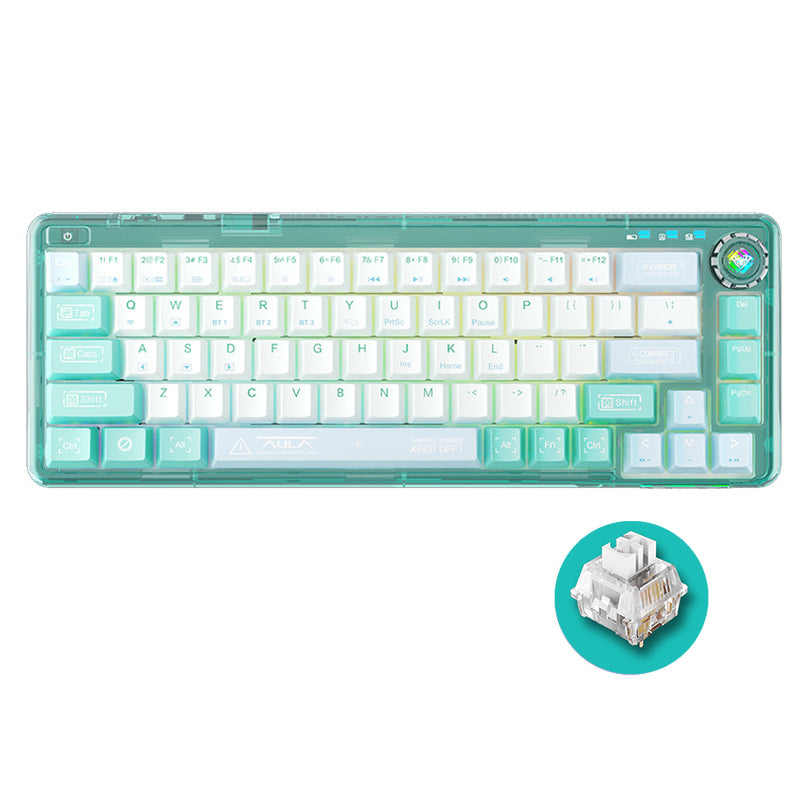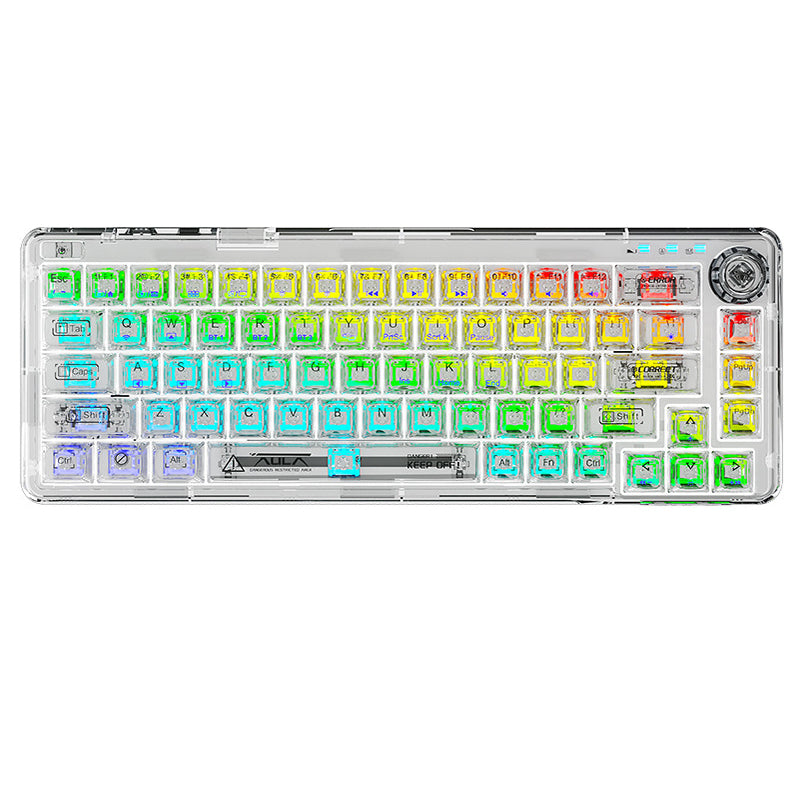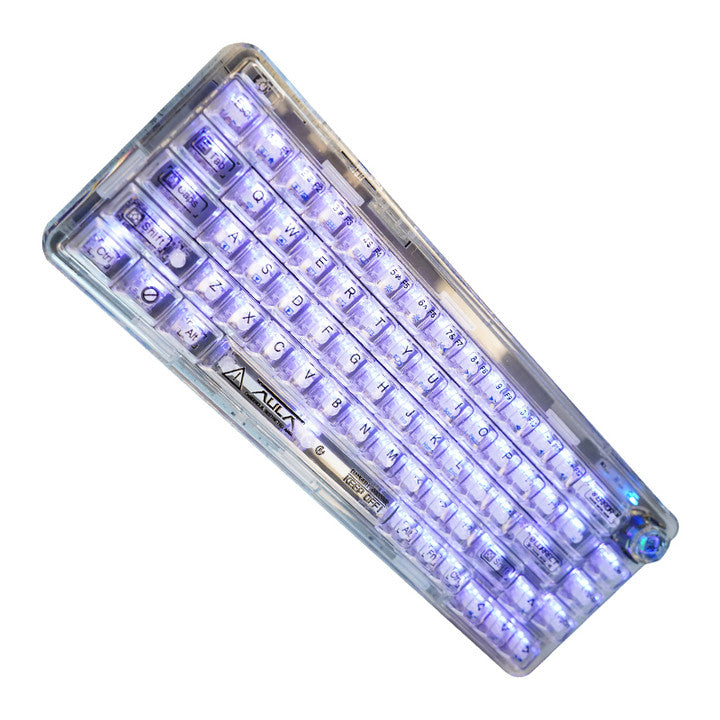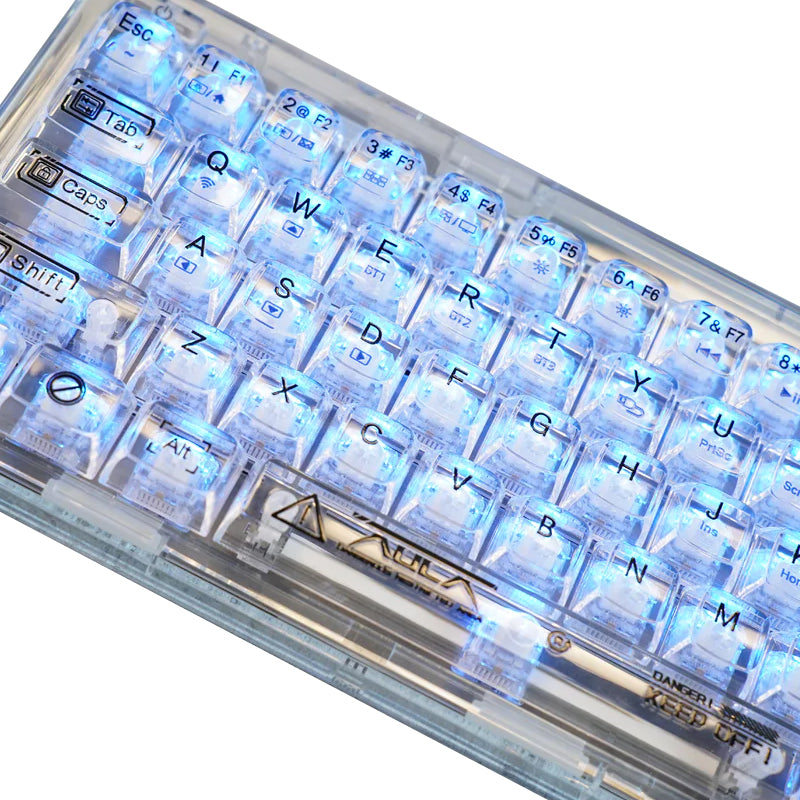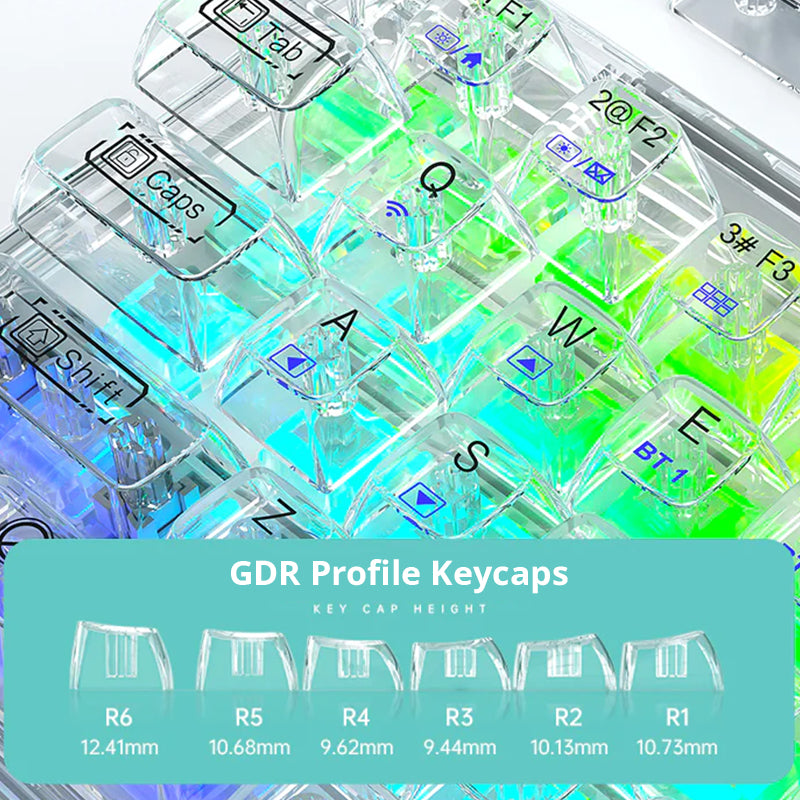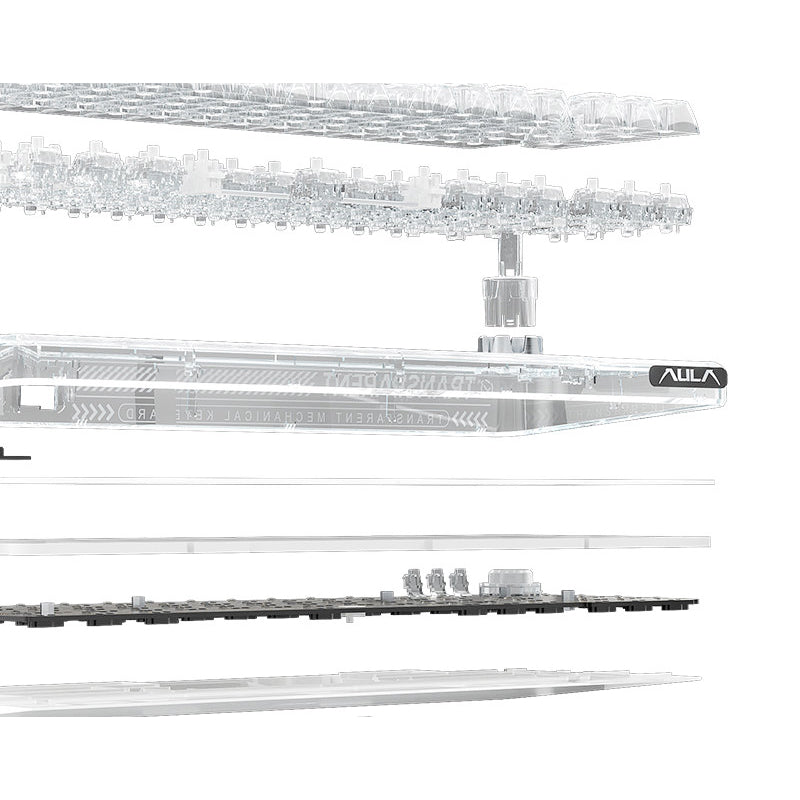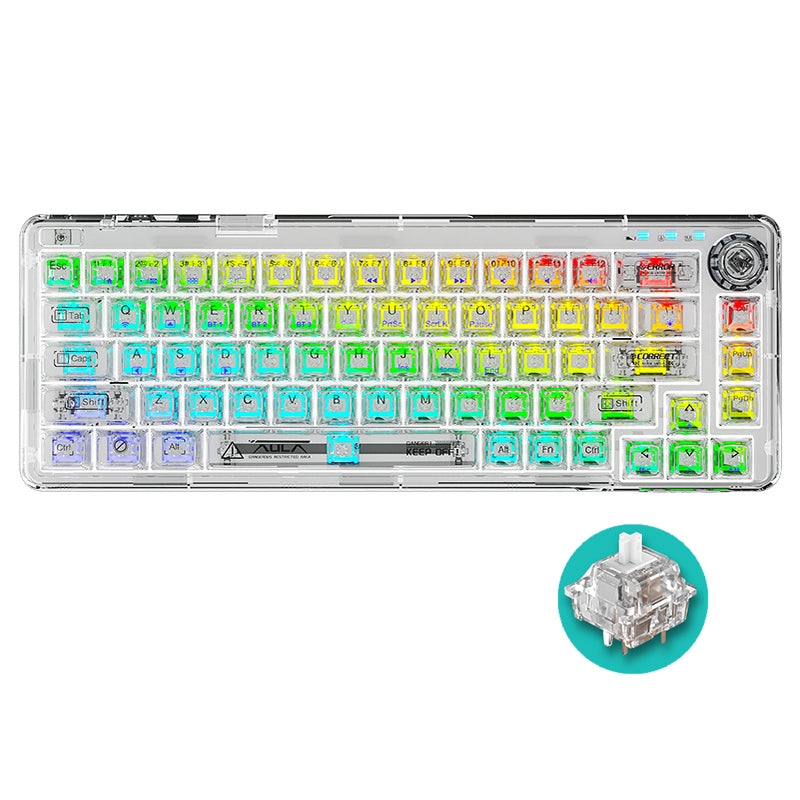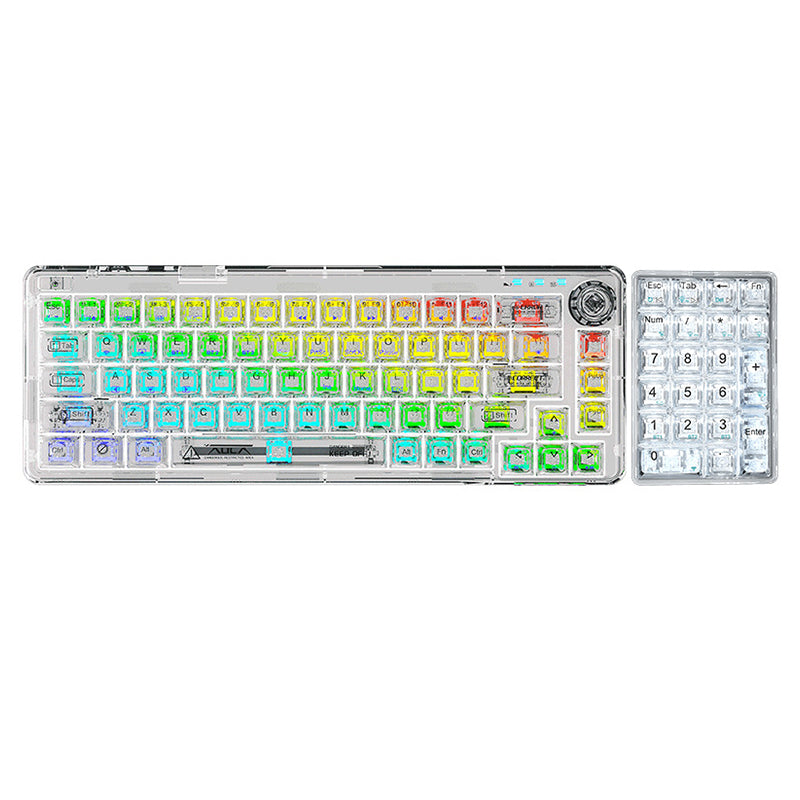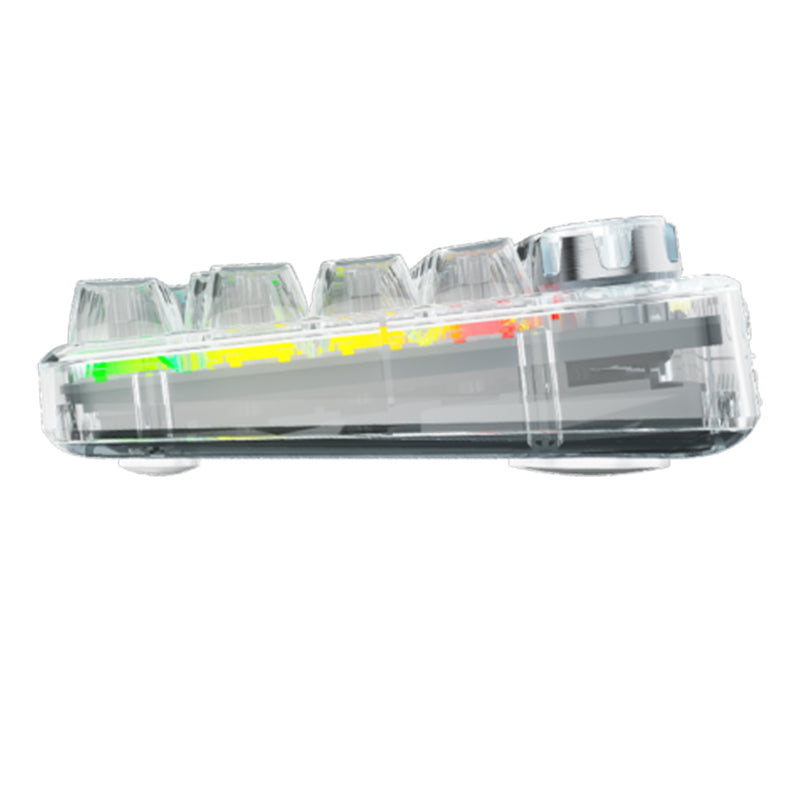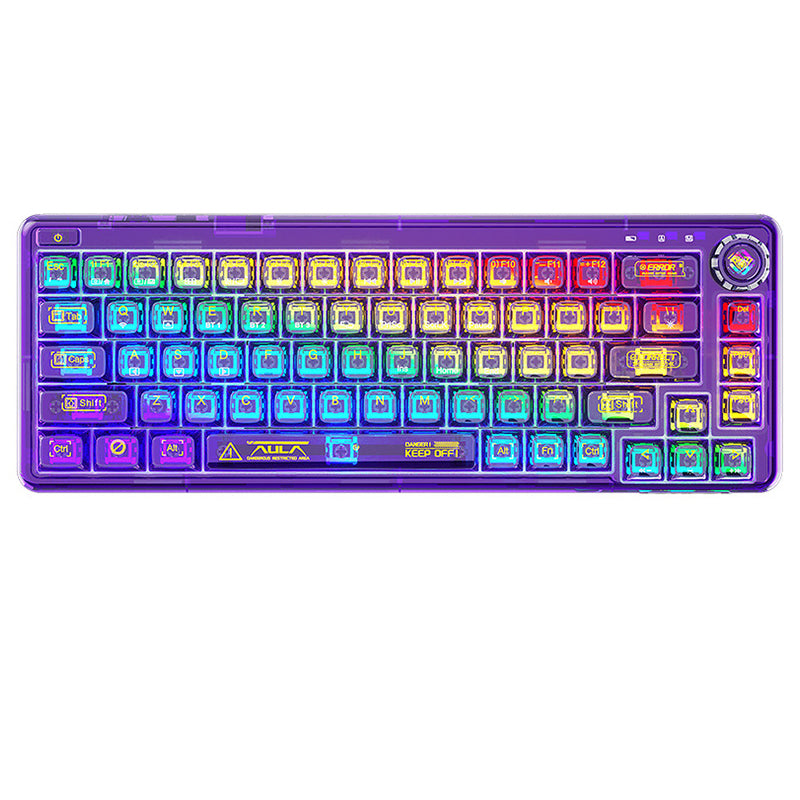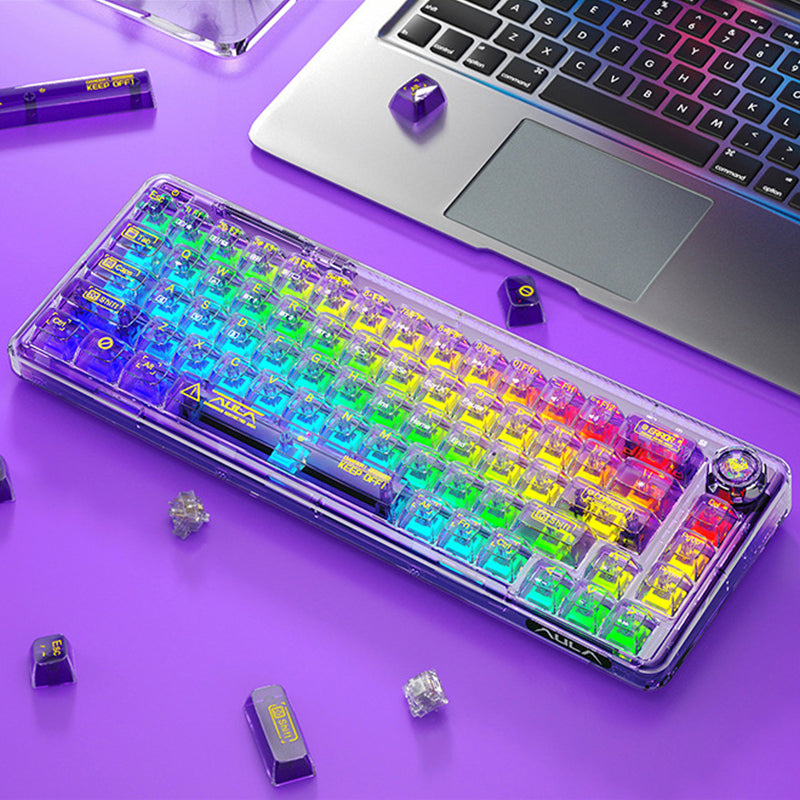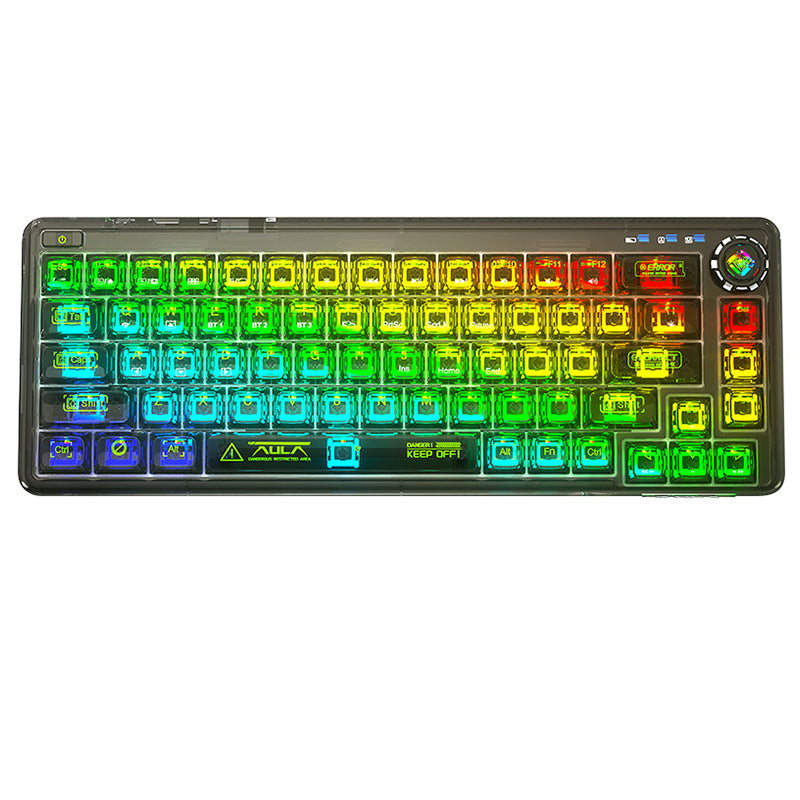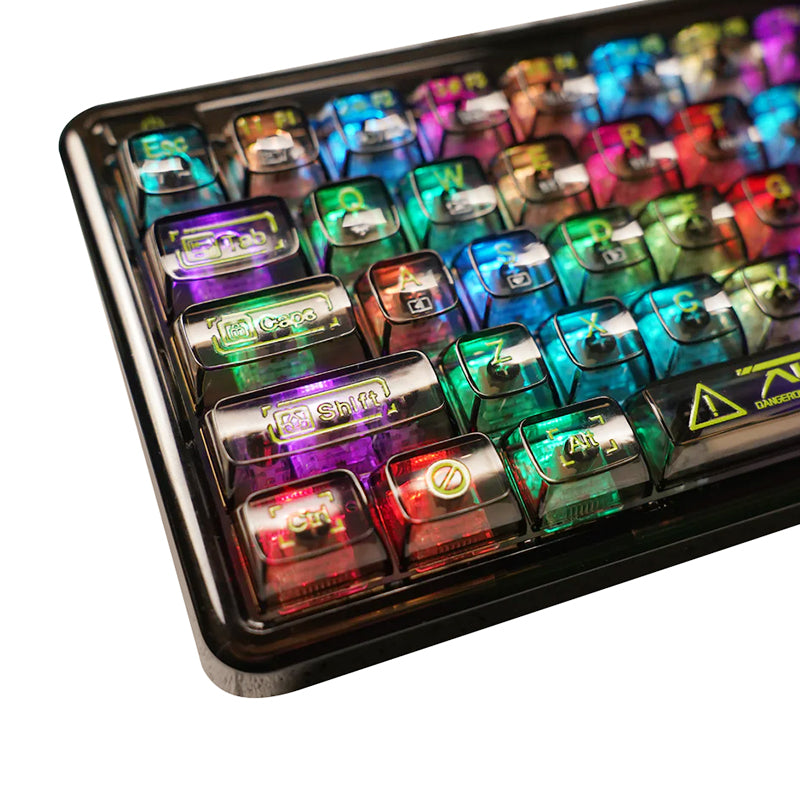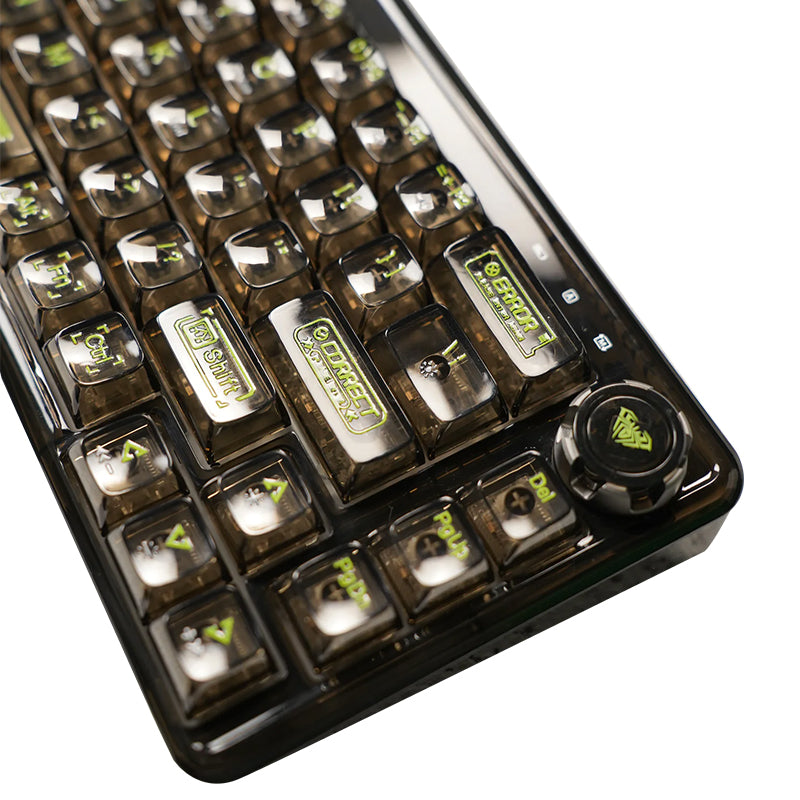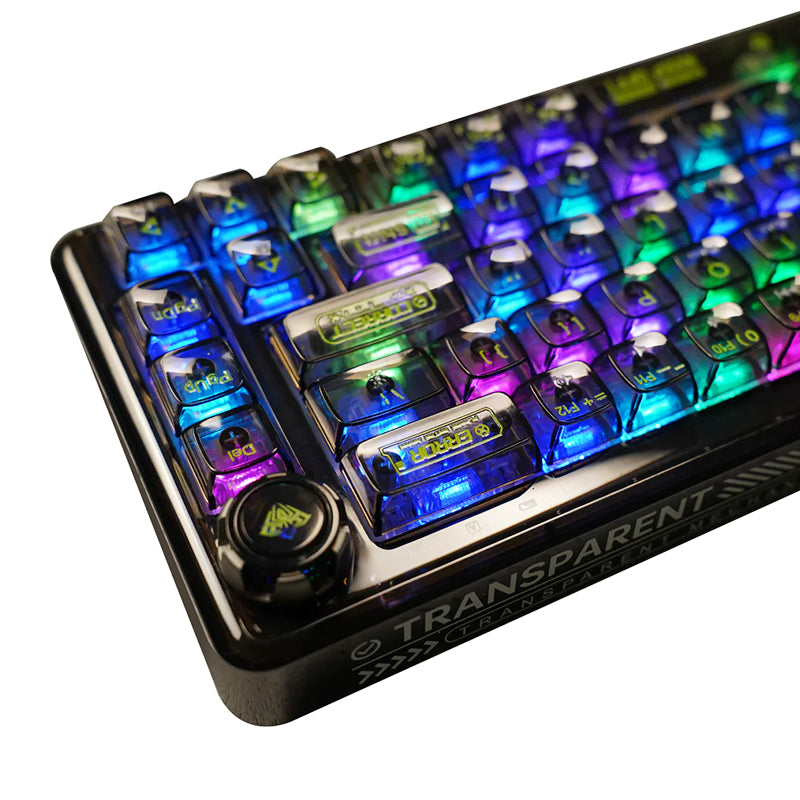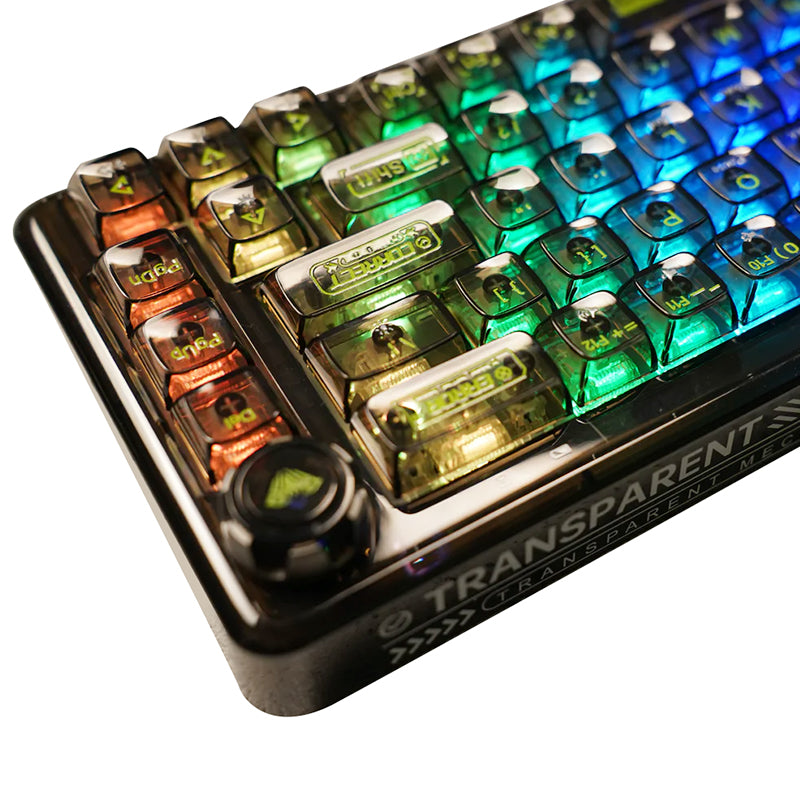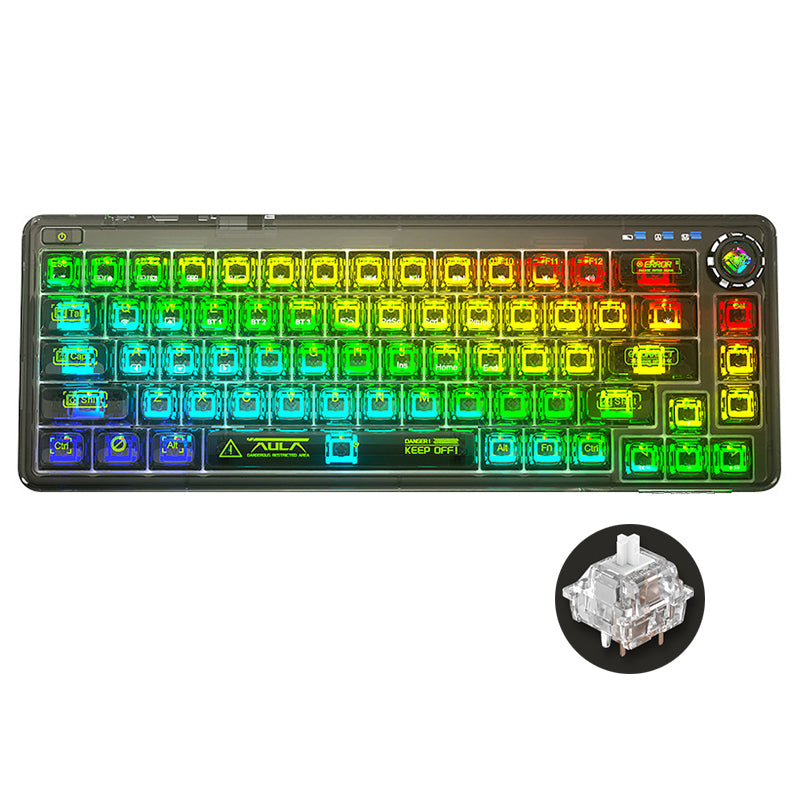 AULA F68 Transparent Gasket 3-Mode RGB Mechanical Keyboard
Light Up Your Life with Color - The AULA F68 Transparent RGB Keyboard
Full-key hot-swappable PCB base and Gasket Mounted design, stable, firm and durable, free to decide the switch feel, free to replace the switch.

Sound-absorbing and shock-absorbing
Two-layer sound-absorbing cotton, poron foam switch pad sound-absorbing, silicone pad bottom cotton to reduce the noise generated when the switch is knocked, and ensure a purer sound

Gasket Mounted Structure
F68 has a quiet and smooth typing operation with its gasket-mounted padded structure. The keyboard plate inside the F68 chassis is mounted directly into the chassis for a smooth, wobble-free operation.

Bluetooth 5.0 & 2.4GHz Wireless & Wired Modes
More than being wireless, we make this kit in triple modes, that is to say, the Bluetooth technology and ultra-fast stable 2.4GHz wireless, plus Type-C wired mode.

RGB Lighting Effect
There are varied lighting effect modes, and there are also music rhythms, with RGB driver, change the lighting effect rhythm with the audio conversion of the game/music, and can customize the color adjustment.

General

Brand: AULA 


Type: Mechanical Keyboard


Model: F68

Specification

Key Amounts: 68 Keys+Knob


Structure: Gasket Mount 


Gasket Material: Silicone


Case Material: PC


Plate Material: PC


Keycaps Material: PC


Keycaps Profile: GDR Profile

Switch Socket: Hot Swappable Compatible 3/5 pins Switch


Switch: LEOBOG Icesoul Switch
Switch Type: Tactile
Pre-travel: 1.7mm
Total Travel: 3.6mm
Initial Force: 49gf Min
Actuation Force: 30±3 gf
Bottom Force: 45gf


Connectivity: Type-C Wired, Bluetooth 5.0 & 2.4GHz


System: Android/IOS/macOS/WindowsXP/Vista/Win7/Win8/Win10/Win11

Battery Capacity: 2800mAh


Anti-Ghost: NKRO in All Keys

Weight & Size

Product Weight: 0.813kg


Package Weight: 1.2kg


Product Size(L x W x H): 32.9*12*4.5cm

Package Contents

1 x F68 Keyboard


1 x 2.4G dongle


1 x Type-C Cable


1 x 2 in-1 Keycap/Switch Puller


1 x User Manual
Pretty good
I was generally impressed with this keyboard for the price. The only things holding it back are the gimmicky branding I feel. For the price point though definitely a solid entry point to mech keyboards
I LOVE IT!!
I love this transparent RGB keyboard. It is very beautiful. When I connect it to the computer, it will light up very cool lights, and there are many colors and lighting effects. It is very beautiful, and the brightness can be adjusted. After downloading the software also very easy to use.
But the only slight flaw is that the knob is not metal, it is not as comfortable to rotate as my metal knob, and it is a bit stuttering when pressed.
AULU F68 Transparent Keyboard
Delivery: I received the delivery message on the same day, and I was able to check the logistics status on the third day. I dont know if the first email is fake, which is very suspicious.
Time-consuming: It was delivered to the United States on the 14th day after the order was placed, which was the same as the estimated logistics time-consuming. Generally speaking, it was not bad
Product: compact keyboard, nice RGB backlight, delicious tactile switches, very comfortable to use.
Software: The software has not been downloaded and used, I don't think I need it
out of the box, good keyboard
Out of the box, a silent keyboard. recommended purchase