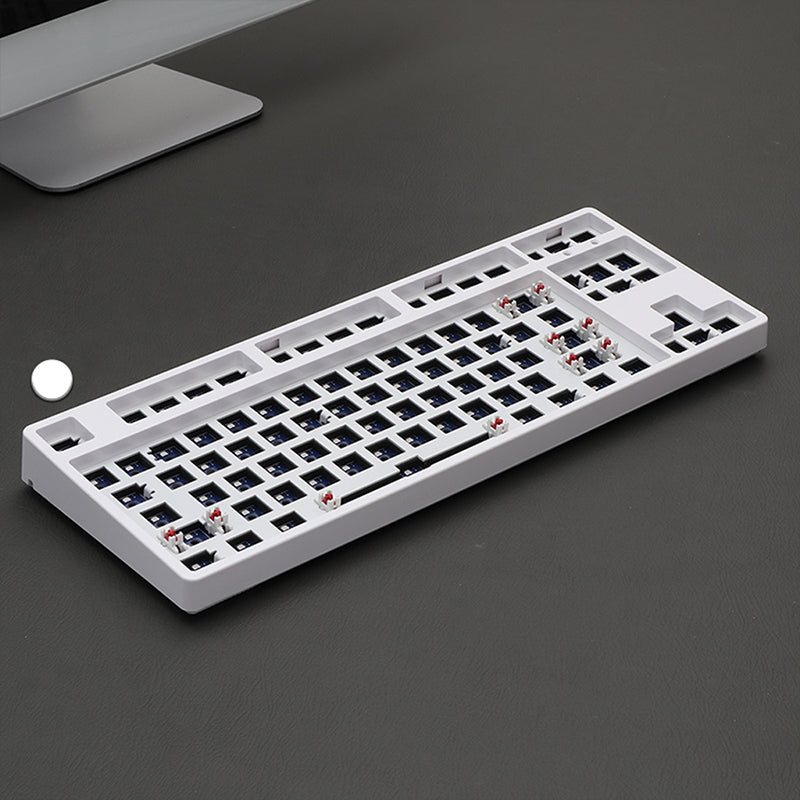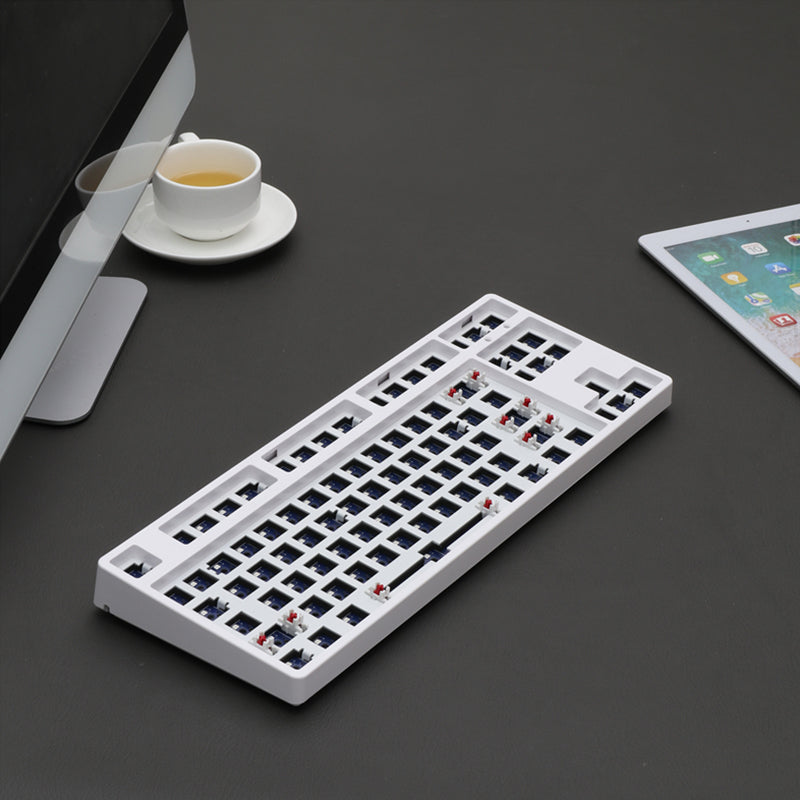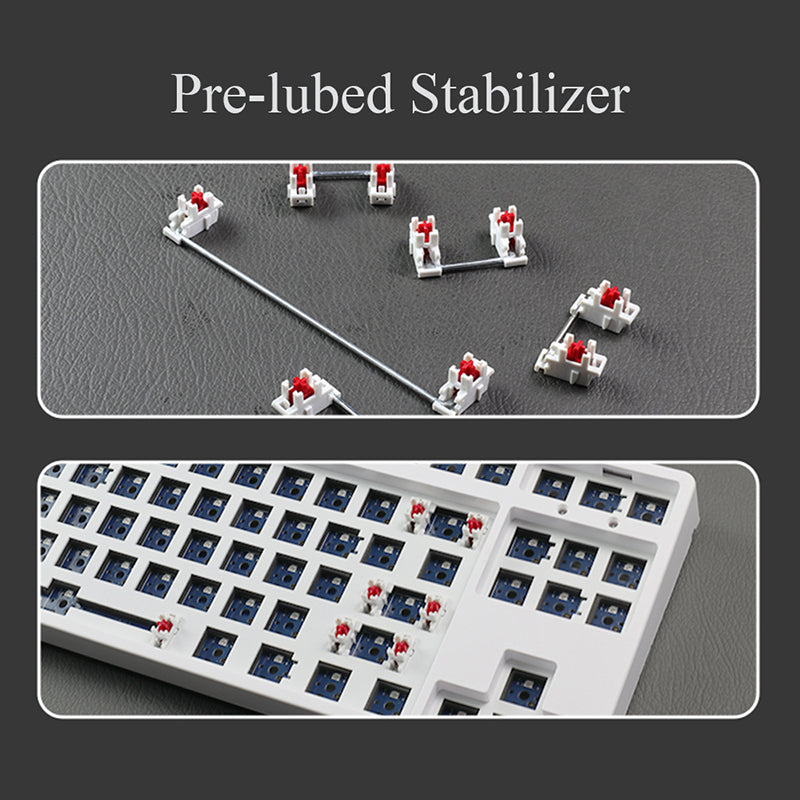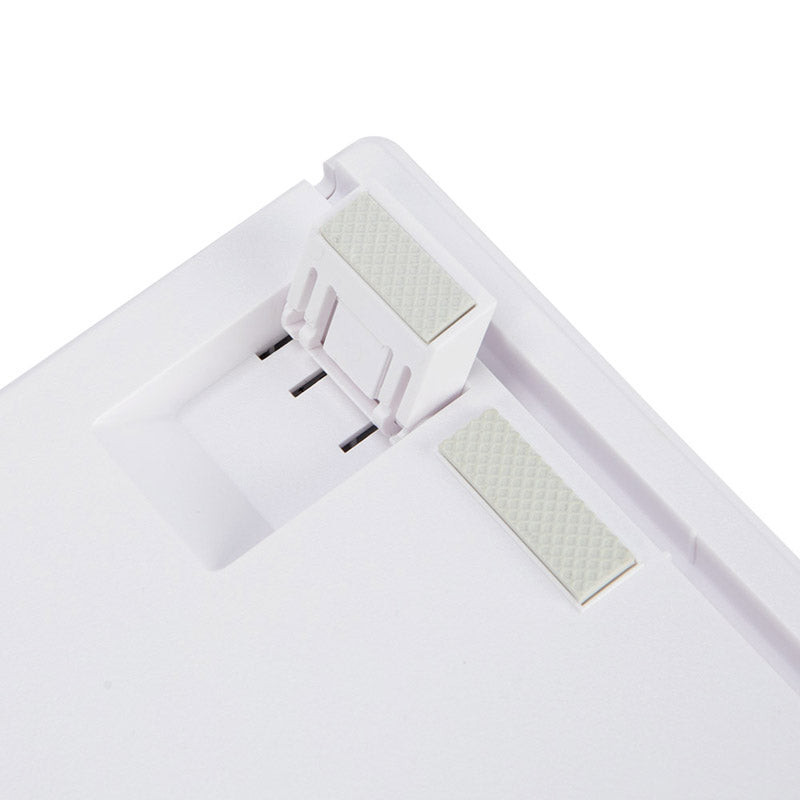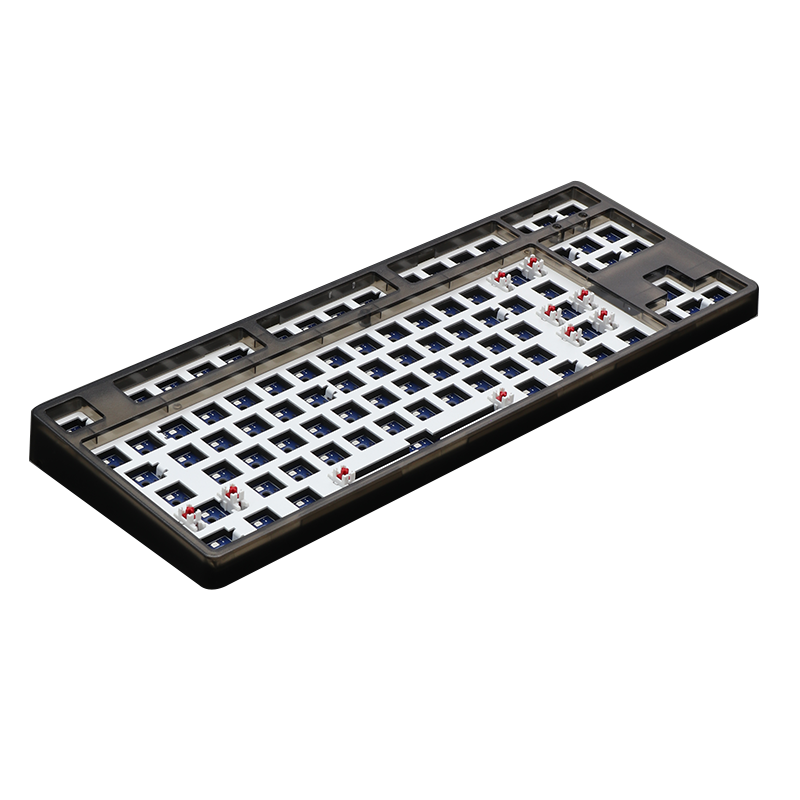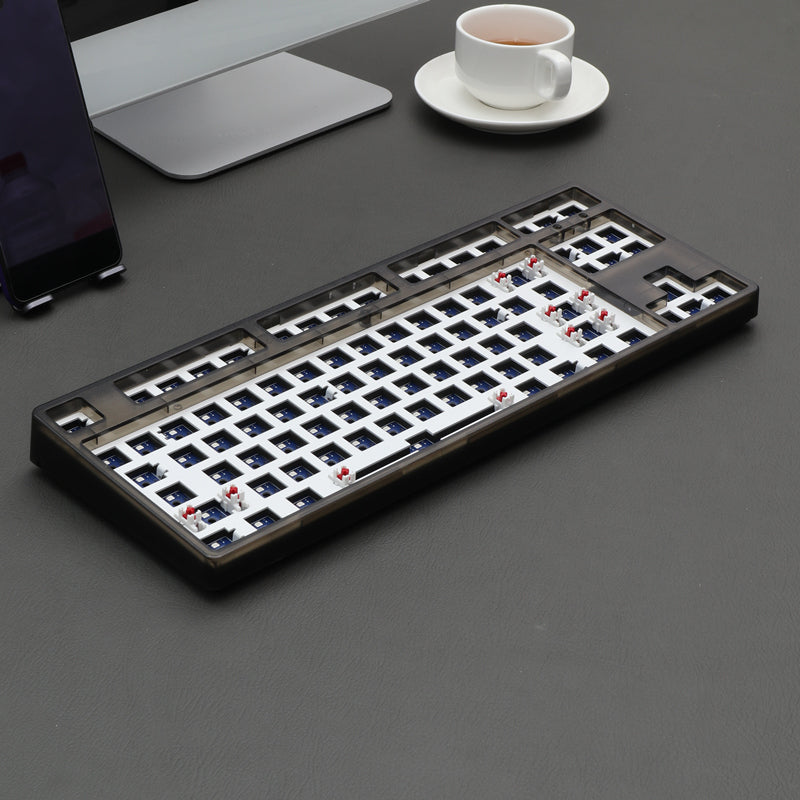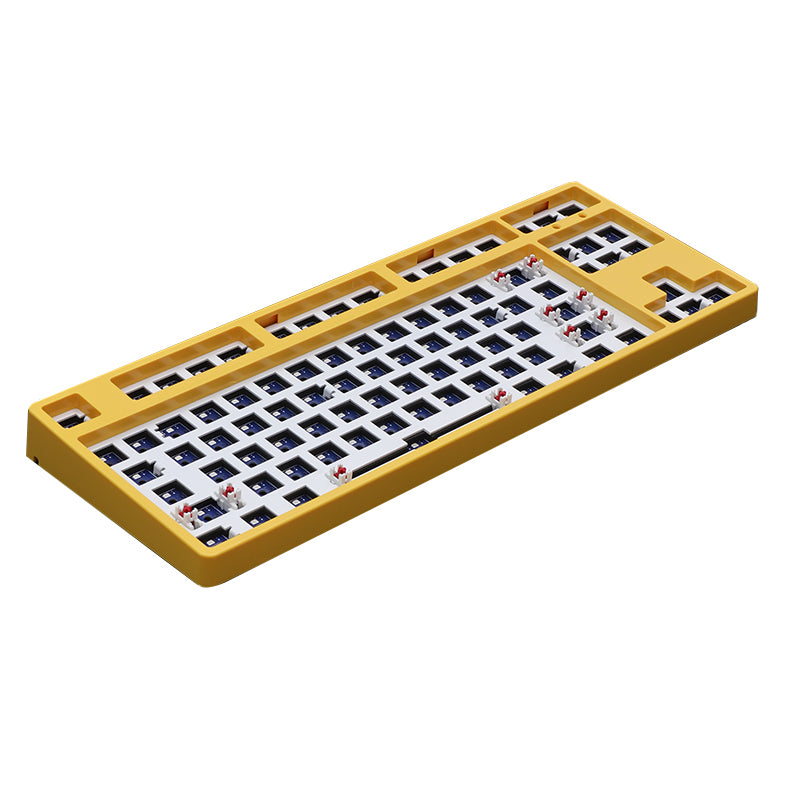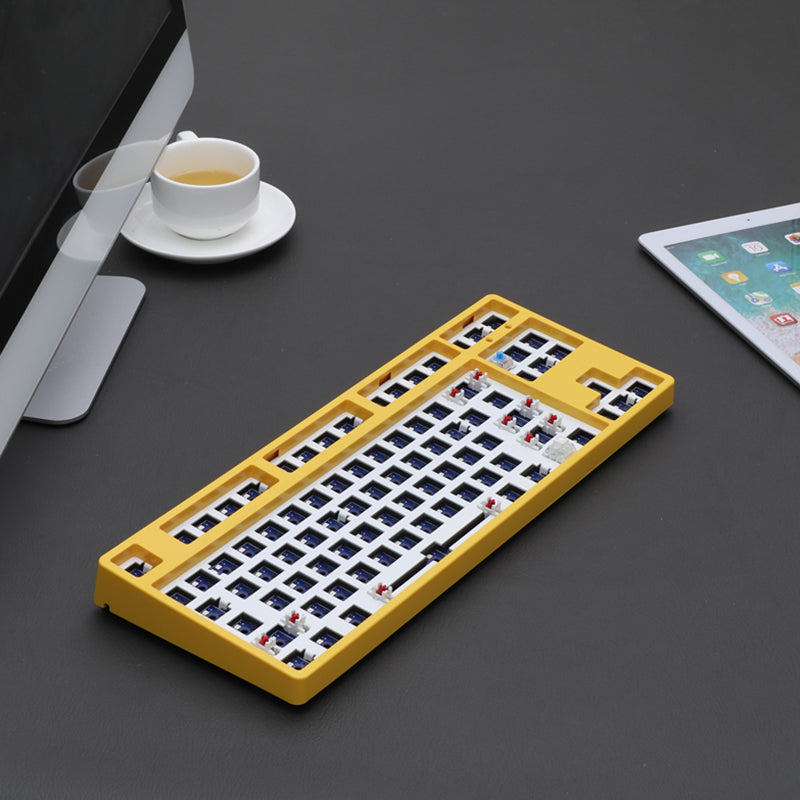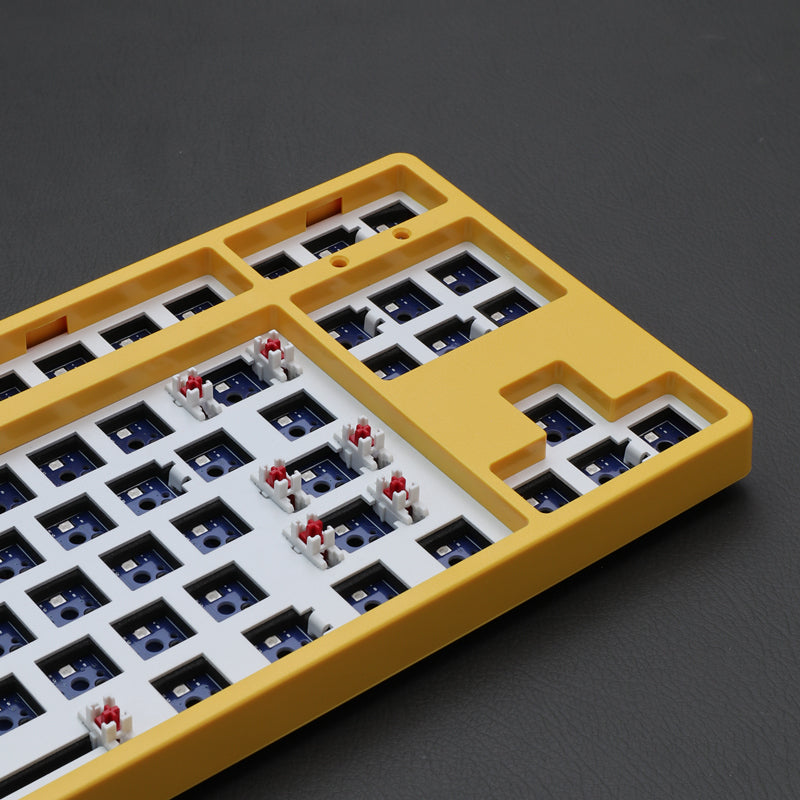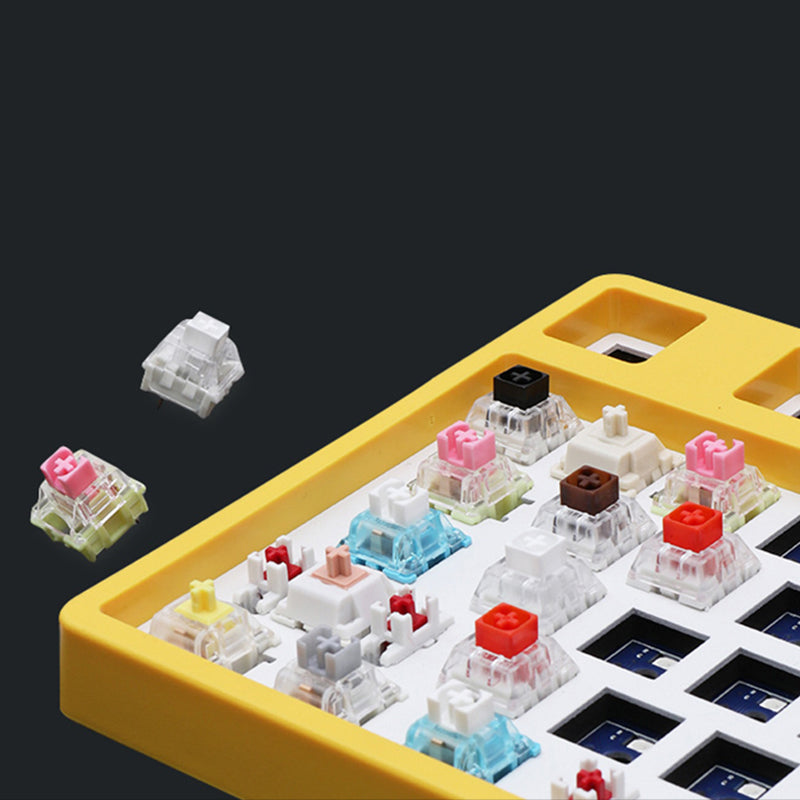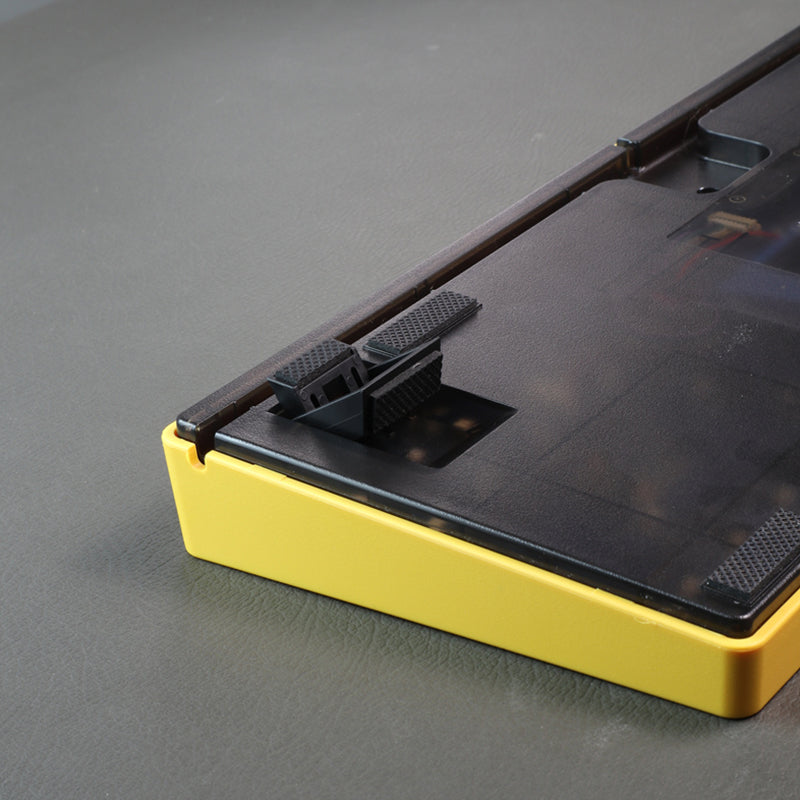 ACGAM MMD87 3 Mode DIY Kit
Easy Customization
TKL 87keys ANSI layout modular (hot-swappable) barebone keyboard built for enthusiasts, gamers, and professionals. You can define how it looks, clicks, and sounds with your favorite DIY Mechanical Switches and Keycaps (not included).

Compatible with Mechanical Switch
The keyboard supports 3-pin and 5-pin hot-swap mechanical switches, such as Outemu, Kaih, TTC, Huano, and Gateron. You can use tactile, linear, or clicky switches without soldering. Easily build your mechanical keyboard.

Built with A Steel Plate & Dampening Foam for Stability
The dampening foam can absorb sound made from typing and reduce the hollow sound from the bottom case.

RGB-LED Backlit
PCB LED backlight includes 16.8 million colors, and 4 adjustable speed and brightness settings. Full n-key rollover, conflict-free keys, and anti-ghosting to improve your game experience.
General

Brand: ACGAM


Type: DIY Kit


Model: MMD87


Color: Yellow, Black, White

Specification

Connectivity: Wired/2.4G/Bluetooth

Backlight: RGB

LED: North-facing

Layout: 80%, 87 Keys (TKL)

Programmable: Support

Compatible with Switch: 3/5 Pins Cherry MX, Gateron, Kailh Dial

Switch Socket: Hot-swappable

Weight & Size

Product Weight: 0.76kg


Package Weight: 0.931kg


Product Size(L x W x H): 36.2*13.8*4cm


Package Size(L x W x H): 40*18.7*5.2cm

Package Contents

1 x Keyboard Kit (Includes PCB, Mounting Plate, Plastic Case, Stabilizers)


1 x Type-C Cable

1 x Keycaps Puller


1 x Switch Puller


1 x User Manual
A feature-packed budget board
*Reviewed using Akko White Wines and OTC ModoLight keycaps
The photos show north-facing LEDs, but I was pleasantly surprised–these have south-facing LEDs! That's an awesome benefit. The RGB is alright, nothing too special. There's a lot of cool modes if you're into the more flashy RGB, but I would have preferred a warm-white static light option.
One other lighting thing–not a huge fan of the LED indicators for Caps, Num, or Scroll lock. It's red, and very bright, so the light bleeds a bit through the case. This is super nitpicky, but just personal preference.
As for the wireless capabilities–I haven't had any issues with using the wireless receiver, but I also haven't tested the BT functionality. Switching from wired to wireless is easy – FN+5 for wired and FN+4 for wireless.
If you preferred to use your keeb wired, it has a nice slot in the bottom to route your cable either to the left, right, or center, which is nice.
However, the way the port is placed means every time you want to connect/disconnect your cable, you have to lift the keyboard up. Also, if you prefer wireless, the switch to turn the keyboard on is on the bottom of the case, so you'll also have to lift the keyboard up for that. A bit annoying.
I didn't bother testing latency on wireless, but playing games while wired, there wasn't any noticeable latency. I played both Valorant and CS:GO and had no issues.
Honestly, for $60, it's alright in terms of quality. You're not getting an aluminum case or anything fancy like that, but you get a keeb that will work, and has some nice bonuses.
As for modding… Opening the case is a bit difficult: you need to use a pry tool or a switch puller to carefully pull the top part of the case out and up to remove it. And it feels like you might break it before it will open.
The sound is alright. I prefer a deeper sounding keeb than what this board offers stock. It's not terrible, but it's not amazing either. Their pre-lubed stabilizers were a bit mushy/sticky at first, but there's surprisingly minimal rattle, so that's good.
Overall, this board is a good value for the price. If for some reason, you want a TKL over a 65/75% keeb and need wireless, this would do the job.
Pros:
- Wireless is nice and convenient, if you need it
- CHEAP
Cons:
- Some weird design quirks, definitely feels like a "budget" board
- A bit difficult to mod
MMD87 Yellow
This is my first custom keyboard build the case seems quite good quality some of the switches were hard to get in on the right half of the board since the foam was pushed out for some reason? After putting it together though it works great and I'm happy with my first build I'd say it's not bad for it's price mainly picked it up since I needed a yellow case though.
good set
Yellow cover is not stable mechanically connected, and a German layout would be nice
Great build, good service!
I really like this kit. And it honestly surprised me how good the build quality is. And on top of that the shipping went very smoothly.
Best keyboard!!
I've received the package, glad you put foam around the keyboard case for safety! The keyboard was delivered in good condition. There is nothing to improve on the packaging.
This custom keyboard is also great, works great, and when I installed the switches and keycaps, she's so pretty, I love it! best seller, recommended
Setup Ideas From Customers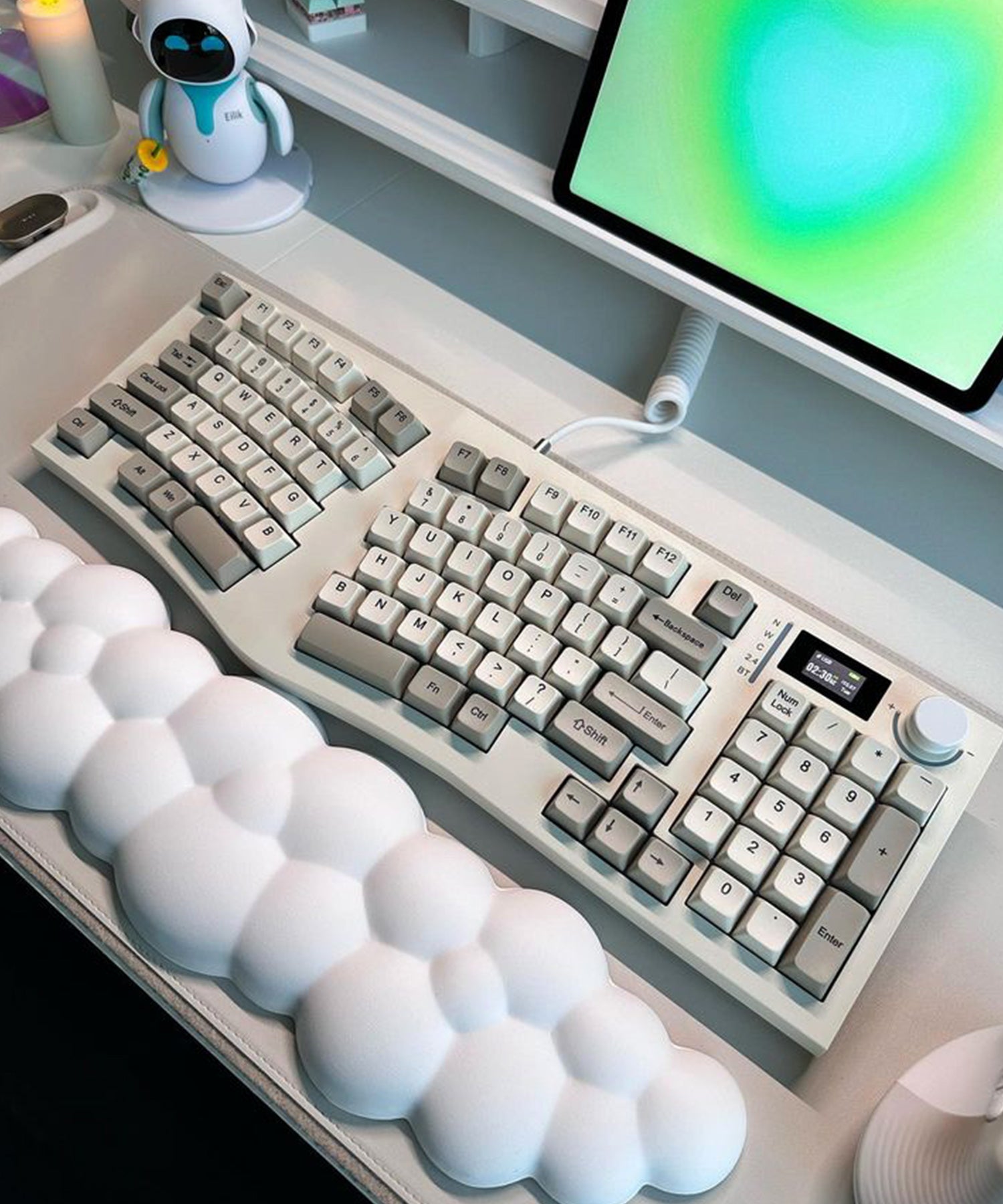 FEKER Alice98 Wireless Mechanical Keyboard With LED Screen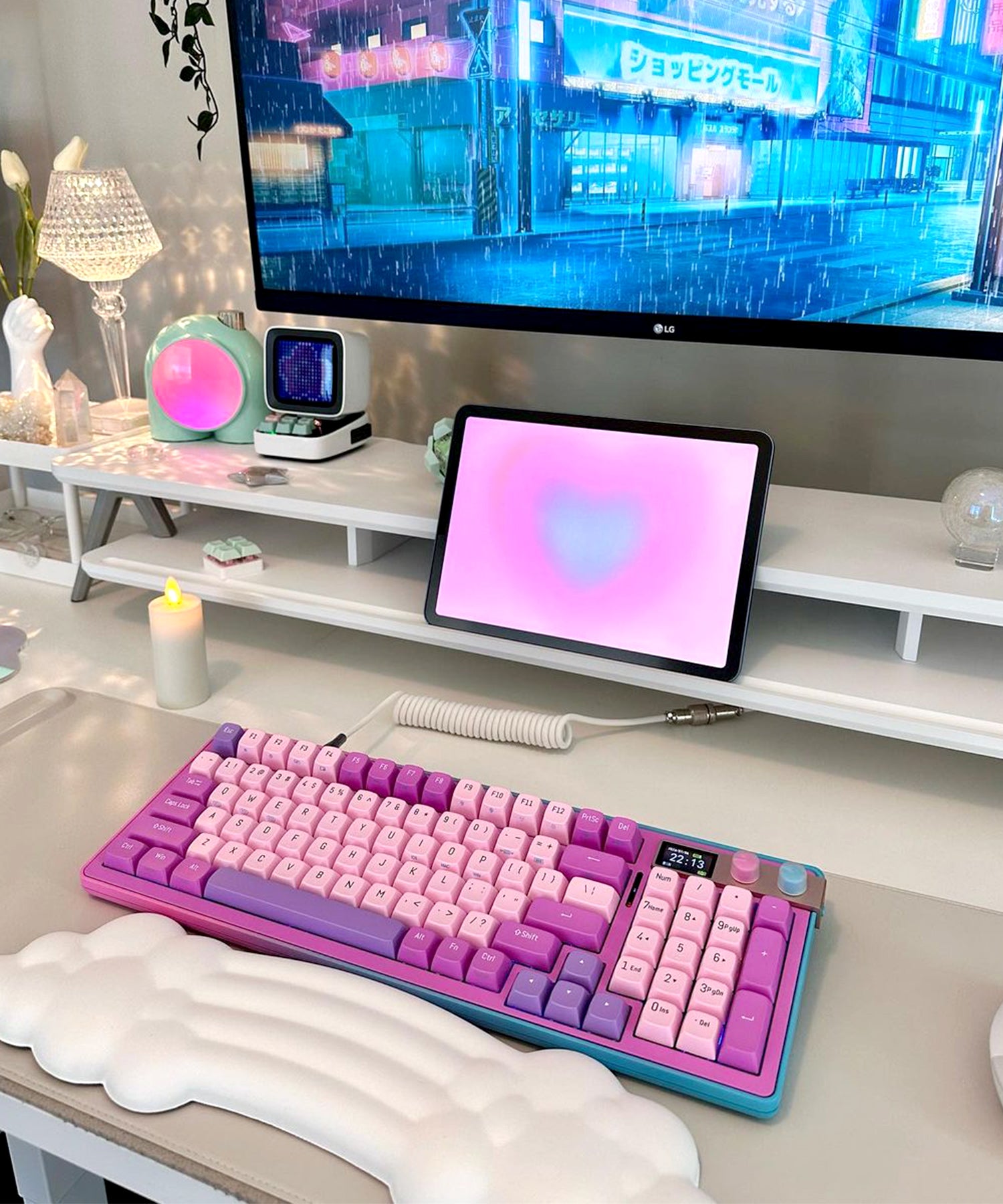 FOPATO H98 Love & Salvation Wireless Mechanical Keyboard With TFT Screen
FirstBlood B81 Crystal Transparent Wireless Mechanical Keyboard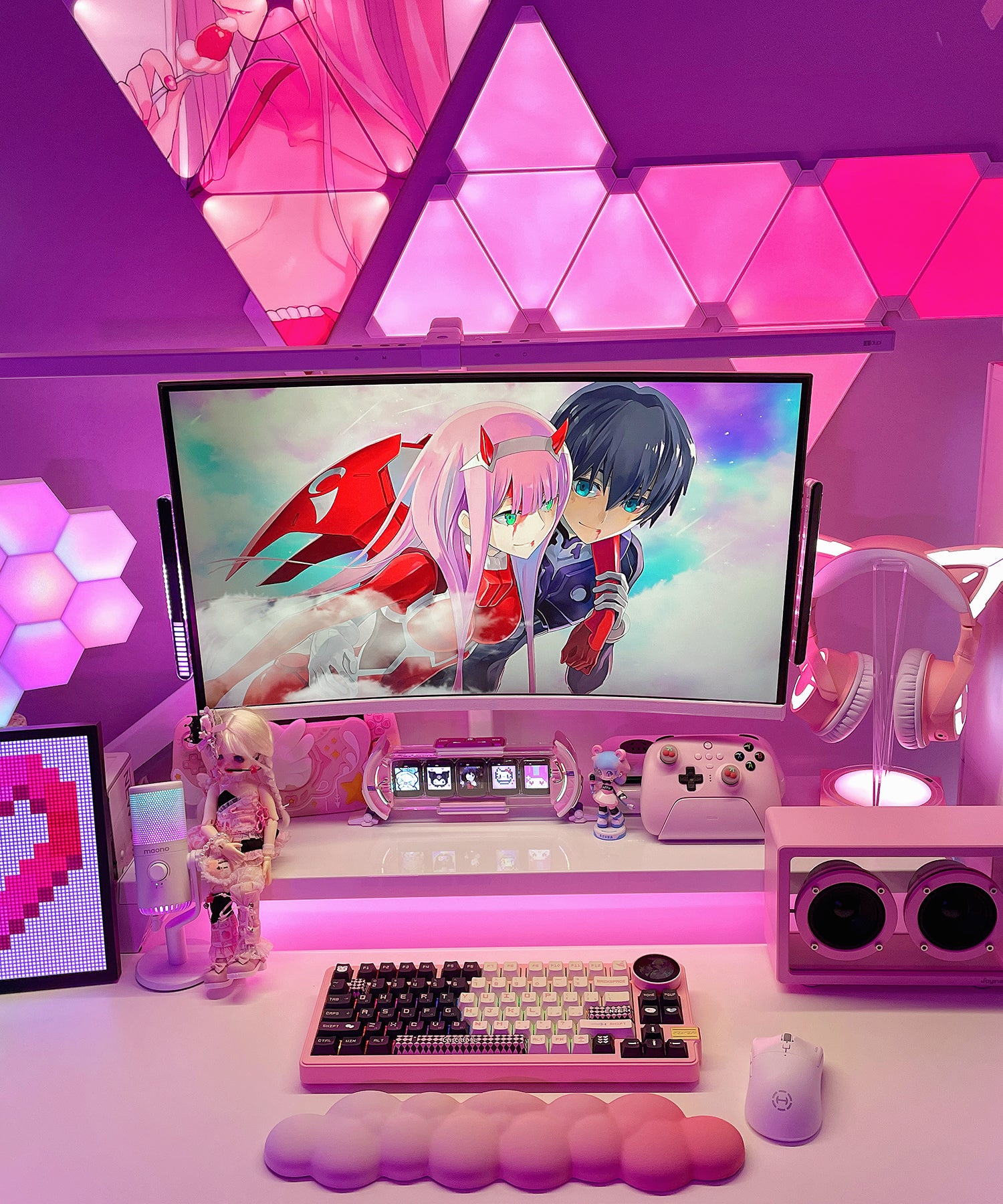 FEKER K75 Mechanical Keyboard with Multifunctional Knob Display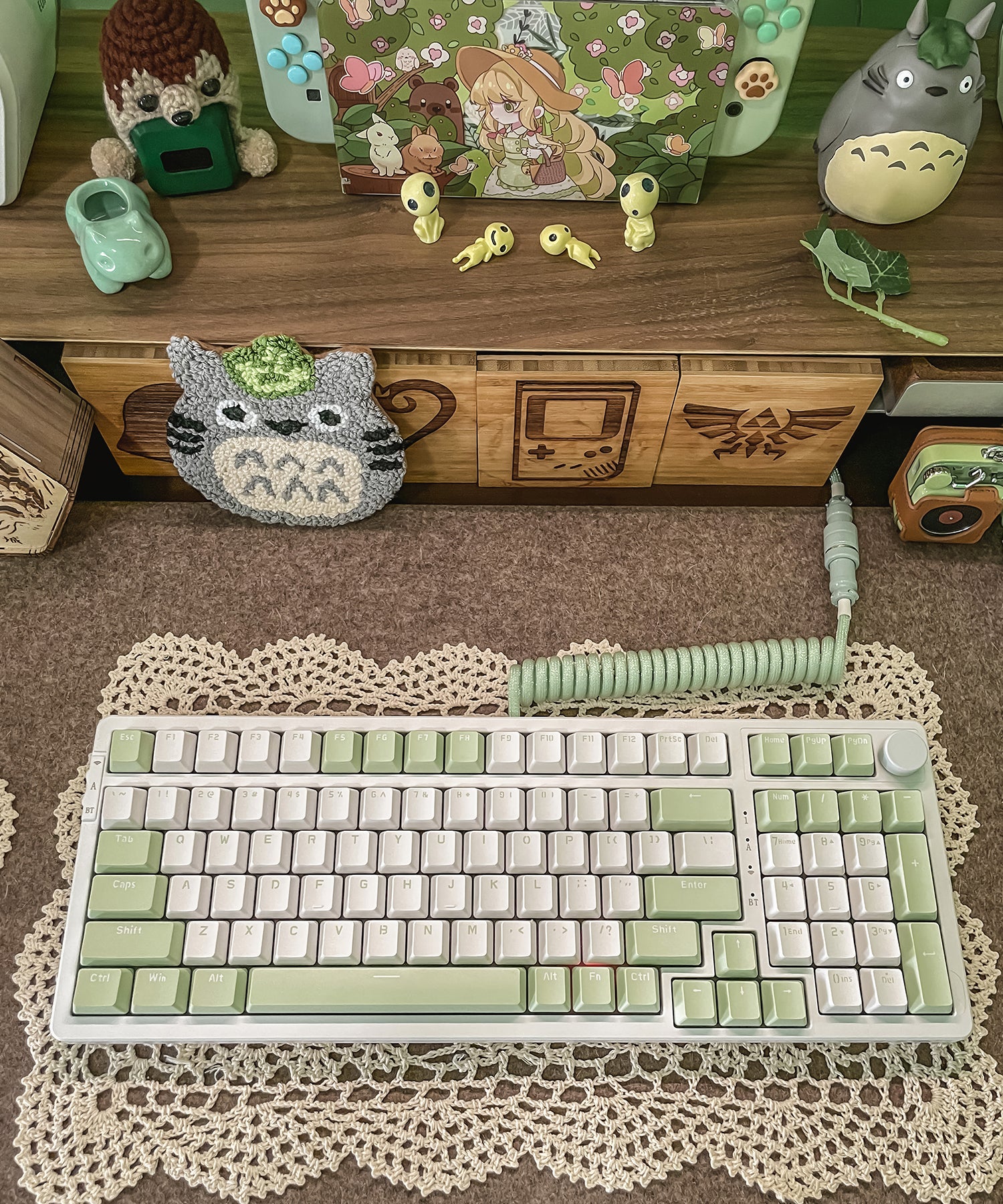 Ajazz AK992 Hot-swappable Mechanical Keyboard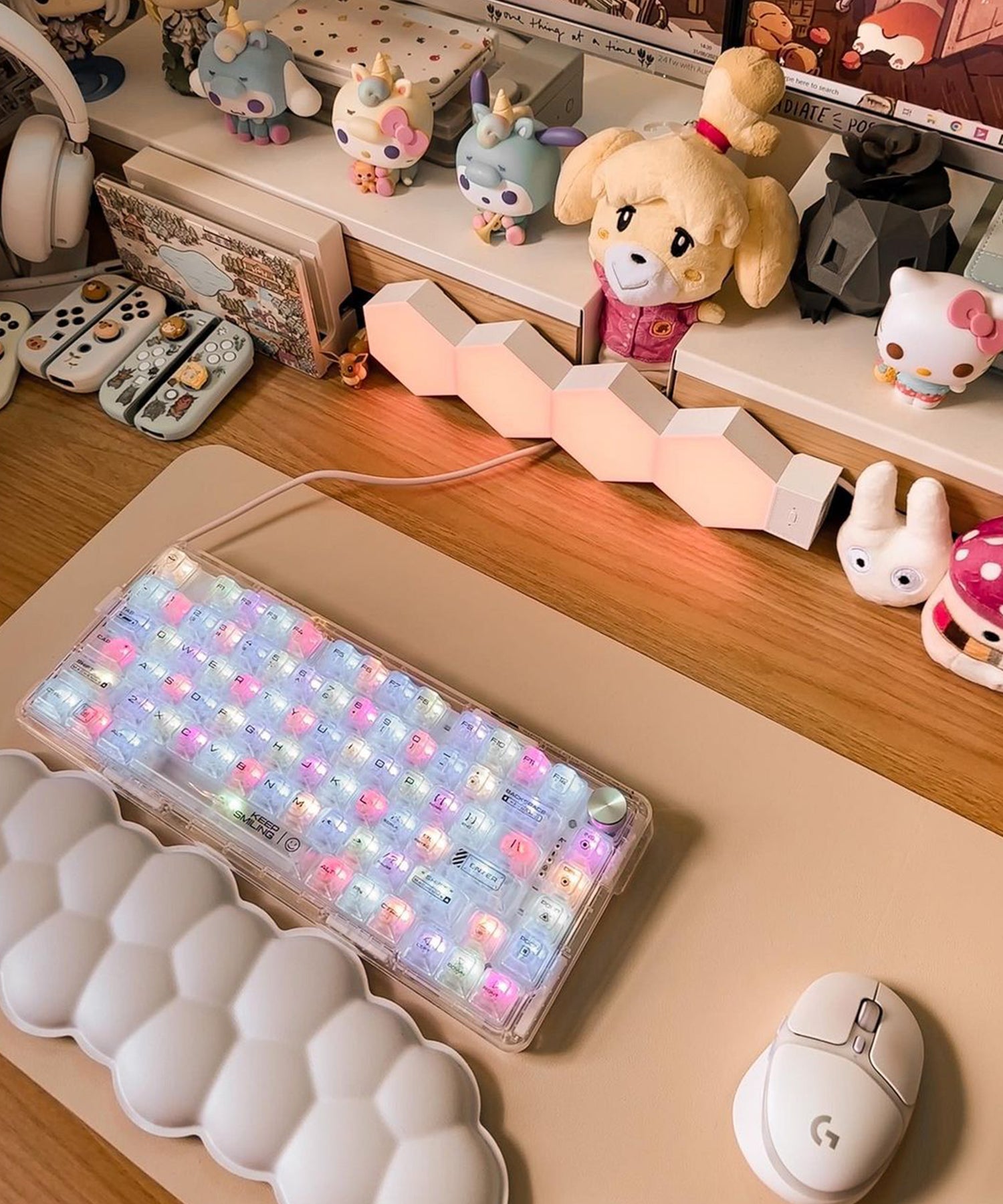 Machenike K500F-B81 RGB Clear Mechanical Keyboard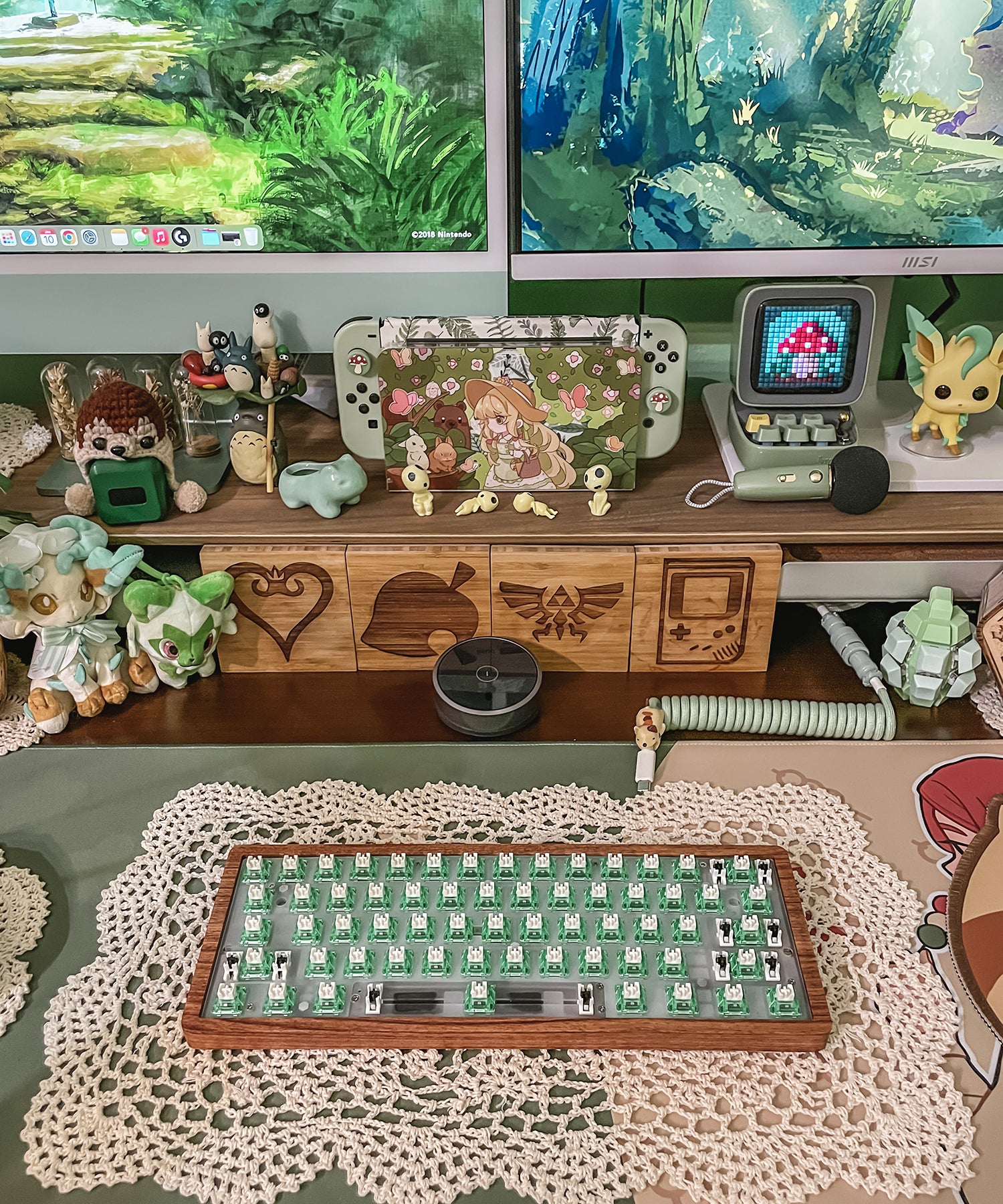 SKYLOONG GK61 Lite Gasket DIY Kit Wooden + Ajazz Diced Fruit Switch Set - Kiwi Switch